Pistachio milk is one of the newer milk alternatives available to vegans and others who need or choose to avoid lactose. This unusual nut milk isn't yet widely known but is well worth trying out. What do you need to know about pistachio milk?
Pistachio milk is a dairy-free plant milk made of ground pistachio nuts and water. The nut milk is lactose and gluten-free and suitable for vegans. Use pistachio milk as a milk alternative in beverages, soups, bakes, and sauces. Make homemade pistachio milk from pistachios and water.
If you enjoy oat, almond, or soy milk, pistachio milk should be the next plant milk alternative on your horizon. Excellent in coffee and delicious in a smoothie, pistachio milk is nutritious and tasty. Read on to find out more about pistachio milk.
What Is Pistachio Milk?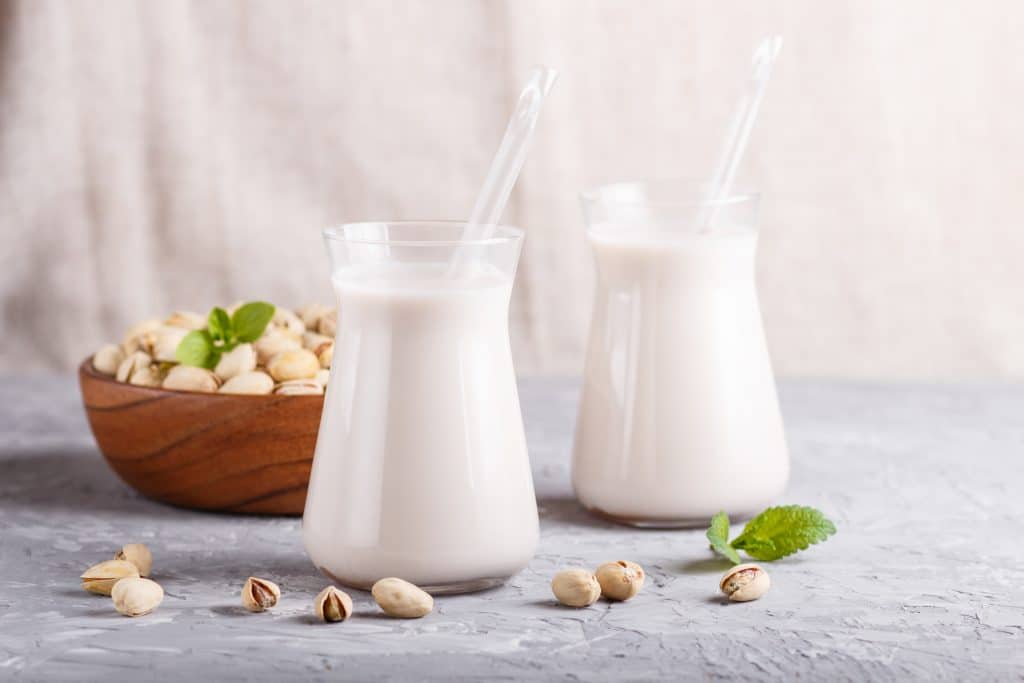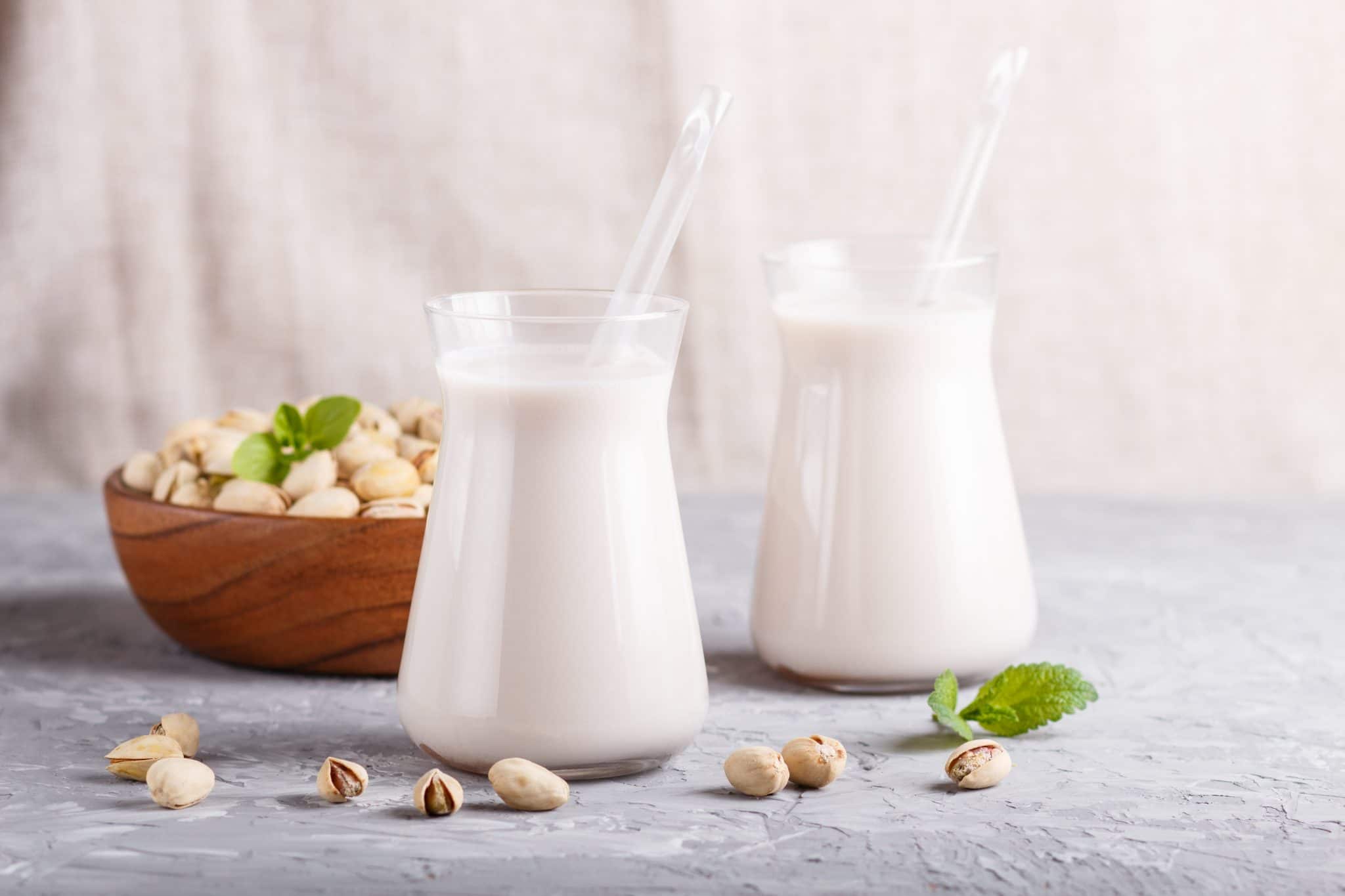 Pistachio milk is a vegan, lactose-free, gluten-free, dairy-free nut beverage made from ground pistachio nuts and water. This plant-based beverage is suitable for people following a keto diet, for people with diabetes, and those keeping kosher.
This milk alternative comes in both sweetened and unsweetened forms and often comes with other nuts, additives, and fillers in commercial brands.
Unlike the pretty green nuts, pistachio milk is pale greenish-brown with a creamy texture.
How Does Pistachio Milk Taste?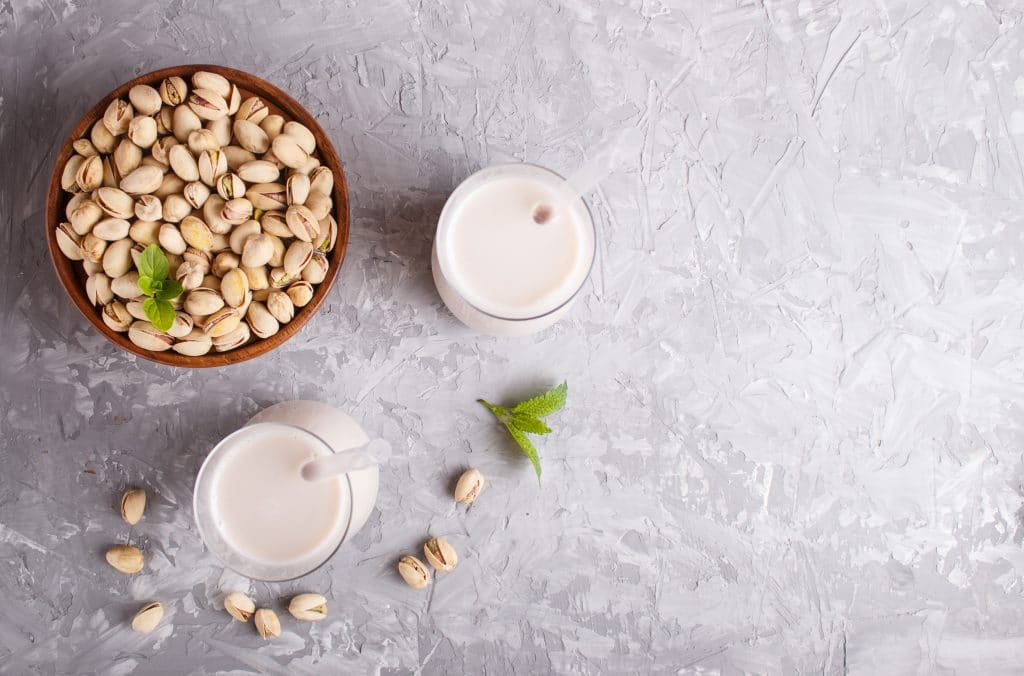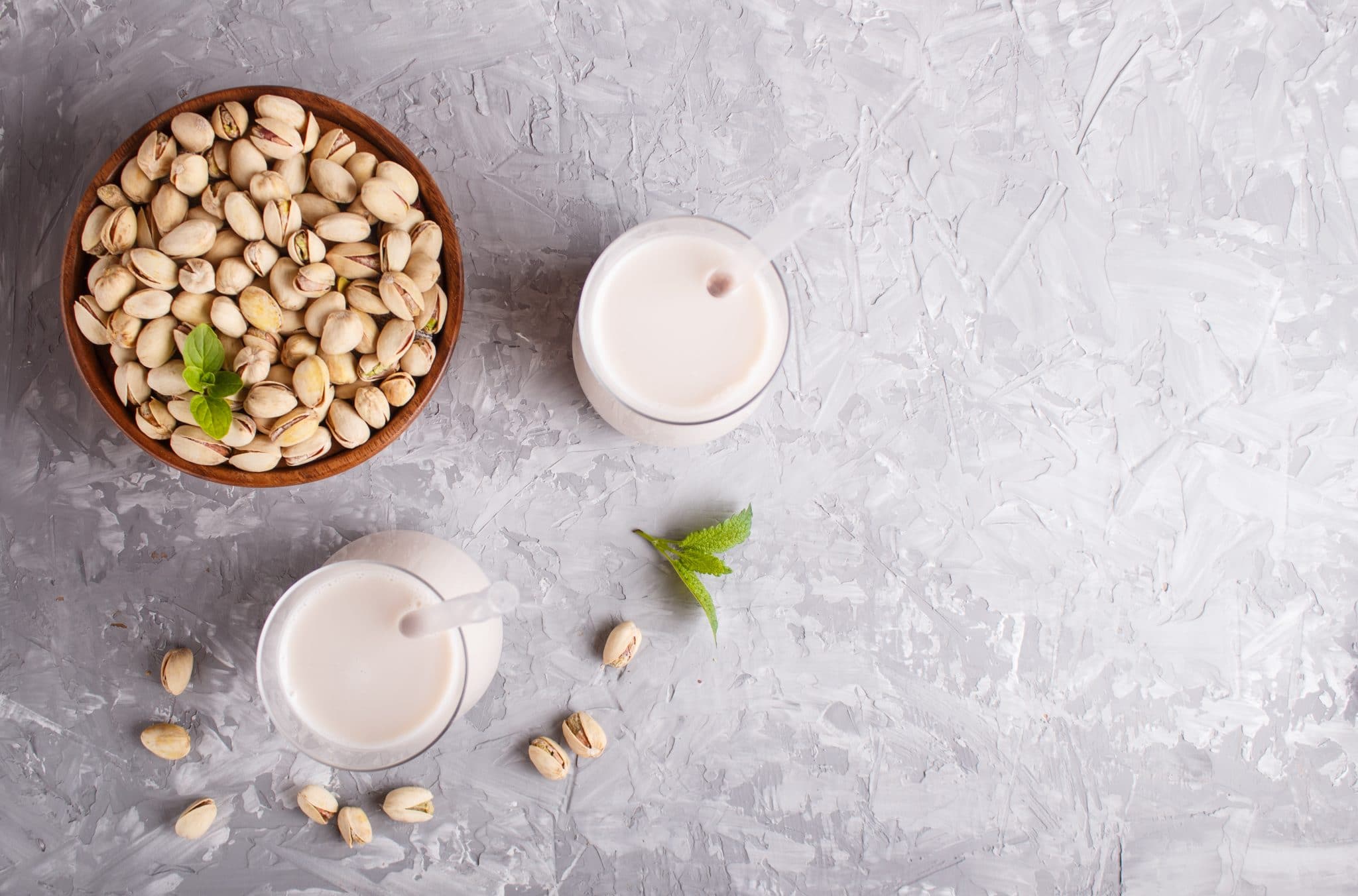 Pistachio milk tastes like the nuts it derives from, sweeter than most other nut milk, with a fresh, floral note and a creamy, buttery texture.
Unlike almond milk or oat milk, where the flavor of the nuts or oats fades into the background, pistachio milk has a mellow but definite nutty flavor that comes through even when combined with other ingredients.
Sweetened pistachio milk has vanilla notes and goes well with coffee and chocolate, while the unsweetened version is suitable for cooking.
Many pistachio milk brands combine pistachio and almond for a more robust nut flavor.
How Nutritious Is Pistachio Milk?
Pistachio nuts, like other nuts, are incredibly nutritious, exceptionally high in protein and healthy, filling fiber, with a single serving providing you with 30% of your daily calcium requirements.
However, plant-based milk, especially nut milk, is not a significant source of nutrients, as the liquid you buy is primarily water, with the nut fiber and protein sieved out. Most vegan milk alternatives are fortified with vitamins and minerals to make them more nutritious. Few of the brands of pistachio milk currently on the market are fortified in this way and are mostly water and sugar.
Pistachio milk is much the same as other nut milk in nutrient density. The protein and fiber input drops by a third compared to whole pistachio nuts, while the amount of daily calcium drops to two percent.
Pistachio milk does contain a small quantity of fiber, protein, and mono and polyunsaturated fats and is free of unhealthy saturated fats (which are associated with heart disease).
In terms of nutrition, pistachio milk Compares favorably to other non-dairy milk: pistachio milk is higher in B vitamins, thiamine, potassium, antioxidants, phytosterols, or phytonutrients (which counteract bad cholesterol) and heart-healthy fats.
Pistachio milk has half as many carbs and calories as the extremely popular oat and soy milk and less protein than oat, flax, pea, and soy milk. Oat milk also wins in the fiber stakes. Compared to almond milk, pistachio milk contains more protein but is also heavier in calories.
If you compare pistachio milk with regular cow's milk, you'll find that nut milk is lower in carbs, calories, and saturated fat. Unfortunately, it also misses out on calcium, and vitamin D, both of which cow's milk contains in abundance, giving you a third of your daily allowance. Unless you consume other sources of these essential nutrients (like kale or broccoli), pistachio milk won't cover your RDA.
Sweetened pistachio milk also contains sugar, which can be unhealthy when not consumed in moderation.
In terms of nutrition, there is no reason to choose pistachio milk over cow's milk, especially if you are breastfeeding or under the age of six, unless you're vegan, lactose-intolerant, or allergic to dairy.
However, you may want to make the change in terms of taste and environmental principles. Pistachios are also better for the environment than almonds are, using 75% less water than their thirsty nut cousins.
Note that pistachios and pistachio milk are not suitable for people suffering from nut allergies or fructan intolerance.
How To Use Pistachio Milk
Like any nut milk, you can use pistachio milk as an alternative for cow's milk in coffee, smoothies, cereal, or sauces. It's a highly versatile milk alternative and does well in both sweet and savory applications.
Beverages
On its own, pistachio milk is delicious enough to drink as a beverage, especially with a bit of vanilla and agave syrup for added sweetness.
Pistachio milk froths well for lattes and cappuccinos and acts as a flavoring agent instead of syrup. Add it to your favorite hot chocolate, matcha latte, pumpkin spice latte, or chai tea, as the flavor of pistachio marries well with cinnamon, cardamom, and nutmeg.
Take care when adding pistachio milk to hot coffee as it can curdle – froth or steam the milk first for best results. Or use pistachio milk for your favorite summer iced coffee.
Also, use pistachio milk as the basis for a smoothie or healthy milkshake, either going the banana, date, and maple syrup route for something sweet, or using spinach, lettuce, lime, apple, and avocado for a green smoothie.
Meals
To maximize the flavor of pistachio milk, use it in recipes where it remains in the foreground. A good example is making overnight oats with pistachio milk, chia seeds, and banana or making a chia seed pudding.
You can also use the nut milk as a non-dairy base for creamy soups, such as butternut or mushroom, or add it to mashed potatoes or pureed cauliflower.
Pistachio milk works well in bechamel sauces, so you can make delicious pasta, made even more delightful by sprinkling on chopped pistachios.
Desserts
The flavor of pistachio lends itself to desserts, as pistachios are a traditional ingredient of many Middle Eastern and Mediterranean desserts, like baklava.
Use pistachio milk to make rice pudding or bread pudding, adding ginger and whole nuts to amp up the flavor. Also, use pistachio milk for pancakes, muffins, cakes, and biscuits – although the low level of protein in pistachio milk will mean that your baked goods won't brown as well as if you use cow's milk.
Pistachio milk also makes delicious iced desserts, especially granita and ice cream, and pairs with rose water in these desserts.
Pistachio goes well with anything chocolately, so it is an excellent addition to chocolate brownies.
What Are The Best Pistachio Milk Brands?
Pistachio milk is a relatively new dairy-free alternative on the market, and there are only a few brands worth buying.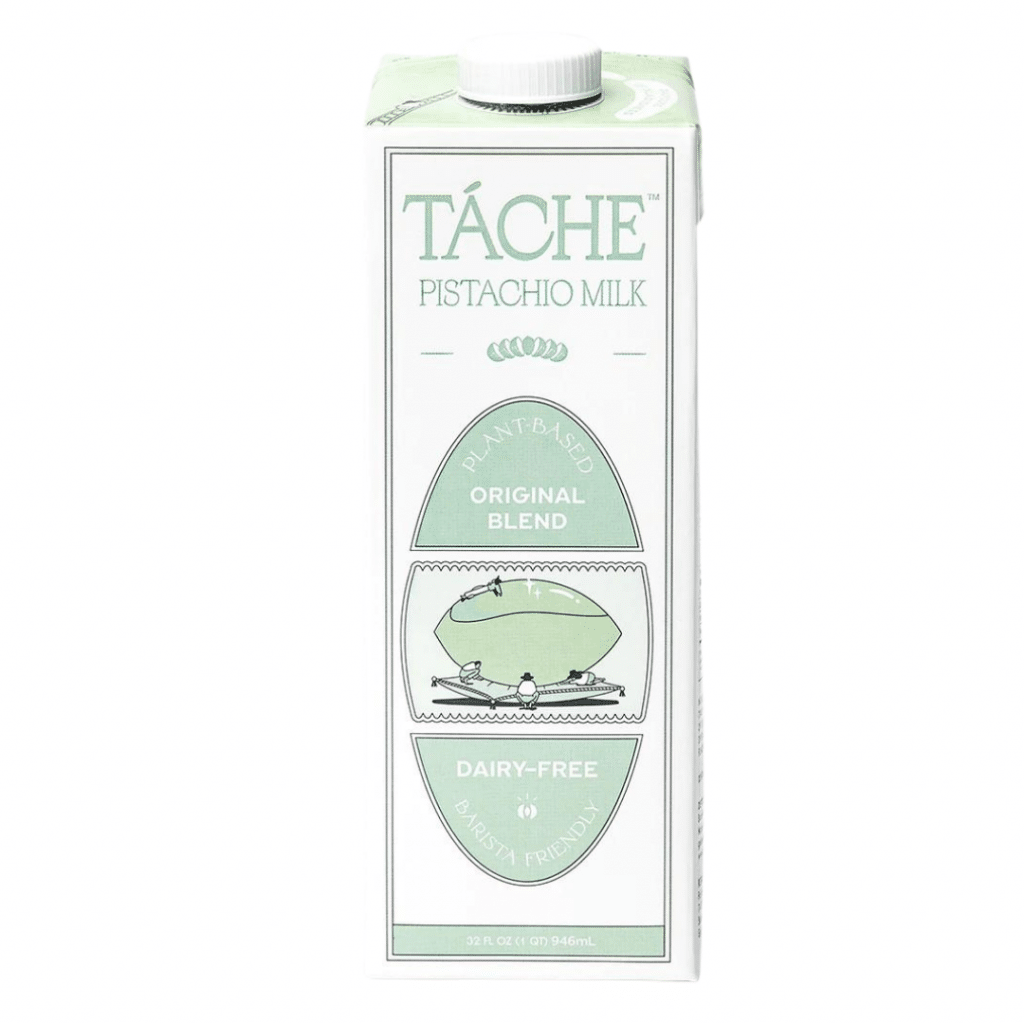 Launched in 2019, the much-vaunted "100%" pistachio milk became available via Táche. Their pistachio milk is vegan, plant-based, GMO-free, gluten-free milk made by a female-founded American company. The founder and CEO is Iranian-American Roaxana Saldi, who was inspired to use the nuts she grew up with when she couldn't find almond milk and sources her pistachios from the Middle East.
The milk is available both sweetened with cane sugar and unsweetened and has an intense pistachio flavor. Unlike oat milk, this brand of pistachio milk contains no oils or other additives.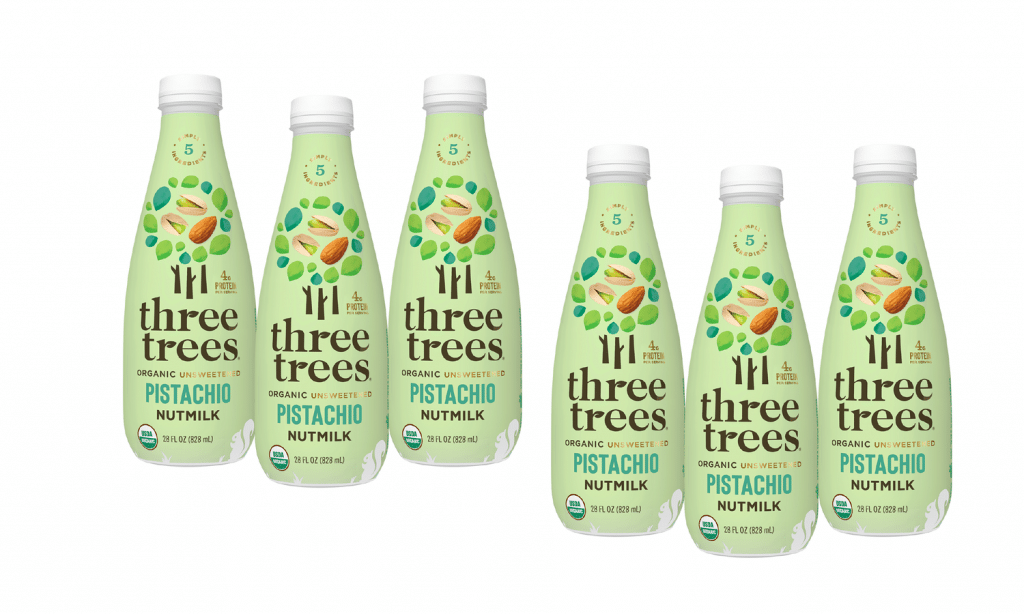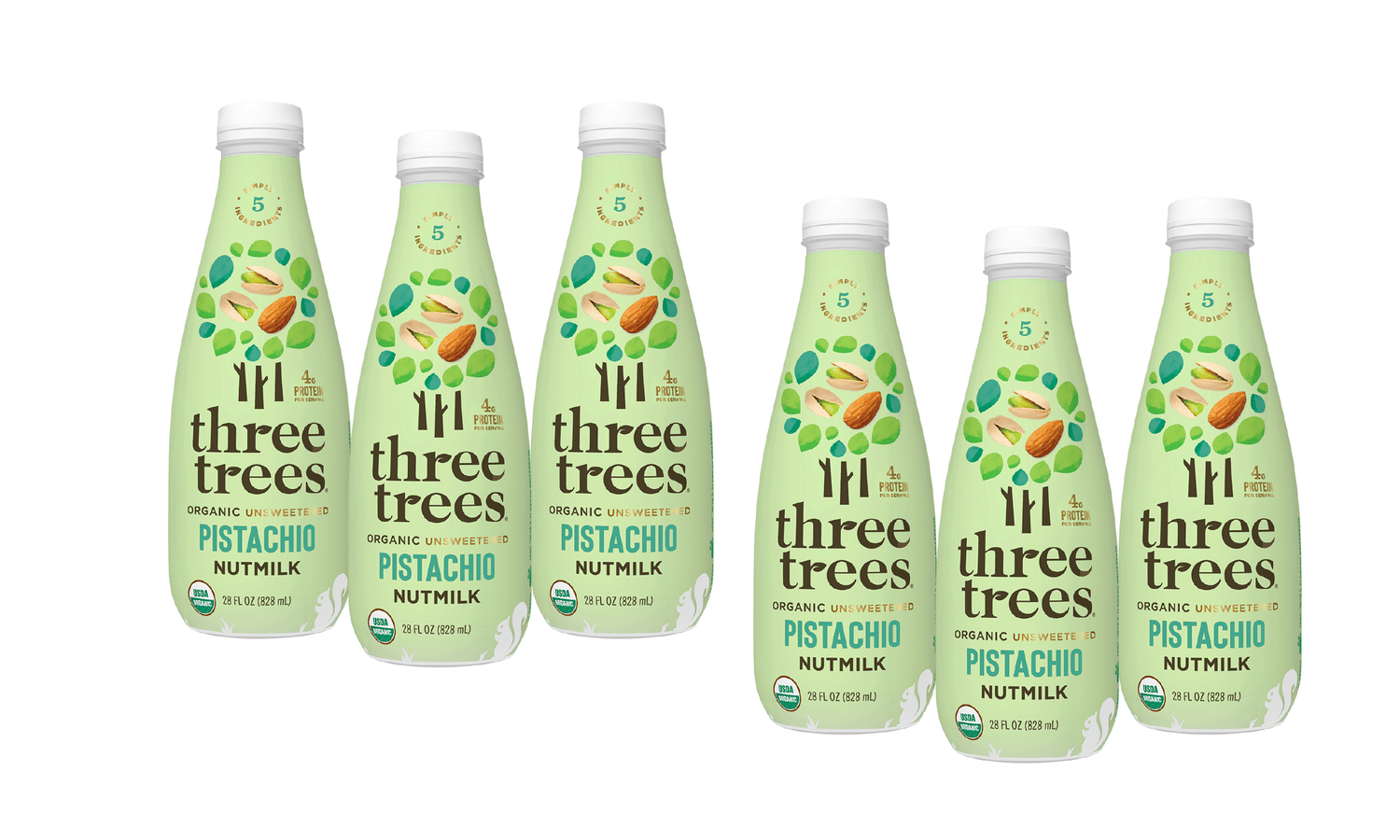 More famous for the oat almond milk they've been making since 2013, Three Trees is an American company that sources nuts from California. They have recently started producing a pistachio and almond milk blend. Three Trees are well-known for their flavored plant milk (black sesame, anyone?), but their pistachio milk is entirely unsweetened.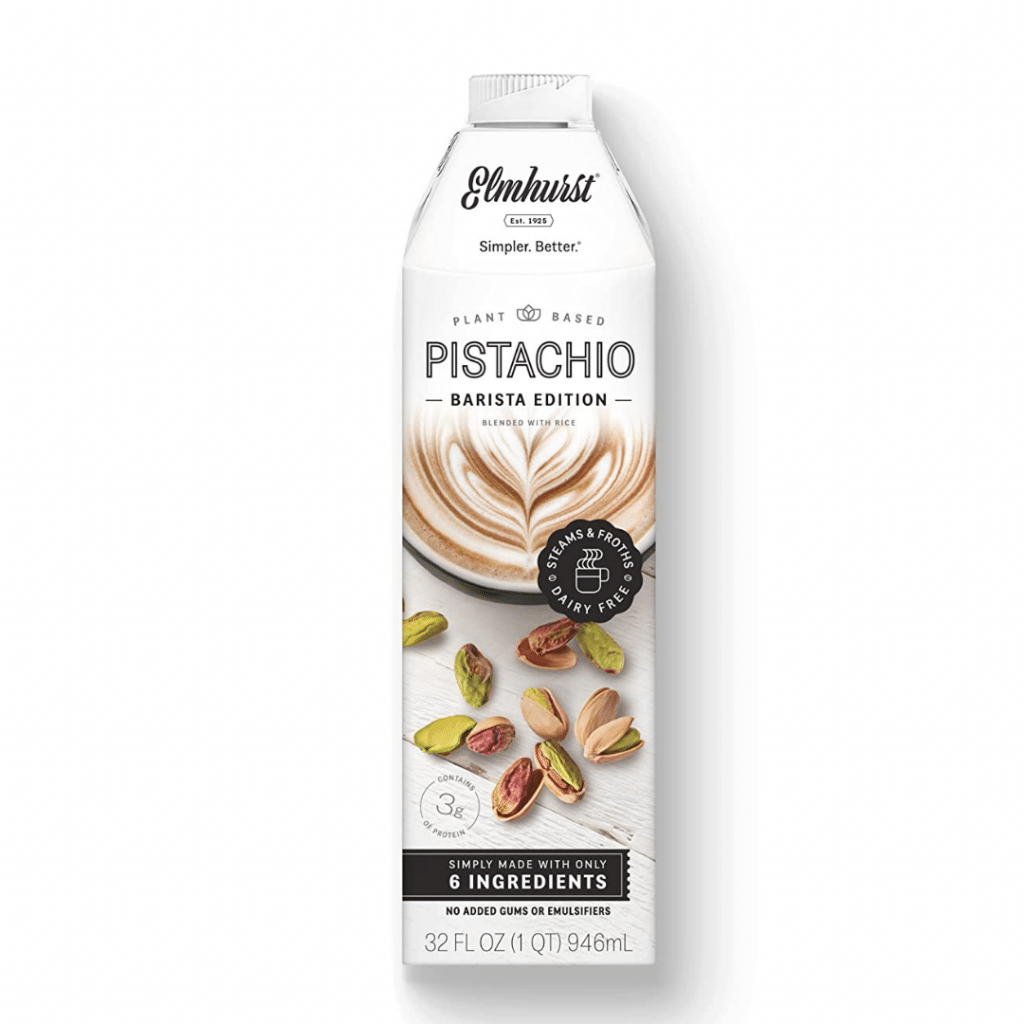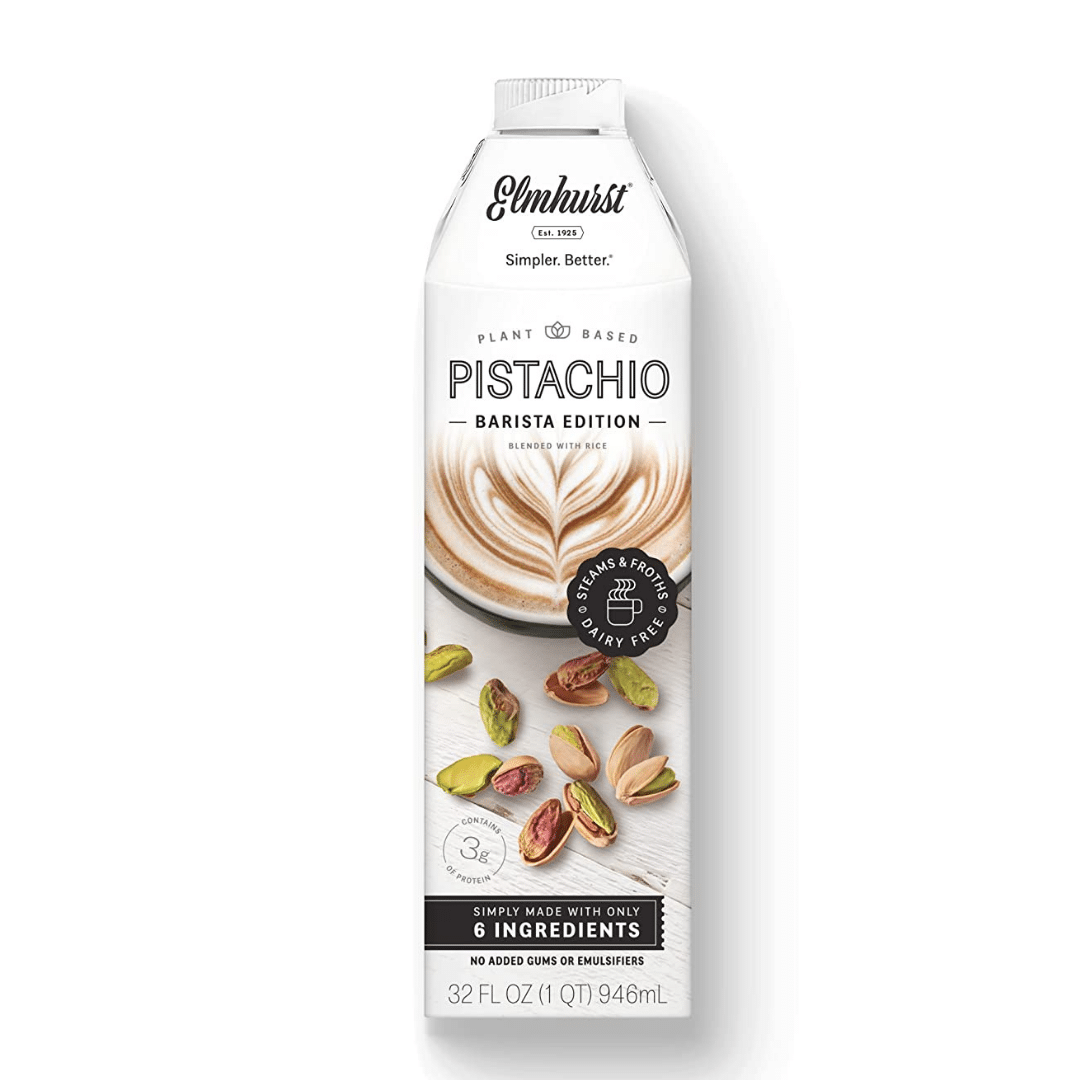 Elmhurst produces barista-style vegan milk made from pistachio blended with other ingredients, including rice. Barista-style milk froths well for velvety and creamy coffee beverages.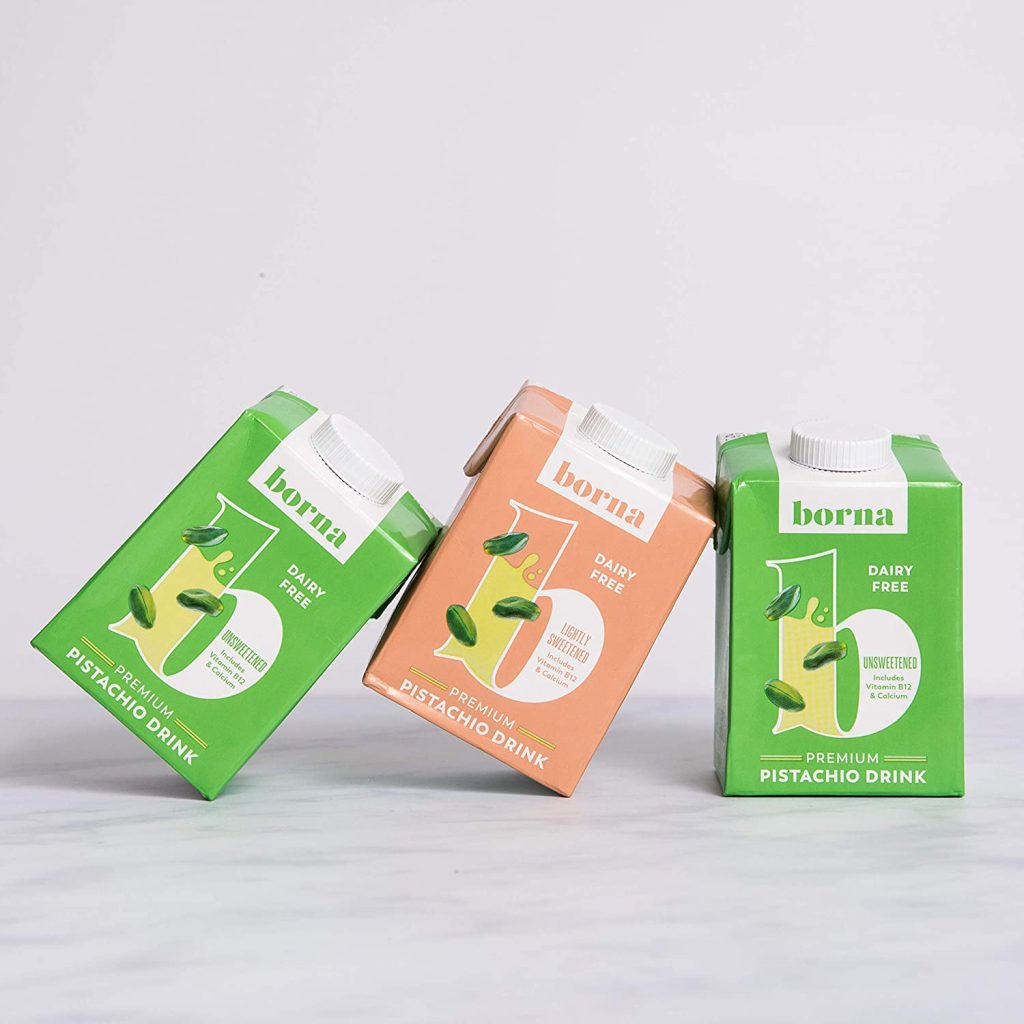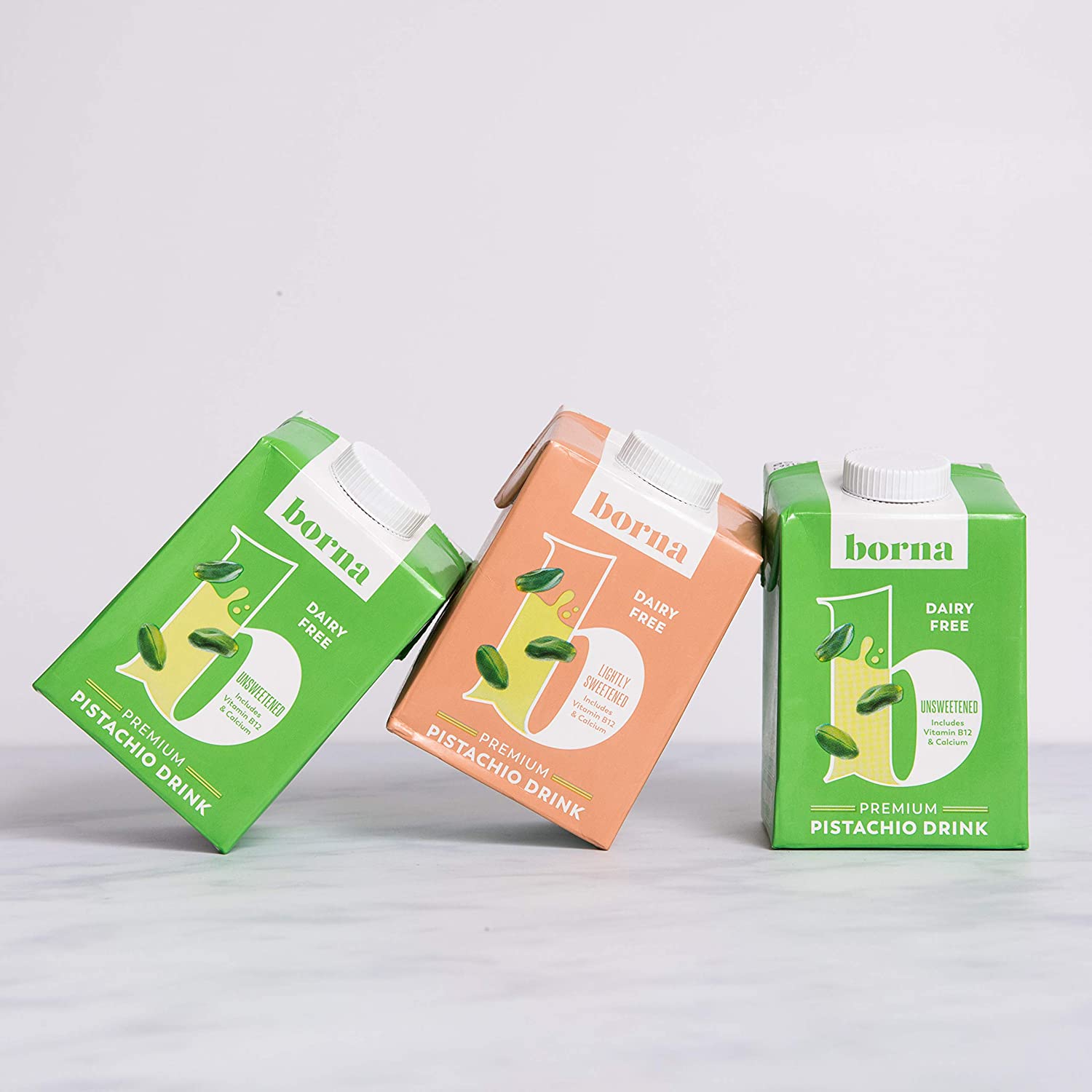 Borna, a British brand, produces what they refer to as a "pistachio drink," but it is a pistachio plant milk. Certified vegan and kosher, Borna's pistachio milk is made from whole nuts and is fortified with calcium and vitamin B. This award-winning pistachio milk is not widely available in the States but is worth tracking down.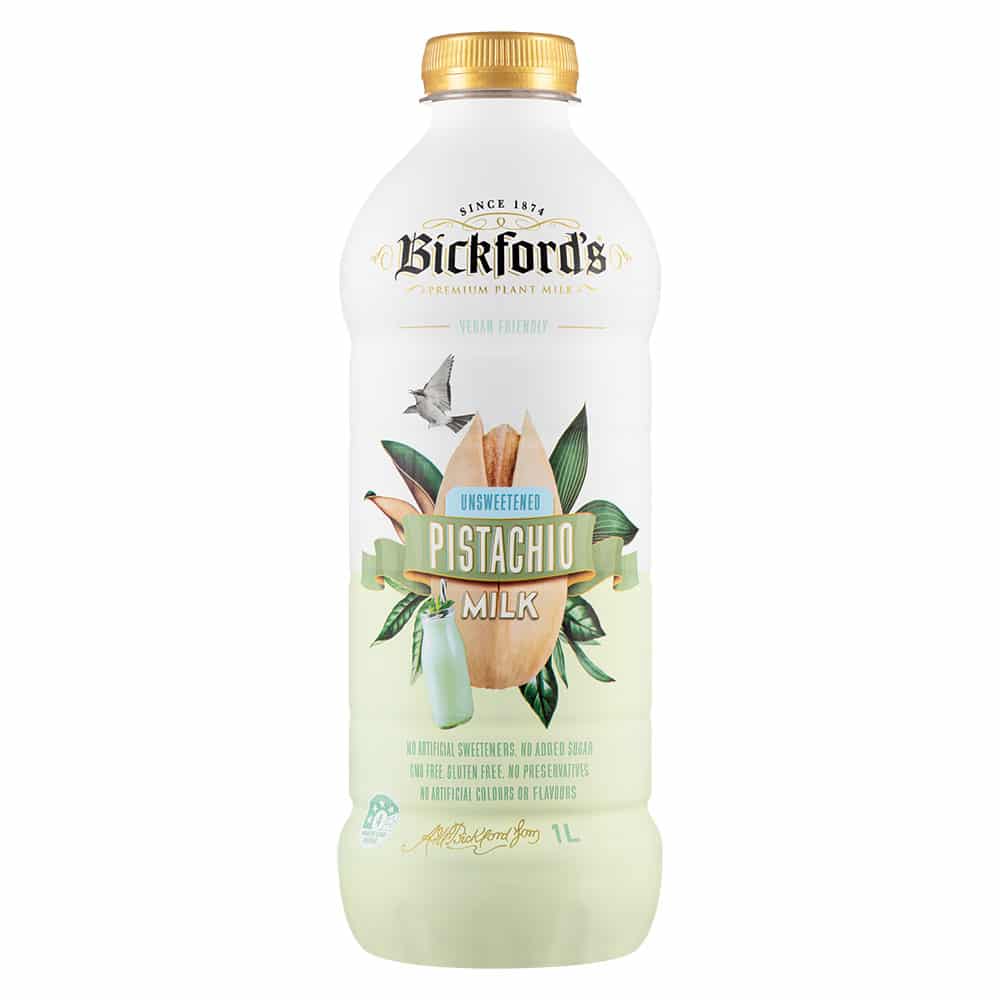 Bickford's has been operating in Australia since 1874 and has added a plant-milk range to their curated list of food and beverages. Their pistachio milk is unsweetened and contains no artificial flavoring, preservatives, or other additives.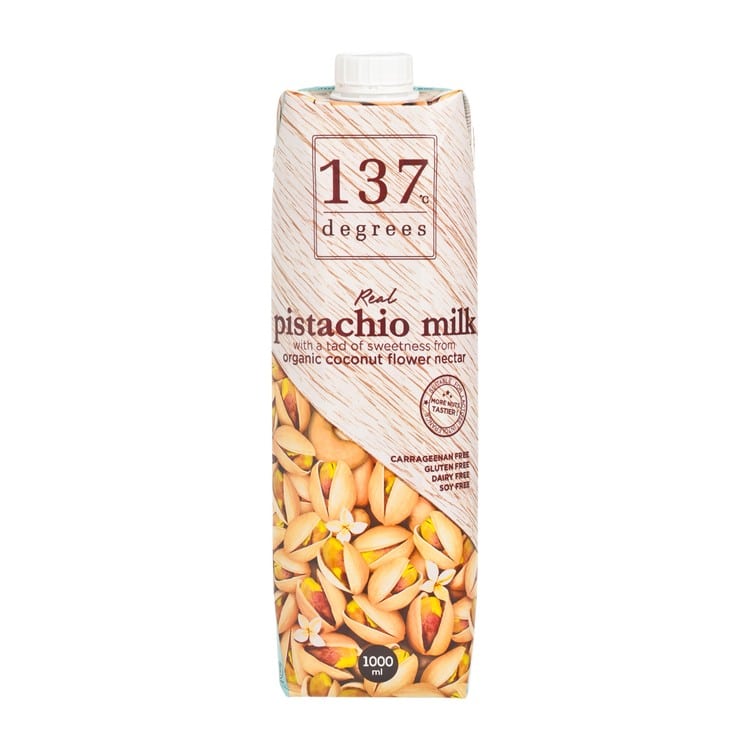 137 degrees is a Thai company that produces a variety of plant-based milk and other vegetarian products. They make pistachio milk sweetened with coconut nectar, available online and throughout the Far East.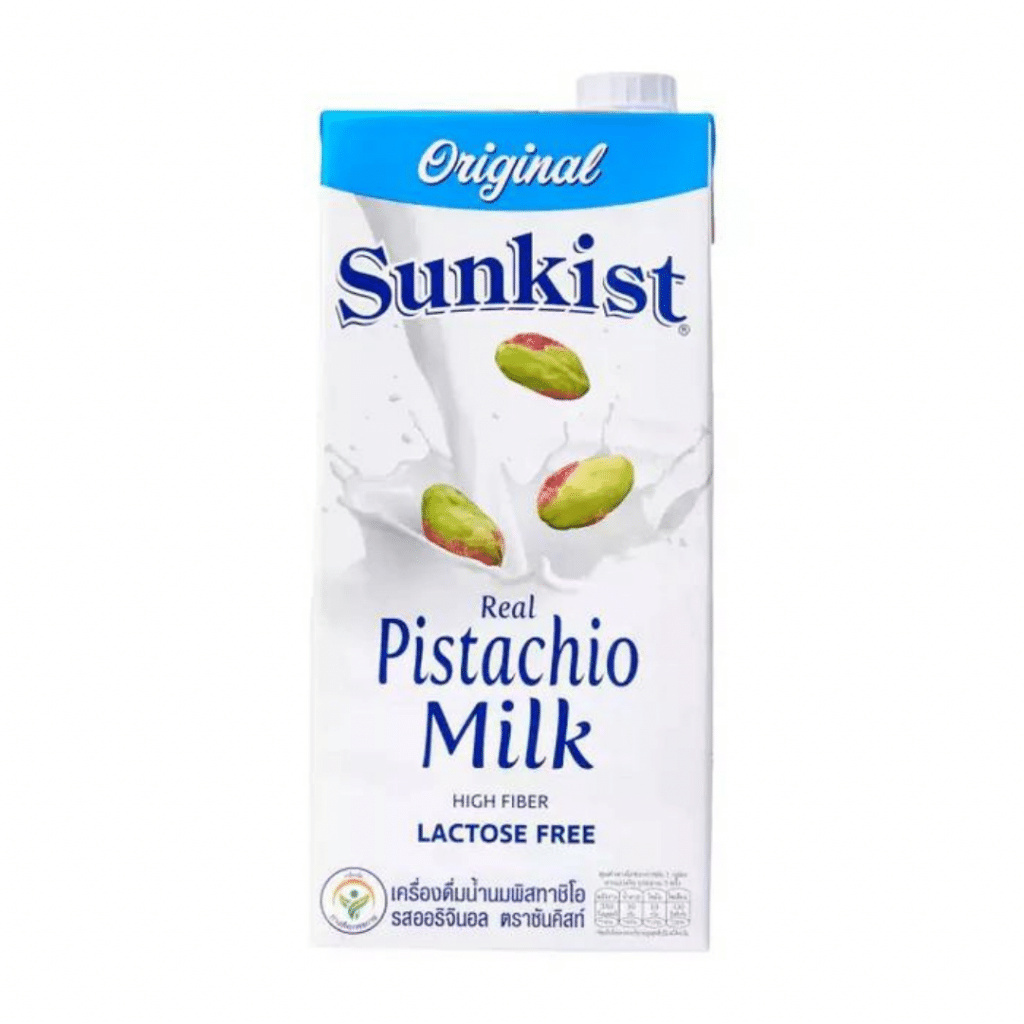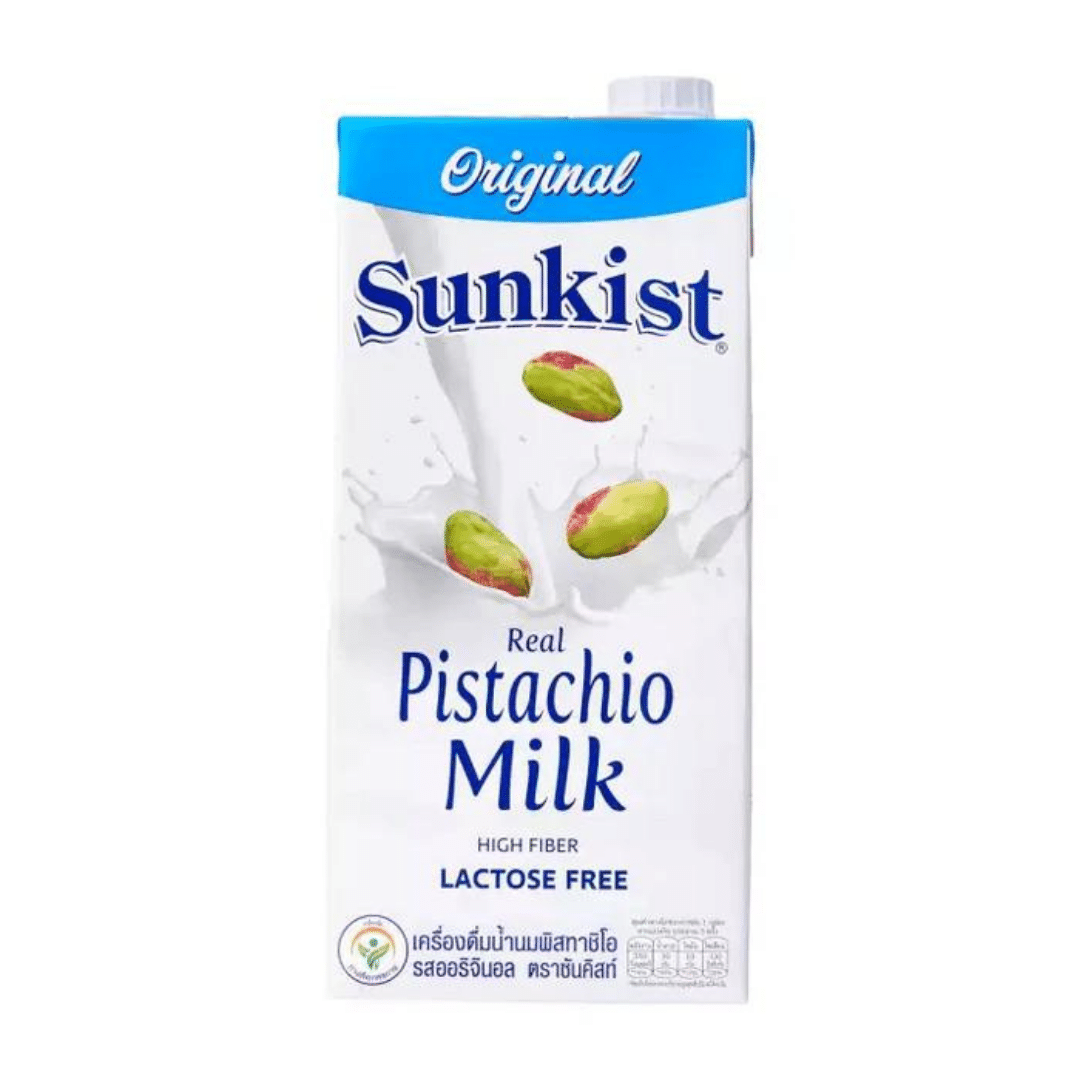 Not made by the Californian citrus company, Sunkist pistachio milk is a Thai product from a company that makes flavored teas and other foods, Heritage. This brand of pistachio milk is very rich in pistachios but also includes emulsifiers and other additives. Sunkist pistachio milk is available in sweetened and unsweetened flavors. You can find this brand online or in Indian, Filipino, or Thai stores.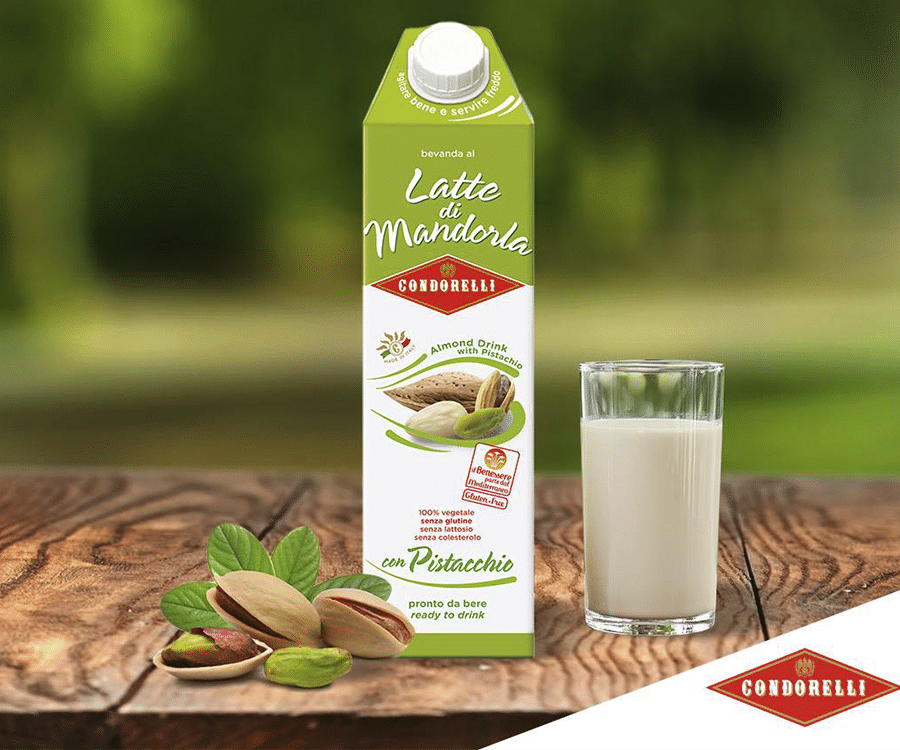 This Sicilian favorite is not strictly speaking pistachio milk but almond milk flavored with pistachios. However, if you want to try out the flavor of pistachio milk without the expense, this is a good choice. Condorelli does use flavoring agents, emulsifiers, etc., in their plant milk, so be aware that this is not pure nut milk – although it does taste delicious.
Where To Buy
Pistachio milk is not widely available as it is costly to produce. Your best bet for pistachio milk is your local health or specialty organic store, Whole Foods, or online directly from Three Trees, Táche, or Amazon.
How To Make
If you're struggling to get hold of pistachio milk, it's straightforward to make your own yummy milk – and you'll know it's free of additives and preservatives.
Pistachios are expensive, but buy the best quality you can find. You will need to use raw, unroasted, unsalted pistachios. Check that they are fresh and sweet before making the milk. Store any extra pistachios in the fridge.
To make pistachio milk at home, follow these steps.
Remove any shells and skins from the pistachios. It isn't strictly necessary to remove the skins, but it will help to make your milk a more appealing green shade. (Dry out the peels, not shells, and add them to cereal or smoothies for additional fiber.)
Soak a cup of pistachios in warm (not hot) water for six hours or even overnight. This step is essential in extracting the most milk from the pistachios, so don't skip it or reduce the soaking time.
Rinse and drain the pistachios. Discard the soaking water.
Add the pistachios and three cups of water to a high-powered blender or food processor. Process until smooth. (Use less water to make thicker milk or more water for a thinner blend.)
Unless you have a milk processor with an automatic draining function, you will need to strain your pistachio milk through a very fine sieve, cheesecloth or muslin so that it's not gritty. Squeeze the milk tightly to extract all the liquid.
If desired, flavor with vanilla, cardamom, and maple syrup or honey. (Add a pinch of sea salt for a more savory beverage.)
Refrigerate your pistachio milk and use it within three days. Shake before use.
Don't waste the excess nut pulp – use it to make nut brittle, pesto, granola, or add the pulp to your pistachio milk smoothies for a nutritional boost.
Everything You Need to Know About Pistachio Milk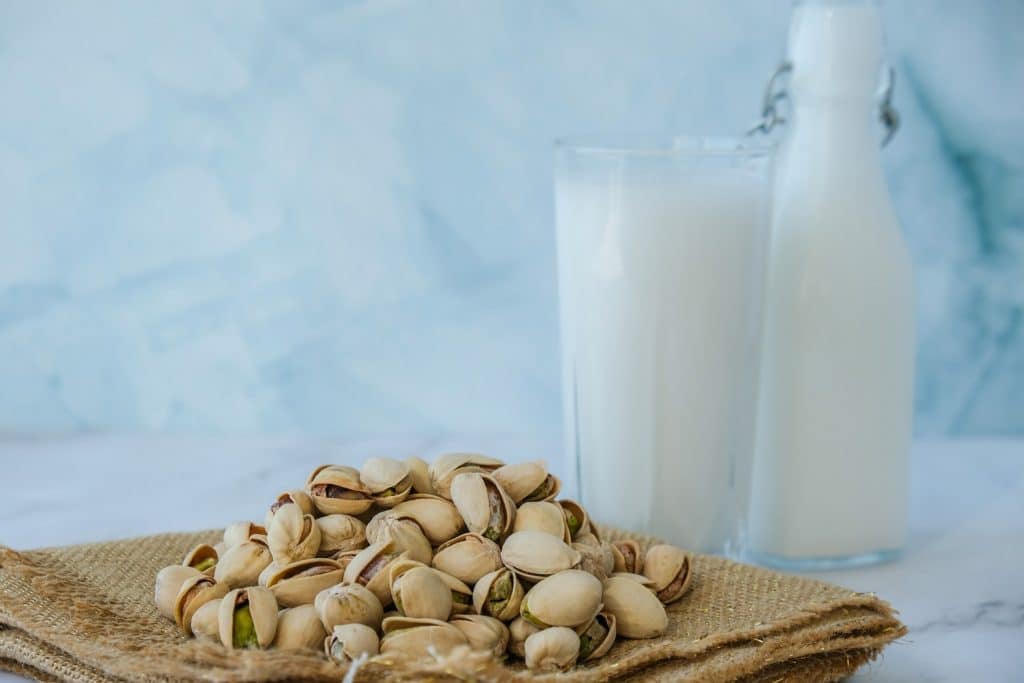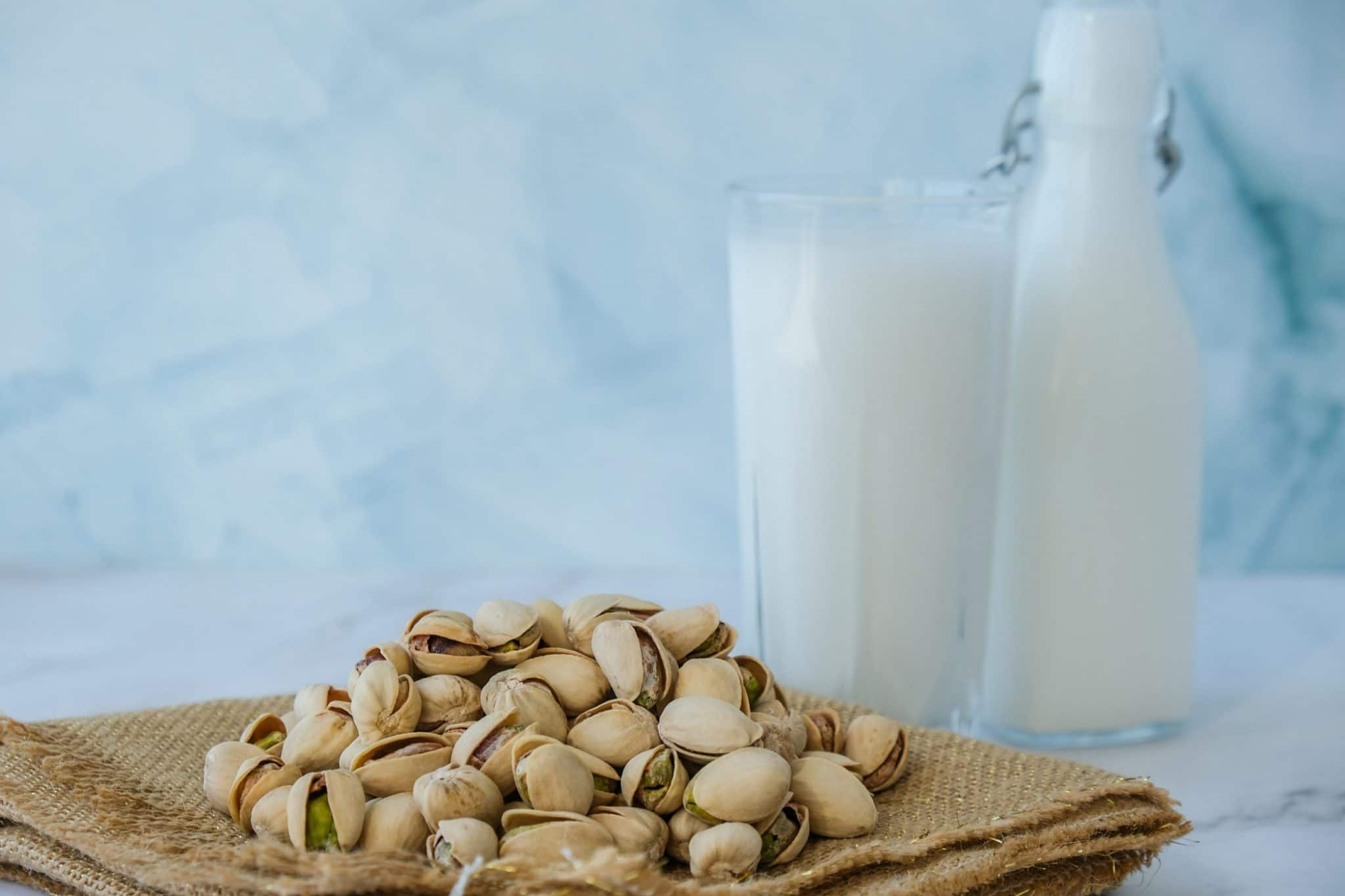 Pistachio milk is a delicious and versatile dairy-free milk alternative. New on the market, few brands are producing this tasty beverage, but you can find it online or at specialty health food stores. It's also easy to make your own pistachio milk to use in coffees, smoothies, soups, and bakes.
---
Recent Recipes