Almonds are one of my favorite tree nuts and are super healthy. They are a rich source of protein, omega 3 fatty acids, vitamins, minerals, and antioxidants. The vitamins in almonds include vitamin E and B-complex vitamins. The mineral content of these delicious nuts includes calcium, iron, magnesium, selenium, and zinc. Almond oil is excellent for cooking and for topical use. What's not to like about these nuts that are cultivated right in the US.
I eat almonds raw, add them to smoothies, cook with almond oil, spread almond butter on my morning toast, and bake gluten-free bread with almond flour. Almonds are extremely versatile. And in this recipe, we are using almonds two ways to make healthy vegan almond energy balls.
These almond energy balls provide protein, carbohydrates, heart-healthy unsaturated fats, and fiber. These are the perfect snack for giving you a boost when your energy is depleted. They are great after a workout, while hiking, or when you need an afternoon pick-me-up.
The best part about this vegan energy balls recipe is that there is no baking involved. These treats will firm up in your refrigerator and will keep for many days. You do have to set aside a little time to roll out each ball. It is worth the effort and you can reward yourself with a few energy balls.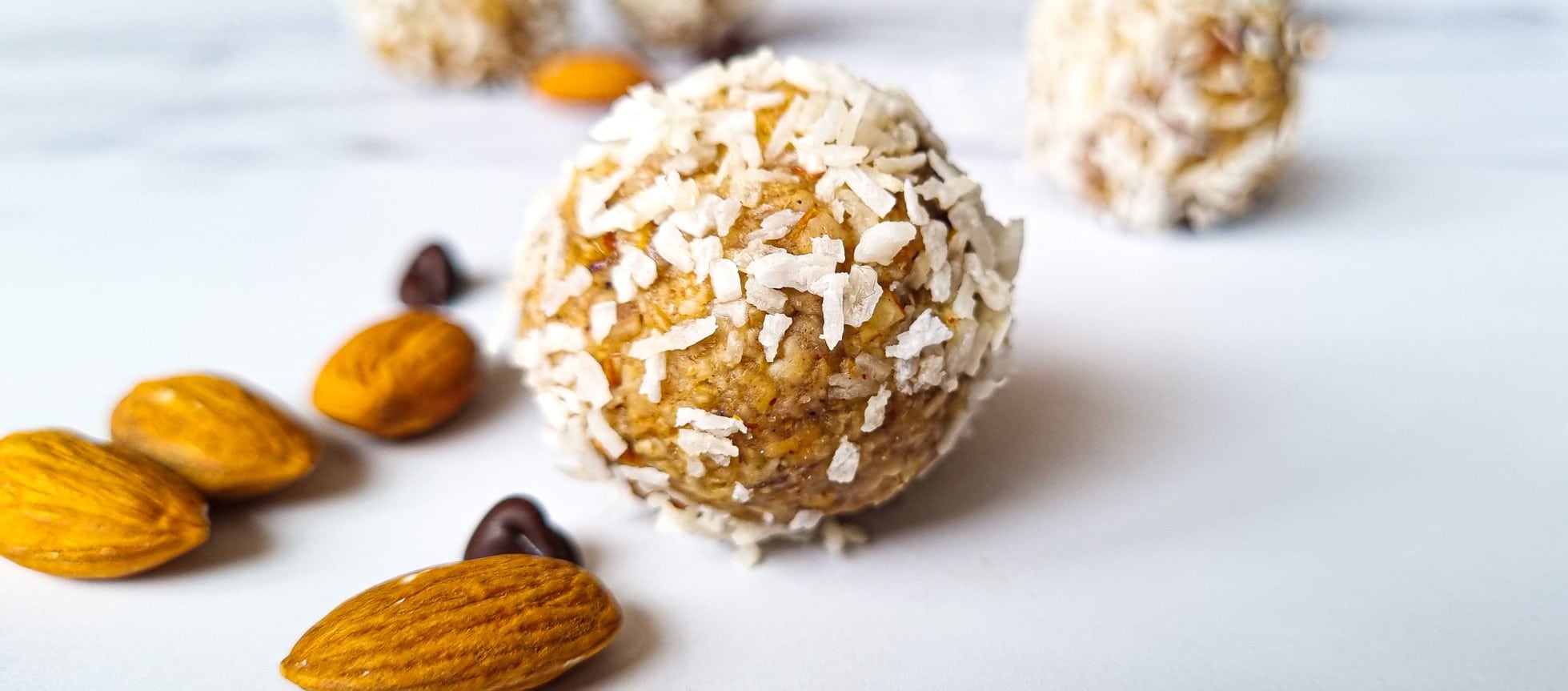 Ingredients
1

cup

rolled oats

1/4

creamy raw unsweetened almond butter

1/4

cup

pure maple syrup or brown rice syrup

1/4

cup

lightly toasted almonds

chopped finely

1/4

cup

dairy-free dark chocolate chips

1/2

tsp

ground cinnamon

1/2

teaspoon

pure vanilla extract

1/4

tsp

sea salt

1/2

cup

unsweetened finely shredded coconut + more if needed

optional
Instructions
To a medium mixing bowl, add the oats, almond butter, syrup, almonds, chocolate chips, cinnamon, vanilla, and salt. Using a wooden spoon, or gloved hands, gently mix all the ingredients together until well combined. A semi-sticky ball of "dough" should come together.

Place the bowl in the refrigerator for 30 minutes until the ball is set and easy to roll into smaller balls.

Line a sheet pan with parchment or wax paper. Place the shredded coconut in a shallow bowl.

Using a tablespoon size cookie scoop or a tablespoon, take a scoopful of the almond mixture and roll it in your hands to form a bite-size ball. Roll the ball in the coconut to lightly coat. If you have trouble getting the shredded coconut, dip the ball in a little maple syrup first. Place the ball on the sheet pan and continue until you have made approximately 32 balls.

Place the sheet pan back in the refrigerator to allow the almond balls to set up again.

Serve the almond energy balls when chilled or store in an air-tight container in the fridge for several days.
Video
Nutrition
Calories:
289
kcal
|
Carbohydrates:
41
g
|
Protein:
5
g
|
Fat:
12
g
|
Saturated Fat:
7
g
|
Polyunsaturated Fat:
1
g
|
Monounsaturated Fat:
3
g
|
Cholesterol:
1
mg
|
Sodium:
190
mg
|
Potassium:
278
mg
|
Fiber:
4
g
|
Sugar:
21
g
|
Vitamin A:
2
IU
|
Vitamin C:
1
mg
|
Calcium:
89
mg
|
Iron:
2
mg
Notes & Tips
A step you shouldn't skip is chilling the "dough" in the refrigerator before rolling the balls. This makes it much easier to handle them without getting your hands all sticky with the mixture. In fact, the longer the dough sits in the refrigerator, the softer the oats will become.
You might need to dampen your hands with a little water to assist in the rolling.
Don't leave the salt out of the recipe, unless you are avoiding salt in your diet. Salt enhances the sweetness in the dark chocolate and the syrup.
Substitutions & Shortcuts
You are free to change these up from almond energy balls to walnut, macadamia, cashew, sunflower, or pumpkin balls. Really, any nut, seed, or nut butter will work. Even peanuts and peanut butter will work despite them being technically a legume. All of these nuts, seeds, and legumes provide the protein and unsaturated fats that make these energy balls healthy.
Oats and raisins are a natural pairing. Think soft oatmeal raisin cookies. You can change out the chocolate chips for raisins if desired. Dried blueberries or cranberries are also good swaps. If you are looking for a little crunch, use cacao nibs instead of chips or dried fruit. For a little more heart-healthy goodness, add a teaspoon or so of golden flax meal or hemp hearts.
Another sweetener you can use is agave nectar. If you aren't a pure vegan, you can substitute honey.
The shredded coconut is purely optional and a matter of taste. You don't have to coat these energy balls in anything. If you would like to coat them in something other than coconut, try cocoa powder or almond meal. Almond meal is more coarse than almond flour and offers a nice texture and outer layer. If you want to elevate your presentation for dessert, drizzle raspberry or dark chocolate syrup over the balls in a striped pattern.
If you are pressed for time, you can skip the step of rolling the mixture into balls. Simply press the combined ingredients into a baking dish and refrigerate. Cut into small bars and enjoy as you might a brownie.
Is this Gluten-Free & Dairy-Free?
If you are following a gluten-free diet, make sure the oats you purchase are labeled gluten-free. While oats are often considered to be gluten-free, they are sometimes processed in a facility that also processes wheat which could cause cross-contamination.
This is a vegan recipe, so there isn't any dairy or other animal protein in the ingredients. That said, you do have to read packaging labels carefully. Some chocolate chips have milk solids or whey protein in the ingredients. Look for vegan dark chocolate chips or vegan carob chips.
Be mindful that this recipe has nuts in it and will not be appropriate for those with an allergy to nuts and seeds.
---
Recent Recipes