Simple & Savory Apricot Chicken
I am not entirely sure why I eat chicken at least 4 times a week. It may be because I grew up right outside of Amish country and we were lucky enough to have access to the freshest, free-range, organic chicken all the time. This was well before commercially raised chicken got a bad rap. I rarely had to eat chicken raised on factory farms with antibiotics, hormones, and steroids. When we did have grocery store chicken, we definitely could tell the difference.
Grocery store chicken options are so much cleaner these days and still an affordable protein compared to beef and lamb. So don't be afraid of supermarket chicken. If you check the labels, the majority of them now say the bird was raised without antibiotics, hormones, or steroids. Even Costco carries organic, additive-free chicken at a really good price point. Let's face it, chicken is still a very good value when trying to include protein in your and your family's diet.
There are hundreds of ways to prepare chicken. One of my favorite recipes is for a savory and sweet apricot chicken. It is a very easy dish that utilizes items you most likely have in your pantry. The only ingredient you might not have is apricot preserves. If you have never tasted apricot preserves, I encourage you to try a jar. It is excellent on toast and great to bake and roast with.
The other ingredients you will need are soy sauce, rice vinegar, Dijon mustard, olive oil, ginger, garlic, pepper, cayenne, scallions, ad of course chicken. I prefer bone-in skin-on chicken thighs for this recipe. Thighs are juicy and the skin gets crisp and sticky.
I serve my apricot chicken over a bed of rice. I also add some steamed vegetables on the side, such as asparagus, broccoli, or spinach. The best part is that kids love this chicken.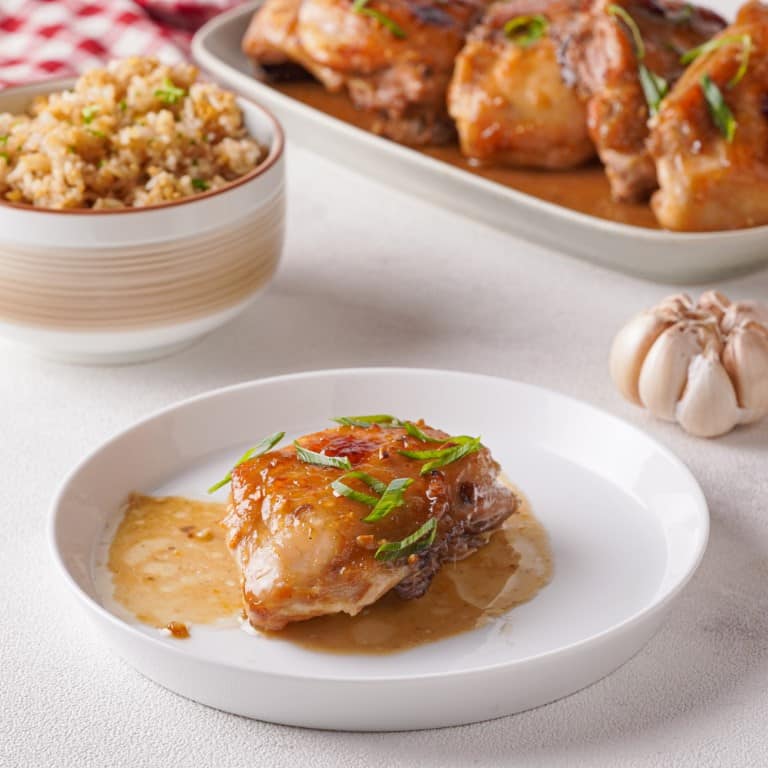 Ingredients
6

bone-in skin-on chicken thighs

¾

cup

apricot preserves or jam

2 ½

Tbsp

soy sauce

2

Tbsp

rice vinegar

1

Tbsp

Dijon mustard

1

tsp

extra virgin olive oil

1

tsp

grated fresh ginger root

1

large garlic clove

minced

¼

tsp

freshly ground pepper

Pinch

of cayenne pepper flakes

optional

2

Scallions

sliced thinly on the diagonal, for garnish
Instructions
All ingredients ready? Let's begin!

Preheat your oven to 400°F. You can lightly grease a 9×13-inch baking dish with olive or vegetable oil to ensure the chicken doesn't stick to the dish.

In a medium mixing bowl, whisk together the preserves, soy sauce, vinegar, mustard, olive oil, ginger, garlic, pepper, and cayenne.

Pat the chicken thighs dry with paper towels and place them in the greased baking dish, skin side facing down.

Spoon 1/2 of the sauce evenly over the thighs. Bake for 15 minutes. Remove the dish from the oven. Turn the chicken thighs over and spoon the remaining sauce over the skin side of the thighs.

Return the dish to the oven and continue to bake until the internal temperature reaches 165°F when checked with an instant-read thermometer, approximately 20 minutes longer. Check the chicken starting at 25 minutes.

Once the chicken is cooked, transfer it to a serving platter and tent loosely with foil. Allow it to rest for 5 minutes.

Garnish the thighs with the scallion slices sprinkled over the top. Serve the sticky chicken with your favorite sides, such as rice pilaf and steamed broccoli.
Nutrition
Calories:
403
kcal
|
Carbohydrates:
21
g
|
Protein:
25
g
|
Fat:
25
g
|
Saturated Fat:
7
g
|
Polyunsaturated Fat:
5
g
|
Monounsaturated Fat:
11
g
|
Trans Fat:
0.1
g
|
Cholesterol:
142
mg
|
Sodium:
570
mg
|
Potassium:
354
mg
|
Fiber:
0.4
g
|
Sugar:
13
g
|
Vitamin A:
215
IU
|
Vitamin C:
4
mg
|
Calcium:
25
mg
|
Iron:
1
mg
Notes & Tips
I have noticed that the consistency and flavor of apricot preserves vary widely. Some are sweeter than others, some are tart, and some varieties have random ingredients like orange peels, added sugar, citrus juice, or aspartame. The preserves with apricots as the main ingredient and fewer added ingredients are the best ones for me. I try to find preserves with no or little added sugar. Basically, taste your sauce and add a little sugar if you want it sweeter or a little more vinegar if you want it to be a little tarter, depending on the brand of apricot preserves you use.
Be sure to have an instant-read meat thermometer on hand to check the internal temperature of the chicken. You are looking for 165°F. Try not to overcook the chicken because it will become dry and chewy.
Substitutions & Shortcuts
Chicken Thighs: There isn't any rule that this dish has to be prepared with thigh portions. You could use breasts, drumsticks, or wings. Just monitor the internal temperature of the chicken, as each part of the bird cooks differently. I also like making this recipe with cubed boneless chicken thigh meat that is stir-fried over high heat in my wok with some crunchy vegetables and then served over sticky rice. This method only takes a few minutes to cook.
Apricot Preserves: I also like this dish made with orange marmalade. I love the orange zest in marmalade as a textural element. I tried to make the recipe with strawberry preserves the other night and it was way too sticky and sweet and the seeds were a little bit annoying – just an FYI. I would stick with an apricot or orange base.
Rice Vinegar: A bottle of rice vinegar is usually in my fridge. When I don't have it, I will substitute apple cider vinegar for tartness or balsamic vinegar for a little sweeter flavor. Those two kinds of vinegar are always in my kitchen.
Soy Sauce: I know I have said this before, but I will say it again. Soy sauce contains wheat. If you are on a gluten-free diet, substitute with tamari or liquid aminos.
Fresh Ginger Root: If you only have ground ginger, use 1/2 tsp in place of a full teaspoon of fresh ginger.
Shortcut: I once made this chicken dish with jarred duck sauce that I added some tamari to. I needed to get it on the table quickly, and this worked just fine in a pinch because I happened to have duck sauce in my fridge that I needed to use up.
---
Recent Recipes