Simple Homemade Arrachera
In Mexican cuisine, the term Arrachera refers to skirt steak. Skirt steak is a cut from the plate muscle of the steer. This is located in the lower diaphragm area. The skirt portion of the plate is a thin, long cut of beef with stringy muscle fibers. This steak has an intense beefy flavor. It is best cooked only to medium rare.
Arrachera is generally served as an ingredient in fajitas or in soft tacos. On some menus, you might see a dish referred to as arrachera. When you see that it is describing tacos made with skirt steak carne asada. Carne asada is marinaded and grilled beef that is served thinly sliced. In the case of arrachera, the traditional marinade includes citrus juice, herbs, and spices.
Tacos are a favorite around here, as you may have already noticed on this site. For this taco recipe, we are using skirt steak and corn tortillas. You do need to marinate the steak to tenderize it. You also want to cook it for just a few minutes on a hot grill. Once the steak comes off the grill, it must rest before you slice into it. And, you have to slice it against the grain. Skirt steak is excellent when you follow these few steps. Otherwise, you end up with a very tough and chewy steak. I once sliced a perfectly grilled skirt steak in the direction of the grain and it was completely inedible when I served it to my guests. I have never repeated that mistake and was happy to have learned from it.
Many years ago, I used to shop at a local market that carried some meat, poultry, and fish that I was not familiar with. I experimented with things like tripe (cow stomach), poussin (young chicken), and skate wings. My favorite finds were skirt, hangar, and flank steak. These cuts were extremely inexpensive and the butcher explained that these were the cuts of beef that were given to the staff to take home because "no one would buy them". My friend behind the protein counter explained exactly how to cook these cuts, despite my one error. Many years later, these tougher cuts of beef skyrocketed to star status once discovered by chefs and sophisticated home cooks. So, expect to pay a good penny for delicious skirt steak.
There are some arrachera taco recipes that have very complex marinades. I used to make very elaborate dry rubs, brines, and marinades. I probably did this because I have an extensive collection of spices and I grow lots of fresh herbs in my backyard garden. I am learning to edit myself and that is working in my favor. For this arrachera recipe, I have kept it low-key with things I always have in my pantry and fridge. You will need lime, orange, garlic, jalapeño peppers, oregano, cumin, smoked paprika, cilantro, olive oil, salt, and pepper. You can play around with what is in your kitchen. I don't marinate for more than 2 hours because the citrus juices work quickly to tenderize the meat.
Once the steak is grilled, you can build the tacos with a variety of vegetables and fruits. I prefer to allow everyone to make their own, so I place a platter of warmed tortillas, thinly sliced arrachera, shredded lettuce, avocado slices, and diced cucumbers out. I also have bowls of tomato salsa, crema, and Monterey Jack cheese. This is a perfect Taco Tuesday meal for a family.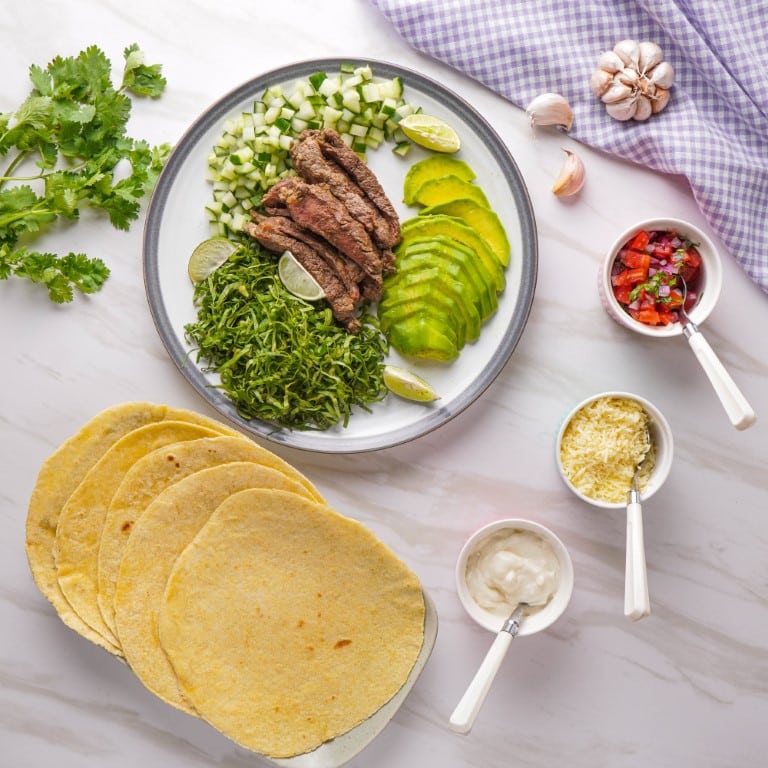 Ingredients
Skirt Steak
Juice of 1 orange

Juice of 1 lime

¼

cup

extra virgin olive oil

4

garlic cloves

peeled

2

jalapeño peppers

stems and seeds removed

10

sprigs of fresh cilantro

1 ½

Tbsp

Mexican oregano

2

tsp

smoked paprika

1

tsp

ground cumin

1

tsp

sea salt

½

tsp

freshly ground pepper

1 ½

pound

skirt steak
Tacos
12

8-inch soft corn tortillas

1

cup

diced cucumber

1

avocado

peeled, pitted, and sliced thinly

2

cups

shredded iceberg or romaine lettuce

1

cup

tomato salsa

1

cup

grated Monterey Jack cheese

1

cup

crema

Lime wedges for serving
Instructions
All ingredients ready? Let's begin!
Skirt Steak
In the bowl of a food processor, add the orange juice, lime juice, olive oil, garlic, jalapeño peppers, cilantro, oregano, paprika, cumin, salt, and pepper. Process into a smooth paste.

Place the skirt steak into a gallon size plastic bag. Pour the marinade over the steak. Seal the bag tightly. Toss and massage the steak to coat evenly with the marinade. Place the bag inside a baking dish or bowl in case it leaks and refrigerate for up to 2 hours.

Remove the steak from the fridge 30 minutes prior to grilling. Prepare your charcoal or preheat your gas grill so that it is medium-high heat. Coat the grill grates with vegetable oil before grilling.

Remove the steak from the marinade and wipe most of the marinade off with your hands. Place the steak on the grill and cook for approximately 3 minutes per side or until the internal temperature reaches 125°F when checked with a digital meat of thermometer.

Set the steak aside on a clean cutting board to rest while you prepare the taco ingredients.
Tacos
Prepare a platter of diced cucumbers, avocado slices, and shredded lettuce. Slice the skirt steak thinly against the grain and place this on the platter. Add the lime wedges to the perimeter of the platter.

Warm the tortillas for a few seconds on each side on the grill. Place them on the platter or in a basket. Serve the make-your-own tacos immediately.
Nutrition
Calories:
514
kcal
|
Carbohydrates:
19
g
|
Protein:
33
g
|
Fat:
36
g
|
Saturated Fat:
9
g
|
Polyunsaturated Fat:
3
g
|
Monounsaturated Fat:
16
g
|
Trans Fat:
0.4
g
|
Cholesterol:
109
mg
|
Sodium:
1050
mg
|
Potassium:
811
mg
|
Fiber:
5
g
|
Sugar:
5
g
|
Vitamin A:
2626
IU
|
Vitamin C:
22
mg
|
Calcium:
279
mg
|
Iron:
4
mg
Notes & Tips
There is no need to marinate the meat overnight. The citrus juices will break down the muscle fibers fairly quickly. You can marinate for as little as 45 minutes, but 2 hours is optimal.
I find it is best to cook the steak on a really hot grill. This will result in a charred exterior from the sugars in the fruit and a nice pink interior. Be sure to only cook it to medium rare and then allow it to rest for a minimum of 5 minutes, preferably 15, before slicing so the juices can be reabsorbed into the meat. And remember to slice against the grain.
If you don't have an outdoor grill or it is a snowy winter day, you can cook the steak on a grill pan or in a hot cast-iron skillet indoors. Remember to turn your exhaust fan on!
You can make your salsa and crema a day ahead of time and store them in the refrigerator.
Substitutions & Additions
Skirt Steak: I have noticed recently that skirt steak is in high demand and isn't always available. You can substitute with flank steak because that is generally available. If you can find it, hangar steak is a great option. If all else fails, go for beef labeled London broil. It is pretty lean, so slice very thinly. For a vegan version, try marinated and grilled tempeh strips.
Citrus Juice: Orange and lime juice are perfect for this recipe. You can substitute tangerine or clementine juice for orange and lemon in place of lime juice.
Jalapeño Peppers: If you don't have fresh chili peppers, go ahead and use a 1/2 teaspoon of cayenne pepper flakes.
Cilantro: If you don't care for the taste of cilantro, you can substitute flat-leaf parsley or simply leave it out. I like the color the fresh herbs add to the marinade.
Smoked Paprika: Paprika gives a nice smoky flavor to the marinade as well as some red coloring. Feel free to use chili powder.
Corn Tortillas: I often prefer flour tortillas for meat tacos because they are pliable and hold everything nicely. There are also corn and flour combination tortillas. If you are gluten-free, try cassava flour tortillas.
Monterey Jack Cheese: If you want to be a little more authentically Mexican, use crumbled cotija cheese or queso fresco.
Additions: Additional taco fillings and condiments include: pico de gallo, salsa verde, sliced red onions, black beans, fresh cilantro leaves, roasted corn kernels, and radish slices.
Shortcut
If you don't really have time to marinate your steak, coat it with olive oil and then press a dry spice rub made of chili powder, dried oregano, cayenne pepper, salt, and black pepper onto the flesh. Oil your grill grate well and proceed with cooking the steak.
---
Recent Recipes