Easy Cheesy Asparagus Galette
I was at the market yesterday with the goal of picking up some apples and other fall produce to welcome in a new season. Lots of varieties of apples were being placed in the center of the produce section; Gala, Empire, Honey Crisp, and my favorite Fuji. Winter squash and cabbage were also plentiful. I was a little disappointed that there wasn't any end-of-summer sweet corn. What I did see was fresh asparagus.
I love asparagus but was perplexed by the appearance of this spring vegetable in my local market. It actually looked really fresh and bright green. I don't know if was grown in a hothouse or arrived from a country in the southern hemisphere where it is spring. I just knew I wanted it. What would I do with asparagus on the 3rd day of fall in the northeast?
I decided to try something new. I love making handcrafted galettes when I feel the temperature dropping. Most of the ones I make are with fruit, such as deep purple plums. I decided to try my hand at a savory galette with my asparagus score.
So, what is a galette? Galette is a French term used to describe a rustic, free-form pie or pastry that is filled with sweet or savory produce. There isn't any specific pan used to make this. The dough is formed into a circle and filled with whatever you like. The perimeter of the dough is gathered up around the filling just to hold it in place. The center of this rustic pie is exposed so you can see what is in it. The galette is baked on a sheet pan or pizza stone until the crust is golden brown and the filling is bubbling hot and juicy.
This asparagus galette recipe is perfect for a fall lunch or a spring brunch with a green salad. The crust is whole grain and the filling has fresh asparagus, fresh herbs, and three types of cheese. You will have to get your hands in there to make this pie or tart. The hands-on TLC is what gives a galette that old-fashioned homemade quality.
I love this served hot right out of the oven on a cutting board with a sharp knife to cut just before serving family-style. It is also pretty tasty cold or at room temperature the next day.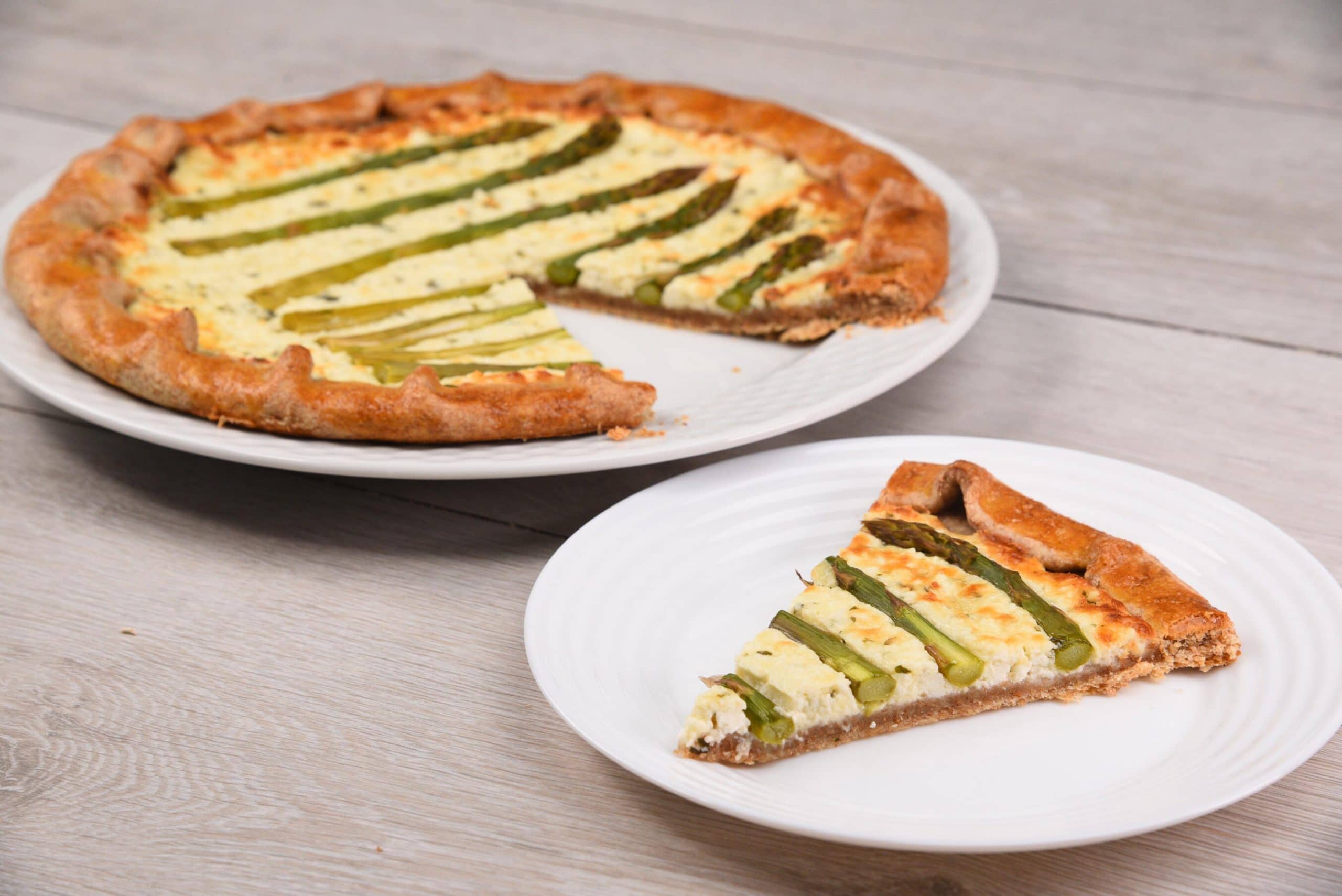 Ingredients
Crust
1-1/4

cups

whole wheat pastry flour or unbleached white flour

1/4

tsp

sea salt

8

Tbsp

cold unsalted butter

cut into small cubes

1/4

cup

plain Greek yogurt

1/4

cup

ice-cold water

2

tsp

fresh lemon juice
Filling
1-1/2

Tbsp

extra virgin olive

1

clove

garlic

minced

1/2

cup

goat milk feta cheese

crumbled

1/4

cup

ricotta cheese

1/4

cup

parmesan cheese

freshly grated

1/4

cup

mozzarella cheese

grated

2

Tbsp

fresh herbs

chopped (basil, parsley, thyme, or mint)

1

pound

fresh asparagus

washed and trimmed
Instructions
In the bowl of a food processor, combine the flour and salt and pulse 2 or 3 times. Add the butter and pulse until the mixture resembles a coarse meal.

In a large mixing bowl, whisk together the yogurt, water, and lemon juice. Add the flour mixture to the bowl. Using clean hands, mix everything until it comes together into a ball. Wrap in plastic and store in the refrigerator for at least 30 minutes.

In a small mixing bowl, whisk together the olive oil and garlic. Set this aside.

In a larger bowl combine the feta, ricotta, parmesan, and mozzarella cheeses as well as the fresh herbs. Stir in 1 teaspoon of the olive oil and garlic.

Preheat the oven to 400°F. Line a sheet pan with parchment paper.

On a floured work surface, roll the chilled dough into a 12-inch diameter circle, trimming the edges until smooth. Transfer the dough to the lined baking sheet. Spread the cheese mixture in the center of the dough, leaving a 2-inch border around the perimeter. Arrange the asparagus in a row over the cheese and drizzle the remaining olive oil mixture over the top.

Fold over the edges of the dough, pleating each fold over the previous one so the dough forms a rustic lip that holds the filling in place.

In a small bowl, whisk together the egg yolk and water. Brush the egg wash over the exposed crust.

Place the pan in the oven and bake for 30 minutes or until the crust is golden brown and the cheese has puffed up and the asparagus is tender.

Allow the galette to cool for about 5 minutes. Then, cut in wedges or squares and serve.
Video
Nutrition
Calories:
275
kcal
|
Carbohydrates:
8
g
|
Protein:
9
g
|
Fat:
24
g
|
Saturated Fat:
14
g
|
Polyunsaturated Fat:
1
g
|
Monounsaturated Fat:
7
g
|
Trans Fat:
1
g
|
Cholesterol:
96
mg
|
Sodium:
351
mg
|
Potassium:
214
mg
|
Fiber:
2
g
|
Sugar:
2
g
|
Vitamin A:
1362
IU
|
Vitamin C:
6
mg
|
Calcium:
198
mg
|
Iron:
2
mg
Notes & Tips
A galette is meant to be rustic, so don't get too carried away with perfection when folding the outer edge around the filling. It should resemble a package with an impressive filling.
Substitutions & Shortcuts
Asparagus is just a starting point. You can make this galette with whatever is in season, such as zucchini, tomatoes, spinach and so on.
Use whatever cheese you like or have on hand. The ricotta is optional. If you don't have it, double the parmesan. In fact, you can simply use all feta cheese. I have made this with a variety of field greens and feta cheese and it was delicious.
The dough can be prepared with all-purpose flour. If you are not looking forward to making your own dough, you can easily use a frozen pie crust that you will defrost before forming the galette. Alternatively, you could use pre-made puff pastry sheets and make a rectangular galette.
Serving Suggestions
I love a nice big green salad with a simple lemon vinaigrette with a savory galette. I also think this asparagus and cheese galette goes perfectly with chilled cucumber and yogurt soup. This is a great Sunday brunch meal on a warm summer day. Also try our breakfast version.
---
Recent Recipes