Best Avocado Smoothie Bowl
If you'd ask me "can I eat a smoothie bowl every day?", I'd say absolutely, yes. I've yet to find a feeling that beats completing a workout and getting two servings of fruit and two servings of vegetables into my body before I even check my emails.
This is my go-to avocado smoothie bowl recipe because it's so simple, delicious, healthy, and filling. It's everything you need in a post-workout breakfast or just as a healthy breakfast to add some more fruits and veggies to your diet.
You may be thinking, why are smoothie bowls so popular anyway? Well, the reason they're so popular is that they're perfectly Instagramable thanks to the gorgeous toppings. But I'd argue that there's an even better reason for putting your smoothie in a bowl.
You may already know that digestion begins in the mouth. This means that your smoothie can turn from a blob in your stomach to a nurturing and filling meal depending on how you consume it. It takes 20-30 minutes for the feeling of satiation to reach our brains, so make sure to savor each spoonful of your smoothie bowl. The crunchy toppings can make this easier to accomplish.
So, if you're wondering whether smoothie bowls are actually healthy, it depends. By making your smoothie bowl at home, you get to choose what ingredients go into it.
To make sure you're getting all of the nutrients and benefits of your smoothie bowl, eat it slowly. Voila, now you've got a healthy breakfast you can enjoy any day.
I love adding avocado to my smoothies because they not only make them dreamy and creamy, but they also pack loads of dietary fiber, healthy fats, vitamins, and minerals. Avocados are rich in potassium, magnesium, vitamin A, vitamin C, and folate, amongst many others. The healthy fats in avocados help the body to absorb vitamins and minerals, as well as control blood sugar levels. It's all wins here. Enough talk, let me teach you how to make the best avocado smoothie bowl!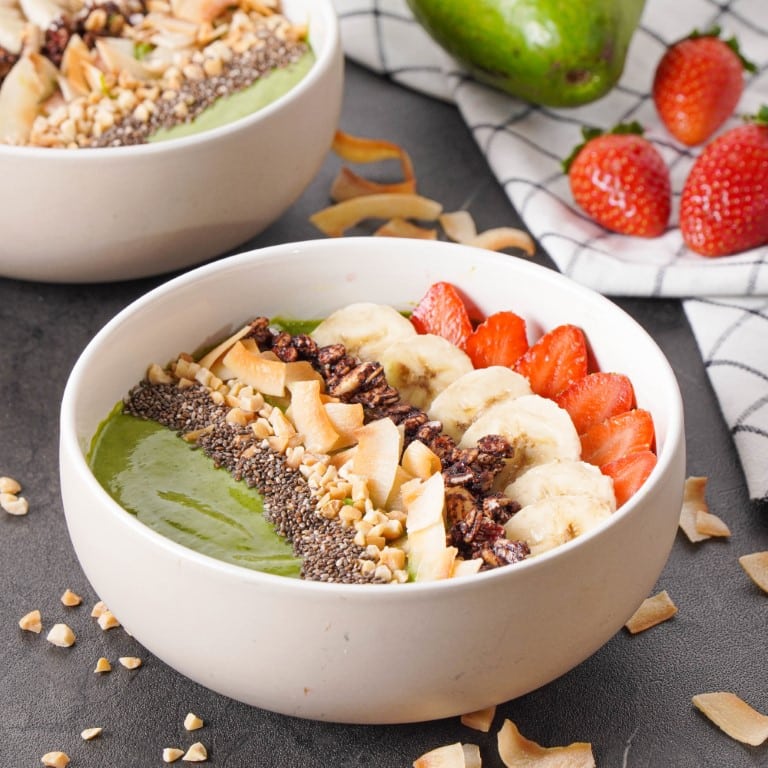 Ingredients
1

medium ripe avocado

1

ripe banana

frozen and sliced

1

cup

fresh or frozen strawberries or raspberries

2

large handfuls spinach

1 ½

cups

unsweetened non-dairy milk or Greek yogurt

1

Tbsp.

pumpkin seeds or flax meal

2

Tbsp.

creamy almond or peanut butter

A pinch of salt
Toppings (Optional)
Chia seeds

Unsweetened roasted coconut flakes

Fresh berries

Sliced banana

Raw or roasted nuts or seeds

Granola
Instructions
All ingredients ready? Let's begin!

Place all ingredients in a blender in the order they're listed.

Blend until creamy. Taste for flavor. Add more milk or sweetness such as frozen banana or a touch of maple syrup according to your preference.

Pour into two bowls and add toppings of choice.
Nutrition
Calories:
881
kcal
|
Carbohydrates:
101
g
|
Protein:
34
g
|
Fat:
45
g
|
Saturated Fat:
9
g
|
Polyunsaturated Fat:
11
g
|
Monounsaturated Fat:
20
g
|
Trans Fat:
0.01
g
|
Cholesterol:
8
mg
|
Sodium:
248
mg
|
Potassium:
1777
mg
|
Fiber:
25
g
|
Sugar:
50
g
|
Vitamin A:
3149
IU
|
Vitamin C:
74
mg
|
Calcium:
326
mg
|
Iron:
5
mg
Notes & Tips
To make this avocado smoothie bowl recipe super green, add more spinach and make sure you use strawberries instead of darker-colored berries. If you use darker berries such as blackberries, blueberries, or black currants, you'll get a beautiful purple-hued smoothie.
This is a super healthy avocado smoothie that is lower in sugar than most smoothies you can buy at the store. But if you want to make it sweeter, you can add a little maple syrup, more banana, or even stevia.
To make this smoothie bowl extra creamy, use frozen bananas and frozen berries. Also, don't add too much milk. Using Greek yogurt will make this recipe extra luscious, but you may need to add a splash of milk so that it can blend.
If you want to pack some more protein into your smoothie bowl, you can do so by adding protein powder or more nut butter. You can also add protein with your toppings. Nuts, seeds, and grain-free granola are all protein-rich options.
Substitutions & Serving Suggestions
I love to top my smoothie bowl with a teaspoon of chia seeds, a line of fresh-cut strawberries, a tablespoon of roasted coconut flakes, and a tablespoon of low FODMAP granola. But you can choose any toppings of your liking. Just remember that the calories and sugar can add up very quickly this way. So, make sure to add toppings in moderation if you're watching your waistline.
To keep this recipe healthy and vegan, remember to use unsweetened non-dairy milk. And instead of adding agave or maple syrup, try a pinch of stevia.
I love bananas, but I know that some of you may not be bananas over them. The good news, you can make this smoothie bowl without bananas! Here's the recipe below:
1 medium ripe avocado
1 cup fresh or frozen strawberries or raspberries
2 large handfuls spinach
1 cup full-fat coconut milk
1 Tbsp. almond butter
Juice from half a lime
1 Tbsp. agave or maple syrup
This banana-free avocado smoothie bowl recipe has more healthy fats and is reduced in sugar. Adding coconut and lime is another way to make an avocado smoothie bowl taste good without bananas.
If you wish to make this avocado smoothie bowl keto, just omit the berries and agave, and use stevia to sweeten instead. Make sure your toppings are keto-friendly as well.
The best part about this recipe is that you can adapt it to your preferences. It can be fully vegan, keto, low-carb, low-fat, raw, high-protein, or turned into a delicious sweet dessert. The options are endless.
Will A Smoothie Bowl Keep Overnight?
Yes, you can store this avocado smoothie for 1-2 days in the fridge. But I would suggest adding the topping right before serving. Otherwise, they may sink into the smoothie and no longer look appealing.
You can also store smoothies in the freezer in ice trays for up to 1 month. Before use, allow to thaw for 20 minutes and then blend with a splash of non-dairy milk.
Now, there is the question of whether avocado smoothie will turn brown if left in the fridge overnight. The top layer may turn brown, but this doesn't mean that your smoothie has gone bad. You can still eat the brown top or scrape it off to reveal the lovely shade of green below.
When Were Smoothies Invented?
I bet you guessed it, the origin of smoothies has a lot to do with the invention of the electric blender. Health food stores on the West Coast of the US started selling smoothies based on Brazilian recipes for pureed fruit back in the 1930s.
Recipes for a "banana smoothie" and a "pineapple smoothie" first appeared in the 1940s Waring "Blendor" cookbook. The drink was popularized in the 60s when they began to be sold in coffee shops, cafes, and grocery stores.
Steve Kuhnau was the first to popularize smoothies as a lactose-free alternative for his soda jerk business. People loved them, so, he soon founded Smoothie King which grew exponentially throughout the United States. Later on, more chains such as Jamba Juice were founded and smoothies started to become more commercialized and artificial.
The beauty of this refreshing beverage nowadays is that almost everyone has an electric blender at home and can choose what ingredients go into their smoothie. It's definitely a great way to get some extra veggies, fruits, and protein into our diets.
---
Recent Recipes