In October of 2012, there was a devastating hurricane that tore up the entire east coast. My nephew's rental home on the Long Island Sound was swept off of its foundation and was pretty much destroyed. My home was across the street from the water but it managed to survive. However, we lost electricity for 10 days.
My nephew and I moved him into my home while his house was being restored. Preparing meals and conserving hot water were things we had to navigate. We got creative and shopped wisely. Avocados don't need refrigeration and they aren't generally cooked. So, we ate a lot of avocados! They are nutrient-dense and filling. So, if a superstorm is in the forecast, stock up on avocados just in case you lose power.
For breakfast, we ate avocado sandwiches. For lunch, we made tuna salad with mashed avocados. We made avocado crema with the dairy we needed to use up and put that on pretty much everything we needed to eat before it went bad. We bought ice and kept the crema in a cooler. I grilled all the proteins in my freezer over a charcoal fire and we feasted on those topped with avocado sauce.
I think I made 4 variations of creamy avocado sauce while we camped out in a chilly house with lots of blankets and a fire to keep us warm at night. The best sauce was the simplest one with the least ingredients, 6 to be exact. We were able to source everything we needed from the one grocery store that had a generator and was open a few hours a day with a limited amount of food available (until it ran out). This sauce was avocados, sour cream, fresh or dried herbs, citrus juice, garlic, and sea salt. My nephew LOVES heat, so he snuck some tabasco into the sauce when I wasn't looking. It turned out to be a great addition.
Here is a version of my Superstorm Sandy awesome avocado sauce that you can make in less than 10 minutes. This sauce is keto-compliant and it is great on tacos, grilled meats, burritos, chili, scrambled or poached eggs, and salads. You can store the avocado sauce in a sealed container in the fridge for a couple of days.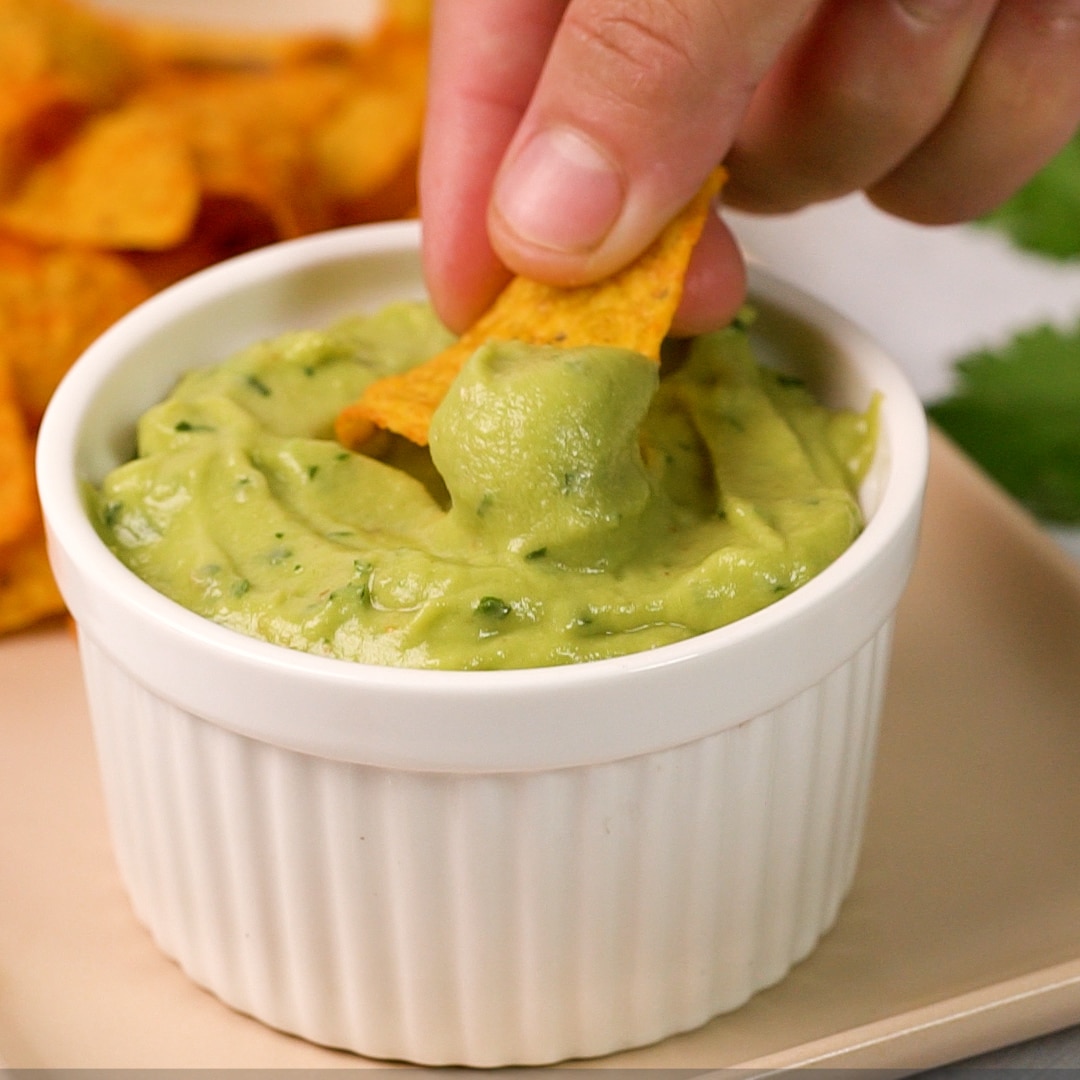 Ingredients
2

ripe Hass avocados

½

cup

sour cream

⅓

cup

chopped cilantro leaves

3

Tbsp

freshly squeezed lime juice

¾

tsp

garlic powder

¾

tsp

sea salt

Pinch

or two of cayenne pepper

optional
Instructions
All ingredients ready. Let's begin!

Slice the avocados through the center and around the pit. Twist the halves and pull them apart. Knock the heel of the knife into the pits and twist them out of the avocados. Discard the pits. Scoop the flesh out of the peels with a spoon and place that in the bowl of a food processor. Discard the peels. Here is a short video that shows just how to cut and deseed an avocado.

Add the sour cream, cilantro leaves, lime juice, garlic powder, salt, and cayenne (if using) to the food processor.

Process until smooth and creamy.

Store in an airtight container in the refrigerator until ready to serve. Use the sauce as soon as possible.

Enjoy your  Avocado Sauce!
Nutrition
Calories:
149
kcal
|
Carbohydrates:
8
g
|
Protein:
2
g
|
Fat:
14
g
|
Saturated Fat:
3
g
|
Polyunsaturated Fat:
1
g
|
Monounsaturated Fat:
7
g
|
Cholesterol:
11
mg
|
Sodium:
302
mg
|
Potassium:
368
mg
|
Fiber:
5
g
|
Sugar:
1
g
|
Vitamin A:
295
IU
|
Vitamin C:
9
mg
|
Calcium:
30
mg
|
Iron:
0.4
mg
Notes & Tips
When shopping for perfectly ripe avocados, give them a slight squeeze near the slimmer stem end without pressing too hard to bruise the fruit. If it gives easily and retains its shape, the avocado is ready to eat. If your fingers leave a dent, the avocado is likely overripe. If it doesn't give at all, it is not ripe but will ripen on your countertop in a couple of days.
Avocados will turn brown as soon as the flesh is exposed to oxygen. So, don't cut them open until ready to make the sauce. If you do cut the avocados ahead of time, store them with the pits left in the center. I don't know why, but the pit does prevent the flesh from discoloring.
Substitutions
Sour Cream: I have made this sauce with plain yogurt instead of sour cream. If you are vegan, you can use a nut-based yogurt or vegan sour cream. Some crema recipes call for a mix of mayonnaise and sour cream.
Cilantro: I do realize cilantro is an acquired taste for some people. You can make this recipe with fresh chives or flat-leaf parsley.
Lime Juice: Lemon juice is a perfectly fine stand-in for lime juice. Just don't be tempted to use bottled citrus juice as it is too acerbic and will overpower the sauce.
Garlic Powder: For a more garlic-forward flavor, try a fresh clove of minced garlic. If you don't have garlic, try onion powder, dried chives, or asafoetida powder.
Cayenne: You don't have to add the cayenne pepper for a little kick. Though, you could add a pinch or two of chili powder that will add flavor without the heat.
Great Dishes for Avocado Sauce
There are many uses for an awesome avocado sauce. You can also simply dip tortilla chips in it. I also like topping spicy soups and chili dishes with cool and creamy avocado sauce. The light green color, creamy texture, and tangy flavor really complement so many Latin dishes. Here are some of my favorite recipes where avocado crema is a perfect finish.
---
Recent Recipes