Easy Bacon & Gruyere Egg Bites
Who doesn't love bacon? Its crispy, crunchy taste and mouthwatering aroma always draws a crowd.
These delicious bacon and Gruyère egg bites take bacon as their starting point and combine it with Gruyère cheese for melt-in-your-mouth flavor. Best of all, they don't require fancy sous vide equipment to make.
Let's dig right into the recipe.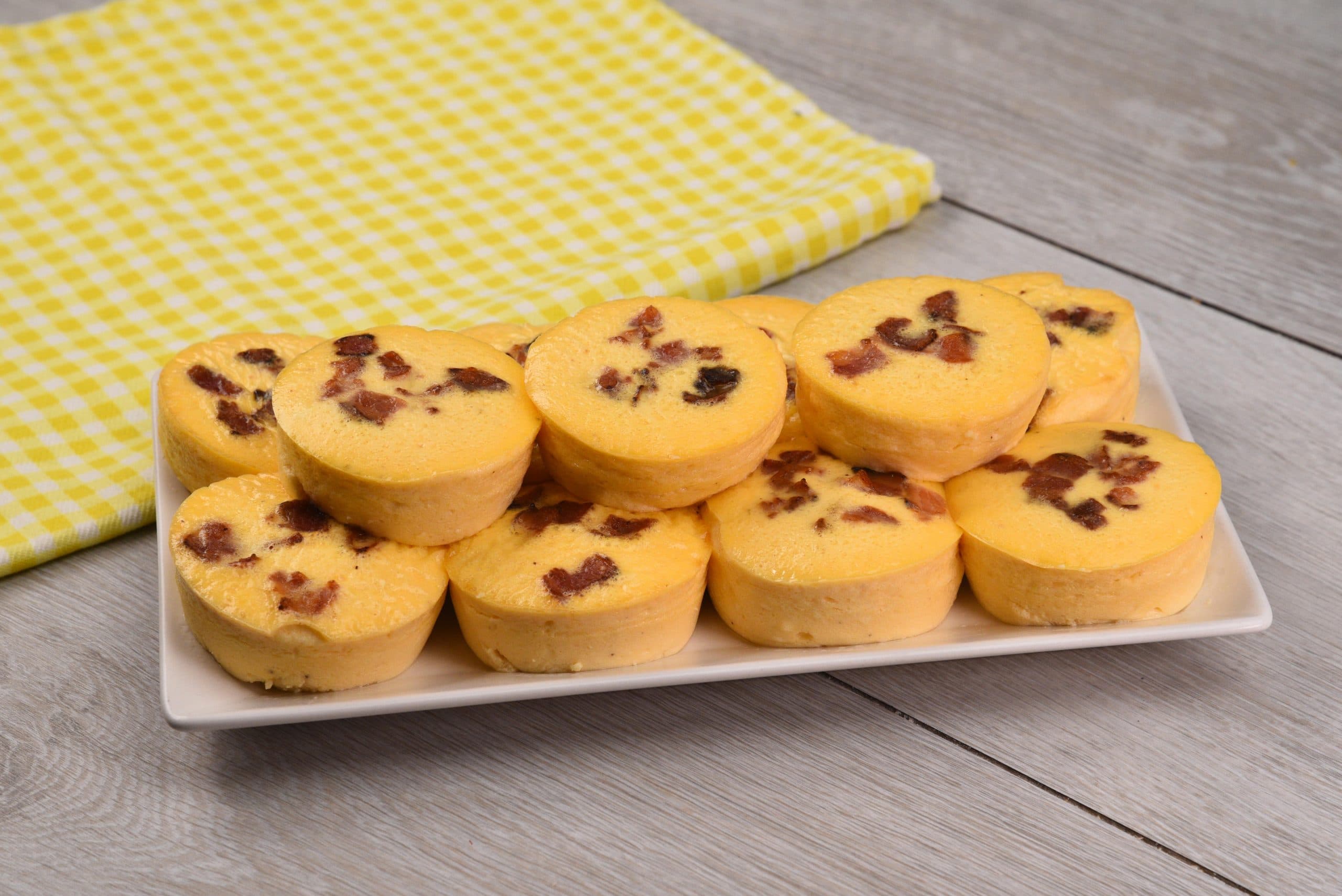 Ingredients
4

slices

of bacon

diced

6

large eggs

1-1/3

cups

cottage cheese

1-1/4

cups

shredded Gruyère cheese

1/4

teaspoon

salt

1/8

teaspoon

black pepper

1

teaspoon

hot sauce
Instructions
Adjust your oven racks so that one is in the middle position, and one is in the lowest position.

Preheat the oven to 300° Fahrenheit (148° Celsius).

Boil a kettle of water.

Place a 9-by-13 inch ceramic baking dish on the lower rack and carefully fill it halfway with the boiling water. The steam from the boiling water will gently cook the egg bites and give them a custard-like texture. It replicates the sous vide cooking process.

Spray a muffin pan with nonstick cooking spray.

Cook the bacon in a small skillet over medium-high heat for about 5-6 minutes or until crisp, stirring frequently.

Transfer the bacon to a paper towel-lined plate to drain.

Combine the eggs, salt, pepper, cottage cheese, hot sauce, and Gruyère cheese in a blender. Blend for 30-45 seconds or until completely smooth.

Pour the egg mixture into the muffin pan and divide the bacon evenly over each bite.

Bake for 20-23 minutes on the middle rack of the oven until the eggs are set.

Remove the egg bites from the oven and allow to rest for about 5 minutes in the pan. Using a spoon or a knife, carefully loosen the egg bites from the edges of the pan and transfer them to a plate.

Serve warm.
Video
Nutrition
Calories:
59
kcal
|
Carbohydrates:
1
g
|
Protein:
5
g
|
Fat:
4
g
|
Saturated Fat:
2
g
|
Polyunsaturated Fat:
1
g
|
Monounsaturated Fat:
1
g
|
Trans Fat:
1
g
|
Cholesterol:
88
mg
|
Sodium:
170
mg
|
Potassium:
53
mg
|
Fiber:
1
g
|
Sugar:
1
g
|
Vitamin A:
152
IU
|
Vitamin C:
1
mg
|
Calcium:
35
mg
|
Iron:
1
mg
Notes & Tips
Use the medium power setting on your blender to pulse the egg and cheese mixture. This will combine the ingredients without over mixing.
Be careful to not overfill the muffin wells. The egg bites will expand while cooking.
How to shop for Gruyère cheese
Gruyère is a slightly salty and sweet hard yellow cheese whose taste depends on how mature the cheese is. Gruyère is typically fully aged after five months to a year, when it takes on a grainy texture and has a more earthy and complex mouthfeel. Young Gruyère cheese often has a creamy or nutty taste.
You can find Gruyère at the supermarket or buy it online from an international cheese store.
To store Gruyère before you're ready to use it, use cling plastic wrap to tightly cover the cheese and store it in the fridge. It will last for about 3-4 weeks.
Common Questions
What kind of hot sauce should I use?
You can use whatever hot sauce you happen to have on hand, or even make your own. All you need is some diced tomatoes, jalapeno peppers, onion, and garlic powder. Combine in a blender until you achieve your desired texture and spiciness level.
What should I do if I don't have a muffin tin?
You have a few options. You can arrange silicone or paper muffin liners on a regular baking sheet and fill them with the egg mixture. You can use mason jar rings to hold paper muffin liners in place on the baking sheet if you're concerned about them sliding around.

If you don't have muffin liners, you can make your own in a pinch by molding parchment paper or aluminum foil into a muffin-like shape using the bottom of a glass.
Can you make this vegan?
Even vegans can get in on the fun by simply replacing the egg with a vegan egg substitute like JUST Egg, meat with meat-free bacon and cheese with vegan cheese options.
Sides & Compliments
Serve the egg bites alongside some of these compliments to create a full brunch spread.
Coffee cake
Warm buttered bread (regular or gluten-free)
Green salad
Orange juice
Coffee or tea
What do bacon and Gruyère egg bites taste like?
These egg bites are creamy and velvety. Gruyère is known as an excellent melting cheese, so it will really dissolve into the egg bites with warm flavor.
Storage
You can refrigerate or freeze the bacon and Gruyère egg bites.
Make sure to refrigerate within two hours of cooking. Put the egg bites in a shallow container and cover with aluminum foil or plastic wrap. They will last for up to 3 days.
To freeze the egg bites, wrap them tightly in aluminum foil or plastic freezer wrap, or put them in a heavy-duty freezer bag or airtight container. They will last for up to 2 months.
To reheat from refrigeration, preheat your oven to 350° Fahrenheit (176° Celsius). Cook the egg bites for about 10 minutes or until they are warmed through. To reheat from frozen, thaw the egg bites in the refrigerator overnight first. Preheat the oven to 350° Fahrenheit (176° Celsius) and cook for about 10 minutes or until they are warmed through.
You can also reheat these using the microwave. Place on a microwave-safe plate and microwave at 50 percent power for 60-90 seconds. Be careful to not overcook or the eggs will get tough and chewy.
History
Gruyère cheese originated in the La Gruyère district of the Canton of Fribourg in Switzerland.
Cheese production in Fribourg can be traced back to at least 1115. Medieval records chronicle the expertise of local inhabitants in transforming milk production into full-fat cheese.
In the 17th century, the name Gruyère was officially recognized in association with cheese production.
---
Recent Recipes