Best Baked Avocado Egg Boats
These baked avocado egg boats are so delicious that I could eat them for breakfast every day. Plus, this avocado egg boat recipe is super easy and fast to make.
To make a simple egg stuffed avocado, all you need are avocados, eggs, and some salt and pepper. But this is the best baked avocado recipe thanks to the tasty and cheesy toppings. The combination of melted gruyere, bell pepper, parsley, and bacon pieces is an ultimate flavor bomb.
Once you learn how to make avocado egg boats, you'll be able to play around with the garnishes and toppings. You can discover your favorite flavor combos and turn this recipe into a breakfast staple. And you don't have to feel guilty about it because it's so healthy. You can eat egg and avocado every day.
Avocados are a source of vitamins, C, K, E, and B6, as well as riboflavin, potassium, magnesium, folate, pantothenic acid, and niacin. They also supply beta carotene, lutein, and omega-3 fatty acids. Wow, those are a lot of vitamins and minerals. Avocados also contain lots of healthy fats which will keep you full for longer. Such a superfood!
Eggs are also incredibly nutritious. They provide plenty of B vitamins, selenium, calcium, and zinc, amongst others. Whole eggs are one of the most nutritious foods on planet Earth. They contain a little bit of almost every nutrient our bodies need. For extra omega-3, opt for pastured eggs. 
If you've never tried pastured eggs before, believe me, they're life-changing. The eggs from hens raised in an open field are more nutrient-dense and packed with omega-3. But not only that – their taste is so much better and the color of the yolk is a bright beautiful orange-yellow.
So, if you combine avocado and egg, you've got a complete nutrient-rich breakfast that'll satisfy your taste buds and your tummy. In under 20 minutes, yay!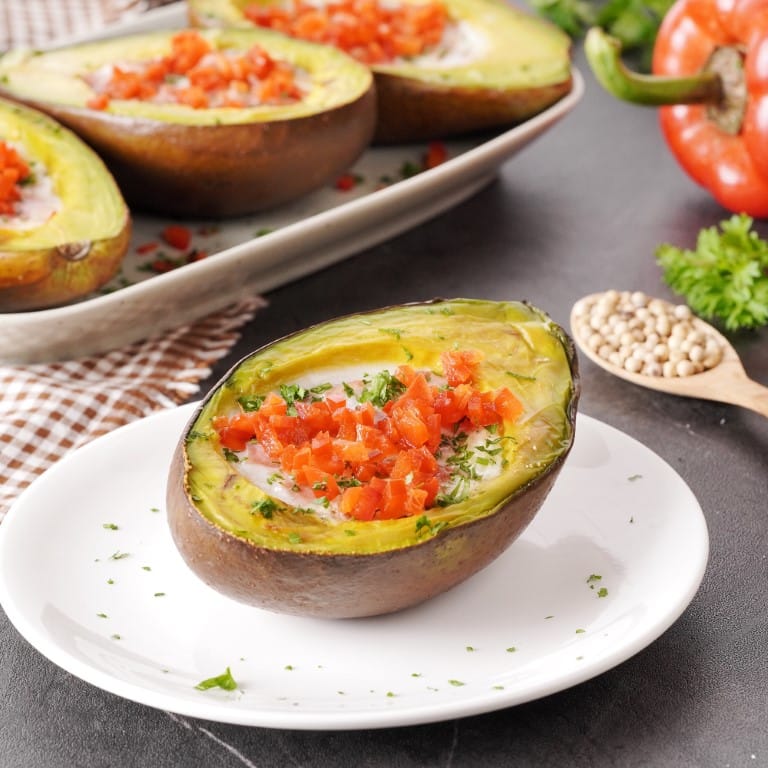 Ingredients
2

large avocados

4

large eggs

¼

cup

freshly grated Gruyere

½

red bell pepper

finely minced

1

Tbsp.

finely minced parsley

Salt & Pepper to taste

Optional: ¼ cup bacon pieces
Instructions
All ingredients ready? Let's begin!

Preheat the oven to 400 °F and prepare a baking dish.

Cut the avocados in half and remove their pits. With a spoon, remove about 1.5 to 2 tablespoons of avocado flesh from the center to create a well big enough to fit an egg. It should be about 3 tablespoons in size.

Place the avocado halves cut side up onto the baking dish, then crack an egg into the center of each avocado. Be careful not to break the yolk.

Season with salt and pepper and bake for 7 minutes.

Remove from the oven and sprinkle with grated cheese on top (and optional bacon pieces). Bake for another 5-10 minutes or until the egg is how you like it. See Notes & Tips for reference.

Serve with minced parsley and diced bell pepper sprinkled on top.
Nutrition
Calories:
237
kcal
|
Carbohydrates:
10
g
|
Protein:
9
g
|
Fat:
20
g
|
Saturated Fat:
4
g
|
Polyunsaturated Fat:
3
g
|
Monounsaturated Fat:
12
g
|
Trans Fat:
0.02
g
|
Cholesterol:
186
mg
|
Sodium:
90
mg
|
Potassium:
608
mg
|
Fiber:
7
g
|
Sugar:
2
g
|
Vitamin A:
1194
IU
|
Vitamin C:
34
mg
|
Calcium:
46
mg
|
Iron:
2
mg
Notes & Tips
After baking for 7 minutes and sprinkling the cheese on top, you choose how much longer you want to bake these avocado egg boats. Here is a simple guide:
For soft boiled bake for an additional 5-6 minutes.
For medium soft, bake for another 7-8 minutes.
For hard-boiled, bake for an additional 9-10 minutes.
Don't worry if some of the egg white is overflowing from the avocado, it'll still look appetizing. But, if you want an immaculate avocado boat egg bake, carefully crack each egg into a clean bowl beforehand and then scoop the yolk, leaving a bit of the egg white in the bowl. Now, you'll get picture-perfect avocado egg boats.
To avoid any spillage, lean the avocados against each other in the baking dish. It's easier to do this with a smaller baking dish. Or you can also bake some potatoes or pumpkin at the same time and use them to support the avocado egg boats. Cooking is all about creativity.
To crack an egg like a pro and never break a yolk, use the flat surface method. It's the easiest and most effective way to crack an egg. It's also the traditional method that has been used for centuries. Simply crack your egg in the center on the countertop, using a medium amount of strength. Then, you can pull the sides of the shell apart to release the perfectly unscathed egg.
It may take a few tries until you get a feel for the right amount of force, but this method is pretty foolproof. There's no need to get any extra tools out, and you don't need to hit the egg on the rim of a bowl. The rim method is much more likely to result in broken yolks.
Last, but not least, pick a good avocado. Which avocados are best for baking avocado egg boats? Large Hass avocados. Hass avocados have a richer taste and they're smoother and creamier. But make sure your avocados are big enough to bake eggs inside them. You don't want to have to scoop all the avocado flesh to make room for the egg.
Also, make sure your avocado is ripened to perfection. It should have a slight give when pressed, but not be mushy. Once you cut it in half, you'll be able to see whether the avocado is the right texture. It also shouldn't have any dark spots.
Serving Suggestions & Substitutions
Eat them as they are to keep these avocado egg boats keto or pair them with some crunchy pieces of toast. I love dipping toast into the cheesy runny egg yolk and then scooping a bite of avocado to put on top. Foodgasm moment.
I suggest eating these delish stuffed avocado egg boats right out of the oven. They're not good reheated. One thing you can prep ahead of time is the garnishes and toppings. You can also prep the bacon pieces in advance if you're adding them.
When it comes to toppings and garnishes, the sky is the limit. You can use your favorite type of cheese for melting, such as cheddar, Asiago, provolone, or gouda. Or you can add some crumbled feta or goat on top once the avocado egg boats are out of the oven.
Instead of red bell pepper, you can try green or yellow bell pepper, diced tomato, fresh sliced jalapeño peppers, corn, or sweet onion. If you're not a fan of parsley, try some thinly sliced chives, cilantro, or fresh thyme. You could also add sautéed mushrooms or spinach. Let your imagination run wild.
If you want to make this recipe dairy-free, you can omit the cheese. Or use vegan cheese instead. Here's a list of the best vegan cheeses for quesadillas. They all melt nicely and are comparable to dairy cheeses in flavor.
I like the classic salt and pepper to season, but you can use your favorite spices, herbs, or hot sauce. Sriracha is an excellent companion to these baked avocado egg boats. We've composed a list of the best sriracha sauces for you too. A sprinkle of smoked paprika, chili, oregano, or everything bagel seasoning are fine choices as well.
---
Recent Recipes