Easy Baked BBQ Pork Tenderloin
One of my favorite cuts of meat is pork tenderloin. This is not to be confused with a pork loin. The loin is great for slow roasting. But the tenderloin is a lean and soft muscle that is extremely tender when grilled or cooked at higher temperatures.
Where I live, the weather does not always cooperate with my intentions to fire up my grill. If it is raining or snowing, I will use either my air fryer or my oven to cook tender cuts of meat like pork tenderloin. The oven actually is a great vehicle for cooking BBQ pork. But I think for this method to be successful, you need to allow the pork to marinate in a dry spice rub for a little bit of time. Then, you need to sear the meat in a heavy-bottomed skillet on the stove. After that, you bake the tenderloin in the oven. I like to brush it with BBQ sauce for the last 12 minutes of baking. That is something my mother always did and it works.
I prefer a dry rub for marinating many cuts of meat. This method is sometimes referred to as a dry brine because it contains salt and sugar, similar to a wet brine. I reserve a wet brine for tougher cuts of meat, such as brisket and pork shoulder. My dry rub contains seasonings and spices I already have in my pantry, such as salt, brown sugar, onion powder, garlic powder, and paprika. You can customize your rub depending on what is in your spice rack. The 2 ingredients you need to start with are salt and sugar.
When it comes to BBQ sauce, I usually make my own basic sauce with ketchup, brown sugar, mustard, and Worcestershire sauce. A good bottled BBQ sauce is fine for this recipe. We have the 10 best BBQ sauce recommendations.
I like to serve BBQ pork tenderloin with a crunchy low-FODMAP cabbage slaw or a fresh herb and lemon potato salad. While you are baking the tenderloin, you might want to roast some brussels sprouts with a little harissa spice.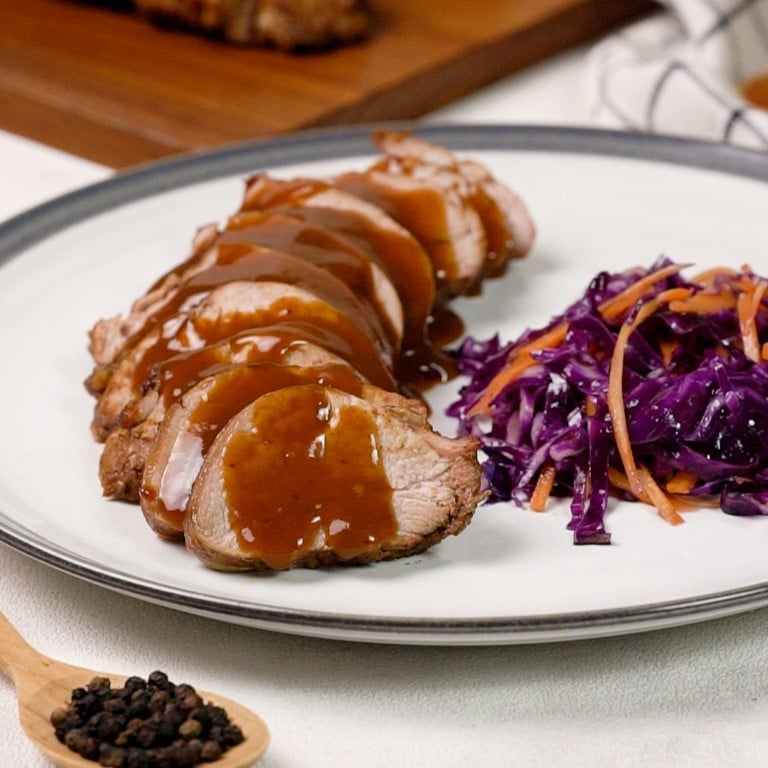 Ingredients
2

Tbsp

brown sugar

1 ½

tsp

kosher salt

1

tsp

freshly ground black pepper

1

tsp

paprika

1

tsp

garlic powder

1

tsp

onion powder

1

tsp

instant coffee

optional

¼

tsp

cayenne

optional

Two 1-pound pork tenderloins

trimmed of silver membrane

2

Tbsp

avocado or coconut oil

1

cup

of BBQ sauce
Instructions
All ingredients ready? Let's begin!

In a small mixing bowl, whisk together the brown sugar, salt, pepper, paprika, garlic powder, onion powder, coffee, and cayenne.

Remove the tenderloins from the packaging. Trim off the membranous silver skin from the bottom. Rinse the meat under cold running water and pat it completely dry with paper towels.

Using clean hands, coat all sides of the roasts with the dry rub. Place the tenderloins on a rack inserted into a baking sheet, or similar, and allow it to rest for 30 to 40 minutes until it comes to room temperature and the seasoning has adhered.

Preheat your oven to 400°F.

In a large oven-safe, heavy-bottomed skillet, preferably cast-iron, over high heat, warm the oil. Right before it starts to smoke, carefully place the tenderloins in the pan. Without moving the meat, allow it to sear until browned, approximately 3 minutes.

Turn the pork over and continue to sear for a couple of minutes until all surfaces are browned, trying not to move it too much.

Place the skillet with the pork in the preheated oven. Bake for 25 minutes.

Pour 2/3 cup of the BBQ sauce over the pork and continue to bake for an additional 10 to 15 minutes or until the pork registers 145°F when checked with a digital meat thermometer.

Transfer the meat to a cutting board and tent it loosely with foil. Allow it to rest for 10 minutes before slicing into it. Meanwhile, gently warm the remaining 1/3 cup of BBQ sauce in a small saucepot.

Slice the pork into 1/2-inch thick portions.

Place these on a serving platter. Spoon the warmed BBQ sauce over the sliced pork. Serve while warm with your favorite sides.
Nutrition
Calories:
325
kcal
|
Carbohydrates:
24
g
|
Protein:
32
g
|
Fat:
10
g
|
Saturated Fat:
2
g
|
Polyunsaturated Fat:
2
g
|
Monounsaturated Fat:
5
g
|
Trans Fat:
0.1
g
|
Cholesterol:
98
mg
|
Sodium:
1153
mg
|
Potassium:
733
mg
|
Fiber:
1
g
|
Sugar:
20
g
|
Vitamin A:
172
IU
|
Vitamin C:
1
mg
|
Calcium:
32
mg
|
Iron:
2
mg
Notes & Tips
It is best to allow your pork to come to room temperature prior to searing it. This helps it to sear evenly and also helps to prevent it from sticking to the pan. Not moving the meat also helps it to release from the pan rather than sticking to it when you go to turn it over.
It is equally as important to rest the meat prior to slicing it. This ensures that the natural juices are absorbed back into the muscle fibers and the meat will be moist and tender.
Substitutions & Shortcuts
Coffee: Coffee is delicious with pork tenderloin when added to the seasoning blend. A little unsweetened cocoa powder is also nice. However, you can eliminate this ingredient if desired.
Dry Rub: I always have a variety of seasonings in my spice rack, so making my own dry rub blend is a no-brainer. I sometimes make a whole jar of this rub to keep on hand for a variety of BBQ dishes. You can always opt for a prepared dry rub blend to save this step.
Cooking Oil: I like to cook with avocado or coconut oil when searing meat because these both have a high smoke point. You really could use any good vegetable, nut, or fruit oil that you have. Butter won't work because it will burn on high heat.
BBQ Sauce: If you are feeling ambitious, make your own sauce. You can make a large batch and freeze it in portions for future meals.
---
Recent Recipes