Shakshuka is a popular Israeli dish that is typically served for breakfast. It gives a tough competition to hummus and falafel. While popular as a breakfast dish, you can eat it for lunch or even dinner. In this article, we are exploring this culinary delight from its history to the making.
What's Shakshuka Is All About?
The name of the dish Shakshuka implies 'all mixed up, and that is what the delicacy is all about. It is presumed to have originated from either Tunis or Yemen and is primarily made of eggs, peppers, tomato sauce, onions, and herbs or cheese. Traditionally, it is served in the iron pan in which it is cooked. Moreover, the dish is served with bread.
Some food historians claim that Shakshuka originated in Yemen, whereas others claim that it came from the Ottoman Empire. But what's known is that in Israel, the dish came from northeast African cultures, specifically from the Tunisian region.
During the era when immigration from North African countries to Israel was prominent, immigrants dealt with financial constraints. And this affordable yet hearty dish that includes eggs, vegetables, and bread became a staple. Along with being accessible, Shakshuka is very easy to make and only needs one pan. This also made the dish popular at brunches and light suppers.
Owing to its comforting and hearty nature, Shakshuka is experiencing popularity around the world. Today, the dish is served with different variations including vegetables, spice level, cheese, herbs, etc.
Cod Fish Shakshuka
The versatile nature of Shakshuka allows it to be cooked in different variations. There was a time when it was made with a few staple ingredients. But today, people have begun to experiment with the dish, bringing in new and interesting flavors. One such interesting variation is codfish shakshuka, and here is a recipe for the same.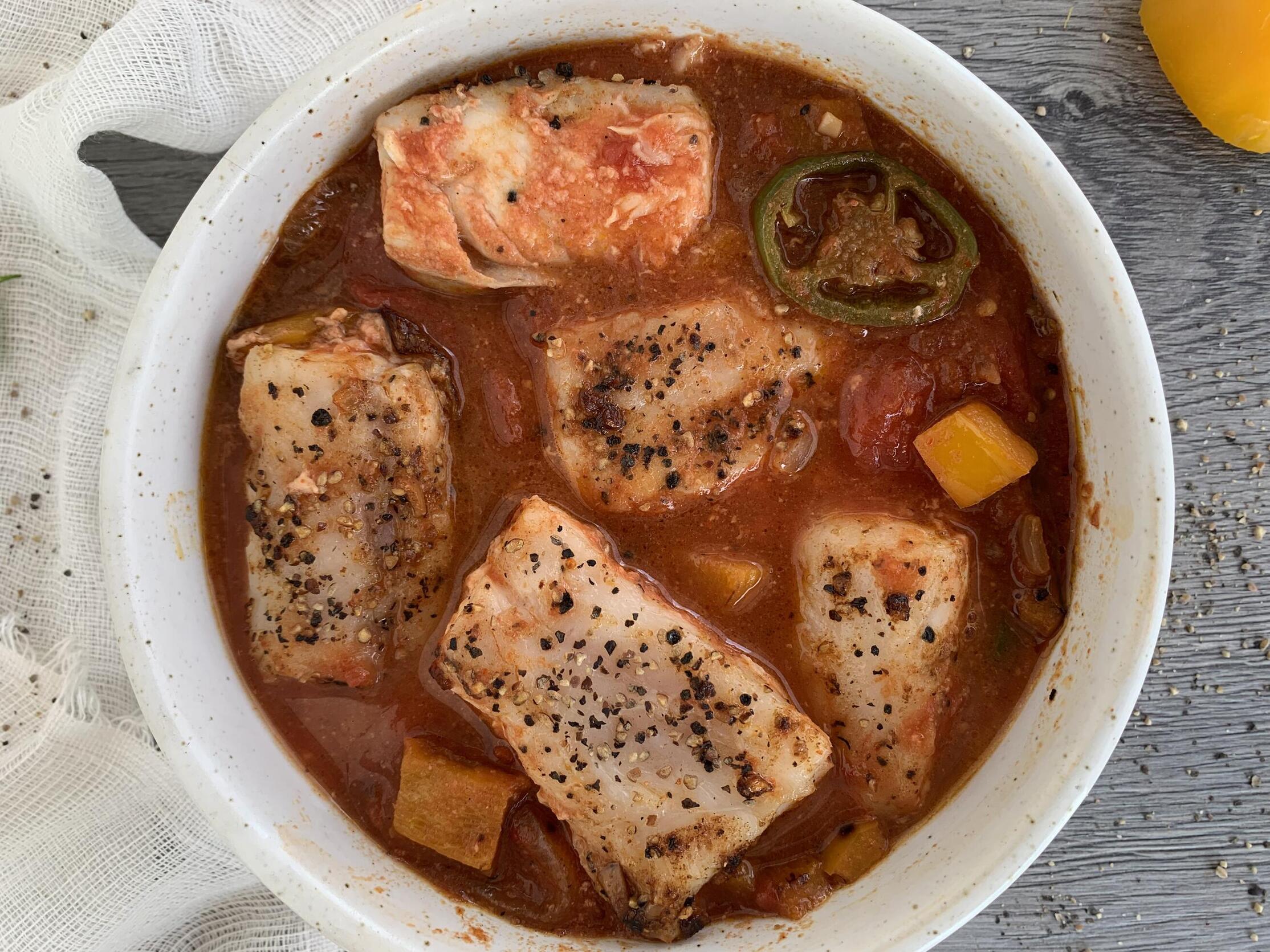 Ingredients
Extra-virgin olive oil

One thinly sliced bell pepper

One thinly sliced yellow onion

Three thinly sliced garlic cloves

One thinly sliced jalapeno

One teaspoon paprika

Six ounces of cod fillets with skin removed

Two to three teaspoons sherry vinegar

28

ounces

of crushed San Marzano tomatoes

Kosher salt

Freshly ground pepper

1

teaspoon

ground cumin

1/8

teaspoon

cayenne pepper
Instructions
Start by preheating your oven to 400-degree Fahrenheit and make sure you have all the ingredients.

Place your oven-proof iron pan over medium heat. Add some olive oil, and once heated, add sliced onions, garlic, bell pepper, and jalapeno. Also, put in cumin, cayenne pepper, paprika, and salt.

Continue to stir occasionally and cook the vegetables until they are tender and start to turn brown. This process should take you around three minutes.

Remove the pan from the heat and mix in the sherry vinegar.

Using salt and pepper, season the cod fillets and submerge them partially in the sauce. Ensure to leave a bit of space between each fish.

Place your pot in the oven and cook uncovered. Bake for 15 minutes or until the fish's flesh becomes opaque and starts to flake.

Take it out of the oven, drizzle some olive oil and garnish with parsley.
Video
How To Serve Shakshuka?
When serving Shakshuka, it should be the centerpiece of your entire meal. Around it, you can create small plates. Popular side dishes involve bread, spread, and vegetable salads. When all the things come together, they will form a satiating and healthy meal. Here are some dish recommendations for Shakshuka:
Bread: You cannot serve Shakshuka without bread; you need it to dip in the sauce. You can either go for no-knead bread or try pita bread. The kind of bread you choose entirely depends on your preference.
Hummus: The best part about choosing hummus is that you can experiment with the flavors. You can choose plain hummus or add some flavors to it. There are so many options including roasted garlic hummus, roasted cauliflower hummus, roasted pepper hummus, etc.
Vegetable Salad: Since Shakshuka already has lots of flavor going on, you can balance it out with a classic vegetable salad of your choice.
Shakshuka is a hearty, versatile, and healthy recipe that you should definitely try. Whether you make it with eggs, fish, or vegetables, you'll certainly satisfy your stomach and heart. The above recipe that we have shared is simple, and you can add your own twist to it. While its exact origin may be unclear, today, the world enjoys Shakshuka in its distinctive way.
---
Recent Recipes