Crispy Baked Tortilla Crusted Tilapia
Tilapia is the name given to a variety of freshwater fish species that are fished in shallow rivers and small lakes, most notably in northern Africa. Because tilapia are used to crowded conditions in the wild, they are perfectly suited to commercial farming. Farm-raised tilapia are affordable and plentiful throughout much of the world.
If farmed fish concerns you, look for tilapia that is labeled as sustainably raised and fed an all-natural diet void of hormones and antibiotics. Tilapia is generally sold already cleaned, skinned, deboned, and cut into fillets. Don't be shy about asking your fishmonger about the freshness of the fish and if you can have a closer look. It should be pale pink in color and not have a fishy odor, or any smell at all. 
A serving of tilapia is low in calories, a good source of protein, has zero carbohydrates, and only has 3 grams of fat. Tilapia is rich in vitamins B-12 and niacin. It is also an excellent source of the minerals phosphorous, potassium, and selenium.
Tilapia is a white-fleshed fish that flakes once cooked. It has a very mild flavor, which is great for those who don't love eating fish. Because of the mild flavor and delicate texture, tilapia can take on aggressive seasoning or a crunchy breading.
I often treat tilapia like catfish with a cornmeal crust and some Cajun seasonings. For this recipe, we'll take that up a notch by using crushed tortilla chips as the outer coating. This offers a crunchy contrast to the moist and flaky fish. This tortilla-crusted tilapia is oven-baked and served with a yogurt-based sauce for a healthier spin on fried fish with tartar sauce. You can make this in less than a half-hour.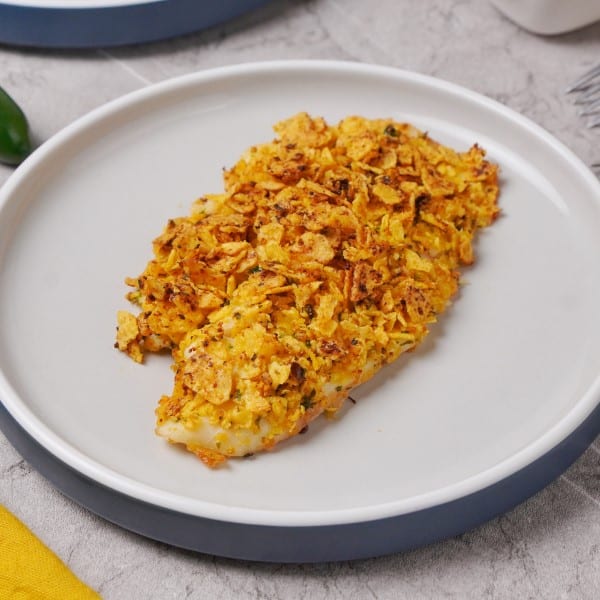 Ingredients
Yogurt Sauce
½

cup

non-fat plain Greek yogurt

3

Tbsp

good mayonnaise

2

tsp

Dijon mustard

Juice from ½ a lemon

¼

cup

finely chopped dill pickles

1

tsp

smoked paprika
Tilapia
4

5-ounce tilapia fillets

2

cups

corn tortilla chips

½

jalapeño pepper

seeded

¼

cup

roughly chopped flat-leaf parsley

1

tsp

garlic powder

½

tsp.

chili powder

¼

tsp

cayenne

more if desired

1

whole egg

beaten

Vegetable oil spray

1

lime

quartered for serving
Instructions
All ingredients ready? Let's begin!
Yogurt Sauce
In a medium mixing bowl, stir together the yogurt, mayonnaise, mustard, lemon juice, pickles, and paprika until well combined.

Cover and refrigerate until ready to serve.
Tilapia
Preheat your oven to 400°F. Pat the tilapia fillets dry with paper towels and set them aside to come to room temperature.

In the bowl of a food processor, add the tortilla chips, jalapeno, parsley, garlic powder, chili powder, and cayenne. Pulse until you have a coarse mixture, not a fine powder. Place the crust mixture in a shallow bowl or on a plate.

Whisk the egg and place it in a shallow bowl.

Lightly coat a baking sheet with vegetable oil. Alternatively, line the sheet pan with parchment paper.

Dip the tilapia fillets in the egg.

Then dip one side of the fillets into the tortilla coating, making sure to press the coating into the flesh so it sticks. Press any extra coating into the fillets. Place the fillets, crusted side facing up, on the baking sheet.

Place the pan in the oven and bake for 15 minutes until the fish is cooked through and the crust is golden brown.

Serve while hot with lime wedges and tartar sauce on the side.
Nutrition
Calories:
529
kcal
|
Carbohydrates:
45
g
|
Protein:
37
g
|
Fat:
24
g
|
Saturated Fat:
4
g
|
Polyunsaturated Fat:
12
g
|
Monounsaturated Fat:
6
g
|
Trans Fat:
0.1
g
|
Cholesterol:
117
mg
|
Sodium:
467
mg
|
Potassium:
695
mg
|
Fiber:
5
g
|
Sugar:
2
g
|
Vitamin A:
914
IU
|
Vitamin C:
19
mg
|
Calcium:
135
mg
|
Iron:
3
mg
Notes & Tips
I make this recipe with fresh tilapia fillets because they are readily available all year round near me. You can definitely use frozen tilapia. Be sure to thaw them slowly in the refrigerator overnight. Pat them dry very well before coating them.
I highly recommend taking the fillets out of the refrigerator 20 minutes prior to cooking so they have had time to come to room temperature for even baking.
Only coat one side of the tilapia fillets before baking them. I have found that coating the entire fish can result in the bottom becoming wet and sticking to the sheet pan. You really want a crunchy coating on the top of the fish.
Substitutions
Fish: If you are an avid angler, you might be fortunate enough to have a decent catch of rock bass, brown trout, or catfish that you need to cook up. This recipe works great for all of those. If you only have access to saltwater fish, I would probably go for the thinner fillets, such as flounder or fluke.
Tortillas: This recipe is already gluten-free. Other gluten-free tortillas include rice chips, sweet potato chips, multigrain chips, and cauliflower crisps. If you are on a paleolithic or ketogenic diet, you might want to use cassava tortilla chips or pork rinds.
What to Serve with Crusted Tilapia?
This recipe is a little bit spicy. It pairs very well with cheesy Cajun macaroni and cheese. If you prefer to mellow the heat, try making a sweet and savory chilled potato salad. While you have the oven fired up, you can make a side of herb-crusted asparagus that also cooks at 400°F for about 12 minutes. I love finishing off this meal with refreshing fruit, such as watermelon wedges, mixed berry salad, or pink grapefruit or blood orange sorbet.
---
Recent Recipes