They're ancient, and they're justified! Bamboo steamers have been cooking Asian meals for over 5000 years, and today, they're one the healthiest cookers money can buy. They're energy-efficient and made from sustainable materials. Plus, they cost less than a good steel saucepan. With credentials like these, what curious cook wouldn't want a closer look at these bamboo beauties? Let's see what's steamin' hot in the marketplace.
Bamboo steamers are available for online purchase in varying sizes and designs. The best way to get the ideal bamboo steamer for you is to browse Amazon.com. Customer reviews, videos, and product descriptions will assist you in making a wise choice.
It's no surprise bamboo steamers are a top-selling product on e-commerce sites like Amazon.com. Public interest in healthy eating has reached all-time highs, as has the desire to be more environmentally friendly in consumer habits. Bamboo steamers are the ticket for less plastic in the kitchen, healthier food on the plate, and a cleaner environment. And, they cook almost any type of food!
The Best Bamboo Steamer for You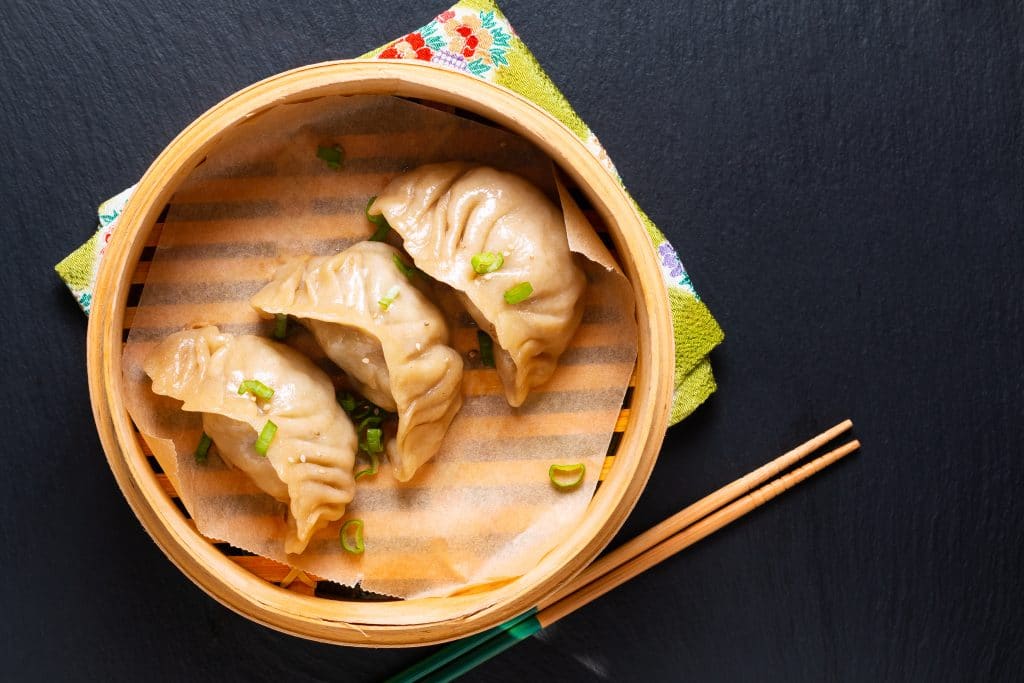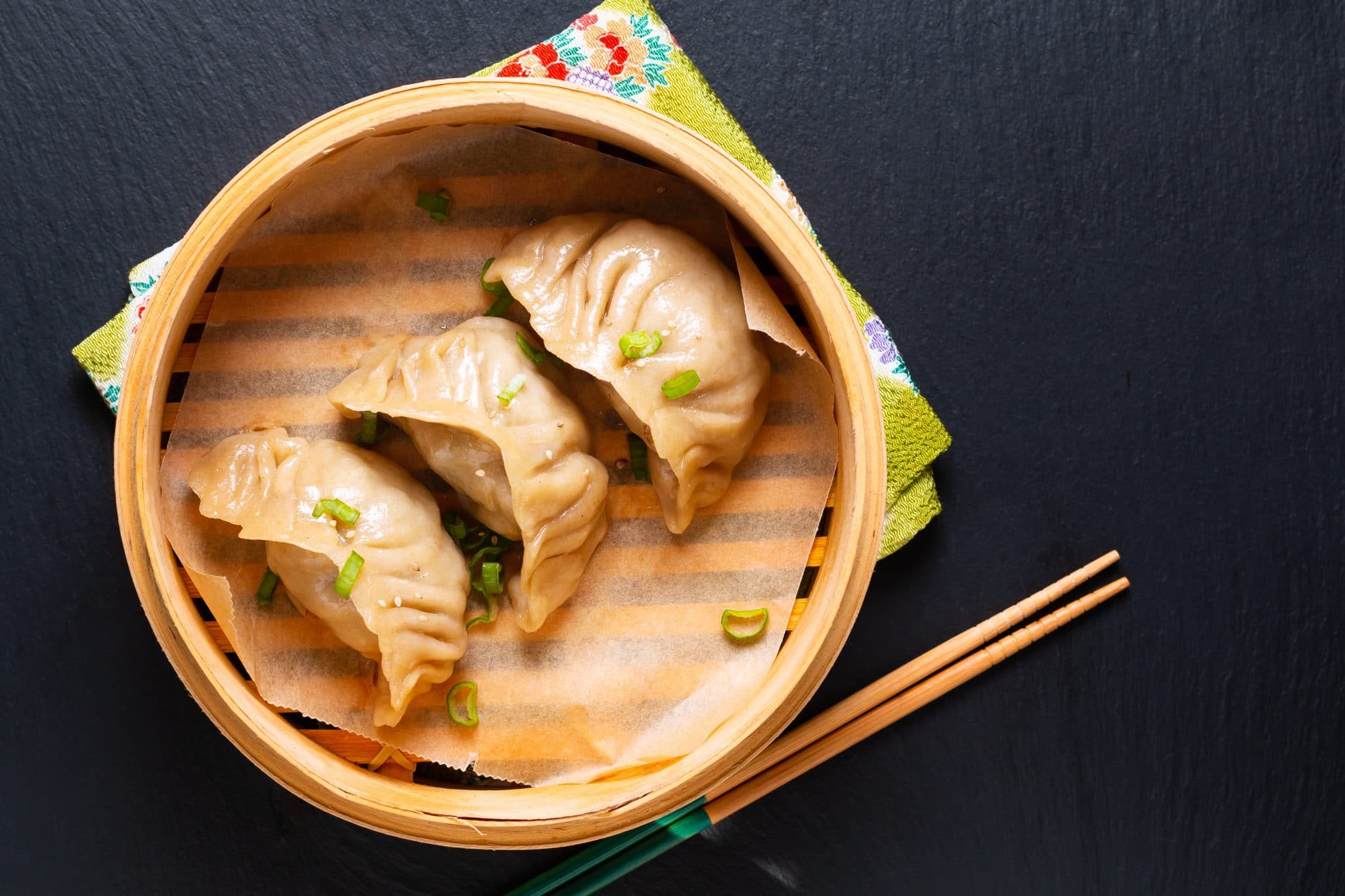 Deciding which bamboo steamer to purchase for your kitchen will depend on your culinary requirements and your budget. You may want to buy a bamboo steamer for someone else. Fortunately, a plethora of options exists to suit all manner of tastes and applications.
For Families
A family of four to six people will eat very happily with a three-tier, 10-inch bamboo steamer.
The HAPPi STUDIO Bamboo Steamer: This 100%-natural, 10-inch, two-tier bamboo steamer is handmade. It sports an inner depth of 2.3-inches, allowing for a healthy combination of foods to be steamed simultaneously.
This HAPPi STUDIO derivative is available on Amazon.com and includes a stainless steel steamer ring and two reusable cotton liners.
The Jugetware Bamboo Steamer: A three-tier, 10-inch bamboo steamer ideal for the family with big appetites.
The three tiers boast a depth of 2.5-inches each, making this all-natural material steamer a solid workhorse for the busy family kitchen.
The Jugetware Bamboo Steamer is available on Amazon.com and includes 100 sheets of paper liner.
For Singles
People living alone eat alone, often. A small bamboo steamer makes a convenient and healthy kitchen companion.
The Reishunger Bamboo Steamer: This handmade 8-inch, two-tier bamboo steamer is ideal for the bachelor or bachelorette wanting to eat healthily and do it cost-effectively.
The Reishunger Bamboo Steamer can steam cook and reheat rice, beans, dumplings, vegetables, fish and meat, making it a super-convenient and energy-efficient alternative to microwave meals.
Get the Reishunger Bamboo Steamer on Amazon.com plus it includes two reusable cotton cloths.
The MacaRio Bamboo Steamer: If you're single and still want to entertain at home (that new flame, perhaps?), this 10-inch, two-tier bamboo bombshell will light a candle for you.
The MacaRio is equipped with unique side handles, and the entire steamer is handmade from organically grown bamboo, making it a great talking point over a candle-lit dinner.
The MacaRio comes bundled with chopsticks, sauce dishes, and paper liners. Check it out on Amazon.com. 
For Travelers
We all know how traveling can get you into unhealthy eating habits, right? Never fear! Whether you're trekking for business or pleasure, you can't beat the convenience of a lightweight bamboo steamer to keep you in strict adherence to your healthy eating regimen.
The DEALZNDEALZ Bamboo Steamer: This 100% natural bamboo, handcrafted 8-inch, two-tier steamer is simple, lightweight, and rugged.
This mélange of features makes it the ideal travel companion when bunking down in self-catering guest suites and on camping holidays.
With no metal parts, the DEALZNDEALZ Bamboo Steamer can be used in a microwave, making it a super-tool for traveling businesspeople having to spend time in guest suites with only a microwave oven to prepare their meals.
You can get the DEALZNDEALZ Bamboo Steamer on Amazon.com and it comes bundled with two pairs of chopsticks and 50 perforated bamboo steamer liners.
For Kids
Kids need to learn valuable life skills, and cooking is one of the bigger ones. Bamboo steamers are an ideal and easy way to teach children how to cook healthy meals. Little people need little tools, making a 4-inch bamboo steamer a perfect introduction to the ancient art of bamboo steamer cooking.
And don't forget the teens! They want swag! With Safety and supervision in mind!
Helen's Asian Kitchen Bamboo Steamer: This epitome of natural cuteness is in fact, a bona fide bamboo steamer despite its diminutive proportions. The kids will embrace it, especially when they hear it can make desserts!
Designed by the reputable Asian chef Helen Chen, this little bamboo steamer is made from 100% natural materials with no chemicals used in the production process. The little bamboo steamer is light and durable, making it an ideal training tool for budding chefs.
Check out Helen's Asian Kitchen Bamboo Steamer (12-inch) on Amazon.com. 
Annie's Kitchen Bamboo Steamer: Teenagers always know better, right? Well, enlighten them by giving them a dim sum starter kit, like this premium-class 10-inch, two-tier, handmade bamboo steamer.
The kit includes two baskets, a lid, a dumpling maker, a spoon, four reusable cotton liners, and two sets of chopsticks.
Annie's Kitchen Bamboo Steamer is available on Amazon.com.  
For Eco-Warriors
Environmentally conscious cooks have a head start by using any bamboo steamer, no matter the design or price. There are bamboo steamer manufacturers however, who use only naturally grown, organic bamboo for their steamers. Using anything other than bamboo is a no-no.
The Omnintuit Bamboo Steamer: This 100% organic bamboo steamer is as traditional as modern steamers get. Its 10-inch, two-tier design will have any eco-warrior marveling at the ingenuity of a cookware system going back five millennia.
The kit comes with two reusable cotton liners, 30 perforated paper liners, and two pairs of chopsticks. It's available on Amazon.com.
As Gifts
Once you've gotten the bamboo steamer bug, you're going to want to share it with your friends and family, especially when gifting is called for, be that for birthdays, holidays, or buddy days!
The Maison Lune Bamboo Steamer: This 10-inch, two-tier bamboo steamer makes a perfect gift. It comes well packaged for shipping and looks great.
Made from tanned bamboo with a beautiful texture, the gift pack includes everything to get your loved one started (you can direct them to the best online dim sum recipes).
The gift pack includes the two baskets and lid, a steamer ring, 20 liner papers, two pairs of chopsticks, and a cleaning brush.
The Maison Lune Bamboo Steamer is available on Amazon.com.
FiveDivine Bamboo Steamer: A perfect gift for the wise gastronome, this two-tier, 10-inch bamboo steamer is made of 100% natural bamboo, and comes packaged for shipping with chopsticks, a bamboo tong, liners and an instruction booklet.
The FiveDivine Bamboo Steamer is available on Amazon.com.
For Foodies
If you're a passionate cook and enjoy sharing your culinary output with large groups of people, there are some excellent pro-level bamboo steamers available on Amazon.com. Check these hot models.
The Hcooker Deepen Kitchen Bamboo Steamer: This 10-inch, four-tier steaming juggernaut will allow you to cook a selection of ingredients for a large group of people.
The baskets on the Hcooker are fitted with stainless steel bands for seal integrity, durability, and protection from burning in the wok or pan.
The four-tier Hcooker is available on Amazon.com and comes with a set of chopsticks and four reusable cotton liners.
The Atlas Lion Kitchen Bamboo Steamer: In the food game, presentation is everything. This good-looking bamboo steamer has vertical slats on the exterior of the baskets, making it a real standout in the bamboo steamer market and a definite conversation piece at a dim sum dinner party.
The Atlas Lion is a 12-inch, two-tier bamboo steamer with stainless steel rims for extra durability and bamboo protection from burning.
The model on Amazon.com and comes with accessories including chopsticks, a sauce dish, and a recipe book.   
What Makes a Good Bamboo Steamer?
As with all mass-produced merchandise, price is generally a reliable indicator of build quality. Entry-level bamboo steamers start at around $10, with premium models sitting at around $45.
Leading manufacturers of bamboo steamers will use the best quality bamboo – organically grown bamboo with dense fibers, free of any chemicals such as glue and BPA. This ensures durability, zero risk of food flavor contamination, and no health risks.
Bamboo steamers are subjected to intense temperatures and moisture every time they're used. With extensive use and exposure to steam, the expansion and contraction of the bamboo will result in fiber separation. The better the bamboo used, the longer the steamer will last.
The lid of a bamboo steamer plays a critical role in the performance of a bamboo steamer. Bamboo reeds are tightly woven to form a waterproof dome-shaped lid for the tiers of the bamboo steamer.
A good bamboo steamer lid will prevent steam from escaping, and absorb vapor, rather than have condensation form and water droplets fall onto the food. And, it will be equipped with a sensible handle.
The integrity of the seal between bamboo tiers is critical to the performance of the bamboo steamer. Bamboo softens when it is heated, and the rims of the tiers do suffer wear and tear every time they are joined and separated in the processes of cooking, serving, cleaning, and storing.
With prolonged use, the seals between tiers will become less efficient. The fibers could splinter too and reduce the steamer to a clumsy piece of cookware.
Several bamboo steamer brands are fitted with stainless steel bands around the rims of each basket to prolong lifespan and protect the integrity of the seal between the bamboo tiers.
Stainless steel bands on the base of the steamer help prevent scalding and burning of the base tier while the steamer is in the wok or pot.
Types of Bamboo Steamers
Bamboo steamers come in various sizes, ranging from four inches to 12 inches in diameter. Bamboo steamers are also classified according to the number of tiers they have, ranging from a single tier (with lid) to a four-tier stack (tower).
Having a stack of tiers allows for the preparation of an entire meal over a single steam pot simultaneously. The lower tiers cook the denser foodstuffs like fish, poultry, and dense vegetables like carrots and squash. The upper tiers cook the more sensitive ingredients like broccoli, cauliflower, and dumplings.
Bamboo steamer baskets (tiers) also vary in depth, allowing for a healthy mix of ingredients to cook simultaneously. Imagine a whole fish steaming in a deep basket below, while an assortment of vegies is steamed in the tiers above it in shallow baskets. They're ingenious, right?
Variations of classic bamboo steamer design are available where the outer bamboo circular frame is replaced with exotic wood such as Japanese cedar.
Getting the Right Steam Power
Traditionally, bamboo steamers have been used with a wok. The concave wok shape holds a deep well of water that generates steam long enough to cook the ingredients in the steamer.
A wok is ideal for accommodating a range of bamboo steamer sizes, and its broad pan offers excellent visibility of water level, which helps prevent scorching of the bamboo steamer.
Skillets and deep-sided frying pans are often used as steam-generating bases for bamboo steamers.
Stockpots are also standard steam generators in bamboo steamer cooking. The trick is to get a pot with a diameter that matches your bamboo steamer.
A steamer ring made of stainless steel is a popular accessory to bamboo steamers, allowing bamboo steamers of varying diameters to be used by a single stockpot or saucepan.
Bamboo Steamer Tips
You're working with steam so always keep your face away from the steamer!
Use cabbage leaves, banana leaves, and shredded lettuce in place of perforated paper liners.
Use parchment paper (aka wax-proof paper) to line the baskets.
When using a pot as the steam generator, you can cook something in the water, like potatoes or hardboiled eggs.
Bamboo steamers are not only for Asian food. Try Western recipes using steam as the cooking heat instead of dry oven heat.
Compare your electricity consumption using a bamboo steamer compared to your conventional stove and oven cooking method.
Clean just using a brush, sponge, or cloth with hot water to rinse off food particles.
Use a gentle, biodegradable soap to clean the bamboo steamer, if necessary.
Allow the steamer to dry before storing it.
So, What's The Best Bamboo Steamers?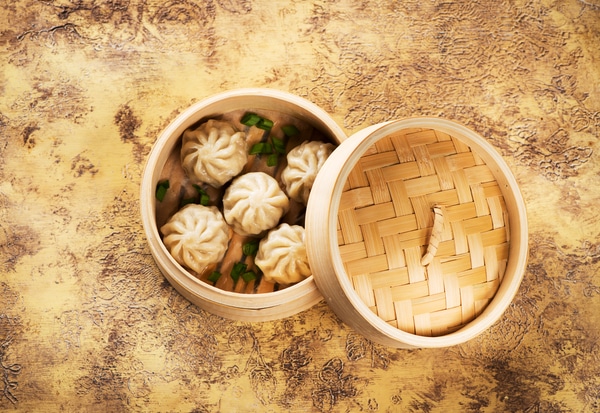 We've covered a lot of bamboo steamer territory in this post. Now it's time for you to decide. Read the amazon reviews and watch the videos. Check YouTube for bamboo steamer reviews and recipes. The beauty of a bamboo steamer is its simplicity, economy, ecology and downright righteousness! More than merely a dim sum cooker, a bamboo steamer is an ingenious and versatile piece of cookware. It's time for us in the West to use its magic!
---
Recent Recipes