Healthy Homemade Banana Popsicles
Bananas are tropical, sweet, starchy fruits that most people enjoy. Though, I do have a friend who really does not like bananas by themselves or mixed into anything. I am the opposite. I think bananas are delicious and one of the most versatile fruits on the planet.
Bananas also have some great nutritional benefits. They are high in dietary fiber and are a good source of energy. Bananas are low in fat and contain a great deal of hydrating moisture. In fact, they are terrific for restoring electrolytes after a workout or if you have had a run-in with digestive troubles. Bananas are rich in vitamin C, potassium, folate, copper, and magnesium.
I enjoy peeled bananas just as they are or sliced and placed on cereal or mixed in yogurt. I add bananas to smoothies to make them thick and creamy. I will also make a sandwich with almond butter and sliced bananas. You can bake with them when you need a binder and natural sugar in vegan baked goods.
My niece turned me on to frozen bananas that she dipped in chocolate sauce. It was the simplest dessert ever. So, I figured, why not go a step further and make banana popsicles? When blended with some type of milk and a touch of honey or other sweet syrup, you get a very creamy mixture that can be frozen in popsicle molds with sticks to eat easily.
Banana popsicles are very easy to make. The only equipment you need is measuring spoons and cups, a sharp knife, a blender, popsicle molds, and popsicle sticks. The ingredient list is manageable. This recipe only has ripe bananas, coconut milk, honey, and mini chocolate chips. The chocolate chips are completely optional.
These popsicles are vegetarian, but you can make them 100% vegan by substituting some of the ingredients. I will explain the options right after the recipe. Either way, kids and adults both love these healthy homemade banana popsicles.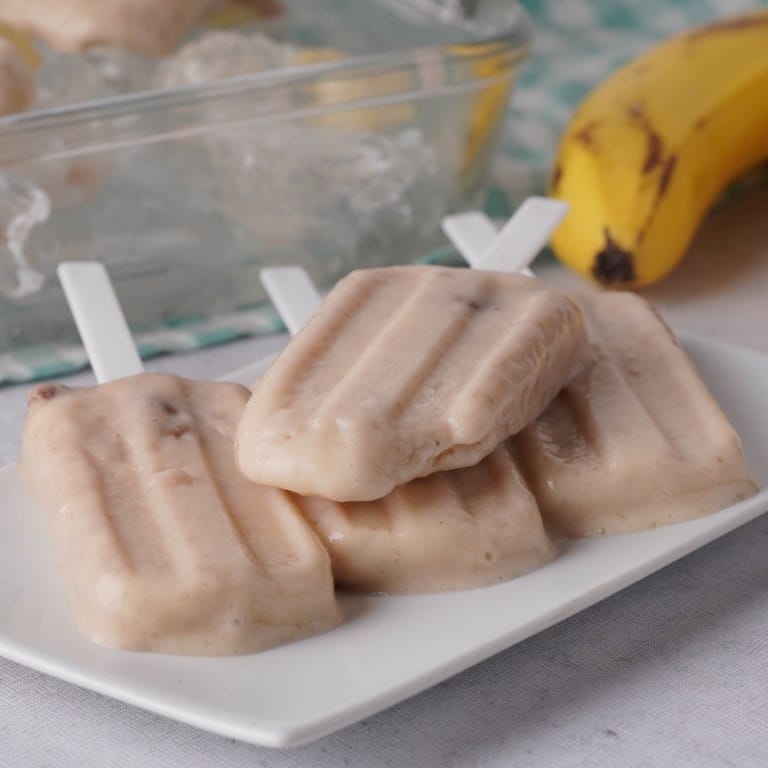 Ingredients
4

large or 5 medium ripe bananas

3

Tbsp

honey

1

cup

full-fat unsweetened coconut milk

more or less

¼

cup

mini chocolate chips

optional
Instructions
All ingredients ready? Let's begin!

Peel the bananas and roughly chop them. Place the banana pieces in the jar of a high-speed blender.

Add the honey and coconut milk. Blend until smooth. If this is too thick to pour into popsicle molds, add a little more coconut milk. If too thin, add another banana.

Add the chocolate chips and stir gently to combine.

Pour the liquid into a 10-section silicon, BPA-free, or stainless steel popsicle mold, leaving a little space near the top for the popsicles to expand.

Insert wooden popsicle sticks and place the mold into the freezer. The popsicles will need 4 to 6 hours to fully freeze.

Just run a little warm water over the bottom of the mold to release the popsicles, if they don't release easily. Serve while cold or store in a sealed container or plastic bag for up to 3 months.
Nutrition
Calories:
128
kcal
|
Carbohydrates:
20
g
|
Protein:
1
g
|
Fat:
6
g
|
Saturated Fat:
5
g
|
Polyunsaturated Fat:
0.1
g
|
Monounsaturated Fat:
0.2
g
|
Trans Fat:
0.01
g
|
Cholesterol:
1
mg
|
Sodium:
7
mg
|
Potassium:
222
mg
|
Fiber:
1
g
|
Sugar:
14
g
|
Vitamin A:
40
IU
|
Vitamin C:
4
mg
|
Calcium:
12
mg
|
Iron:
1
mg
Notes & Tips
It is best if the bananas are ripe and a little bit soft. Ripe bananas are very sweet but don't use ones with brown spots on the flesh that will discolor the popsicles.
Make sure to peel and cut the bananas right before blending them with the milk. If you cut them too soon, they will start to turn brown.
Depending on how ripe the bananas are and how creamy the coconut milk is, the consistency of the mixture will vary. Use your best judgment when it comes to thinning or thickening the creamy mixture. You want it thick but still pourable.
I like silicon popsicle molds best, but you can use any that you have. They come in single trays with sections or individual molds that can be stacked. If you don't have popsicle molds, you can use small paper cups that you can peel off of the frozen popsicles.
Substitutions & Variations
Honey: If you want to make this a true vegan popsicle, swap out the honey for maple syrup, agave nectar, or brown rice syrup. Alternatively, you can use sweetened coconut milk and skip the sweetener.
Coconut Milk: Coconut milk is naturally a little sweet and adds a very creamy texture to this popsicle recipe. You can use whole milk but might need a little less because it is thinner. For a tangier popsicle with probiotic qualities, try plain Greek yogurt. While I haven't tried this yet, I would think that unsweetened condensed milk might work in this recipe for added creaminess.
Chocolate Chips: There are vegan chocolate chips or cacao nibs if you are going in that direction. You can skip the chocolate chips altogether. Or you can add diced strawberries, chopped pecans, or shredded coconut.
Vanilla: Some popsicle recipes call for a few drops of pure vanilla extract. I am not as fond of that but I do like a little almond extract.
Chocolate Dip: I know my niece would highly recommend dipping the popsicles in chocolate sauce. You can freeze your popsicles. Then, dip them into melted dark or milk chocolate and freeze them again just until the chocolate hardens. You can also pour a little melted chocolate into the molds and add the banana cream to the rest of each mold. This will give you banana popsicles with a frozen chocolate top.
---
Recent Recipes