Best 10-Minute Garlic Butter Sauce for Pasta
I make pasta at least three times a week, minimum. And while I do use a lot of store-bought pasta sauce, it is not sustainable to use it so often. But also, because of how often pasta finds itself onto my table, I needed a quick and delicious pasta sauce, and the Best 10-Minute Garlic Butter Sauce was born.
It is a simple enough sauce with a few fresh ingredients, and you can make the sauce in less than 10 minutes. The Best 10-Minute Garlic Butter Sauce goes with any pasta, but I make it most often with spaghetti, it is my go-to dish for any quick family dinner. I am not kidding when I say that everyone I know loves this garlic butter sauce and have made their own versions of it. It is so versatile; you can add and eliminate ingredients as per your personal preference.
This sauce has a rich, nutty taste and I make it with butter, garlic, chili flakes, parsley and pepper. You'll notice I haven't added any salt to the dish as the salt is added to the pasta when cooking. Remember to add some more fresh parsley to the finished pasta dish, parsley is absolutely amazing in this rich sauce as it adds some lightness and freshness to the sauce. Once you add the pasta to the dish, top it off with parmesan cheese. This Best 10-Minute Garlic Butter Sauce is best if served immediately but it will last in the fridge for 3-4 days.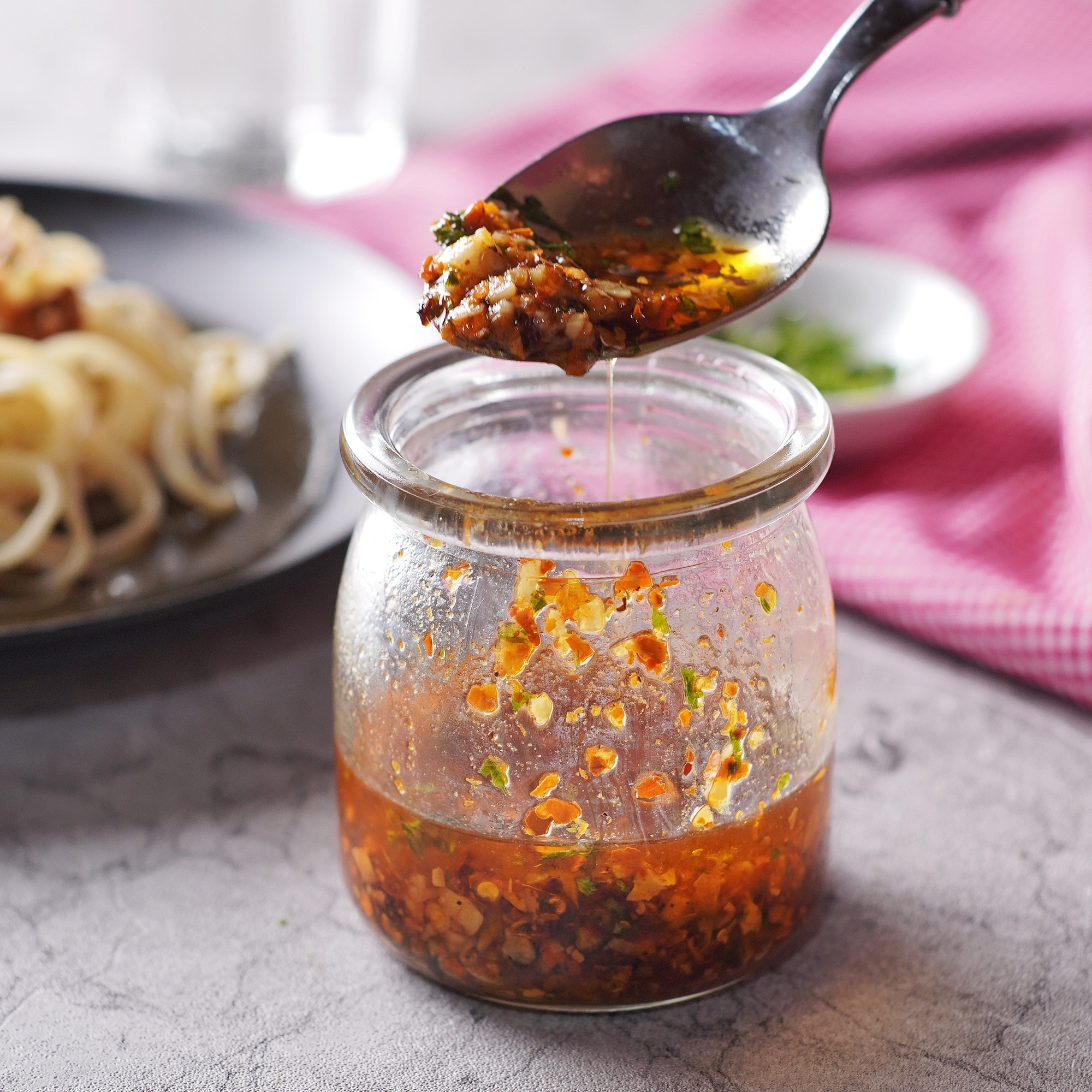 Ingredients
8

tablespoons

of butter

1 stick

4-5

cloves

of garlic

minced

2

tablespoons

of chili flakes

2

tablespoons

of chopped parsley

Freshly ground black pepper
Instructions
All ingredients ready? Let's begin!

In a saucepan melt the 8 tablespoons of butter.

Add the garlic and sauté till it turns fragrant.

Add the chili flakes, parsley and black pepper and sauté.

The butter should turn a light brown but not burn.

Take off heat and pour over cooked pasta. If you are making ahead, then store in airtight container.
Video
Nutrition
Calories:
217
kcal
|
Carbohydrates:
3
g
|
Protein:
1
g
|
Fat:
23
g
|
Saturated Fat:
14
g
|
Polyunsaturated Fat:
1
g
|
Monounsaturated Fat:
6
g
|
Trans Fat:
1
g
|
Cholesterol:
60
mg
|
Sodium:
267
mg
|
Potassium:
108
mg
|
Fiber:
2
g
|
Sugar:
1
g
|
Vitamin A:
2054
IU
|
Vitamin C:
4
mg
|
Calcium:
28
mg
|
Iron:
1
mg
Tips & Tricks
Use unsalted butter as you can then regulate the amount of salt that goes into your pasta with garlic butter sauce.
Ensure that you don't burn the butter, but it should brown a little.
Once the pasta is cooked, either pour the sauce over the cooked pasta or take the sauce off heat and add the pasta to the pan and toss with tongs.
Storage
This sauce is best when had right away. You can make it ahead. Store the sauce in an airtight container and keep in the fridge. To heat the sauce transfer to a small pan, keep it in low heat and keep stirring. You can also heat in the microwave. Pour the sauce into a microwave safe bowl and heat for 30 seconds. If it is not hot, keep heating in increments of 30 seconds.
I would not recommend freezing the sauce as thawed sauce will make the texture unappealing.
FAQs
What else can I add to the sauce?
There are tons you can add to the sauce. Keep the butter and garlic base and go with any of the following herbs and spices, like paprika, cayenne, dill, lemon juice, thyme, rosemary and chives. If you want to up jazz up your garlic, butter pasta dish you can add some mushrooms, capers, chicken and bacon.
Is there a way to make a vegan version of the Best 10-Minute Garlic Butter Sauce?
You can replace the butter with olive oil, avocado oil or any other vegetable oil. You can also use vegan butter, vegan margarine or vegetable shortening.
Do I have to use salted or unsalted butter?
Unsalted butter is preferable as you know exactly how much salt is going into your Best 10-Minute Garlic Butter Sauce. You can of course use salted butter if that is your only option but then go easy on the amount of salt you are adding to your pasta. Also do not add any salt to the sauce you are making.
Substitutions
This is a simple dish with ingredients you probably already have in your pantry, but here are a couple of alternatives:
Butter: Olive oil, vegetable oil or vegan butter options
Garlic: You can use fresh cloves of garlic or garlic powder. Garlic powder is a lot more intense than fresh garlic so keep an eye on how much you are using.
Parsley: You can use fresh or dried parsley, cilantro, basil, chives or dill
Chili flakes: These are basically red peppers flakes, you can use roughly ground paprika, smoked or sweet.
Pepper: There is no real replacement for freshly, ground pepper, so eliminate if you don't have any pepper or don't like it.
Accompaniments
I make this Best 10-Minute Garlic Butter Sauce so often that I have found so many other uses for it. Besides the pasta, you can use this pasta in so many other dishes. This butter garlic sauce can be poured over lobster or burgers. It is especially amazing over any kind of fish and even salad. It also goes well over cooked or steamed vegetables like broccoli and carrots.
But when you do use this amazing Best 10-Minute Garlic Butter Sauce over pasta it goes really well with bread, bruschetta and some kind of rich, brothy soup. Garlic butter sauce flavor pairs well with any kind of tangy or spicy dish. The richness of the sauce needs something acidic to break it down, so a tomato bisque or soup makes an excellent accompaniment. Pasta with garlic butter sauce also goes nicely with roasted and grilled vegetables.
If you want to try more interesting sauces and dressings, try this amazing Low FODMAP Enchilada Sauce and this Low FODMAP Dressing.
---
Recent Recipes