Best AIP Friendly Tangy & Sweet Brisket
One thing I sometimes miss while I am following an AIP lifestyle and way of eating is cured and cooked meats like ham that is coated in a brown sugar crust and pastrami that is layered with black pepper. These are comfort foods that I enjoyed growing up, especially around the holidays. Yet, there is no reason you can't cook a roast that is tangy, sweet, and well-seasoned that evokes those memories.
This particular recipe is for a slow-cooked beef brisket that is fabulous right out of the oven with a side of roasted root vegetables. I think it is even better the next day when served in sandwiches on gluten-free bread with cabbage slaw.
What I really love about cooking brisket is that it takes minimal effort to prep. For the most part, the beef is braising without requiring much babysitting. The result is a tender roast that practically falls apart and melts in your mouth.
The tanginess comes from apple cider vinegar added to the broth. The sweetness is from blackstrap molasses. I add root vegetables to the pan after the beef has braised for 3 hours. I like carrots and parsnips for their inherent sweetness and purple top turnips for a little bit of savory flavor. The veggies are optional, but I encourage you to try them.
This brisket is a perfect holiday main course. I like to serve the brisket and root vegetables with a crunchy cabbage slaw and roasted spaghetti squash. If you prefer a mash beneath your roast, you could make cauliflower or celeriac (celery root) purée.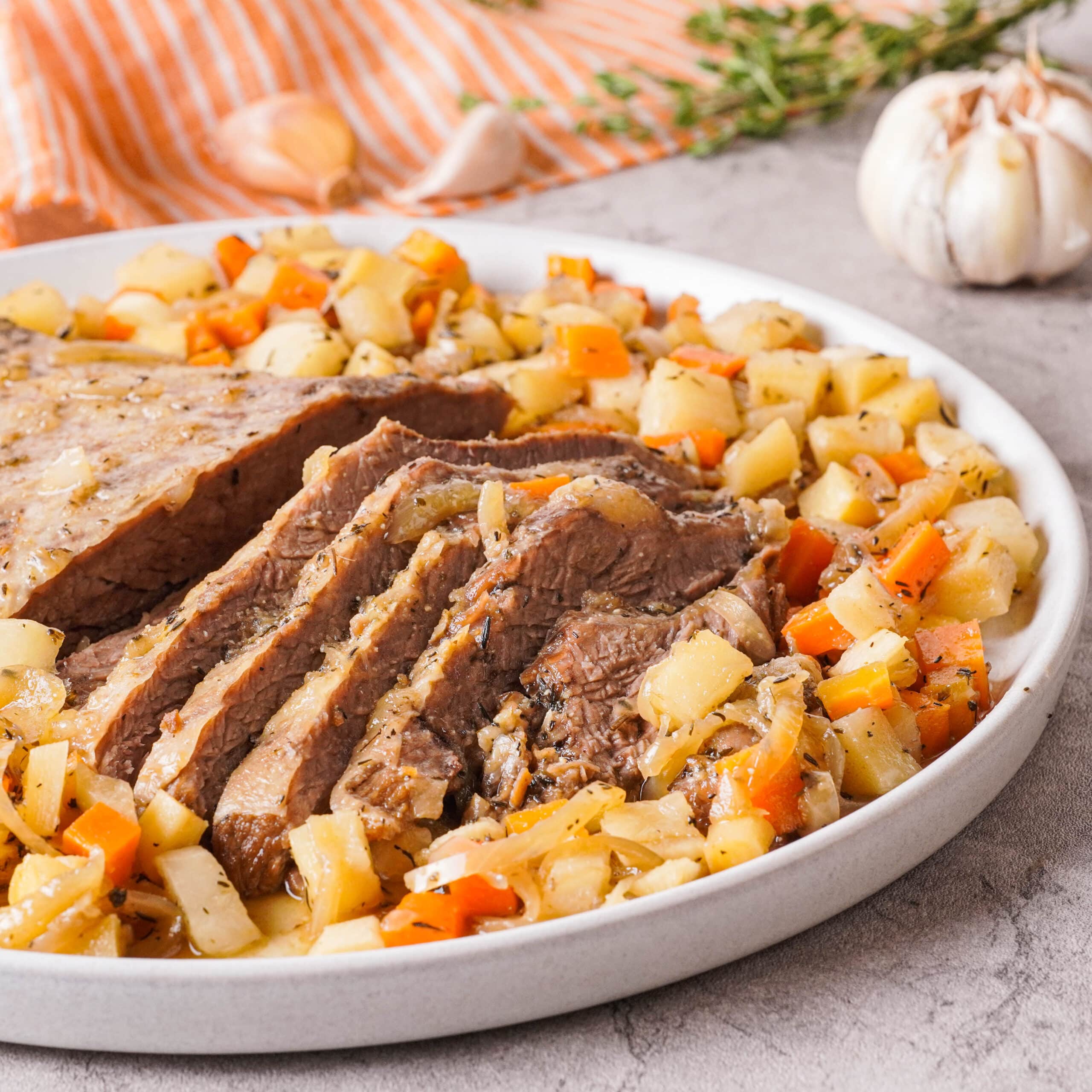 Ingredients
One 3-pound uncured beef brisket

1

Tbsp

sea salt

2

Tbsp

avocado oil

1

large onion

peeled and sliced into half-moons

½

cup

unfiltered apple cider vinegar

⅓

cup

bone broth

⅓

cup

blackstrap molasses

2

bay leaves

2

tsp

garlic powder

2

tsp

dried thyme leaves

1

cup

roughly chopped carrots

1

cup

roughly chopped parsnips

1

cup

roughly chopped purple top turnips
Instructions
All ingredients ready? Let's begin!

Preheat your oven to 325°F.

Rinse the brisket under cold water and pat dry with paper towels. Generously coat all sides of the brisket with salt.

In a very large skillet over medium-high heat, warm the oil.

Add the brisket to the pan and sear it until all sides are browned. This will take a few minutes. Remove the beef to a roasting pan that is approximately 10 by 15 inches, fat side facing up.

Add the onions to the skillet and sauté them until they start to brown, approximately 4 minutes.

Add the vinegar to the pan and cook just until it bubbles, about 30 seconds. Reduce the heat to medium-low. Stir in the broth, molasses, bay leaves, garlic powder, and thyme. Allow the braising liquid to warm up.

Pour the seasoned broth and onions all over the brisket. Cover the pan tightly with aluminum foil. Place the pan inside the oven and braise for 3 hours.

At 3 hours, remove the pan from the oven. Lift the foil off and scatter the root vegetables around the brisket. Reseal the pan with the foil and place it back in the oven. Continue to bake for an additional hour.

Transfer the brisket to a cutting board. Slice thinly or shred it with 2 forks. Place the brisket on a large serving platter. Using a slotted spoon, place the vegetables around the perimeter of the beef.

Spoon the pan juices over the top of the meat and serve while warm.
Nutrition
Calories:
500
kcal
|
Carbohydrates:
25
g
|
Protein:
49
g
|
Fat:
22
g
|
Saturated Fat:
6
g
|
Polyunsaturated Fat:
1
g
|
Monounsaturated Fat:
11
g
|
Cholesterol:
141
mg
|
Sodium:
1388
mg
|
Potassium:
1284
mg
|
Fiber:
3
g
|
Sugar:
18
g
|
Vitamin A:
3617
IU
|
Vitamin C:
13
mg
|
Calcium:
85
mg
|
Iron:
6
mg
Notes & Tips
I don't trim the fat cap on the brisket because I think it adds a lot of flavor to the meat and braising liquid. You can always scrape it off right before you slice the meat if you don't want to eat the fat.
When following an AIP diet, it is recommended that you use raw unfiltered apple cider vinegar. It is cloudy because it contains what is referred to as the "mother". This is a fermented product that has beneficial probiotic qualities.
Try to use a roasting pan that just fits the brisket and veggies so everything is well submerged in the broth. This makes the meat juicy.
Substitutions & Shortcuts
Beef Brisket: You can make this recipe with different cuts of meat other than beef brisket, such as a chuck roast or short rubs. You could also substitute a pork brisket or a lamb roast.
Avocado Oil: Avocado oil has a high smoke point, which is why I like to sear meat in it. However, coconut oil or olive oil are both good options.
Bone Broth: AIP, GAPS, and paleo diets rely heavily on broths that are prepared by simmering bones in water for a long time to extract as much collagen and nutrition from them to aid in healing the gut. If you don't have bone broth, use whatever compliant broth that you have on hand, making sure it isn't seasoned with pepper.
Molasses: Molasses gives this dish a nice lacquered finishing sauce with a rich deep color. Honey is actually okay on an AIP diet, preferably raw and organic. You could also use date sugar if you can find it.
Garlic Powder: There isn't any reason you can't substitute the powder with minced fresh garlic cloves.
Root Vegetables: If you want to use fresh root vegetables other than carrots, parsnips, and turnips, try celery root, rutabaga (swede), and yams. I am not one to pass up chopped vegetables that are packaged and available in the produce aisle refrigerated case to save time. I will generally go for the chopped butternut squash, cauliflower florets, and trimmed green beans.
---
Recent Recipes