Best Asian Online Grocery Stores
Are you situated in an area far from any good Asian grocery stores? How about simply looking for the peace of mind of knowing that you can get everything necessary for a classic meal online and delivered without a delay in your day?
Whether you're shopping for Chinese, Korean, Japanese, Vietnamese, Thai, Indonesian, or Filipino groceries, we've got the very best Asian online grocery stores for every category coming up. Each store offers competitive pricing, a broad range of grocery products, produce and foods, and affordable, reliable delivery.
Chinese Online Grocery Stores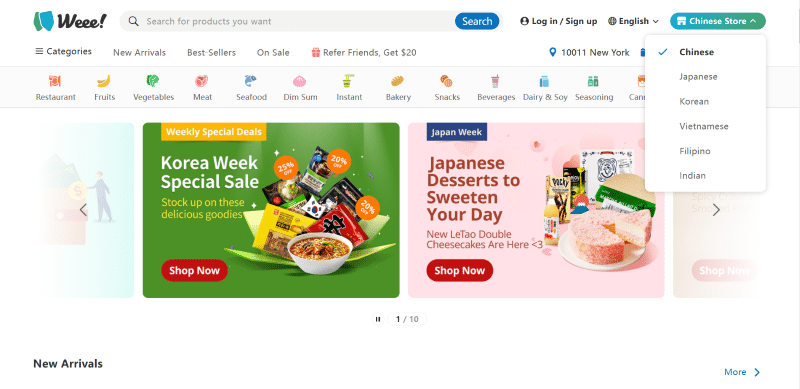 $5-$5.30 Nationwide Delivery Fee
Free Delivery On Orders Over $35
Weee! Inc. is an online grocery store specializing in Asian and Hispanic products. The best thing about Weee! is its seemingly endless product selection spanning over 4000 freshness-guaranteed items that are delivered throughout the the U.S. and in certain parts of Canada. Shoppers simply input their zip code and choose a store type. Chinese, Japanese, Korean, Vietnamese, Filipino, Indonesian, Mexican, and American are available. A range of products from Weee!'s very own distribution network is offered, unlike how most other e-grocers connect customers to third-party suppliers. This translates to outstanding all-around quality every time.
Expect to find everything from produce like choy sum, tong ho, and lotus root to meats like scalded beef omasum tripe, tendon meatballs, abalone and cuttlefish, and every regional snack you could hope for. Despite all types of Asian food being available, Weee! has an overwhelming majority of Chinese, Japanese and Mexican cuisine. Weee! should be the go-to Asian marketplace for hard-to-find ingredients and the first choice for anyone searching for Chinese groceries.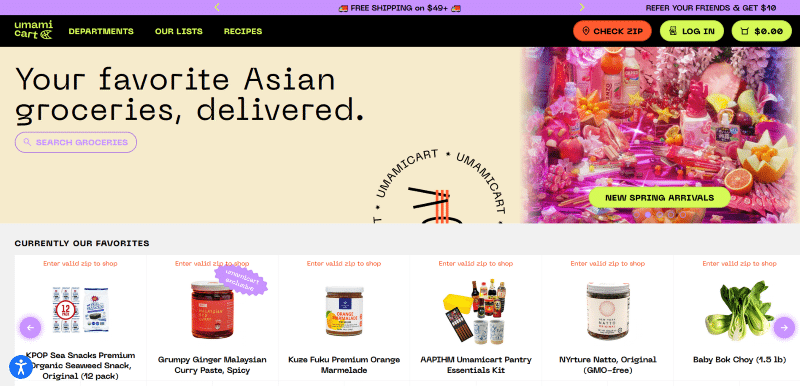 $6.99 Standard Nationwide Delivery Fee
Free Delivery For Orders Over $49
Umamicart is an e-grocer that offers a broad selection of Asian products but, like Weee! the company has an overwhelming majority of Chinese groceries. Unfortunately, not everywhere is eligible for ordering and delivery. Same-day delivery is only offered in certain parts of the New York metro, while next-day delivery is offered across New York, New Jersey, Connecticut, Pennsylvania, and Delaware. Simply input your zip code and pick from an awesome selection of hard-to-find and popular groceries, including some of the hottest Chinese brands online.
As another grocery store that sustains its own network of independent distributors and brands, shoppers can expect the highest quality. Shopping is divided into food types instead of the various Asian regional varieties. The company has a selection of lists that make shopping for exciting new foods easy while also presenting the active specials at a 20% discount. If you're in the North East and are on the hunt for Asian groceries at good prices, Umamicart is excellent.
Korean Online Grocery Stores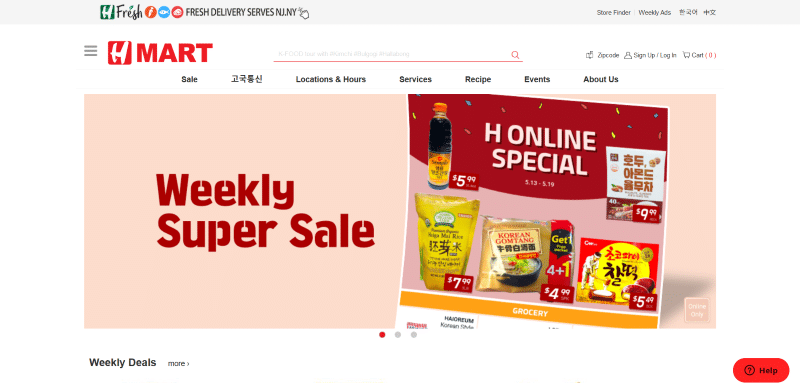 $5.99 Standard Nationwide Delivery Fee
Free Delivery For Orders Over $49
With massive brick-and-mortar chain stores throughout the United States, Canada, and London, H Mart is the definitive Korean supermarket. The 'H' in 'H Mart' represents the Korean phrase 'han ah reum,' which translates approximately to an 'arm full of groceries' which hints toward the unbeatable selection of Korean products awaiting. There are lesser-found delicacies like Lao Gan Ma, house-brand kimchi that's to die for, and gochujang, to name but a few. Sushi-grade fish is a major highlight from this enormous Asian grocery store, with equally as-high quality found throughout the rest of its range.
H Mart has all the hard-to-find Korean groceries and popular regional brands while carrying an impressive selection of other Asian foods as well. Physical stores are situated across the USA, and H Mart delivers nationwide with the exclusion of Alaska, Hawaii, Puerto Rico, and Guam. The super chain is so popular that customers are constantly crying out for more physical store openings across the country. H Mart is the best Korean grocery store around, with a well-rounded online shopping experience and affordability that bumps it just ahead of its competition.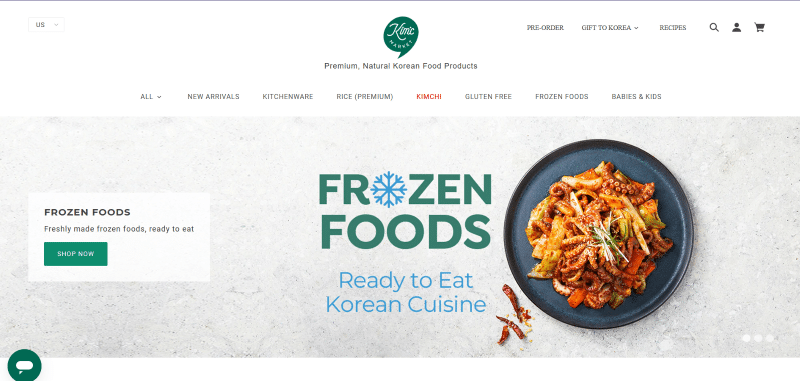 Non-Frozen Goods – Free Delivery In the U.S. & Canada For Orders Of $79 Or More
Frozen & Non-Frozen – Free Delivery In The U.S. & Canada For Orders Of $239 Or More
Frozen Orders Only Shipped Monday To Thursday
Kim'C Market is a one-stop shop for everything Korean. The products listed here are of far higher quality than one generally finds elsewhere. While broad enough to have most things shoppers are looking for, there are significantly fewer "no-name brand" Korean grocery items than a store like H Mart keeps in stock. Unlike its competitors, Kim'C Market stocks kitchenware, bakeware, and household goods as well. Another top highlight are the sets and bundles on sale.
Collections like Kim'C's Korean rice meal kit supplying Gawaji No.1 Rice, Jeju Traditional Fish Sauce, and a tablet of natural seafood stock produced from sixteen distinctive Korean ingredients make shopping for new cuisine easy whether you're an experienced Asian chef or a newcomer. Shipping is offered nationwide throughout the U.S. and Canada. Frozen items are dispatched immediately overnight and arrive within two days, whereas fresh items are made-to-order and then shipped. Anyone situated in Brooklyn is free to collect.
Japanese Online Grocery Stores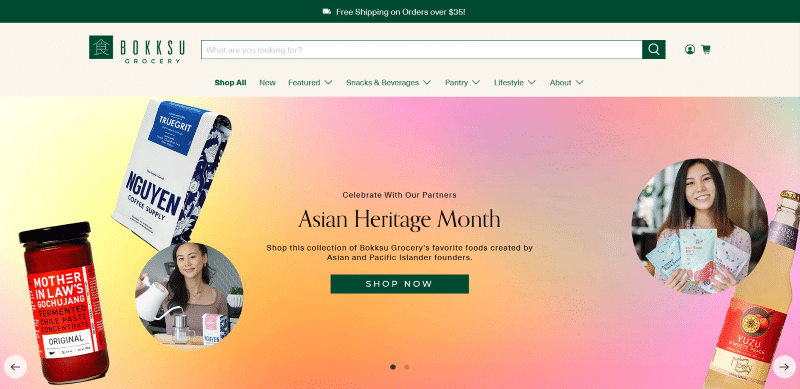 Free Delivery On Orders Over $35
$30 Minimum Order To Qualify For Delivery
From the main branch in New York and connected distribution centers, Bokksu Grocery ships nationwide to the United States and Canada. While specializing in Japanese cuisine, there are also many Chinese and Korean grocery items on offer, with scattered products from Thailand, Taiwan, Hong Kong, and the Philippines available. If it's Japanese, you'll find it at the Bokksu Grocery. From Japanese ramen, mayonnaise, and soy sauce, to products like katsuobushi, genmai su, mochi, and all types of rice crackers, shoppers are spoiled for choice.
While shopping, the only consideration to keep in mind is that boxes and collections of grouped grocery items, such as the snack boxes, are considerably more expensive than the prices you'd find for the products sold individually at an Asian market. However, the non-curated groceries are competitively priced, while the product range presents many difficult to procure Japanese foods.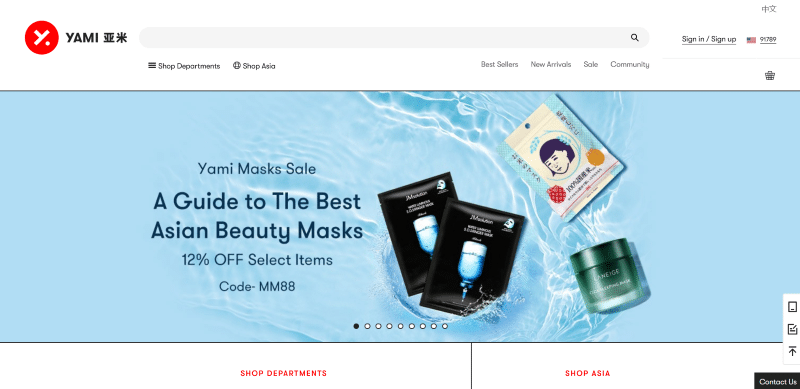 $5.99 Standard Delivery Fee
Free Delivery On Orders Of $49 Or More
Yamibuy is one of the oldest online Asian grocery stores with a predominant focus on Japanese food. There are snacks, beverages, grocery & pantry items, beauty products, and kitchen and home items from Asia available. Even if one discounts the external sellers, Yamibuy still has a pretty impressive range that's constantly updated with new arrivals. Just like most e-grocers, shoppers input their zip code and are then shown a list of available merchandise.
At first, you'll be blown away by Yamibuy's impressive range of Japanese groceries. Unfortunately, prospective shoppers should keep in mind that a small number of other users have experienced problems when ordering from third-party suppliers instead of groceries fulfilled by the company itself. For this reason, we strongly advise that shoppers stick to goods marked 'Fulfilled by Yami' in order to guarantee a painless ordering and delivery process. Nonetheless, the vast majority of customer reviews report a great experience regardless of which products are picked.
Vietnamese Online Grocery Store
The best place to find Vietnamese groceries online is one of the e-grocers that stock multiple Asian products. Weee!, Umamicart and Bokksu Grocery all arise as reliable stockists of Vietnamese food and, in certain cases, household and wellness items as well. Unfortunately, there was no dedicated Vietnamese online grocery store delivering to the U.S. with confirmable reputability found at the time of writing. Those shopping for Vietnamese groceries online will be happy to know there are classic ingredients like swallow nest soup, preserved duck eggs, pho soup base, and scalded aorta readily available at the above listed e-grocers and many of the other mixed-ethnicity Asian online markets.
Thai Online Grocery Stores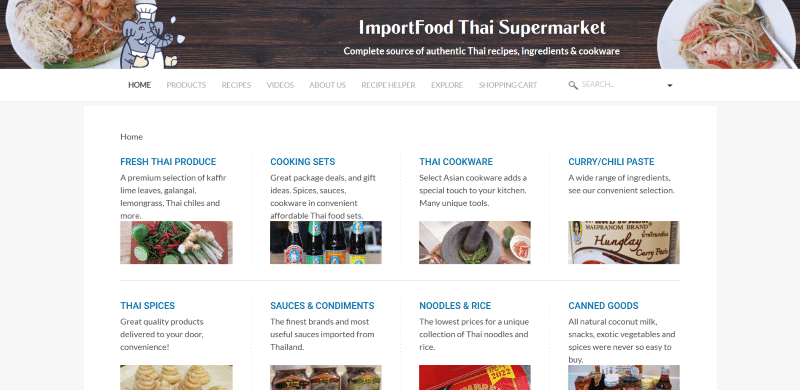 Flat Delivery Charge Of $6.75 In The U.S.
Surcharge Per Ounce Based On Weight (Generally Equates To Cents On Most Orders)
From its headquarters in Boise, Idaho, ImportFood offers Thai groceries, cooking sets, cookware, and knives to shoppers online. A full selection of Thai curry pastes, sauces, condiments, fresh produce, noodles, and assorted grocery items are available. Those ordering should keep in mind that deliveries arrive five to seven days after placing an order instead of the one to two-day fulfillment supplied by most competing Asian e-grocers. This being said, there's no other Thai online grocery that can compare to ImportFood's range.
While shoppers are in for a slight wait, customers rave over both the quality of the items and the careful way that items are packaged for delivery. The cookware and crockery match the superlative quality of the groceries. Herbs and produce also arrive fresh and packed with flavor. ImportFood is an impressive vendor that blows customers away with the beauty and craftsmanship of its products like knives and mortar and pestle sets while stocking everything a Thai chef could hope for. The company even offers international shipping at request.
Indonesian Online Grocery Stores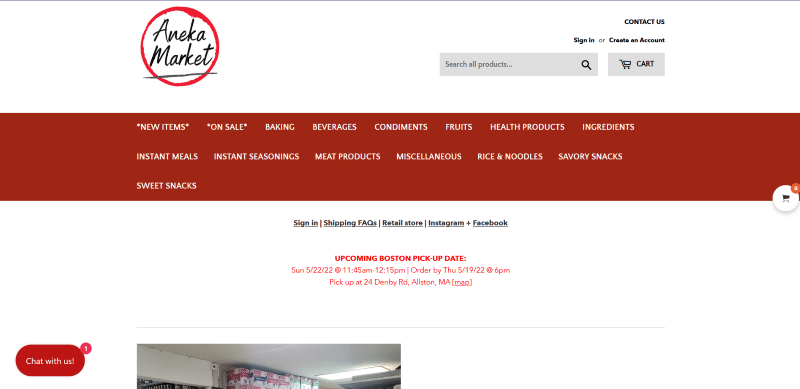 Shipping Fulfilled By UPS and USPS – Pricing Relative To Package Dimensions
Aneka Market is an Indonesian online grocery store with a brick-and-mortar retail establishment in Rochester. Despite being a relative newcomer to the e-grocer sector, Aneka Market has been reliably delivering a range of Indonesian specialty groceries since 2021 and also offers a limited selection of pickup only freshly made goods for those lucky enough to be in Boston or New Hampshire. As a store that was born to fulfill the shopping needs of Indonesian immigrants in its locality, Aneka Market offers outstanding quality, product diversity, and affordable pricing throughout its range.
Aneka Market has most things Indonesian cooks could be looking for. There are regional favorites like sambals, including runel, kokita, and dua belibis sambal terasi. Ketupat Javanese rice cakes, tempeh, rendang seasonings, and snacks like soybean chips and Kokoro are just a few other examples of Aneka's exciting Indonesian food. With an active presence on social media, continual specials running, and shipping within one to two business days, there's every reason to try Aneka Market. Just keep in mind that the delivery charge may be double or more the $5 to $6 nationwide charge presented by most competitors due to the weight-based delivery determined on a per order basis.
Filipino Online Grocery Stores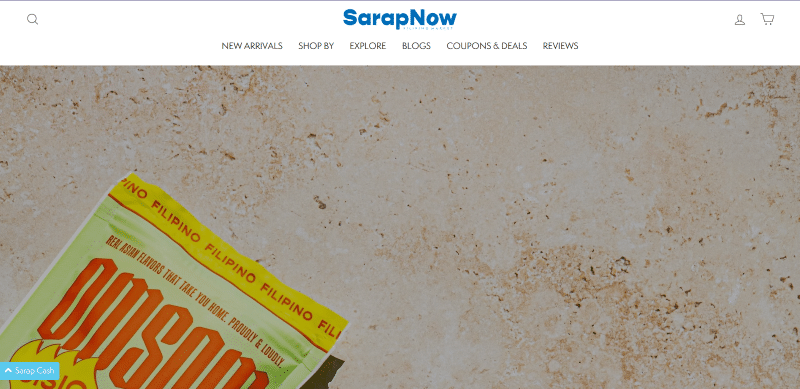 $8 Flat Nationwide Shipping Rate For Orders Under 1 Pound
$12 Flat Nationwide Shipping Rate For 1-20 Pound Orders
Free Delivery On Orders Over $59
For the most comprehensive selection of high-quality Filipino groceries, candies, baked goods, cakes, cookies, desserts, and both beauty and wellness items available online in the USA, look no further than SarapNow. International shoppers are even covered with a custom-shipping rate for orders when their locality is supported (and most are). The word 'Sarap' means delicious in Tagalog and is colloquially used to refer to delicious Filipino foods, such as the overwhelming selection of outstanding options from this Los Angeles-based online grocery store.
From sauces and pastes like banana sauce, ginisang bagoong, coconut vinegar, and toyomansi to ube cookie butter, crackers, and other ube products, SarapNow really does have it all. There are Filipino snacks like chicharrón, hopia, sea grapes, prawn chips, and salted egg fish skin, to name but a few. Shoppers will even be pleasantly surprised by the well-priced range of reputable health and beauty products. SarapNow certainly does its name proud and should be the definitive choice for most groceries, if not all from the Philippines.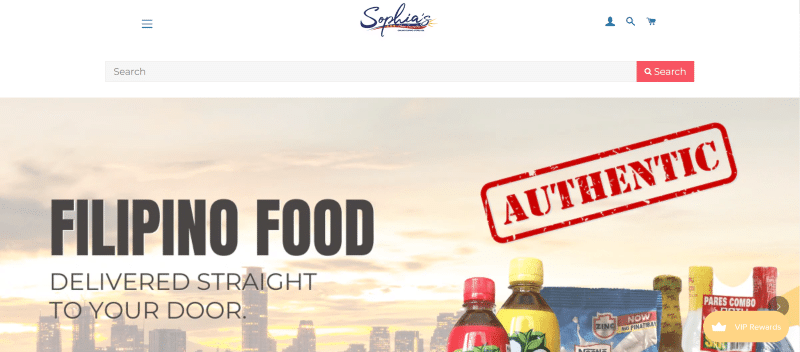 Delivery Pricing Relative Order
Free Shipping For Orders Over $65
Sophia's Home Favorites is an online Filipino grocery store that can't be overlooked. Only the fact that SarapNow is more established makes it place number two. This family-run business has a broad range of Filipino snacks, beverages, and groceries available. From its brick-and-mortar store in Torrance, California, Sophia's Home favorites ships nationwide in the U.S., covering all fifty states. The first thing that stands out from the get-go is the sheer affordability. In the vast majority of cases, products are priced on par with groceries found in regular (offline) stores.
Another unmistakable drawcard for Sophia's Home Favorites is how it has certain hard-to-find Filipino foods in stock. It's about the only place you'll find particular popular Filipino brands like Neri's Gourmet Tuyo, Bear Brand Milk, and classic foods like Holiday corned beef loaf and dinuguan. As an owner-operated hands-on enterprise, customer service is outstanding. Testimonials often praise friendly, prompt interactions on social media and via email correspondence to inquiries. We'd strongly suggest giving Sophia's Home a try, especially if you have any questions about what you're buying before you buy it.
---
Recent Recipes