Best Focaccia with Toppings Ideas
I used to make focaccia a few times a month. I did this because I had weekend guests often and focaccia was great to have on hand because I could mix up the toppings depending on what was available at the farmer's market. And, we could make sandwiches to take for lunch when we went hiking or to the beach. I think I can make this recipe in my sleep.
Focaccia is a yeast-risen flatbread that is similar to pizza dough. But it has a good amount of olive oil to make the exterior crispy. It is also dimpled or even has holes punched into it before the second rising. The bread is then baked either naked or with toppings. It is incredibly easy to make if you have the patience to allow the dough to rise a couple of times.
You likely have all ingredients in your pantry to make focaccia. You only need active dry yeast, sugar, salt, extra virgin olive oil, and all-purpose flour to make basic focaccia bread. You are also going to need a measuring cup, a large bowl, a wooden spoon, plastic wrap, and a rimmed baking pan.
I make this recipe by hand because I feel the dough benefits from being kneaded and stretched with some TLC. You can use a stand mixer with a dough hook if you want to save a step.
After the basic recipe, I make suggestions for customizing your focaccia with different toppings that can be added before you bake the bread or after it has cooled.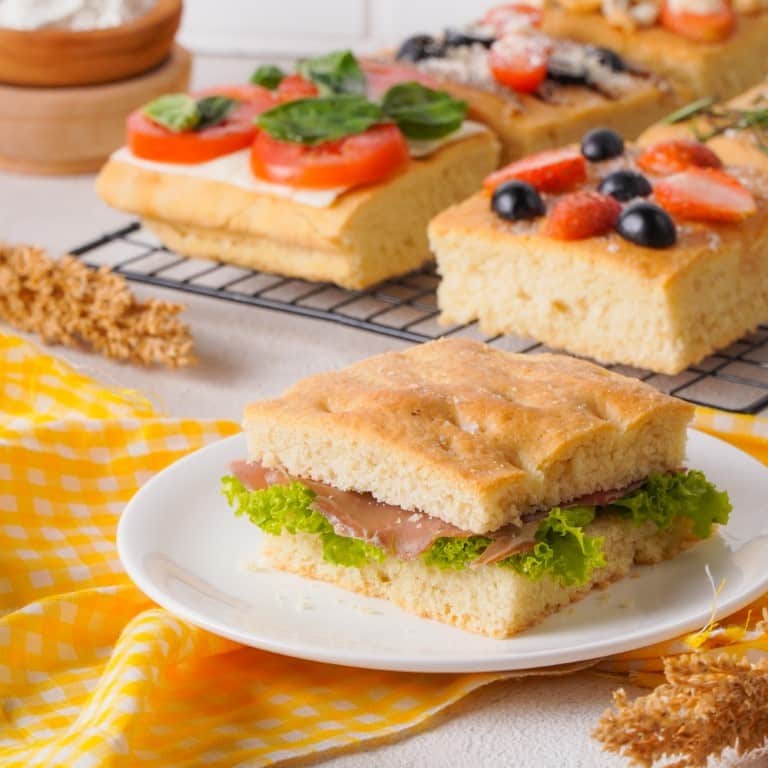 Ingredients
1 ¾

cups

lukewarm water

1

package of active dry yeast

1

Tbsp

raw or granulated sugar

2

tsp

sea salt

1

cup

extra virgin olive oil

divided

5

cups

all-purpose flour + more for kneading

Kosher salt for sprinkling on the dough
Instructions
All ingredients ready? Let's begin!

In a large mixing bowl, place the warm water. Make sure it isn't too hot. Add the yeast and stir gently. Sprinkle the sugar over the yeasted water. Set this aside until the yeast bubbles for at least 5 minutes.

Add the sea salt and 1/2 cup of olive oil to the water and stir gently again.

Add the flour to the liquid and stir with a wooden spoon to combine well until the dough starts to pull away from the sides of the bowl and it comes together into a sticky ball.

Lightly flour a flat work surface. Turn the ball of dough out onto the floured surface. Add some more flour on top of the ball of dough. Using the heels of your hands, knead the dough for 5 to 10 minutes until it is elastic and no longer sticky, adding a little more flour as needed.

Add 2 tablespoons of oil to the bowl and coat the sides. Place the ball of dough in the bowl and roll it over to coat all sides with the oil.

Cover the bowl with plastic wrap. Place the bowl in a warm space or inside a turned-off oven with the light left on. Allow the dough to rise until doubled in size, at least 60 minutes

Coat a rimmed baking sheet with 3 tablespoons of olive oil. Place the dough in the pan and spread it out with your hands. Once the pan is full, use your fingers to punch holes in the dough all over. Place the pan back in the oven with the light on and allow the dough to rise again for another 60 minutes.

Remove the pan from the oven carefully so the dough doesn't deflate.

Preheat the oven to 425°F.

Drizzle or brush the remaining 3 tablespoons of oil over the dough. Sprinkle coarse salt over the top of the dough. Place the focaccia in the preheated oven and bake until golden brown, approximately 25 to 30 minutes.

Remove the focaccia from the oven and allow it to cool before slicing it so the steam doesn't escape.

Slice the focaccia with a serrated bread knife and serve as is or make it into sandwiches with greens and prosciutto.
Notes
Nutrition
Calories:
532
kcal
|
Carbohydrates:
61
g
|
Protein:
8
g
|
Fat:
28
g
|
Saturated Fat:
4
g
|
Polyunsaturated Fat:
3
g
|
Monounsaturated Fat:
20
g
|
Sodium:
591
mg
|
Potassium:
92
mg
|
Fiber:
2
g
|
Sugar:
2
g
|
Vitamin C:
0.003
mg
|
Calcium:
14
mg
|
Iron:
4
mg
Notes & Tips
When you bloom the yeast, it needs to be done in lukewarm water. If the water is too cold, the yeast won't bloom or will take a very long time. If you use water that is too hot, it will kill the yeast. Yeast is alive and you will see that when it starts to gobble up the sugar in the water.
This recipe has a lot of extra virgin olive oil. The reason for that is because the oil helps the exterior to get crisp and keeps the interior soft. This is the key to good focaccia.
I often make this recipe with a combination of unbleached white flour and stone-ground whole wheat flour for additional fiber.
When allowing the bread to rise, you do need to place it in a warm area that is away from drafts. I find my turned-off oven with the light left on to be perfect for doing this.
As mentioned in the recipe, you do need to allow the cooked bread to rest and cool. If you cut into it too soon, the steam will escape and the bread will become dense and dry.
Topping Ideas
You can top a focaccia dough just like you would a pizza before baking it. Or, you can top the focaccia after it comes out of the oven. If placing toppings on before it is baked, do that after the second rising and right before the bread goes into the oven. Here are some classic and some unique topping ideas.
Herbed Focaccia Bread: I love adding herbs to my focaccia. While I love fresh herbs, I generally use dried herbs for baking bread. I sprinkle dried rosemary and salt on top. You can also add oregano, thyme, chives, or Herbes de Provence.
Caprese Appetizer: After the focaccia has cooled, top with fresh tomato slices, mozzarella cheese, basil leaves, and olive oil. Slice into small squares that can be eaten as party fare or an appetizer.
Caramelized Onions: I used to follow a macrobiotic diet and I would make onion jam all the time to spread on my sourdough bread instead of butter. For focaccia, simply add 2 thinly sliced onions to a pan over medium heat with some olive oil and a pinch of salt and cook while the bread is rising. This will take about 45 minutes to get them to a caramel color. Onions are naturally sweet when caramelized.
Breakfast Focaccia: This is a sweet and savory bread that is lovely with a cup of tea in the morning. Take some blueberries, grapes, and raspberries and slice them in half. Push the berries, cut side down into the dough. Instead of salt, sprinkle a little coarse sugar over the fruit.
Puttanesca: If you like pasta puttanesca, you will enjoy this variation. Top the dough with anchovy fillets, sliced oil-cured black olives, either halved cherry tomatoes or sundried tomato slices, and a little parmesan cheese.
Mediterranean Dessert Focaccia: I really love a cheese and fruit platter for dessert. You can top your focaccia with cheese, fruit, and nuts to achieve the same thing. My suggestion is fresh sliced figs, gorgonzola or feta cheese, and walnut halves. Drizzle this with some good local honey right before serving.
---
Recent Recipes