Best Kelp Algae & Seaweed Snacks
My life-long resistance to the concept of "sea food" has given way to the emergence of algae and seaweed as the snacks of choice. Seabed vegetables have reinvented our understanding of a whole cuisine category amid a looming consensus that kelp is the new kale.
Ten varieties of edible marine algae, seaweed, and kelp form the basis of the best sea salad. With multiple health benefits and manageable risks, they can be bought prepackaged from suppliers. Recipes for homemade snacks allow standalone variations and side dishes.
To navigate the menu, we'll begin with the basis for the algae types and then consider popular prepackaged offerings. Later we'll review the health benefits and consider recipes for homemade ocean tuck.
11 Best Prepackaged Marine Algae Snacks
Various suppliers prepare this popular snack. They are available in offerings free of preservatives, artificial flavorings, and GMOs. As the name suggests, these are compressed seaweed sheets desiccated through roasting.
Ideal for slimmers, at 25 calories to the pack, these snacks are rich in fiber, protein, minerals, and vitamins. They come in multipacks, which makes them a good choice for packed lunches. Flavors include salt, teriyaki, and wasabi. Mix packs allow an assortment of these flavors.
Like beef jerky, this chewy tough-textured treat is packed with protein — 0.35 oz in each pack. Instead of departed cows, dried kelp and shitake mushroom form the substrate. Bolstering ingredients are Thai spice rounds out the flavoring.
An innovative take on tortilla chips, this version is made using sustainably harvested Atlantic Ocean algae. Their crispy texture reprises the original Mexican snack, and they are offered in three flavors: original, sweet chili, and super sushi.Dulse Smoked Flakes
Capturing the pork rind flavor of Irish algae, dulse flakes provide a smoky breakfast taste. A popular commercial version provides applewood flavor. The bits are suitable as a standalone snack or as a flavoring for a salad.
Dulse has a deep scarlet color which enhances the visual effect of a meal. It doesn't require any reconstitution or cooking and can be eaten as is.
Dulse flakes are harvested in the wild. They are dried naturally, which preserves the density of their nutritional value. The smoking process does something to dilute the nutritional density, but much of the health benefit is left intact. As a substitute for chemically enhanced smoky seasoning, it wins on nutrition and (in my view) taste.
These snacks showcase tempura — a traditional cooking method from Japan, which was popularized in the districts of Nagasaki and Tokyo. It provides a distinctive delicate crunch.
Tempura seaweed chips use sheets of savory seaweed, sustainably harvested from the Pacific. They are dipped in tempura-spiced batter and fried. Additional flavoring is added to round out the taste.
Also known as Chondrus Crispus, sea moss is a red alga found along the shores of the Caribbean Islands, Europe, and North America. Its health benefits are legion and the subject of growing research.
Sea moss gel is created in the most organic way imaginable — water immersion, followed by blending. Known as "the vegan gelatin," it is an excellent additive for smoothies. It can be consumed on its own or with fruit. Bladderwrack and elderberry are popular nutrition-boosting additives.
In Japanese cuisine, onigiri is a rice ball prepared with short-grain rice. This ball is molded into a triangle, which is then wrapped in nori. While the rice may be plain, it is also served with fillings or toppings.
Onigiri Rice Ball Seaweed Wrappers provide prefabricated nori triangles. Not intended as standalone snacks (although they'll do as nori sheets if you're ravenous), these are intended to support filler snacks.
These are a Korean take on nori sheets. Ocean harvested seaweed is pressed into thin sheets. These are roasted in canola, sesame oil, and salt. They are lathered with kimchi flavoring for the snack's distinctive taste.
Kimchi Sea Snacks are sold in packs of twenty. They are famous for their uniquely Korean flavor, and in addition to their role as standalone snacks may be used to complement light lunches. They can be ground and added to soups.
These kid-friendly treats have the crunch associated with chips and pretzels. But they are rich in marine minerals. Seaweed chips are rice-wrapped seaweed curls seasoned lightly and with a pinch of salt. They're good on their own or sprinkled over a salad. They are totally lacking in artificial preservatives, flavorings, or colors.
This all-natural snack is reminiscent of cheese puffs but with a solidly Asian marine constitution. The core is an organic ocean-harvested dried seaweed chip. This is dipped in wasabi-flavored batter and deep-fried in a blend of natural vegetable oils.
While not a standalone snack, this seasoning helps add punch to your nibbles. The key ingredient is dried Alaskan kelp, which is mixed with bagel seasoning. This makes a great savory add-on for savory oatmeal or sea-flavored bagels.
Sea Stacks
Sea stacks are compressed seaweed in finger shapes. They have been rolled, baked, and flavored in wasabi. Each stick is free of trans fat, coloring and preservatives, and packed with healthy minerals.
12 Sea Salad Recipes You Can Try
While ready-made snacks have a convenience that speaks for itself, rolling your own allows more control of the taste and variety. Experimentation can draw a good snack deeper into the orbit of your personal preference. In what follows below, remember two recurring ideas:
Reconstitution happens when dried seaweed is immersed in and absorbs water. How long it takes depends upon the variety of seaweed involved.
Dashi is the name of water remaining from the reconstitution process. It can be used in recipes requiring water, as it limits the dilution of the savory sea flavor.
That said, let's go!
Wakame Salad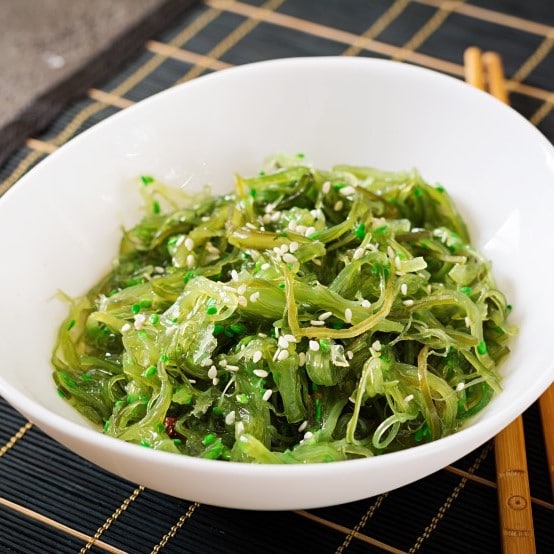 A quick and easy meal, this Japanese salad is made with reconstituted seaweed. Packing a tangy punch, it's ready to serve in a matter of minutes, where it plays flavorfully with poke bowls. As a crunchy, semi-sweet standalone, it's pretty good too.
Instructions
Place dried wakame in a large bowl.
Add room temperature water and leave for ten minutes. The wakame will reconstitute as it absorbs the water.
Once absorbed, drain off any excess.
Add ginger, soy sauce, sesame oil, yuzu extract, and minced shallot.
Stir until ingredients are evenly combined.
(optional) Refrigerate for a minimum of six hours for the flavors to coalesce.
Serve.
Arame Sobe Noodles
Instructions
Reconstitute arame in cool water. Drain.
Cook soba noodles as per packaging directions.
Heat oil in a pan. Add garlic and onion. Cook for 2 minutes.
Drain arame and mix into the pan. Cook for 2 minutes.
Yank up the heat and add 3tbsp of corn kernels.
Add arame mixture over noodles.
Serve.
Toasted Sea Lettuce
Instructions
Procure six sheets of sea lettuce.
Mix ½ tsp salt and 1.5 Tbsp sesame oil and rub thinly on the sea lettuce.
Layer the sea lettuce, roll them, and marinate for five minutes.
Unroll and unlayer the lettuce. Cook each sheet apart from the others in a hot pan until crisp. Keep the heat low.
Cut the sheets into smaller pieces.
Serve with rice.
Spirulina Smoothie
For those craving a nourishing smoothie to greet the day or recover from a workout, this thick green treat fits the bill. The sweet spirulina smoothie is a creamy treat packed with vitamins, protein, and iron.
Ingredients:
Frozen Banana
Frozen Mango
Avocado
Baby Spinach
Almond Milk
Spirulina Powder
Hemp Seeds
Maple Syrup
Blend and enjoy!
Dasima Twigak (Korean Fried Kelp Chip)
Instructions
For beginning kimchi cooks, this simple recipe has a huge payoff in trademark umami taste. In a wok, heat oil to 300F.
While the oil heats, daub the kelp with paper towels to remove excess water.
With a pair of scissors, cut kelp into 1.5in squares.
Next to the fryer, set up a plate lined with a paper towel.
When the oil is ready, add a handful of kelp squares and start frying.
After the squares balloon, fry for a few more seconds and remove.
Toss the kelp in the air to remove excess oil, and transfer it to the toweled plate.
After some cooling, sprinkle generously with sugar on both sides.
Serve.
Vegan Dulse Lettuce & Tomato
Instructions
Reprising the ease of a bacon sandwich, this tasty treat starts with toasting four slices of whole-grain bread. Dry fry half a cup of dulse in a skillet over medium heat. In a few minutes, the algae will turn dark brown. Avoid burning it when the algae turn black.
Spread the bread with veganaise (vegan mayonnaise). Add sliced tomato, lettuce, and the fried dulse. Season with salt and black pepper. Enjoy.
Chlorella Detox Drink
For the washdown, a simple but health-boosting algae drink. No cooking or baking is necessary, and it's ready in minutes.
Ingredients
Powdered Chlorella
Powdered Spirulina
One Lemon
Liquid or Powdered Stevia
Ice
Water (sparkling or filtered)
Instructions
Start with a scoop of chlorella/spirulina mix to the bottom of the glass.
Using the whole lemon, squeeze in the juice.
Add stevia to taste (1/32 tsp is good).
Blend with a milk frother or a whisk.
Add ice, and top with water.
Pop in a straw and enjoy.
Hijiki No Nimono
A simple dark algae recipe with a sake-infused kick. This dish takes 45 minutes to prep, and it lasts long in refrigeration, making it an ideal lunch snack.
Ingredients
Reconstitute the dried hijiki by immersing it in lukewarm water. Leave for 30 minutes.
Over low heat, cook whisked mirin, sake, sugar, and soy sauce in a small saucepan.
Drain the hijiki and strain to remove excess water.
Cut shitake mushrooms and carrots in slivers. Size to match the hijiki.
In a pan, sear the shitaki and carrots over medium heat for five minutes.
Add the hijiki and soy sauce mixture to the pan. Cook for 10 minutes on low heat.
Mix in sesame seeds and cool to room temperature.
Serve.
Crisp Nori Chips With Toasted Sesame Oil
A roll-your-own version of the popular prepackaged snack, this home version is ready in a half-hour.
Ingredients
Bring the oven to heat at 250F.
Brush each of eight sheets of nori lightly with water. Fold each sheet in half, pressing the sides together. Sprinkle with sea salt.
Using a pizza cutter, cut the folded sheets into chips.
Layout the chips in a single layer on a cookie sheet. Bake between fifteen and twenty minutes. The chips will darken when ready.
Remove from oven and slide gently onto cooling racks.
When cool, give them a gentle brush with sesame seed oil.
Serve.
Blue Spirulina Pancakes
Blue spirulina grows in alkaline waterways. It is a blue-green alga found in lakes and ponds. Its health benefits are legion. In this recipe, we create algae pancakes to fun-up breakfast time.
Ingredients
Baking powder.
Banana.
Blue spirulina.
Coconut oil.
Egg.
Milk (any, e.g., almond.)
Pink sea salt.
Note that oat flour can be made by processing rolled oats in a food processor or coffee grinder. This is cheaper and equally as effective as store-bought oat flour.
Instructions
Mix the dry ingredients in a mid-sized bowl.
In a separate bowl, mash the banana, and mix in the wet ingredients.
Mix the wet and dry ingredients until smoothly combined.
Add between one and two teaspoons of blue spirulina powder and mix.
Over medium heat, warm a spoon of oil in a pan.
Add half a cup of batter to the pan.
When the bubbles have popped, flip the pancake. Alternate until both sides are golden brown.
Serve with toppings of choice.
Kombu Crackers
These crunchy treasures can be kept on hand for those who like texture to the tooth. They're easy to make and versatile substrates for avo, peanut butter, and other treats. Prep time is ten minutes. Oven time is twenty.
Ingredients
½ tsp baking powder
3.5 oz. brown rice flour
2 large Tbsp brown rice syrup
8 large Tbsp Dashi (or water)
One handful soaked, chopped kombu
1 tsp sea salt
2.5 oz. sesame seeds
3 large Tbsp sesame seed oil
1 tsp Tamari
Instructions
Heat the oven to 370F.
In a large bowl, mix the dry ingredients.
Mix in the wet ingredients.
Place the moist, unsoggy dough into a baking tray that's been lined with baking powder. Spread the dough and flatten it down.
Using your hands, shape the dough into a large square.
Cut the square into 15 pieces with a pizza cutter.
Bake for twenty to twenty-two minutes.
Remove the slightly browned crackers from the oven and cool.
Store in a vacuum-sealed cookie jar, or…
Serve.
The crackers gel well with avocado garden cress lime juice salsa and radish. They may be used as a substitute for bread or whenever a cracker is required.
Sea Grape Hand Roll
Umi Budou hand rolls combine two types of seaweed with sea grapes to deliver a rounded marine taste.
Ingredients
4 cups rice
4 in konbu seaweed
2.2 oz. brown sugae
1 oz. sea salt
80cc vinegar
Umi Budou
Cucumber
Seaweed Sheets
Instructions
Wash and drain the rice, then cook with konbu.
Mix sea salt, vinegar, and brown sugar.
Sprinkle mixture over cooked rice. Mix well.
While cooling, fan the rice.
Roll up the rice, umi budo, and sliced cucumber in a sheet of seaweed.
Serve.
Types Of Edible Algae
Also known as "sea vegetables," seaweed is marine algae that grow in red, green, and brown varieties in the ocean. They are characterized by a salty taste owing to their saturation with amino acids. The Japanese call this savory signature "umami." Algae is a core component of Japanese and other Asian cuisines. Below we list the best-known types:
Arame
Also known as "sea oak," arame is a dark wispy brown alga. It is popular in Japanese cuisine, served alongside vegetables, in casseroles, and soups. This alga has a semi-sweet taste. After reconstitution — through immersion in water — it can be boiled or sauteed.
Chlorella
Chlorella is a monocellular alga found in freshwater. Of the thirty-plus species, two types are most commonly used. Its hard cell wall makes it indigestible to humans, so it is processed and provided in extract form for cooking.
Dulse
While we associate seal salad with Asian cuisine, dulse is seaweed of Irish origin. It has made its way to Canadian cuisine too. It is rich in potassium and iodine, elements that the human body needs to produce thyroid.
Known as "the bacon of the sea," dulse resembles red lettuce. On frying, it tastes much like a pork rasher. The weed occurs naturally in parts of Western Europe and is fit for cultivation.
Hijiki
This is a jet-black alga with small leaves. It grows off the coastline of Korea, China, and Japan. Its appearance resembles tea leaves, and folklore has it that consumption of the weed is good for cultivating thick black hair.
Kelp/Kombu
Kombu is Pacific ocean kelp. It is thick, dark green, and a favorite feature of Japanese broth. It has about two dozen variations, including the popular Ma-kombu. This high-quality kelp is sweet-tasting, with thick green leaves. Rishiri kombu is a winning ingredient in Japanese ramen noodles.
Mozuku
Mozuku is a pea-green weed that is largely farmed by hand. A product of Okinawa, it grows in shallow freshwater, with a harvest the Springtime. Mozuku is popularly associated with longevity.
Nori
By far the most popular presentation, nori is marine algae dried and pressed into a thin layer. It is known as a key ingredient in sushi and is also used for ramen noodles and rice bowls as a garnish.
Ao-Nori
Aonori is formed by drying laver (edible seaweed). It is used as a garnish. Popular accompanying dishes are octopus balls (Takoyaki), okonomiyaki (pancakes), and yakisoba (fried noodles).
Norishio is a popular Asian snack consisting of salt and aonori.
Ogo-Nori
Ogonori is red algae that thrive in the calm, sandy, shallow bottoms of the Atlantic. The twigs are tangled and fine, their color varying in proportion to the light they receive. Thus it straddles the spectrum between yellow-pink and reddish-brown.
The main interest in ogonori is its saturation with agar-agar, a substitute of choice for animal gelatin. This dish is popular in Hawaii, the Philippines, and Japan.
Samphire
Samphire is the name given to a class of succulent, salt-tolerant aquatic vegetables. Also known as "sea asparagus" — because of its structure — the succulent occurs widely on the Eurasian coast and Australia, where it's earned pride of place in the "bush tucker" cuisine.
Sea Grapes/Umi Budou
Umi Budou is a product of the Okinawa prefecture. This alga is referred to as sea grapes because it is shaped in clusters of grape-green kernels. The glistening fineness of the "grapes" also earns the moniker "green caviar."
Sea Lettuce
These are bright green algae whose .lobed leaves have coarse, ruffled edges. They resemble lettuce and are presented in sheets. Sometimes the leaves are flat and sometimes oval in appearance, with perforating holes.
The color of sea lettuce changes to shades of black after being dried by the sun.
Wakame
Due to its cooked appearance, wakame is often referred to as 'wild mustard". Its flavor is much milder, though. Wakame is an edible sea vegetable that appears wild off the Australian coast. It is farmed extensively in Korea and Japan.
The most common presentation of wakame is dried. It is also sold salted when it is sealed and refrigerated.
Wakame is best known as the vegetable in miso soup. Before being used, it needs to be reconstituted, which involves immersing it in water. The wakame expands its volume as it hydrates. Factor this when selecting quantities for preparation.
Health Dynamics Of Marine Algae
We touch on the medical pros and cons of snacking off the seabed:
Health Benefits
The types of seaweed differ in their chemical composition, and therefore in the balance of nutrients they provide. As a class, they are rich in nutritive minerals. They deliver vitamins A, B, C, E, and K and are plentiful sources of iodine and iron.
Seaweeds are a rich source of antioxidants. This protects the body from oxidant stress and fights cellular-level inflammation. The iodine saturation helps with thyroid regulation, and the fiber-richness combats diabetes.
Fiber plays a role in the gut health of humans. It feeds intestinal bacteria, which anabolise the fiber into compounds needed to maintain the health of the ailment. By reducing blood cholesterol it contributes to heart health, and overall, fiber plays a constructive role in weight loss.
Health Risks
High levels of seaweed consumption will expose the consumer to iodine saturation. Most people can handle this, but the iodine-sensitive might experience thyroid dysregulation. This is easily remedied by cutting down the level of consumption.
Overall, seaweeds have a high level of heavy metals, and consuming them in large quantities over an extended time will have low-level toxic effects.
What Are The Best Kelp Algae & Seaweed Snacks
Algae and kelp have matured from ocean weed to vegan feed. They are healthy, versatile standalone snacks that complement a range of popular dishes. Best of all, they're delicious.
---
Recent Recipes