Best New England Apple Butter
What makes this recipe interesting?
Apple Butter is a staple in many households, particularly those in the South. However, the New England Style has become popular across the country and is a great spread to have on hand.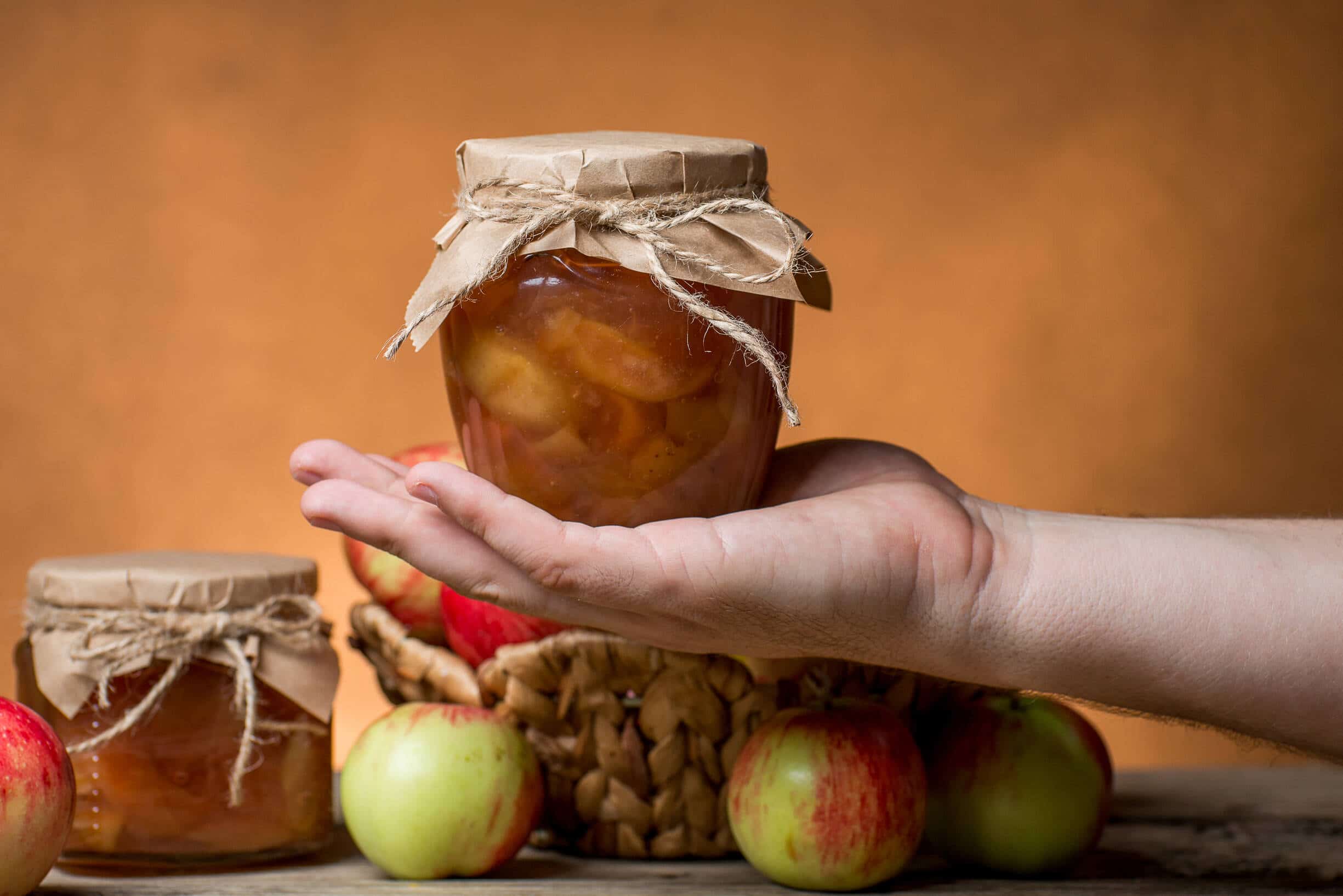 Equipment
Immersion blender

Pint or smaller mason jars

Several mixing bowls

Sharp knife

Potato peeler

Measuring cups and spoons
Ingredients
6

pounds

apples

any type

3

lemons

medium or large

1 1/2

cups

maple sugar

3

whole cloves

freshly ground

2

whole bay leaves

1/2

teaspoon

of salt
Instructions
Juice the lemons and pour the juice in a large bowl, removing any seeds that fall in. Then peel, core and slice apples into small chunks about half to a quarter inch in size. Put the apples in the bowl as you cut them, making sure to coat with lemon juice as you go to slow down the browning process.

Heat up a stainless steel or enameled cast iron pan on low. Place in the apples, lemon juice, salt, and maple sugar. Stir gently but continuously until the sugar dissolves and the apple soften and start to break down somewhat.

Place the ground cloves and whole bay leaves into the pan and turn up the heat to medium. Continue cooking and staring as the apple further soften and break down. Depending on the variety of apples you use and how long you cook them for, you may need to add a small amount of water to keep them from sticking to the pan and becoming too dried out.

While the apple cook down, prepare jars and lids. For this particular variation we are going for a hot water bath processing method. You can wipe down your jars if you wish, but it generally is not necessary to fully sterilize the jars because they will be in the hot water bath for at least15 minutes.

Once the apples have completely softened, which can take about an hour or so depending on the varieties used it is time to remove them from the heat. Find and remove the bay leaves as they are meant for only flavoring and not consumption.

Use an immersion blender to 'butter' the apples. It can take a little time to get it all done and there is a bit of a learning curve when using an immersion blender for the first time. Alternatively, you can cream the apple by hand using a potato masher for a thicker, more textured variation on the butter spread.

Fill the hot jars with the Apple Butter and tap the full jar on a towel-covered counter to release air bubbles. You are going to want to leave a minimum of a quarter inch headspace, so the contents down spill out expand too much during the immersion bath.

Place the sealed jars in the hot water bath or 15 minutes. Once that time has passed, they can be removed and allowed to slowly cool on the counter or on a cooling rack. Once they have reached room temperature, they are ready to be stored, and you can enjoy your New England Apple Butter at any time!
Nutrition
Calories:
293
kcal
|
Carbohydrates:
41
g
|
Protein:
27
g
|
Fat:
4
g
|
Saturated Fat:
1
g
|
Polyunsaturated Fat:
2
g
|
Monounsaturated Fat:
1
g
|
Cholesterol:
70
mg
|
Sodium:
60
mg
|
Potassium:
724
mg
|
Fiber:
7
g
|
Sugar:
29
g
|
Vitamin A:
276
IU
|
Vitamin C:
30
mg
|
Calcium:
79
mg
|
Iron:
1
mg
Substitutions and Shortcuts
Play around with different apple varieties to see what results you get and which you prefer. Some apples have more juice and sugar and others are denser and firmer. All of these things can change the final taste and appearance of your Apple Butter. So, get creative and discover your own unique blend to enjoy!

Success Tips
Make sure you begin making your New England Apple Butter spread as soon as you peel the apples. They will not keep well at all once the skin is removed and their taste and texture can quickly change as they state to turn brown and dry out.
---
Recent Recipes