Best Spatula For Nonstick Cookware
It is agonizing to find somebody cooking with your gorgeous nonstick cookware while using the wrong utensils. It's like nails on a chalkboard plus a hefty damage cost. In these times, you need to buy the best spatulas for nonstick cookware and then hide the other stuff. You might want to lock it, too, so the offender can never harm your nonstick cookware again.
The choices we ended up buying were the brands Kuhn, Westmark and OXO. Kuhn is fantastic for fish, Westmark is a great all around one and OXO is great for saucier dishes but also a great all around spatula.
To help you find the best spatulas for your nonstick cookware, we've rounded up ten brilliant choices. Some of them are excellent for fish, others are nice all-rounders, and some are perfect for when you need a sturdy tool to (gently) scrape the bottom of the pan to deglaze. Whatever you need, one of these spatulas will be perfect for you.
Best Spatulas For Nonstick Cookware
Decent spatulas for nonstick cookware tend to be made from silicone or nylon. Silicon is expensive but comes with many positives:
Durable
High heat resistance
Less likely to get sticky
On the other hand, some products, like the OXO, are made from nylon, which is a dream to use. However, it is true that the durability won't be the same. Nylon also has a lower melting point, so if you are the forgetful sort that leaves your spatulas on the hotplate, silicon might be your better bet. (Still not giving up our OXO.)
Westmark Germany Spatula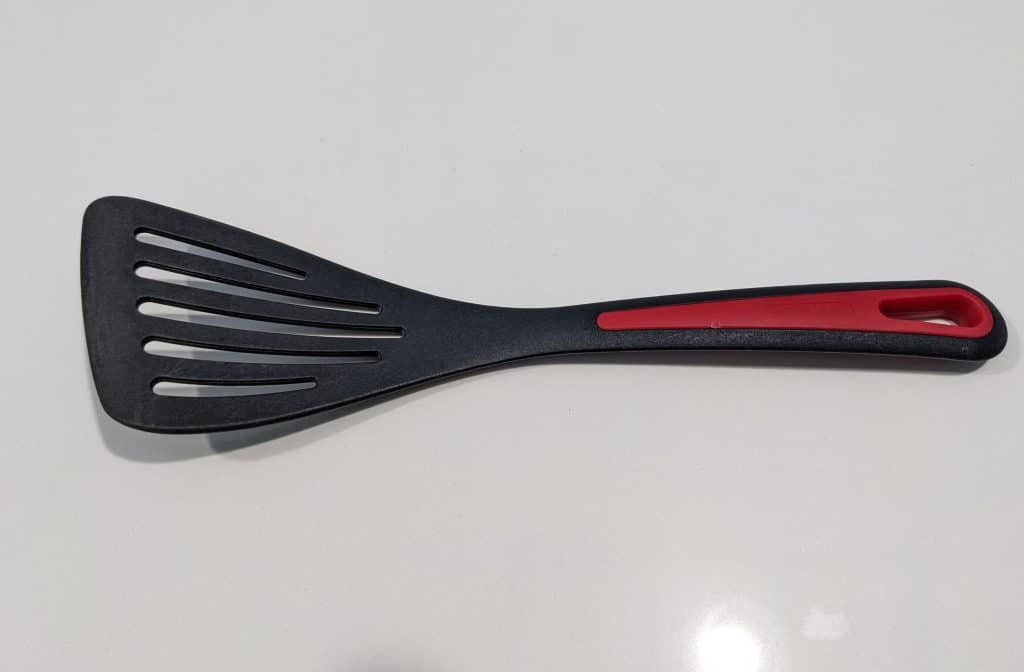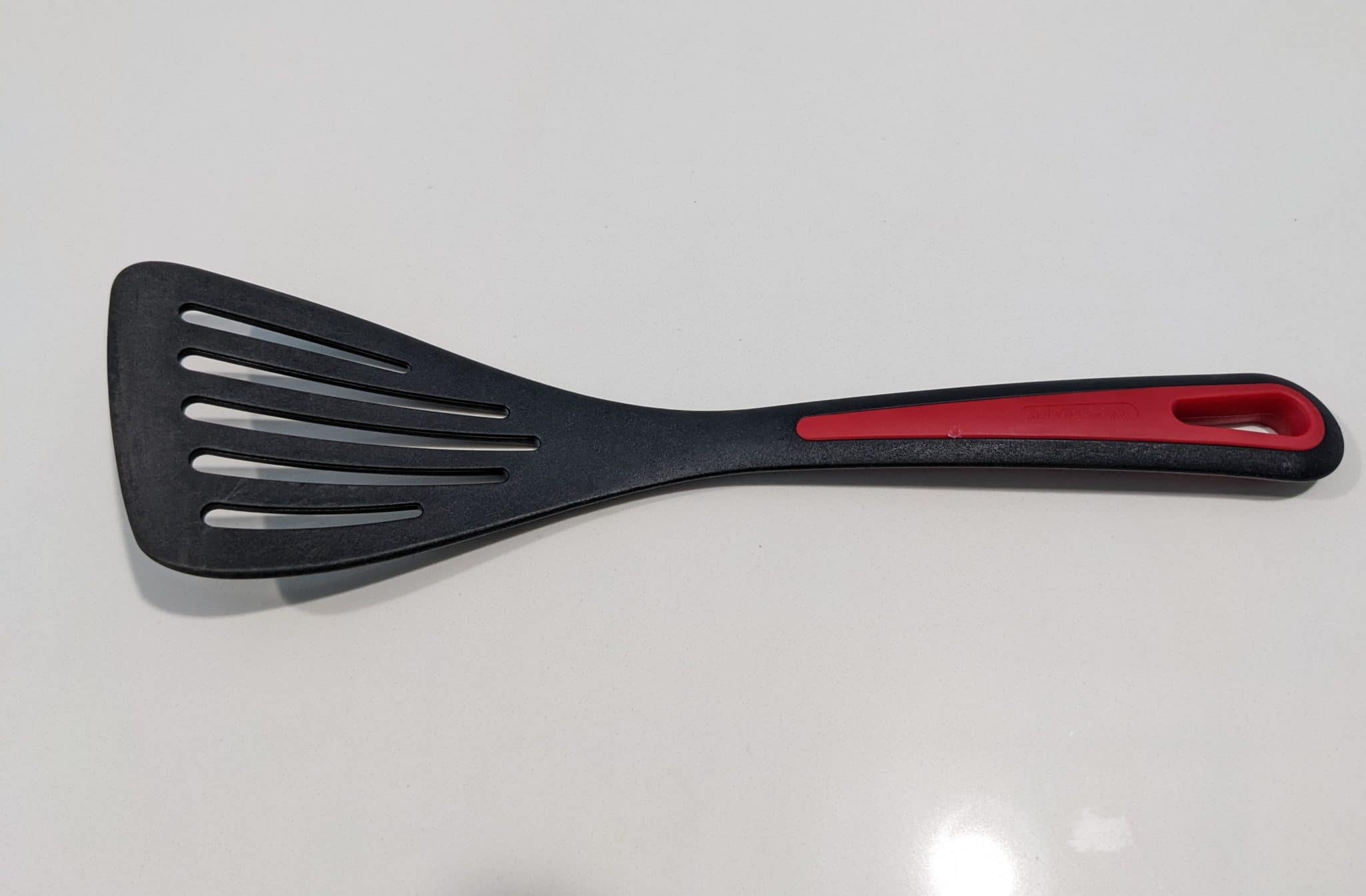 The Westermark Germany Non-stick Thermoplastic Spatula is 11.8-inches is a durable, thin tool that will slide under your eggs with stealth and grace. Its heat resistance is fairly good, too, up to 401 F. Although keep in mind, the "gripping" strip in the handle has a lower melting point than the rest of it. It's all made of polyamide, which is a type of nylon.
It is a sturdy spatula that can break up meat in the pan, but thanks to the tapered edge, it can easily slide under foods, such as eggs, with grace. Westermark doesn't claim to be a multi-tool spatula, but in many ways, it is. Its versatility makes it a brilliant option for those who have limited space. This is an excellent "buy only one" spatula.
Di Oro Elite 3-Piece Spatula Set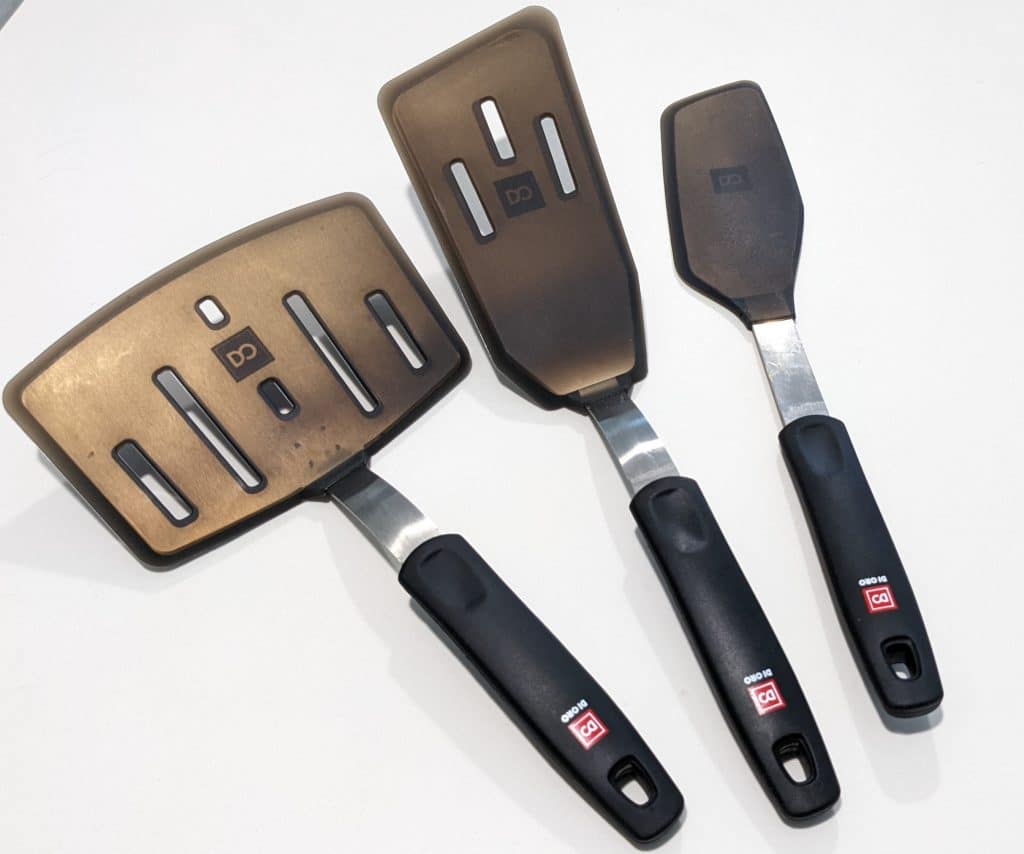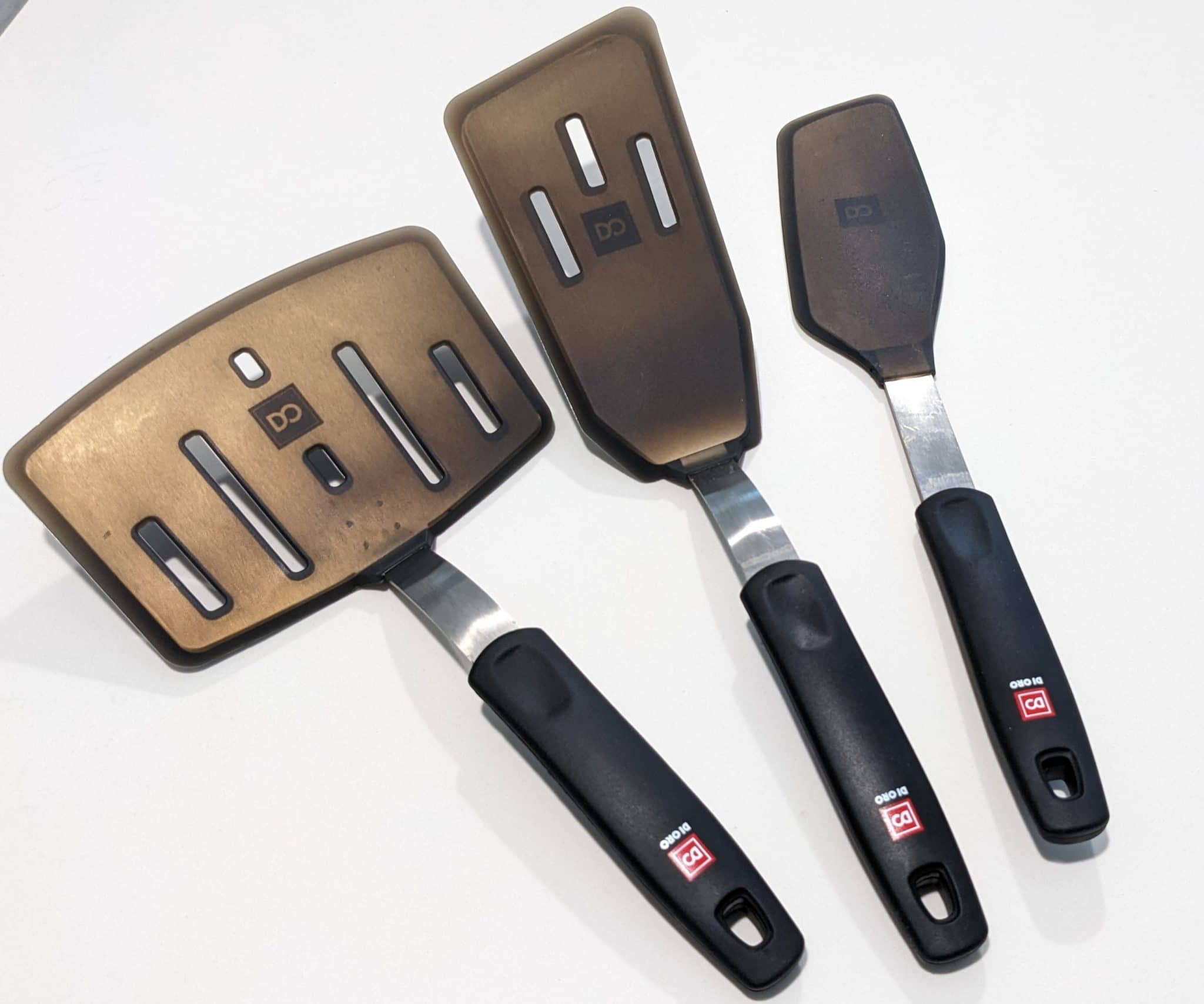 The Di Oro Elite 3-Piece Turner Spatula Set is part of their Designer Series. Users not only enjoy them but are thrilled with the forever warranty, which is quick and easy to use and honored promptly with no fuss. Also, for all you absent-minded cooks out there (which is all of us at one point or another), they have a heat resistance of up to 600 F.
The silicon is PBA-free, food-grade, and LGFB certified. It's easy to clean, dishwasher safe, and while tough, it isn't ridged and can flex. The big, wide, and slotted spatula might seem excessive until you've flipped the perfect pancake or turned over a burger on the grill. It is handy.
The omelet spatula has a unique shape that combines the advantage of a scraper with a turner. It gives it a blade-like quality that deftly gets into the corners of tricker flips, such as crepes and, of course, omelets.
The angled slotted spatula is probably the weakest of the three. But that doesn't mean it's bad; it's just that the other two are so fantastic. It still fits well in the hand, is durable, and can hold a pretty decent amount of weight despite its size. So, while it isn't the best fish spatula out there, it easily remains at the top of the pack.
OXO Good Grips Nylon Spatula
The OXO Good Grips Nylon Flexible Turner is an absolute favorite. It slides as smooth as ice that's been resurfaced by a Zamboni. It feels good in the hand, so comfortable to hold. The OXO's size is not too big or too small, but just right. The OXO has a heat resistance of up to 450 F and is dishwasher safe.
Is it perfect? No. Part of what makes it so smooth is the nylon which can, if really given and rub and grind, start to wear after a year. So, if you like to scrape hard, this might not be the deglaze tool for you. Its multi-piece construction can also mean that you sometimes have to take care to ensure all the bits are out around the connections.
But it doesn't warp, can flex while remaining sturdy, and when your baked goods accidentally stick, the OXO doesn't back down. Yet it is gentle when slipping under fragile foods, such as eggs.
Joseph Joseph Elevate Spatula
The Joseph Joseph Elevate Nylon Slotted Turner with an integrated tool rest is robust enough to cut through a casserole yet enough glide to serve up an egg without "pushing it" into a congealed mess. The head is nylon and has a heat resistance up to 392 F, and the silicon handle up to 520 F.
The triangle head isn't as broad as some turners, but it holds weight very well and is comfortable to grip. It is a great pick for users who like a sturdy tool without risking scratching their nonstick cookware.
Matfer Bourgeat Exoglass Spatula
The Matfer Bourgeat Exoglass Pelton Slotted Spatula is the perfect gift for fish lovers. The slots are perfect for allowing excess juice to drain, and it has enough flex to get under tricker foods such as omelets.
The Exoglass has respectable heat resistance, up to 430 F. Exoglass is a combination of resin and fiberglass that is nonporous, nonstick, highly durable, and the single-piece design is easy to sterilize. Some users wanted a longer handle to avoid grease splatters. Others, however, like the balance that this design provides.
Kuhn Rikon Soft Edge Spatula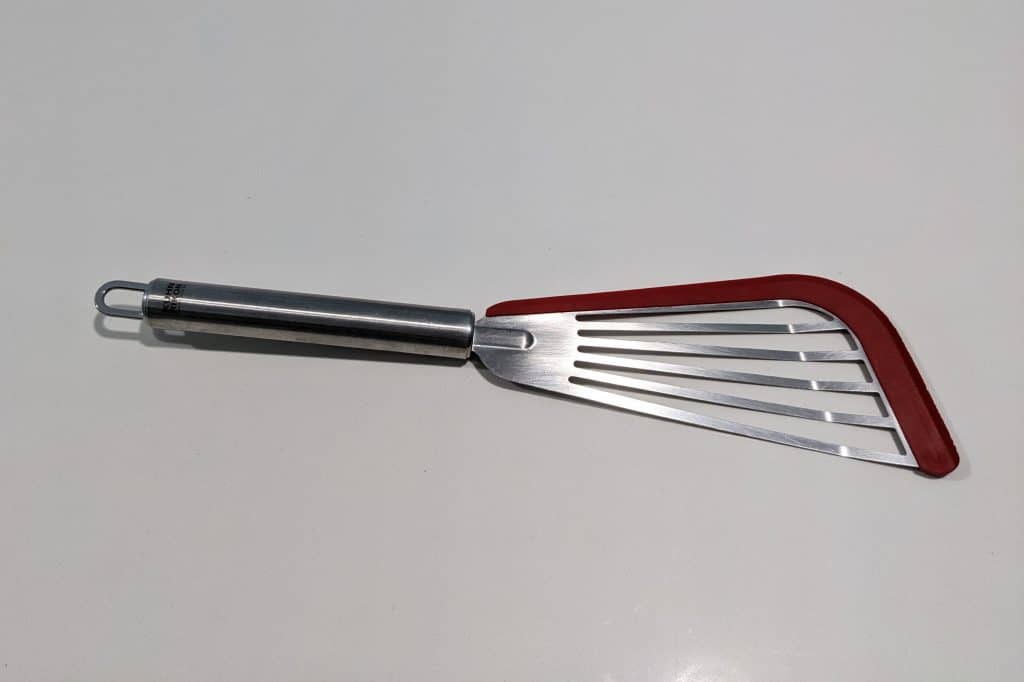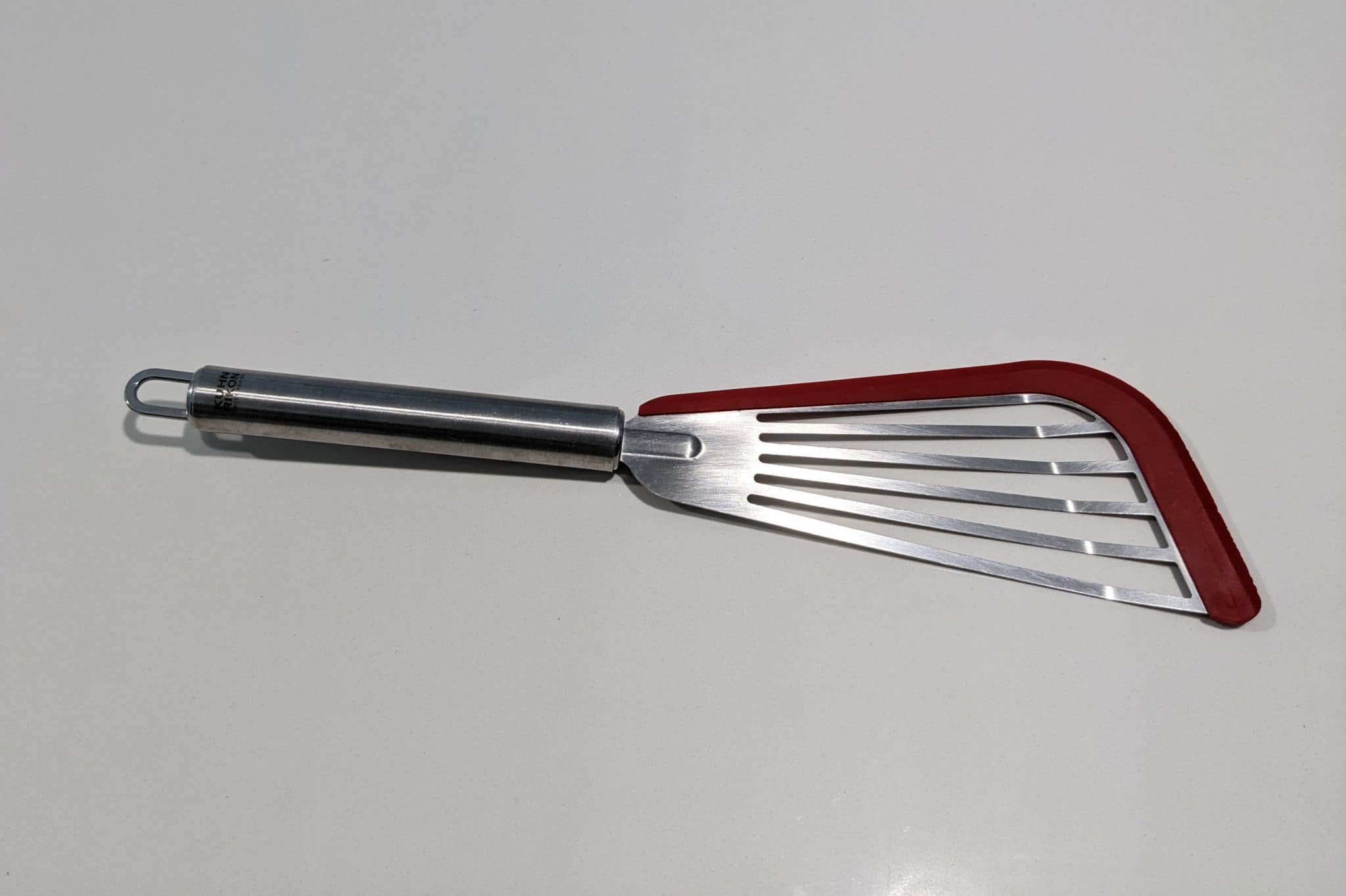 The Kuhn Rikon Soft Edge Slotted Spatula is a nice combination of stainless steel with a silicone edge to keep your nonstick cookware safe. The silicon has heat resistance up to 425F. Obviously, the handle can put up with even higher heat.
It has the right flexibility you'd want in a turner. However, the edge is thicker than some other designs, which doesn't give it as much versatility as others. On the other hand, it does have a smooth glide that doesn't stutter or catch on the cookware, as some sturdier models are prone to do.
Sadly this is often out of stock now, but if you manage to find it, grab it.
GIR: Get It Right Silicone Spatula
The award-winning GIR: Get It Right Premium Silicone Mini Flipper is 11-inches of delight. On the face of it, the GIR doesn't look like anything special. Nor is it that big. But its high-quality heat resistant silicon (up to 550 F) is strong enough to lift a pound. Its performance is fantastic and just makes you feel like a pro. There is a reason it has so many fans.
One of the cool (pun intended) things about this spatula is that it doesn't heat up thanks to its fiberglass core. It also has subtle details. For while it looks like your basic bargain-basement spatula design, there is actually tapered angling to the edges, allowing it to lift under the most fragile of food with ease.
This dishwasher-safe spatula is BPA and phthalate-free. The single-piece design doesn't allow water or food to get trapped anywhere in it. As a result, the GIR is a breeze to keep clean. It's the Little Engine That Could of spatulas.
Farberware Short Turner Spatula
The Farberware Professional Heat Resistant Nylon Short Turner is a fantastic spatula for its price. It is sturdy and can flip heavier foods without a wince. The handle design provides control, so you're less likely to send that last flapjack flying off into your dog's mouth. In addition, it's heat resistant up to 450 F and BPA-free, which is not true of many nylon spatulas.
It is difficult to find anything with this kind of durability and reliability without paying more. Such a comfortable and smooth tool. It doesn't feel as if the manufacturer cut corners to keep the cost down, either. A great product that will be kind to your nonstick cookware.
U-Taste Silicone Spatula Set
The U-Taste 4-Piece Silicone Spatula Set has a 600 F heat resistance. This is a handy little set at an unbelievable price. It is easy to clean, and its one-piece design means food won't get stuck in crevices. The turner in the set has solid around performance. The two scrapers are excellent. It's such a wonderful starter set that isn't going to fall apart at the first blink.
Admittedly, this set might at first appear to be more of a baker's choice. But anyone that doesn't like wasting the last in the jar knows the value of scrapers. The smaller of the two scrapers can easily slip into jars and scoop out the last of a tasty sauce or spread.
KitchenAid Slotted Spatula
The KitchenAid Classic Slotted Turner is an inexpensive, sturdy choice for those that like some heft. However, this means it is a thicker product that will not stealthily glide under more delicate foods. But if you enjoy toasted sandwiches, thick pancakes, heavy slices of eggplant, or substantial burgers, this is a robust choice that will get the job done.
Some users are disappointed in the smooth plastic grip. We admit the silicon or rubber grips many others are offering do feel good in the hand, and this plastic is not nearly the same. But it is this feature that helps keep such a nice spatula in the more affordable price range.
Bonus – Joseph Joseph Uni-Tool
Sometimes it is better to have one job and do it well rather than to try to do multiple jobs poorly. But we have a bit of a crush on the Joseph Joseph 5-In-1 Uni-Tool. Does it really do all five jobs perfectly? Well, no. The slotted spoon, turner, cutting tool, solid spoon, and spatula isn't so much five jobs, but one handy device all of its own.
It's just so fun to grab and use for all those general cooking jobs, like when you do an ad-hoc stir-fry where you are mixing pasta in, and decide those chunks of tofu are too big, and it's all a little chaotic, but those leftovers are getting used. It's that tool you can't quite describe and didn't know you needed until it's in your hand.
Should you flip your pancakes with it? Er, well, you're welcome to try. But it will be great when you're frying the onions, garlic, and ginger one moment, then stirring the curry the next.
2 Spatulas We Don't Recommend
Look, we're not saying the following are awful. But they just didn't meet our hopes and dreams regarding cooking accessories. So, if you have one of the below mentioned, don't throw it out. If it is working for you, that's great. We just expected more from these two than they could give.
iSi Basics Silicone Turner
We wanted to love the iSi Basics Silicone Turner with Spring-Steel Core. It is thin, has a good edge, and the combination of materials sounded like a perfect match. Two sturdy materials blended together. The problem is, when combined, they actually become a bit weaker, and it is prone to falling apart.
Before it all goes terribly wrong, it actually works very well. It's an incredibly handy spatula. But the durability did not live up to the expectations that such materials should produce.
StarPack Home Basics
The 6-piece StarPack Home Basics XL Silicone Kitchen Utensil Set sounds like a good buy for people starting out in life who need to get some kitchen basics. But they struggle to do the jobs they were made to do and are prone to shoving things around.
It would be better to buy just two excellent tools, like the Joseph Joseph Uni-Tool and the GIR, than have six okay ones. But if your heart is committed to a multi-set, consider the highly affordable U-Taste.
---
Recent Recipes