Cooking can be a hassle but making a stir fry meal is one of the easiest and quickest meals that is well rounded with a balance of all the necessary protein, vegetables, and a delicious sauce. We all know a good sauce adds that much-needed oomph in many famous dishes, so it makes sense that it would be a big deal when it comes to a stir fry meal.
The best stir fry sauces are usually Asian sauces like Lee Kum Kee Panda Stir Fry, Minor General Tso's Sauce, Kikkoman Classic Stir Fry Sauce, Mr. Spice Ginger Stir Fry Sauce, Minors Teriyaki Stir Fry Sauce, and Whole Food Market Organic 365 Stir Fry Sauce.
So, you have figured out what vegetables you'd like to sauté, which meat or mushrooms or even tofu you would like to add, but the dish isn't quite coming together as you'd like. Fortunately, many sauces can elevate your stir fry and give you a restaurant-quality meal. There are many sauces to choose from that will pull your dish together.
What Makes A Stir Fry Sauce?
Like many other sauces out there, stir fry sauces have different brands and descriptions. Choosing one that suits your taste, health needs, and budget depends on the description provided.
Often stir fry sauces have different flavors, textures, and consistency. However, all stir fry sauces have the same basic ingredients. The most prominent one is soy sauce, which gives you the Asian flavor experience.
The other ingredients used are water, usually honey, but sugar is used too, as well as chili, garlic, ginger, and cornstarch. These substances added to the soy sauce add various characteristics to the stir fry sauce, like helping to make the sauce thicker or a little spicier, etc.
What Are The Best Stir Fry Sauces To Buy?
Why Is Lee Kum Kee Panda Sauce A Must Have For Stir Fry?
Although soy sauce is great on its own and can be used in many ways, sometimes you need something more to give your stir fry that added taste and flavor. This brand's orange chicken sauce is the perfect pre-packaged sauce that will take your simple stir fry meal and turn it into a delectable meal that will leave your taste buds tingling.
As the juice has a wonderful orange concentration, it adds advanced flavor to stir fry dishes that would normally only be accomplished by a lot of time and balancing of flavors. This sauce is even more appealing because you don't have to worry about any flavor enhancements and preservatives that many Chinese products have.
Furthermore, you get easy-to-use packs with one pack capable of making 4-6 stir fry chicken meals. That means it'll be some time before you fork out more money for a stir fry sauce. If you're a fan of adding chicken breasts or any kind of chicken to your stir fry, then you need this sauce in your pantry.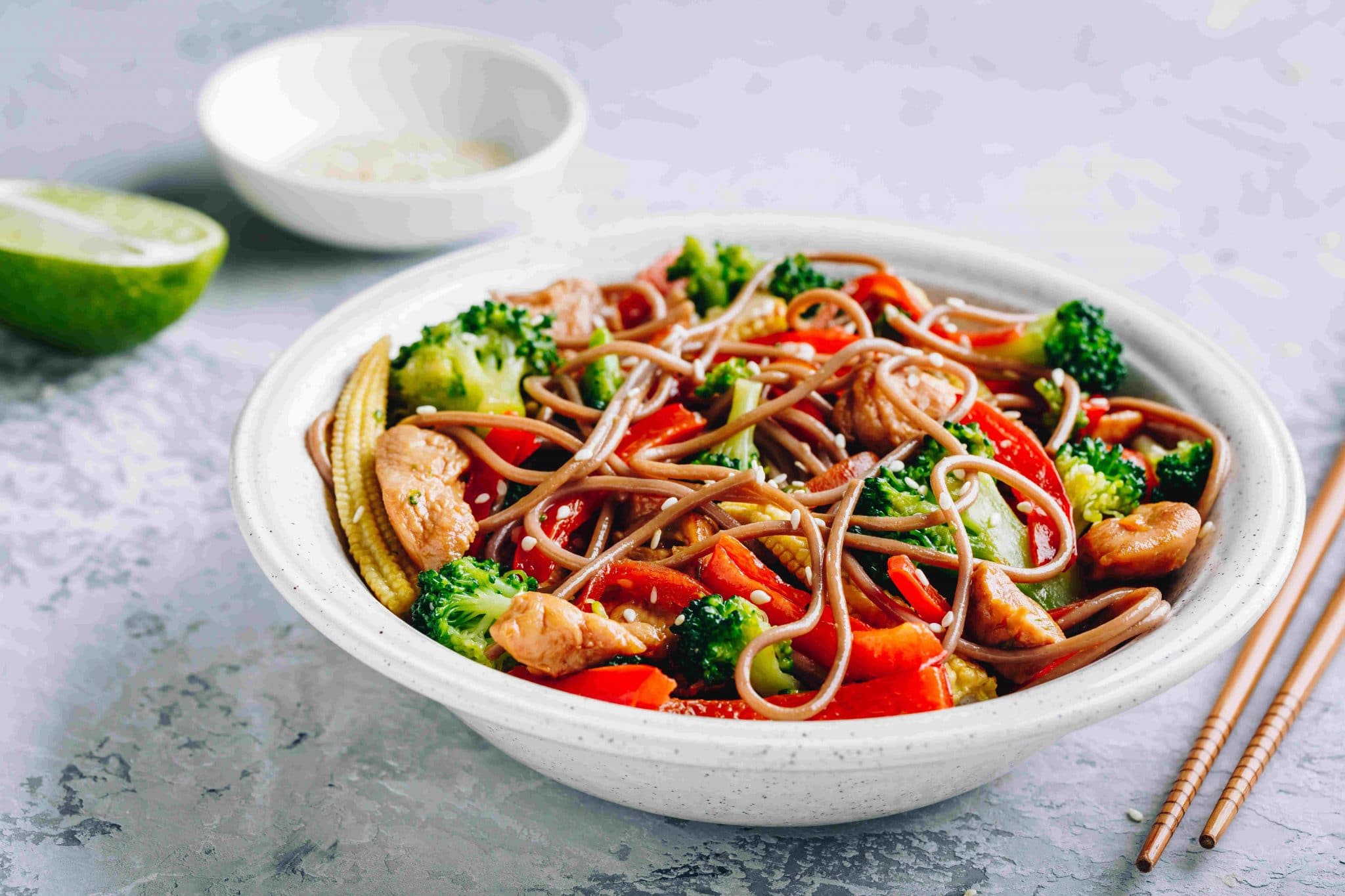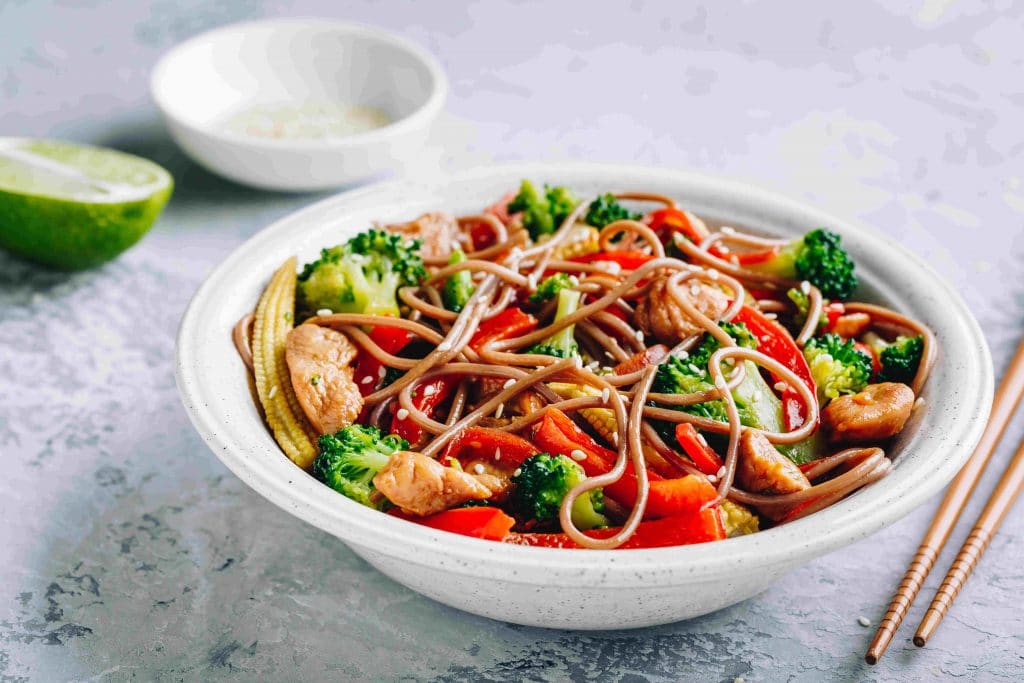 Is Minor General Tso's Sauce A Good Stir Fry Sauce?
Are you a pork lover and want a sauce that will complement and enhance your stir fry pork meal? Look no further as Minor General Tso's sauce adds all the robust flavor you'll ever need. Not only does it go with pork, but it works very well with other proteins like beef and chicken.
Making a good meal and saving time is possible when you have this stir fry sauce at your disposal as it has the perfect thick stir fry sauce consistency. You can also incorporate it into stir fry meals that have different kinds of protein. How's that for variety?
Furthermore, if you're looking for a sauce that can be used for more than stir fry, you have hit the jackpot as this sauce can be used as a dip when eating your favorite finger foods and even added in hearty stews, wraps, and quick salads.
The sweet and spicy flavor mix of this sauce created using soy sauce, molasses, ginger, etc., allows for this top sauce to be used in various interesting ways.
How Is The Kikkoman Stir Fry Sauce The Best For Stir Fry?
The brand Kikkoman is well-known for its exquisite sauces, particularly when it comes to stir fry. One of the best in the market is the Kikkoman Classic stir fry sauce, ideal for any lover of beef stir fry meals.
Usually, nothing beats a good old-fashioned traditional sauce, which is the case for this sauce as it hits many high notes. There are many reasons why this sauce should be added to your kitchen condiments. The sauce is easy to use as it already has the right consistency and texture for a stir fry meal.
Not only is the soy sauce naturally brewed, making it a safe choice health-wise due to no additives, but it also has other ingredients that elevate the sauce like garlic, oyster sauce, and Asian herbs. All of these lead to a well-balanced flavor bomb sauce that can be served with many different foods like seafood and poultry.
Interestingly, the flavor of this sauce is flexible enough that it can be used for more than Asian-style meals. Just when you think it can't get better, this sauce only has 20 calories. This means that you can still have flavor and maintain your weight.
How Is Mr. Spice Ginger Stir Fry Sauce Healthier?
This stir fry sauce is the best if you're trying to stay healthy without sacrificing good-tasting food. Many people shy away from store-bought sauces and prefer to make their recipes because homemade sauces usually aren't notorious for being high in artificial flavorings, salt, additives, and sugar.
If you happen to be looking for gluten-free sauces, this is the perfect choice for you as it does not contain soy sauce. This is important because soy sauce usually includes wheat.
Although this Mr. Spice sauce is tasty and creates delicious stir fry meals, evidenced by the fact that it was awarded first place in a sauce contest, it may not be to everyone's flavor expectations, particularly people that enjoy a lot of salt in their meals.
This sauce will be better appreciated by people who follow a low-sodium diet or are fresh off of the no salt, oil, and sugar diet and would like to keep your salt intake low. Because rice vinegar, blackstrap molasses, etc., are the ingredients used in this sauce instead of soy sauce, there is virtually no salt in this sauce as the focus is on spices and organic ingredients.
Although it may be bland to other people, this sauce has fewer calories and is a great choice for people looking for stir fry sauces that are on the healthier side.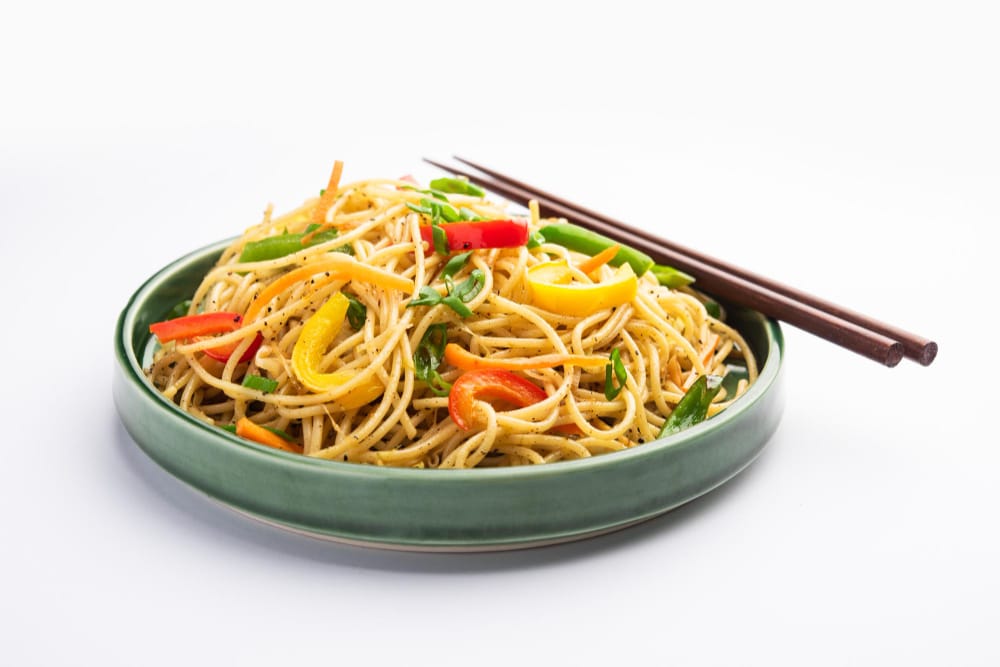 What Makes 365 Stir Fry Sauce One Of the Best Sauces?
If you love that umami flavor of foods like mushrooms and black garlic, this sauce is perfect as it is packed full of the Asian umami-like flavor. Sometimes you can't help but snap a picture of good-looking meals before you devour them, and if you're a food blogger, this sauce will give your stir fry dish the perfect glossy finish for a perfect picture.
Much like the Mr. Spice Ginger sauce, this is another great healthy alternative as it uses natural, organic ingredients and is low on sugar, although it has soy sauce. Furthermore, if you are a ginger fan, you'll love this sauce as it can be considered a dominant flavor by some people.
Is Minor's Teriyaki Stir Fry Sauce Great For Stir Fry?
The Minor's Teriyaki sauce is a sweet sauce made using ingredients like brown sugar, sesame oil, molasses, etc. The bottle being on the bigger side is for the best as this is a versatile sauce that can be used in many other ways apart from stir fry meals.
For example, you can use it as a marinate on sticky sweet wings. This sauce is excellent for people with a sweet tooth as it has more sugar than most sauces. Do not be alarmed by how thin the consistency of the sauce is compared to other sauces as it thickens as it cooks. It can last a while and is easy to use despite the big bottle.
How Do You Know When To Add The Sauce?
Stir fry is easy to prepare and cook, but if you're new to the whole cooking process, you may not be sure when the right time is to incorporate the sauce, so here's a guide.
The first step is to choose a protein you would like to add to the stir fry and make sure that it is chopped into bite-size pieces or strips. Any protein or protein substitute can be added, like chicken, pork, shrimp, mushrooms, and tofu.
Next, choose the vegetables that you would like to use. Usually, it is veggies like onions, carrots, bell peppers, broccoli, celery, corn, etc. Choosing a variety works best because being inventive is possible.
Add in a good amount of aromatics like garlic, shallots, and ginger to enhance the flavor and taste of the stir fry.
Using a wok is preferred, but a frying pan works just as well. The goal is to get the oil hot enough to fry the vegetables without making them soggy. Ensure that you preheat the pan or wok at low heat. Add some oil; usually not much if you use a non-stick pan.
Start cooking the chosen protein until it is browned and golden. Do not stir the meat too much. Allow it to cook and only move it around when it looks like it might be starting to burn. You can add in more than one protein.
Once the protein is cooked, set it aside in a bowl and place the chopped variety of vegetables in the same wok or pan to cook for two to three minutes. Occasionally stir the vegetables, so they cook evenly. Do not overcrowd the pan. Cook the vegetables in batches if necessary.
Add in the garlic, shallots, onion, etc., and let the vegetables cook for another 30 seconds. Stir the mixture, so they don't stick to the bottom and burn.
Place the protein back into the wok or pan.
The time has come to add the stir fry sauce! Pour about 1/3 cup of your chosen store-bought stir fry sauce all over the vegetables and sauce in the wok or pan. Here comes the cool part! Toss to coat everything like they do in cooking shows. Be careful not to spill the stir-fried meal.
The sauce is usually already thick in consistency, but if not, you can add cornstarch, and the sauce will get a thicker consistency as it cooks.
The stir fry is ready to be served with noodles, rice, or you can devour it by itself depending on the number of vegetables added. A garnish is an option, but some to top the stir fry are herbs like parsley or nuts like cashews for added texture.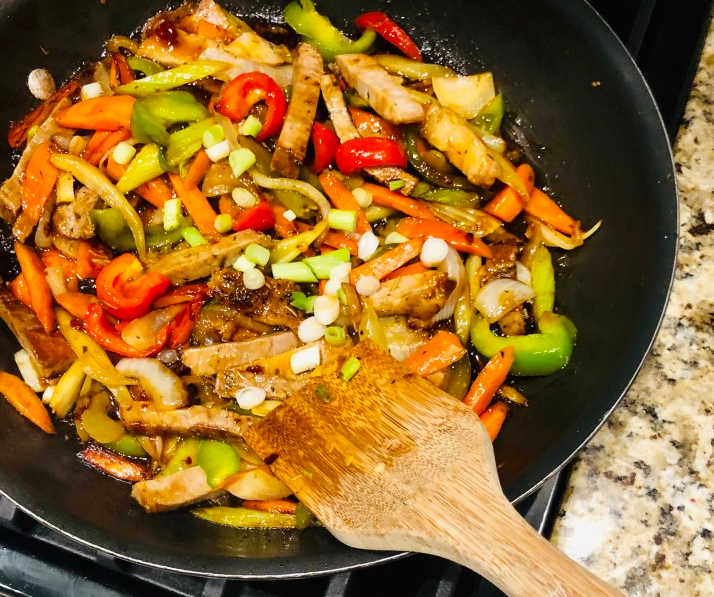 Notes & Tips
Do not add the sauce before the vegetables and meat cook as the sauce should not be cooked for longer than necessary to incorporate it into the veggies and protein. This is because the sauce tends to evaporate, especially soy sauce.
Ensure that the sauce is coating all your vegetables and protein by sufficiently tossing the mixture once the sauce has been added.
Be patient and let the sauces simmer to get that glossy, thick coating on the vegetables and protein.
Keep The Health Aspect In Mind
As a home cook, some factors should be considered when deciding on the best sauce to buy for stir fry meals. These are whether or not the sauce is healthy, how tasty it is, and its ease of use.
When it comes to deciding whether or not a sauce is healthy, there are ways that you can make sure apart from reading the ingredients labels. First, choose 100% brewed sauce. Traditionally brewed sauce usually takes months, even years, to make. It is time-consuming with high cost, but the stir fry sauce will be healthier and more delicious.
Because they contain extra salts, sugars, and preservatives to make them taste fantastic, sauces tend to be higher in calories than most other ingredients in the stir fry. Always read the ingredients carefully when you go shopping for sauces. Brewed sauces usually contain water, salt, soybean, Faber bean, and wheat.
Safely Saucy…
A store-bought sauce is more accessible for all budgets and is also much easier to obtain, making it much easier for you to make restaurant-quality stir fry dishes right in the comfort of your home.
It allows you to make mind-blowing and palette-blowing food. Everyone has a stir fry sauce out there for them, whether you tend to lean towards the sweeter side or you enjoy heat and spice. Good stir fry sauces play an important role in elevating a mediocre stir fry to extraordinary.