8 Best Vegan Bacon Brands
Vegan bacon brands have been on the rise due to the numerous health risks associated with consuming processed foods. Pork products are the most consumed meat globally and account for 36% of meat consumption. Not only is this a processed food, which has its own risks, but pork carries concerns as well.
Pork increases foodborne sicknesses like E.coli, salmonella, trichinosis, and hepatitis E. Pork has been linked to liver conditions (liver cancer and cirrhosis), and increases the risk of multiple sclerosis. Not only can pork be dangerous to human health, but some hog farms are also directly responsible for environmental damage.
If you are vegan or desiring an alternative product, then there are some options to consuming bacon strips and various bacon products. Plant-based bacon options are available and have their own delicious, smoky flavor that is similar to traditional bacon.
This fake bacon is meaty, chewy, and can crisp up to the perfect texture. They are the perfect complement for sandwiches, flapjacks, French toast, waffles, or salads.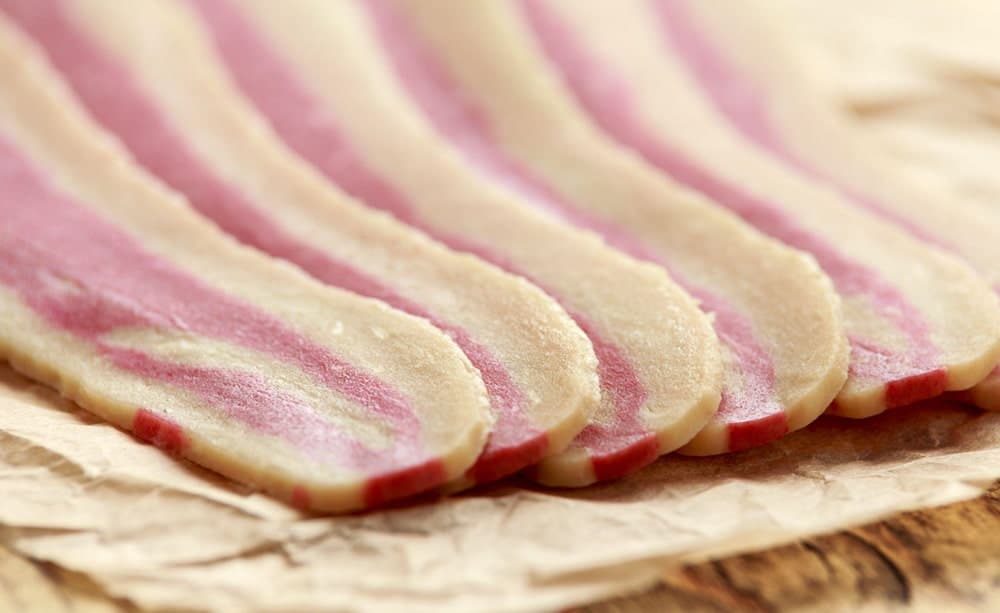 This bacon is crispy, thin, and tastes exactly like bacon. It is completely non-GMO, animal-free, and has no trans-fats. This bacon is easy to cook. It captures the salty, meaty, crunchy taste that is synonymous to real bacon. Users will be hard-pressed to note a difference.
This product comes fully cooked. To prepare, preheat a grill or pan to medium-high. Add one tablespoon of oil and cook both sides for five minutes until it reaches your desired level. It can keep frozen for 18 months. Before consuming, thaw in your refrigerator prior to cooking.
Ingredients: Non-GMO wheat fiber, non-GMO textured soybean protein, wheat fiber, konjac powder, wheat protein concentrate, vegetable root starch, sea salt, white pepper, brown sugar, plant-based vegan seasoning, and sunflower seed oil.
May contain soybean and wheat.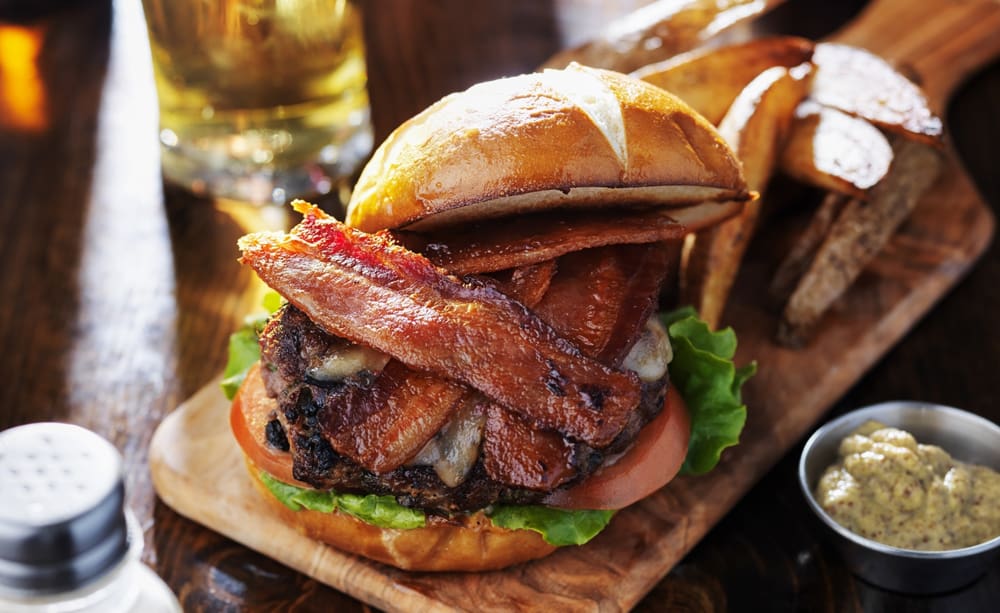 Sweet Earth is known for generating plant-based products that never disappoint. Their bacon is full of flavor and has that meaty texture that people associate with bacon. It is smoky, savory, and saucy! Customers will taste hints of hickory, garlic, and sage.
The ingredients are non-GMO, and it contains 10 grams of protein. Compared to actual pork bacon, it has 75% less fat, and 57% fewer calories making it a healthier alternative.
It cooks exactly like bacon and can be bought frozen or refrigerated.
Ingredients: Vital wheat gluten, filtered water, extra virgin olive oil, organic buckwheat groats, organic red beans, vegan bacon natural flavors, organic evaporated cane juice, natural hickory smoke, organic maple syrup, garlic, natural soy sauce, tomato paste, coconut oil, nutritional yeast, apple cider vinegar, sage, cumin, rosemary, caramelized sugar (without bone char) and spices.
The product does contain soy and wheat. Created in a factory that processes milk and eggs.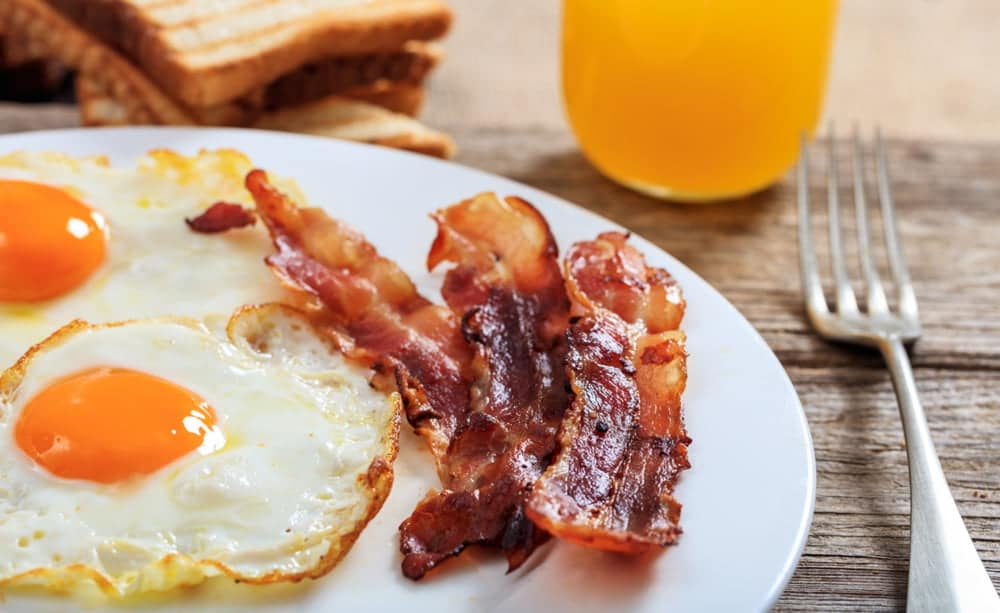 This company uses a fermentation process to copy the taste of real bacon. They use a Japanese fungus called, Koji, which is a whole-food protein and contains many nutrients to give their product that bacon flavor. Customers report that it tastes and smells exactly like bacon.
Prime Roots bacon is:
100% plant-based
GMO free
Gluten free
Soy free
All natural
Hormone free
Antibiotic free
The only downfall to it is that it can easily overcook. It is a great option if you love crispy bacon, but you may have to watch it closely.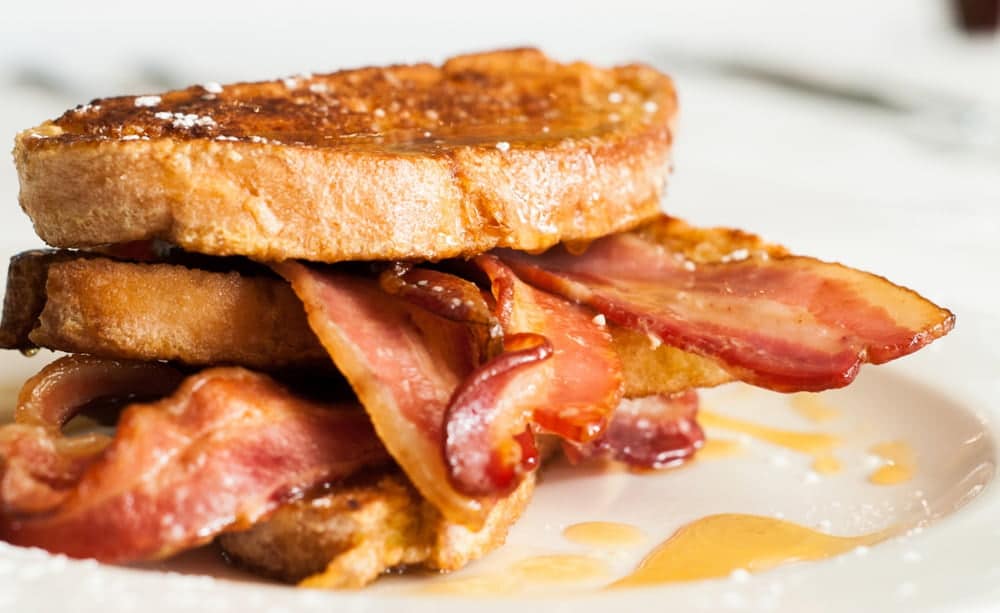 Upton's has smokey bacon that tastes perfect in BLT's, salad bits, or just plain bacon for breakfast. Seitan is a Japanese food created by rinsing off wheat and allowing it to retain the protein. It has a texture like meat and contains a very robust flavor. This bacon is low in fat, high in protein, and without high cholesterol.
Ingredients: Vital wheat gluten, water, soy sauce (wheat, water, soybeans, salt), natural hickory smoke concentrate, whole wheat flour, paprika, onion, and sea salt.
The product contains soy and wheat.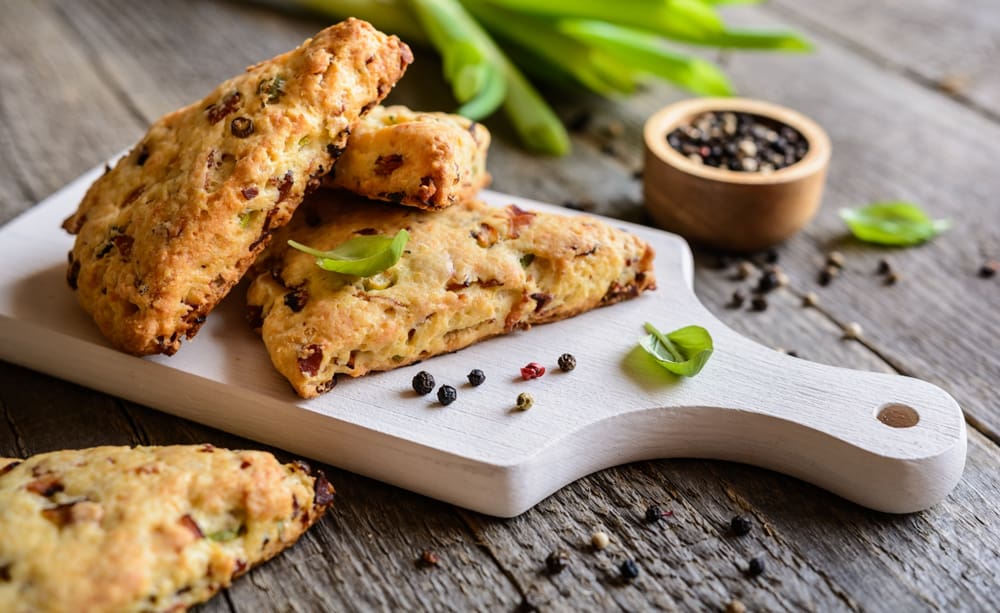 This company is known for its holiday sausages, deli slices, and roasts. However, this company is also the best tempeh producer as well. It is high in fiber and protein.
To make it, heat one to two tablespoons of oil in a pan. Add the strips to the hot oil and cook one and a half to two minutes per side until browned.
Ingredients: Organic soybeans, water, soy sauce (soybeans, water, wheat, salt), maple syrup, molasses, natural flavor, natural smoke flavor, salt, organic apple cider vinegar, starter culture (rhizopus oligosporus)
Contains wheat and soy.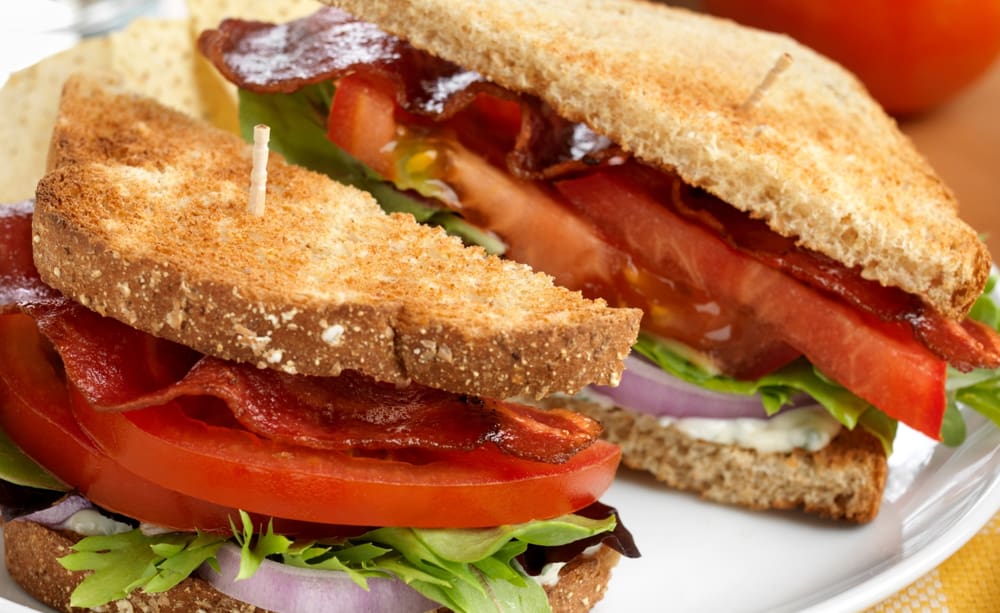 Very Good Bacon is created with navy beans, so users can easily fry it. All bacon is cruelty-free. Customers love it because of its succulent and smokey flavor.
Ingredients: Organic wheat gluten, water, organic navy beans, liquid smoke, chickpeas, spices, organic sunflower oil, soy sauce, maple syrup, organic cane sugar, black pepper, and salt.
The product contains soy, wheat, and gluten.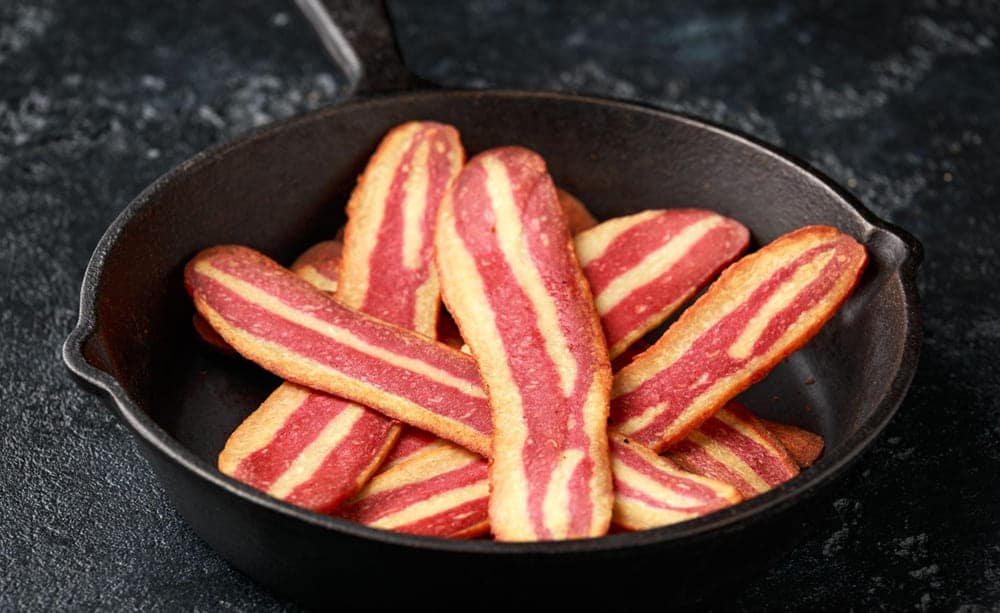 The company, THIS, is new to the plant-based foods section. It has been designing alternatives to meat designed to impress the most discriminating palate. This produces an extremely realistic meat alternative on a global scale.
The company was originally created by two founders who previously owned burger companies. They used their extensive knowledge and appreciation of meat to duplicate the texture, taste, and appearance.
Their bacon is meat-free and is crunchy, yet chewy in texture. It is very versatile in its applications. This bacon alternative can be added to BLT's, tofu scrambles, bacon bits for pasta, salads, and other dishes.
That's it for all the best vegan bacon brands on the internet for now. Not in the mood for vegan bacon? Print out our vegan salami recipe and give it a shot instead.
---
Recent Recipes