Best Vegan Brown Gravy To Buy
No matter if it's the holidays or winter-warming meals, sometimes you just want gravy. It's an excellent comfort food. But the most popular alternative is white mushroom gravy. Which isn't a bad option, but variety is delicious. Besides, there is just something about brown gravy that gives an added dash of cozy. But which brands are worth your hard-earned cash?
Not all vegetarian brands are vegan due to ingredients such as whey powder. There are also brown mushroom gravies to consider, too.
It is disheartening to show up to a dinner party or extended family meal and watch everyone pour on the gravy and the vegan option is ketchup, and even then, they bought the wrong brand. Thus, sometimes it is best to bring your own gravy mix with you. However, even the brands we mention may contain ingredients you avoid, so check the label.
Vegan Gravy Ingredient Complications
The spectrum of veganism is broad. How a person practices veganism is a personal choice. Everyone is trying, but in a world that makes even being a vegetarian difficult, being a vegan is all that much harder. Thus, while some vegetarian gravies are vegan, not all are due to ingredients such as whey.
Then, even vegetarian products with a vegan list of ingredients may not be officially registered as vegan due to the slight possibility of cross-contamination with dairy products. It is a lot like how people with tree nut allergies might avoid nut-free products made in factories that use nuts. Again, it's a personal decision; some people are fine with the risk, others are not.
Also, some products might not meet the ethical standards of a vegan or are in a grey area. For example, palm oil is an incredibly controversial product due to its contribution to deforestation. There are, however, some sustainably sourced palm oils, but it takes some research to confirm where the palm oil came from unless certified.
E635, "disodium 5-ribonucleotide," can also pop up in pre-made gravies. This flavor enhancer can be made from animals or plants. Some places, such as Premier Foods, do use the plant-based on in their vegetarian products. But some gravies that appear to be vegetarian or vegan may actually be using an animal-based E635.
Lecithin is another complicated food additive, sometimes popping up as E322, such as in the EU. The binding agent can be sourced from plants or animals, like E635. But even if it is soy lecithin, not all vegans are comfortable eating it for reasons similar to avoiding palm oil.
Lastly, some people prefer to avoid alkali. This is a common way to process cocoa, also known as "Dutched cocoa powder." Cocoa alkalization does not render cocoa and other products non-vegan. Instead, it is done to reduce the acidity and sourness while bringing out the sweetness of cocoa. However, it can reduce the natural flavonoids.
Consequently, while we have gathered together a list of brown gravies with a vegan ingredient list, along with some others to consider, you will still need to ensure each product fits with your vegan practice.
4 Vegan Brown Gravy To Try
Brown gravy is not a singular product. Some are a deep rich brown, some are a pale golden, and many fall somewhere in-between. Unsurprisingly, not all brown gravy tastes the same, either. Thus, we've got four vegan brown gravies to try in different hues.
Tofurky Savory Gravy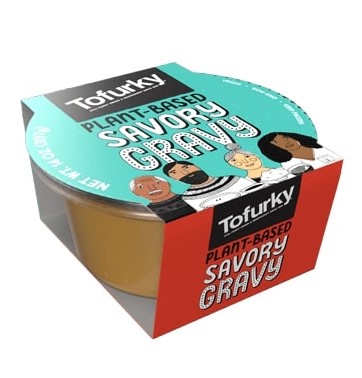 Tofurky Savory Gravy is from the Oregon family business Tofurky whose mission is based on respect for people, animals, and the planet. The gravy is most commonly served on their signature product, Tofurky, but can be bought on its own to use on whatever you like. PETA declared the product as "the perfect mealtime companion."
People also love this product because it comes from a company dedicated to being vegan. There are other products that might be vegan now, but after an unannounced tweak, they might not. Understandably, some consumers do not want to feel they have to read the ingredient list every time to ensure the product is still vegan. With Tofurky, you can rest easy.
Ingredients are listed as:
Water
Whole Wheat flour
Soy Sauce (water, soybeans, wheat, salt)
Expeller
Pressed canola oil
Natural flavors
Chicory Root Fiber
Rice flour
Onion
Carrot
Celery
Cane sugar
Corn starch
Sea salt
Onion powder
Spices
Sunflower oil
Rosemary extracts
Tocopherol extract and ascorbic acid
Maltodextrin
Dextrose
Xanthan gum
Locust bean gum
Many people felt it wasn't the most attractive of vegan options. The gravy is a golden brown, similar to applesauce, and some found it looked congealed. However, people love it when it comes to taste, even those anti-vegan meat-eaters.
Simply Organic Vegetarian Brown Gravy Mix
Simply Organic Vegetarian Brown Gravy is 100% kosher certified. It is easy to make; just mix the pack with a cup of water. It can take 5-10 minutes to make, although there are people who prefer to do it slowly, over the course of an hour, believing this adds flavor while reducing lumps.
This is a firm favorite amongst many. However, some people use it as a base and add extra herbs such as sage, black pepper, thyme, or tarragon. Another trick is to replace the water with mushroom broth, which gives it a more robust flavor and richer color. Adding vegetable also works, which is said to give it a more "restaurant" like feel.
Ingredients are listed as:
Organic cornstarch
Sea salt
Organic maltodextrin
Organic cane sugar
Organic cocoa powder (processed with alkali)
Organic tamari powder (organic soybeans, organic maltodextrin, salt)
Organic rice concentrate
Natural flavor (yeast extract, salt, natural flavor, canola oil)
Organic onion
Organic garlic
Organic black pepper
Organic turmeric
Frontier, who produces the brand Simply Organics, does warn that their factory handles milk and egg products. Thus, unless "certified," they cannot promise there has been no cross-contamination of milk or eggs, as they have not tested them. However, no milk or egg products have deliberately been added to this gravy.
Road's End Organics Delicious Golden Gravy
Road's End Organics Delicious Golden Gravy is, as its name suggests, a lighter brown gravy. It is kosher and organic certified, gluten-free, and vegan. Road's End is easy to make, just add water and heat, and it will be ready in three minutes. It is popular on potatoes, vegan popovers, and tempeh.
The Road's End mix is easy to play around with, similar to the Simply Organics. You can add extra herbs, substitute water with vegetable or mushroom stock, or even a bit of ale (warm up a ¼ cup before adding to the mix to cook off more alcohol).
Ingredients are listed as:
Organic brown rice flour
Organic tapioca starch
Organic tamari powder
Organic soybeans
Organic rice flour
Organic rice maltodextrin
Sea salt
Organic sunflower oil
Lecithin
Organic onion powder
Nutritional yeast
Organic garlic powder
365 Brown Gravy Mix from Whole Foods Market
365 Brown Gravy Mix by Whole Foods Market is gluten-free and organic. Many customers reach for 365 to use as a slow cooker seasoning rather than as a brown gravy to pour over mashed potatoes. But there are people who prepare it as gravy and love it. When making it as gravy, it only takes ten minutes to prepare.
However, Whole Foods does not promise that all of their 365 range are vegan-friendly, even if the ingredient list does not include animal products. However, their brown gravy mix does have the vegan symbol right on the front of the pack.
Ingredients are listed as:
Organic cornstarch
Sea salt
Organic corn maltodextrin
Organic cane sugar
Organic natural flavor
Organic cocoa powder (processed with alkali)
Organic rice concentrate
Organic black pepper
Organic garlic powder
Organic paprika
Organic onion powder
Why Doesn't Bisto Call Its Gravy Vegan?
Bisto is a British pantry staple when it comes to gravy, and it is available in the United States, too. Many of its "granules" (mixes) and gravies do not have animal products listed. However, Bisto is cautious about calling itself vegan or vegetarian. Their concern is that they make lots of products and fear cross-contamination.
This isn't something Bisto is trying to hide. When veganfriendly.org.uk contacted Bisto, they replied, "we will only confirm if a product is suitable for vegans when we are happy that we can make the claim."
However, Premier Foods, which owns Bisto, is looking to improve in the plant-based market. In October 2021, they announced a plan to triple its animal-free products by 2030. The plan also involves lowering emissions and reducing packaging.
For those interested, the following Bisto products have vegan-only ingredients listed:
3 Vegan Mushroom Brown Gravy To Try
Some mushroom gravy comes in brown style rather than white sauce. Thus, these are not cream of mushroom but the gravy equivalent of having a portabella burger. Thus, there is a richness to them that is similar to brown gravy. For those willing to consider them as a brown gravy substitute, here are some vegan suggestions to try.
BOU Vegan Mushroom Gravy Cubes
BOU has turned the bouillon cube into a gravy cube. However, unlike their brown gravy cube, which is vegetarian but contains whey, their mushroom cube is vegan. The cubes can be added to a recipe as a seasoning, used to make a marinade, or made into a rich, dark, and flavorful gravy.
You'll only need a cube or two when used as a seasoning. But to make gravy, most people need at least three, if not four. Thankfully, preparation is easy: pour boiling water over the cubes, then whisk on high heat for a few minutes. Then slather your mashed potatoes, hash browns, Texas fries, or roasted vegetables.
Ingredients are listed as:
Modified corn starch
Palm oil
Enriched wheat flour (wheat flour, niacin, reduced iron, Thiamine mononitrate, riboflavin, folic acid)
Salt
Yeast Extract
Shitake mushroom extract
Champignon mushrooms
Caramel color
Rice flour
Sugar
Onion powder
Soy lecithin
Garlic powder
Natural flavoring
Imagine Organic Vegan Wild Mushroom Gravy
Imagine Organic Wild Mushroom Gravy is gluten-free. The wild mushrooms give this rich gravy a "woodsy" flavor that some people adore and others find a bit too earthy. It has a smooth texture, like regular brown gravy, and a robust golden color. However, it is thin, similar to a thick broth, rather than your typical Thanksgiving commercial gravy.
Ingredients are listed as:
Filtered water
Organic corn starch
Organic mushroom flavor (organic mushrooms, organic soy sauce (organic soybeans, salt), organic mushroom powder, organic canola oil, organic molasses, yeast extract, organic potato flour, organic flavor, organic onion powder, flavor, organic yeast extract)
Sea salt
Organic vegetable flavor (organic carrots, organic onions, organic celery, sea salt)
Organic evaporated cane sugar
Organic garlic powder
Natural flavors
Organic yeast extract
Xanthan gum
Organic caramel color
Organic spice
Road's End Organics Shitake Mushroom Gravy
Road's End Organics Shitake Mushroom Gravy is gluten-free, cholesterol-free, fat-free, organic, and vegan. The shitake is quick and easy to make like their golden gravy variety. This gravy is a lighter color than the two other mushroom gravies we've highlighted, more of a golden hue. But it is full of flavor.
Ingredients are listed as:
Organic brown rice flour
Organic tapioca starch
Organic tamari powder (organic soybeans, organic rice flour, organic rice maltodextrin, salt lecithin)
Salt
Organic onion powder
Organic shitake mushrooms
Nutritional yeast
Organic garlic powder
So, What's The Best Vegan Brown Gravy To Buy?
Tofurky's gravy is probably the easiest go-to vegan brown gravies. However, the nice thing about mixes is that you can use the packets as a flavoring for other recipes, such as slow cooker meals. But thankfully, there are options out there, including the 365 Brown Gravy Mix, which has the vegan stamp right on the pack.
---
Recent Recipes