Best Vegan Ranch Dressing To Buy
Ranch goes well with anything from plant-based nuggets to vegan pizza rolls to crisp fresh vegetables. I've got excellent news for you, whether you're a dipper, a dunker, or a drizzler — I've got 9 of the best herby, creamy, and tangy ranch dressing for you to try next. That said, what are they?
Amazon has several delightful vegan ranch dressings with both flavor and a kick that most reviewers found to have hit the sweet spot. That said, the pursuit of vegan and non-dairy alternatives has grown in popularity in recent months. In light of that, let's look at what makes the plant-powered saucy ranches the best.
9 Of The Best Vegan Ranch Dressing
With so many plant-based ranch dressings that just don't get it right, these nine blended gems have drizzled their way onto this list and soon into your dish!
These dairy- and egg-free alternatives are not only tasty, but they also do not contribute to the misery of cows and hens. Check out this list of vegan ranch dressings, which are great as dips or salad toppings and can be found at the convenience of a few clicks of a button on Amazon.
So, starting with the famous Follow Your Heart brand, here's what delicious ranchy vibes they bring to your next vegan treat.
Finally, a dairy-free and vegan ranch dressing that's creamy and tangy! You read right! Follow Your Heart ranch dressing tops the list and is loved by many! It has a traditional ranch taste with omega-3 fatty acid-rich hemp, and flaxseed oils can be used on salad, as a dip, in sandwiches, or even on pizza.
Don't fret if you were on the verge of giving up the search! This ranch dressing is here to save the day to serve your tastebuds with flavors out of this world. When I had first tasted this delicious blend of goodness, I said to myself, "at last, something great!" It has the proper consistency, the right color, and it tastes exactly like ranch dressing.
Besides what I have to say, an Amazon customer commented, "I love this dressing! I'm addicted! It fits in with my low-carb dairy-free lifestyle. It's thick, creamy, and delicious." Another happy customer mentioned, "Great taste. This dressing is always sold out in the store. Glad to see Amazon is carrying it."
Unfortunately, Amazon is currently out of single bottles (no surprise, because it is just that good). Fortunately, they have packs of 6 still available. However, the six-pack does make it a bit pricey.
Ingredients
It contains: Vegenaise (Expeller-Pressed Canola Oil, Filtered Water, Brown Rice Syrup, Apple Cider Vinegar, Soy Protein, Sea Salt, Mustard Flour, Lemon Juice Concentrate), Filtered Water, Apple Cider Vinegar, Olive Oil, Shelled Hemp Seeds, Flaxseed Oil, Lemon Juice Concentrate, Cold-Pressed Hemp Seed Oil, Spices, Mustard Flour, Xanthan Gum, Salt, and Garlic.
Hidden Valley Ranch Dressing comes in second on the best vegan ranch dressings list. Hidden Valley, the legendary ranch brand, expands into the vegan market with its first dairy-free ranch dressing. So if you don't find it on Amazon, keep a lookout for it in your local food shop.
A plant-based diet does not have to imply giving up Ranch. Hidden Valley Plant-powered dairy-free Ranch dressing delivers the crisp and delicious Ranch flavor you want in a plant-based, dairy-free mix. With so many happy customer reviews on Amazon, it was hard to choose.
However, this customer says it all with, " If you are allergic to dairy for whatever reason, you should try this. It is a huge step forward — all of the flavors of traditional Ranch with none of the guilt. I always thought Ranch didn't have to be dairy, but now I've tasted it. It's fantastic!"
This Hidden Valley Ranch dressing is produced with soy protein, which gives it a creamy texture and authentic ranch flavor without the dairy. Hidden Valley Plant-Based Ranch Dressing is a beautiful complement to sandwiches, wraps, veggie burgers, and more.
Combine with spaghetti or potatoes to make delectable side dishes. Toss with mixed greens and diced tomatoes for a quick salad. This gluten-free dressing has all of the creamy Ranch flavors you enjoy without the gluten. It just features essential ingredients like garlic, onion, and spices.
Ingredients
It contains Water, vegetable oil (soybean or canola), sugar, salt, soybean protein isolate, vinegar, less than 1% spices, phosphoric acid, garlic, onion, xanthan gum, modified food starch, natural flavors, parsley, preserved with nisin preparation, sorbic acid, calcium disodium EDTA, and rosemary extract.
Next up in third is the JUST brand. JUST has been quite the contender in the battle for the best vegan and plant-based products that many adore. When mixed in their very flavorful dressings, greens will never go ignored again.
Vegetables will be as nutritious as they should be, but they will also be the most delectable element of your dinner. JUST is an award-winning brand that vegan chefs worldwide seek for its excellent quality ingredients to create authentic meals and is inexpensive.
One happy customer commented, "I was on my way to shedding those final few pounds of baby weight when I discovered Just Ranch. It's so good that I eat a lot more to get a taste of the Ranch flavors. Before becoming a vegan, I used to adore ranch dressing, and now nothing is missing. It's delicious on beans, potatoes, salad, chips, vegetables, and everything else you can think of!"
Their use of ingredients such as the Canadian yellow pea allows us to achieve a wonderfully pourable, creamy consistency in their dressings while also creating allergy-friendly, vegan-friendly, and sustainable solutions.
They don't only make a good Ranch dressing, but also a Caesar, Chipotle Ranch, sweet mustard, and Thousand Island dressings are available. JUST Ranch is non-GMO, dairy-free, egg-free, gluten-free, kosher, and amazingly tasty, with no artificial flavors.
Ingredients
It contains: Expeller-Pressed Canola Oil, Water, Sugar, White Distilled Vinegar, Contains Less Than 2% Autolyzed Yeast Extract, Calcium Chloride, Dehydrated Onion, Garlic Puree (Garlic, Citric Acid), Lactic Acid, Lemon Juice Concentrate, Modified Food Starch, Natural Flavors, Pea Protein, Propylene Glycol Alginate, Salt, Spices, Xanthan Gum (Potassium Sorbate, Calcium Disodium EDTA).
The dressing from Organicville is light and filled with organic herbs, including rosemary, dill, and chives. This tangy dressing is a terrific way to add flavor to your lunch salads or as a dip for your favorite vegetables!
Organicville has impressed many, with one customer commenting, "I've been with this brand for the past nine years. I adore it and have yet to find a better alternative." 
And another added, "This dressing is DELICIOUS! It tastes like standard ranch dressing. I've tried numerous brands, and this one isn't only the most similar to Ranch; in a blind test, I couldn't tell the difference! Highly recommended – wonderful for salads, dipping vegetables, and so forth."
With booming reviews on Amazon, Organicville can clearly speak for itself. Organicville has a multitude of plant-based dressings, and the vegan ranch is no exception. Of course, it's in the name, but it bears repeating: the brand uses organic ingredients, including sunflower oil, apple juice, and coconut cream.
Ingredients
It contains Water, Organic Expeller Pressed Soybean Oil, Organic Soy Milk, Organic White Vinegar, Organic Agave Nectar, Salt, Organic Onion Powder, Organic Garlic Powder, Xanthan Gum, Organic Tofu Powder, Organic Parley, Organic Black Pepper.
Daiya comes up next. Known for its vegan cheese variety, Daiya provides a ranch dressing that's a zesty accent to a fresh salad. And with a tangy mayo vibe and a touch of vinegar, Daiya Homestyle Ranch knows how to stir things up!
However, it is more popular than not! The dressing is creamy yet thick, and it might be challenging to get out of the bottle, but with a few powerful taps, you'll add some appetite to your carrot sticks. I sometimes add a bit of almond milk to smooth it out if you find it too thick.
From the many Daiya enthusiast, one commented, "Finally, a vegan-friendly imitation cheese product! It tastes just like certain blue cheese dressings on the market. There is no way to tell the difference, and I've tried a lot of dairy substitute items, and they're all weird in texture, smell, or flavor."
"It just tastes like excellent old-fashioned blue cheese dressing. It's rather smooth and thick. Because mine does not pour, I just scoop it out with a knife, as one might do with a bottle of ketchup. However, the extra effort is worthwhile – I adore it!"`
It is a dairy-free salad dressing that is rich and creamy and gluten-free, soy-free, and egg-free. It is also available in 4 other fan-favorite flavors, all of which are silky in texture and vibrant and zesty in taste. Daiya's vegan dressings are perfect for salads, marinades, crudité, sauces, dipping, and so much more.
Ingredients
It contains: Water, White Vinegar, Cane Sugar, Sea Salt, Chickpea Protein, Natural Flavors, Cultured Dextrose, Lactic Acid, Xanthan Gum, Spices, Yeast Extract, Herbs, and Expeller Pressed Canola Oil.
Primal Kitchen's dressing with avocado oil demonstrates that a beautiful ranch dressing does not require the usage of chicken eggs. Instead, it is made with avocado oil and organic apple cider vinegar. As a result, Primal Kitchen Vegan Ranch Dressing is seductively creamy and indisputably delectable.
To develop this Whole30 Approved, Paleo Friendly, Keto Certified, plant-based dressing, they avoided sugar, wheat, gluten, dairy, soy components, and canola oil. Furthermore, they committed to their motto of using only high-quality ingredients to create a dressing that is so rich and full of real-food flavor that you have to try it to believe it! Dip, dip, and drizzle on crudité, cauliflower, and almond cheese quesadillas with this Vegan Ranch Dressing.
With so many excellent reviews on Amazon, the decision to include this bad boy on the list was obvious. That said, one happy customer commented, "My husband and I are attempting to eat healthily, but eliminating commercial seed oils is really difficult!
We adore salads but can't locate dressings that aren't prepared with soybean or canola oil in our neighborhood. I was unsure if we would enjoy these dressings, but I decided to give them a shot. So I purchased a three-pack and got Ranch, Green Goddess, and Caesar. Oh my, they're delicious!
We all adore them, including our adolescent daughters. The dressings taste a little different than we are accustomed to, but they are great. We will undoubtedly continue to purchase these from Amazon. My only disapproval is that I wish they were less pricey."
Ingredients
It contains Avocado Oil, Water, Organic Apple Cider Vinegar, Organic Distilled Vinegar, Organic Gum Acacia, Organic Guar Gum, Sea Salt, Cream of Tartar, Organic Lemon Juice Concentrate*, Organic Onion Powder, Organic Garlic Powder, Nutritional Yeast, Organic Mustard Flour, Organic Parsley, Organic Chives, Organic Dill, Organic Black Pepper, Organic Rosemary Extract.
Next, we have a vegan ranch dressing whose name says it all with Only Plant-Based. For many, Only Plant-Based provides the missing element to the plant-based market, providing the right match that satisfies most, delighting vegan, vegetarian, and flexitarian diets, and did I mention it's shelf-stable?
With the growing popularity of non-dairy products, I wasn't surprised when a customer who doesn't follow a non-dairy diet commented, "I'm not on a plant-based diet, but a buddy recommended it to me, and it did not disappoint.
The flavor is fantastic; I've used it on salads as well as to dip items in. It's really adaptable, and I think I'm addicted. It's a huge plus that it's so healthful. You can't go wrong with a great flavor that is also guilt-free."
The company puts all of their heart, creativity, and culinary experience into their items, and they always anticipate their line to be fantastic. Their quest to make great-tasting vegan and vegetarian mayos and sauces that complement, complete, and enrich the ever-growing menu of vegan and vegetarian dishes as it continues.
Ingredients
It contains Rapeseed Oil (50%), Water, White Wine Vinegar, Garlic Puree (Garlic, Acidity Regulator: Citric Acid); Sugar, Salt, Modified Waxy Maize Starch, Lemon Concentrate, Onion Powder, Yeast Extract, Stabilizer: Xanthan Gum, Chives, Preservative: Potassium Sorbate, Buttermilk Flavoring, Black Pepper, Antioxidant: Calcium Disodium EDTA Allergens in Bold.
Whether you follow plant-based nourishment or not, the Plant Junkie Cilantro Ranch Salad Dressing is a tasty addition to salads, sandwiches, chickpea bowls, stir-fries, marinades, and other dishes.
This adaptable sauce tastes like traditional, creamy ranch dressing without the guilt associated with heavily processed dressings and sauces. You'll want to smear it all over. It adds layers of rich taste to any culinary preparation to which it is added.
It's made with high-quality ingredients and is egg-free, soy-free, dairy-free, canola-free, gluten-free, and non-GMO, so it's suitable for almost everyone.
It's a terrific alternative to other dressings and sauces that employ artificial flavoring, highly processed products, or chemically treated foods because it's prepared with excellent ingredients.
You can use this dressing on salads, sandwiches, black bean burgers, vegetarian wings, and other dishes without feeling guilty about it. This dressing is prepared with plant-based components that will fit into your diet and thrill your taste senses.
Their delicious dressings spread and vinaigrettes make it easy to create and enjoy plant-based gourmet delights like kale bowls, salads, and roasted veggies.
Ingredients
It contains Water, avocado oil, apple cider vinegar, coconut palm sugar, bean flour, whole oat flour, sea salt, natural flavors, lactic acid, cultured dextrose, tea extract, garlic powder, moringa powder, onion powder, xanthan gum, ground black pepper, cilantro flakes, dill.
Last but not least, if you're seeking a vegan alternative to ranch dressing, you've arrived at the gates of paradise and struck gold! Ranch Superfood Dressing, created with handmade cold-pressed sesame oil, stands up to its name and doesn't skimp on flavor.
Finally, a vegan Ranch salad dressing tastes just like the real thing. It's also sugar-free and keto-friendly. Even the pickiest diners will be surprised by this vegan dressing. So give it to your meat-eating pals and see how surprised they are when you tell them it's vegan.
All of the advantages of essential omega oils are now available to everyone, including grumpy elders and picky children.
One happy customer commented, "I recently acquired this, and I really love it! It tastes fantastic and is the perfect thickness. It's not a large bottle, but a few drops of this in your salad or meals can give you that excellent flavor. My salads are great with this and a drizzle of olive oil."
Ingredients
Filtered water, coconut milk*, cold-pressed sesame oil*, garlic powder*, lemon juice*, onion powder*, vinegar powder*, Himalayan pink salt, guar gum*, white pepper*, nutritional yeast, dill weed*, chives*, monk fruit*. *Organic Ingredient
The Best Vegan Dressings: What To Look For
For a wonderfully plant-based summer, vegan salad dressings brighten up light lunches everywhere.
Salad is unquestionably the archetypal summer meal. Many of us crave light, fresh meals in the heat of the season, and salads filled with crisp vegetables certainly suit the bill. While there are many excellent salad recipes out there, sometimes a light sprinkle of dressing is all that's required to bring a meal to life.
The number of people who follow a vegan, vegetarian, or flexitarian diet has risen dramatically in recent years, resulting in a flow in demand for vegan salad dressings, particularly those that are creamy.
Despite the abundance of low-fat and oil-free dressings on the market, a dish of healthy green leaves can occasionally benefit from a thick, creamy dressing.
However, these are unsuitable for the rising number of individuals moving to animal-free diets since they often include eggs or powdered milk. However, several firms make decadent plant-based dressings that can spice up even the most boring salads.
There are many various types of dressings that we love dipping celery stalks in; however, dressings may typically be grouped into three categories:
Vinaigrettes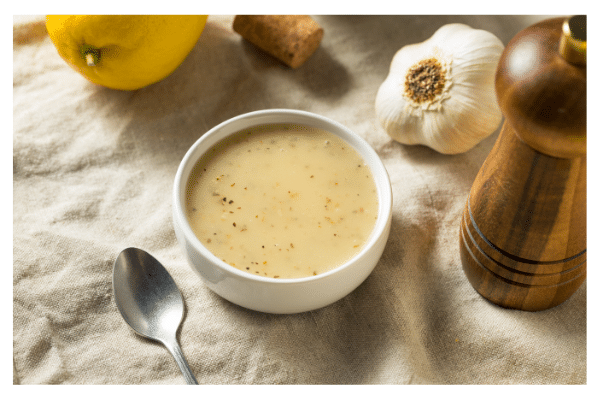 Vinaigrettes are made by combining oil and an acid (typically vinegar) to form an emulsion. The flavor and consistency of the dish are determined by the oil and vinegar used; however, olive and white wine are standard.
For a different sort of dressing, more creative vinaigrettes may utilize nut oils or balsamic vinegar. This emulsion may be strengthened with other herbs and spices once the two liquids have been blended.
From French to Italian, many traditional salad dressings are built around this fundamental combination. Although the great majority of vinaigrettes are vegan-friendly, it's always worth double-checking the label to make sure a smidgeon of honey hasn't made its way in.
Mayonnaise-Based Dressings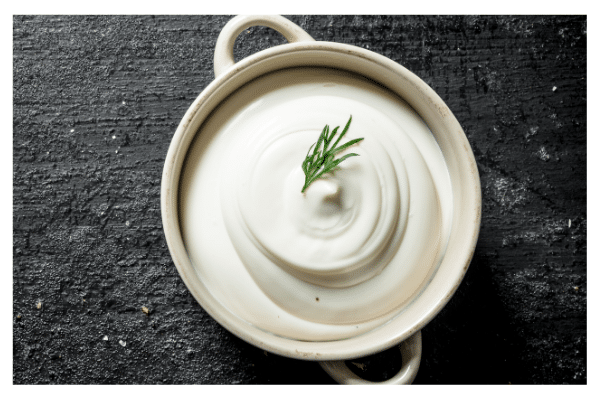 Mayonnaise is at the heart of several traditional salad sauces, including thousand islands, Russian, and Ranch. Because most mayonnaises include egg yolk, it's essential to read the label, but a few vegan mayonnaise dressings are on the market.
Dressings Made with Dairy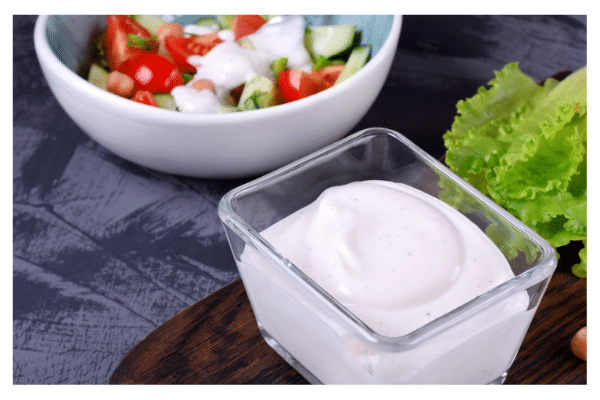 Generally in powdered form, milk is used in very rich dressings like bleu cheese and caesar. However, several vegan alternatives do cover those options.
If you're feeling daring, there are plenty of delicious vegan salad dressing ideas to try. Tahini for pungency, avocado for smoothness, and silken tofu for fluffiness are just a few of the vegan condiments' most popular components.
So, What Is The Best Vegan Ranch Dressing To Buy?
With non-dairy and plant-based products rocketing in popularity, the formulas are being crafted to match and often outclass originality. With this list of the best ranch dressings, you can keep your tummy and your taste buds at ease as you munch away guilt-free!
As the best vegan ranch dressing on the list, Follow Your Heart makes every drop count!
---
Recent Recipes