Birria ramen is a special mash-up meal that combines flavors from two cultures that usually don't have a lot of overlap. Birria is a Mexican dish, while ramen is a Japanese dish. Birria is a heavy stew using a lot of spice and lamb or beef. It combines almost every flavor palate: sweet, savory, sour, and spicy. It's very warm and it goes great with tortilla chips. Ramen is pretty well known, thanks to the instant noodles you can get for cheap that serve as a staple in college. Ramen is a hot noodle dish with a broth, but that's just the basic explanation. I love jazzing up my ramen and it is so versatile that it is super easy to modify and add even more flavor to! That's why this birria ramen is such a phenomenal combination. You get the fun of noodles with the rich flavor of birria.
The beef will need to marinate for a few hours and it will also need to be cooked over a low heat for 4-6 hours, so make sure you've planned this well in advance of dinner time. It is ideal to cook the meat in a slow cooker or crockpot, but there is a way to do it in a regular pot over the stove, which will also be included in these instructions.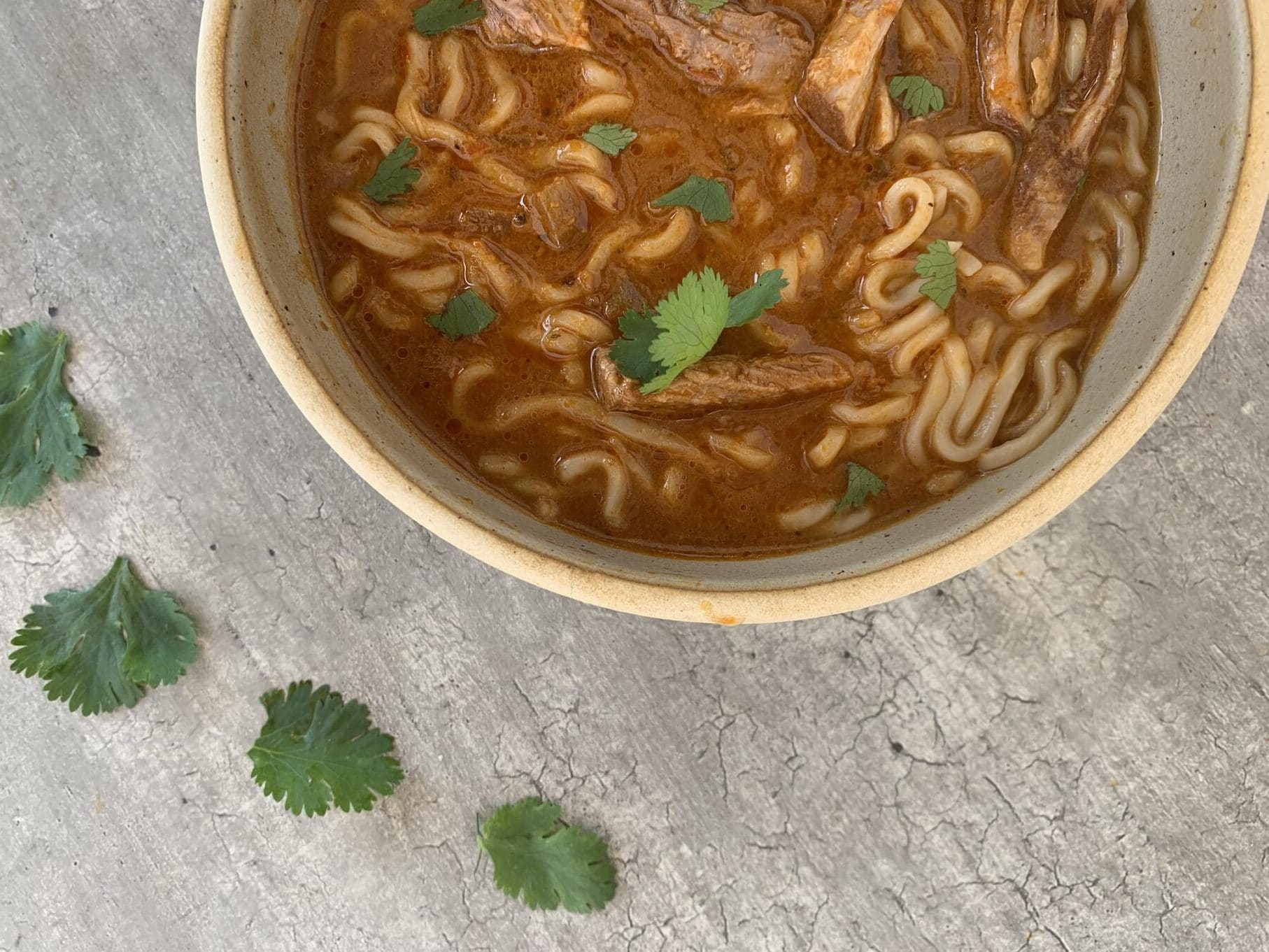 Ingredients
5

dried guajillo chiles

2

dried ancho chiles

1

can chopped tomatoes

¼

cup

rice vinegar

5

garlic cloves

1

tsp

oregano

½

tsp

paprika

1

tsp

cumin

1

tsp

thyme

2

lb

beef chuck roast

or mix of cuts

Salt

Pepper

1

onion

2

bay leaves

1/4

cinnamon stick

6

cloves

Ramen noodles

4

cups

vegetable stock
Instructions
Fill a medium pot halfway with water and bring to a boil. Once the water has boiled, remove from heat and add in the chilies. Let the chilies soak for about 15 minutes.

In a blender, add the tomatoes, vinegar, garlic, oregano, paprika, cumin, and thyme.

After the chilies have soaked, cut the stem off and shake the seeds out (they should come out easily now). Add the chilies to the blender and pulse until smooth.

Generously season all sides of the meat with salt and pepper, then place it in a bowl and cover with the chili sauce. Cover and let marinate for 2 or more hours. This is great part of the recipe to prepare the day before and let sit overnight so you can pop it in the crockpot the next morning.

When you are ready to get the meat cooking, heat some oil in a skillet over medium-high heat. Chop the onion and add it to the hot oil. Saute for about 8 minutes or until the onions become translucent.

Add the onions to your crockpot along with the meat and marinade as well as the bay leaves, cinnamon stick, and whole cloves. Cook on low heat for 4-6 hours.

If you do not have a crockpot or slow cooker, you can do this on your stove, but it will require more monitoring. Add all the above ingredients to a large stock pot, cover, and cook for the same amount of time on low heat. Check occasionally to make sure nothing is burning on the bottom.

After the meat has cooked for several hours, it should be tender enough to easily tear apart with a fork or your hands. Pull the meat apart into pieces and mix it again with the ingredients in the crockpot (you can remove the bay leaves, cinnamon stick, and cloves if you find them). It can stay here on low heat to keep warm.

To make the noodles, follow the instructions on the packet, but use the stock to boil instead of water.

Once the noodles are cooked, spoon them into deep bowls with a bit of the noodle broth and top until covered with the birria sauce and meat.

Garnish with your favorite toppings and enjoy!
Video
Nutrition
Calories:
462
kcal
|
Carbohydrates:
12
g
|
Protein:
45
g
|
Fat:
26
g
|
Saturated Fat:
11
g
|
Polyunsaturated Fat:
2
g
|
Monounsaturated Fat:
13
g
|
Trans Fat:
2
g
|
Cholesterol:
156
mg
|
Sodium:
1275
mg
|
Potassium:
1025
mg
|
Fiber:
2
g
|
Sugar:
6
g
|
Vitamin A:
713
IU
|
Vitamin C:
14
mg
|
Calcium:
104
mg
|
Iron:
7
mg
What Should I Use to Garnish My Birria Ramen?
You have so many yummy options for this! I love using shredded red cabbage, cilantro, finely chopped red onions, and a hard boiled egg or fried egg. Thinly sliced radishes add a great crunch, and jalapeños amp up the spice. A slice of lime is also an excellent garnish. I'm a big fan of kimchi and often add it to things for the vinegary tang and crunch. You can find a good recipe for it here. Kimchi is a Korean dish, so if you top your birria ramen with it, you will have a three-country, global meal!
Notes & Tips
You will probably end up with more meat than you use your first go around, but you can store it and the sauce in an air-tight container in the fridge. Just heat it up in the microwave before using it again. You can always make more noodles, or you can use the leftover meat for other things. Birria tacos are rising in popularity, so you could try that or use it in a sandwich. Once you have such a time-consuming, delicious meat prepared, you can use it for almost anything.
I mentioned in the instructions that the meat can marinate overnight and be put in to cook the next morning. That's the beauty of a crockpot! My mom would often prepare dinner as soon as she got up in the morning because she could throw it in the crockpot, leave it all day, and come back to a fully cooked dinner. Bear in mind you will need to cook the noodles before serving (I don't recommend saving noodles or preparing in advance if you can help it). That being said, it can still be a blessing to not be rushed and stressed around dinnertime, especially if you've had a long day already.
This recipe has a lot of chilies, which means a lot of heat. If you're someone who has an aversion to spicy foods, you can still enjoy this. Just reduce the amount of chilies you add at the beginning and you should be good to go. There are a lot of other spices here, so you won't be lacking flavor if you take some chilies away.
---
Recent Recipes