Our black bean lasagna is suitable for vegetarians and has both loads of flavor and springy texture in every bite, thanks to the quinoa. We've selected a blend of herbs and spices that mimic the taste of Italian sausage. It's authentic, delicious, and cheesy with layers of rich gourmet flavor that can easily top any mincemeat around.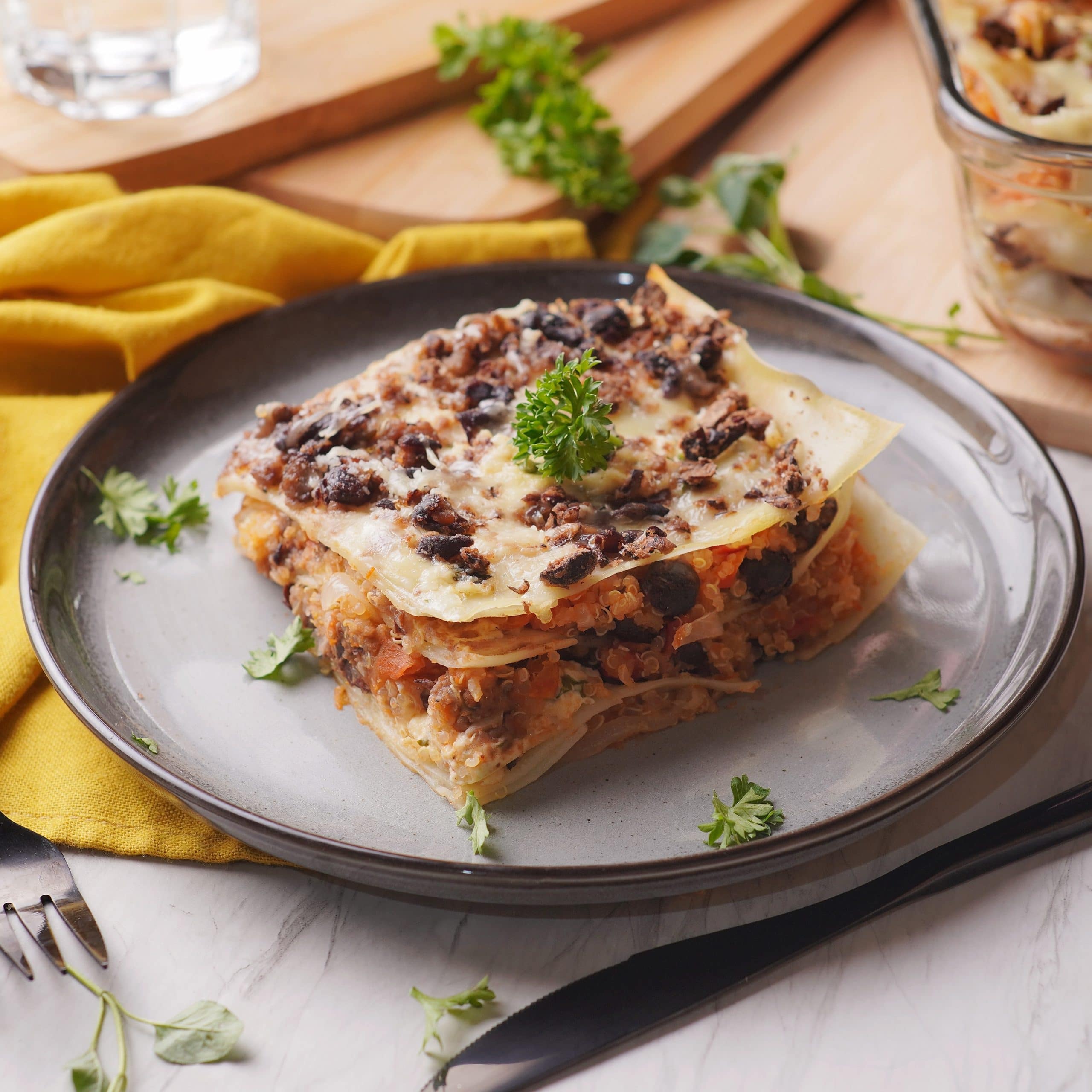 Ingredients
Olive/Vegetable Oil

12

Uncooked Lasagna Sheets

2

Tins Black Beans

Rinsed & Drained

½

Teaspoon

Dried Oregano

½

Teaspoon

Dried Marjoram

½

Teaspoon

Dried Fennel

½

Teaspoon

Coriander Powder

1

Teaspoon

Salt

1

Teaspoon

Black Pepper

1

Tablespoon

Lemon Juice

2

Medium Brown/Yellow Onions

Thinly Sliced

6

Cloves

Garlic

Pressed & Minced

½

Cup

Chopped Bell Peppers Or Pimientos

2

Cans Chopped Tomatoes

1

Tablespoon

Lemon Juice

1

Tablespoon

White Vinegar

1

Tablespoon

Sugar

1

Tablespoon

Salt

1 6-

Ounce

Can Tomato Paste

1

Cup

Quinoa

Cooked

1

Large Egg

Beaten

2

Tablespoons

Fresh Basil

Chopped

2

Tablespoons

Fresh Parsley

Chopped

1

Pinch

Nutmeg

1 ½

Cups

Full Fat Small Curd Cottage Cheese

2

Cups

Mozzarella

Grated

⅓

Cup

Parmesan Cheese

Grated

4-6

Fresh Basil Leaves
Instructions
All ingredients ready? Let's begin!

Pre-boil the lasagna sheets in a pot of rapidly boiling salted water for five to six minutes. Remove, shock in an ice water bath, drain and set aside.

Preheat your oven to 375°.

Coak the black beans with vegetable oil, dried oregano, dried marjoram, dried fennel, coriander powder, and a teaspoon of salt and ground black pepper.

Place into a lightly oiled baking tray and drizzle with lemon juice.

Bake uncovered for ten minutes while turning the beans infrequently to ensure even roasting. Once the skins are toasted, remove them from the oven and set aside.

Once the beans are cool enough to work with, mash until roughly broken with a fork and set aside.

Heat a large saucepan containing three tablespoons of olive or vegetable oil over medium heat and saute the onions until the first signs of translucency. Add the garlic and fry until aromatic before stirring in the bell peppers or pimientos.

Pour in two cans of high-quality chopped tomatoes and a tablespoon each of lemon juice, vinegar, salt and sugar.

Turn the heat to high and simmer while infrequently stirring for five to seven minutes or until the sauce starts thickening.

Mix in the tomato paste and cooked quinoa. Stir constantly as it comes to a boil, then reduce the heat to low and cook covered for ten minutes before removing from the stovetop.

Prepare a greased baking 9 x 13 casserole dish or a lasagna pan with extended depth.

Scoop enough marinara sauce into the baking dish to line the bottom of layout three par-boiled lasagna sheets atop.

Mix together the beaten eggs, fresh basil, fresh parsley, a pinch of nutmeg, and cottage cheese.

Spread a third of the cottage cheese mixture over the lasagna sheets to create a layer.

Scatter half a cup of mozzarella over the cottage cheese and egg mixture.

Dispense roughly a third of the mashed black beans over the lasagna layer and cover this with a little less than a third of the marinara sauce.

Start placing another three lasagna sheets atop the first layer and repeat the process twice to place three layers in total.

Place the final three lasagna sheets to create the last layer.

Sprinkle with grated parmesan cheese if available, the last of the cottage cheese and egg mixture, and the remaining grated mozzarella.

Drizzle with olive/vegetable oil.

Place a few fresh basil leaves before covering your lasagna tightly with foil.

Bake covered at 375° for forty-five minutes. Remove the foil and bake uncovered for a further ten to fifteen minutes or until the top is golden brown and the lasagna al-dente.

Remove from the oven and allow your black bean lasagna to rest for fifteen to twenty minutes before serving.

Enjoy your best black bean lasagna!
Video
Nutrition
Calories:
447
kcal
|
Carbohydrates:
62
g
|
Protein:
24
g
|
Fat:
12
g
|
Saturated Fat:
6
g
|
Polyunsaturated Fat:
1
g
|
Monounsaturated Fat:
3
g
|
Trans Fat:
1
g
|
Cholesterol:
55
mg
|
Sodium:
1908
mg
|
Potassium:
822
mg
|
Fiber:
6
g
|
Sugar:
11
g
|
Vitamin A:
1257
IU
|
Vitamin C:
31
mg
|
Calcium:
306
mg
|
Iron:
4
mg
Why You Want To Try Our Black Bean Lasagna?
Instead of ricotta, as is included in many traditional Italian lasagnas, we've included three different types of cheese to bring a bolder but more delicately balanced flavor. Creamy cottage cheese holds together well while fusing with the easy-to-spread cornflour dusted pecorino as it bakes evenly into a solid layer of tangy cheesiness. The key to the authentic flavor, despite black beans being used instead of a meaty ragu, is the preparation and roasting. With the right herbs and drizzle of fat, the flavors fuse into the perfect bean-based steak or ground meat replacement.
Black Bean Lasagna Tips
Unless you're using homemade or freshly made cottage cheese, you'll need to squeeze out as much extra moisture as possible. Use cheesecloth/muslin cloth to squeeze out water, and then allow the cottage cheese to drip dry suspended over a colander or bowl. This ensures that your lasagna comes out perfectly crisp and not soggy.
Aim for at least five layers when constructing your lasagna. The most you could push it to is six to seven in a standard-sized pan, but even that creates something far too dense if you're not careful. Five even layers starting with sauce on the bottom is all that it takes to guarantee that your lasagna will be easy to eat. It's also a fairly easy thickness to reach in a lasagna dish.
Your number one enemy when cooking any lasagna is overbaking. Overbaked lasagna turns noodles into mush. It also imparts a lingering flat roasted flavor that taints all the rest of the tastes. Everyone's lasagna cooking time will be slightly different. The oven temperature, sauce temperature, room temperature, and density of the layers all make a difference. You know that lasagna is done when the top browns and the edges begin to crisp ever so slightly. The lasagna noodles should still be slightly firm inside.
Black Bean Lasagna Substitutions
We're advised to use canned tomatoes because you're guaranteed that they're picked at their ripest. The most popular brand in the US is San Marzano due to its impeccable quality. If you have access to fresh plum or heirloom tomatoes, feel free to use them as a substitute and cook your sauce for a little longer. Cherry tomatoes grant a wonderfully sweet taste for those who prefer a slightly more tart flavor to their marinara, so keep this in mind when browsing through the fresh produce section of your local grocer or market. Regardless of which type of tomatoes you choose, always add additional tomato paste to thicken up the sauce and enliven it with flavor.
Feel free to substitute any variety of cheese you prefer. Some prefer pepper jack over pecorino romano. Other cooks combine bechamel sauce with a strong cheese. Regardless of which types of cheese you prefer, ensure you use high moisture and low moisture cheese mix and mix the grated cheese with egg. Egg proteins denature and coagulate with the cheese creating a solid cheesy layer. This is also the best time to include any additional fresh herbs. Simply mix them into the egg and cheese mixture before spreading on each layer.
What To Serve With Black Bean Lasagna
Lasagna is an extremely filling meal packed with strong flavors. Serve it with a fresh green salad or breadsticks. A side serving of crispy mirch pakora green chili fritters and other bite sized food such as our homemade Greek chicken wings are ideal for serving up next to a slice of lasagna when you're putting forward a spread for family or guests.
---
Recent Recipes