Bubbly Blackberry Bourbon Smash Cocktail
Bourbon is the United States' contribution to the world of fine distilled spirits or whiskey. It shares a podium with applejack. Applejack is a distillation made from apples. Bourbon is primarily made from corn mash. Apples and corn are among the most important agricultural products cultivated and harvested in the states. Applejack might be one of the earliest distilled spirits in the US. However, bourbon is one of the most widely distilled spirits that continues to increase in popularity.
It is believed that bourbon was originally distilled in Kentucky and it remains one of the primary products of the state. It is in fact produced and bottled in other states. Bourbon still remains one of the most popular whiskeys consumed in the south. There are many cocktails that feature bourbon. Probably the most well know is the mint julep that is famously served at annual Kentucky Derby parties. Mint and bourbon are a surprisingly good pairing. Bourbon also mixes well with fruit.
I happen to know a bit about bourbon cocktails because my father enjoyed bourbon and its history. He also liked applejack on occasion. He was raised in New Jersey where applejack was first distilled and had roots in the southeast where bourbon is the spirit of choice. So, it made sense. He knew what a good bourbon should taste like. It is smooth with hints of caramel and the smokiness of the oak barrels it is aged in. Makers Mark was probably the one he enjoyed most.
Whiskey on its own or neat was always a bit strong for me. But I do enjoy whiskey cocktails that are infused with fruit, herbs, and a touch of sweetness on special occasions. I like to sip on a cocktail while relaxing on the patio on a warm summer evening. If doing this with friends and family, we will always have a spread of salads, fresh fruit, cheese, bread, and generally a lean grilled protein like chicken breast or flank steak. It is always served family-style and there is no formality.
A good cocktail for such an occasion is the blackberry bourbon smash. This is a refreshing end-of-summer drink that is made with seasonal fresh blackberries, lime juice, mint, and smoky bourbon. Fruit, herbs, and sugar are muddled and shaken with the whiskey. This is served over ice in an old-fashioned cocktail glass. The deep purple color is stunning. You can easily make a pitcher of this cocktail for a gathering.
Gather your equipment and ingredients before you start. You will need a cocktail shaker with a car and a strainer, a muddler, a citrus juicer or reamer, and two 8-ounce old-fashioned glasses.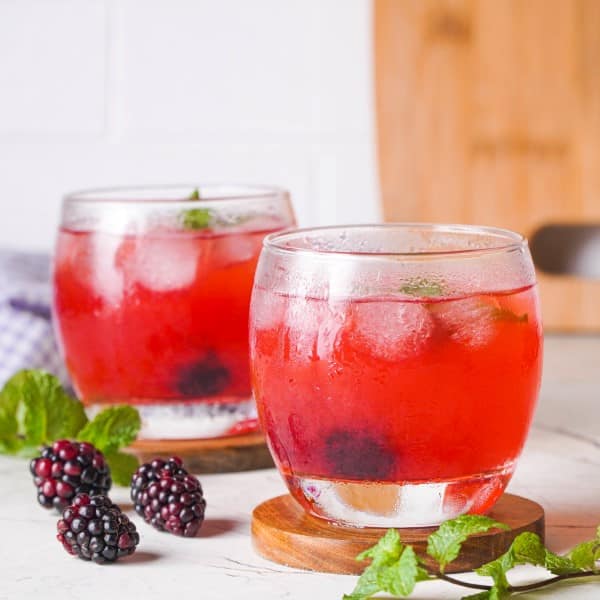 Ingredients
12

fresh blackberries

reserve 4 berries

8

fresh mint leaves

2

tsp

granulated sugar

1

oz

freshly squeezed lime juice

3

ounces

2 jiggers of good bourbon

3 to 6

ounces

of seltzer

enough to top off each glass

Ice cubes

2

mint leaves or 2 slices of lime for garnish
Instructions
All ingredients ready? Let's begin!

Place 8 of the blackberries, mint, and sugar in a cocktail shaker and muddle (smash) everything together just to break the fruit and herbs up, as in this video.

Add about 3 ice cubes to the shaker. Pour the lemon juice and bourbon over the ice.

Place the lid on top and give the cocktail a good shake to combine everything. It will turn the color of the blackberries.

Fill the glasses with ice and 2 blackberries in each. Strain the contents of the shaker into the glasses, leaving room for seltzer. Top off each cocktail with seltzer.

Garnish each glass with either a mint leaf, a lime slice, or both. Serve immediately and enjoy.
Nutrition
Calories:
123
kcal
|
Carbohydrates:
6
g
|
Protein:
0.2
g
|
Fat:
0.1
g
|
Polyunsaturated Fat:
0.04
g
|
Monounsaturated Fat:
0.01
g
|
Sodium:
10
mg
|
Potassium:
39
mg
|
Fiber:
1
g
|
Sugar:
5
g
|
Vitamin A:
43
IU
|
Vitamin C:
7
mg
|
Calcium:
8
mg
|
Iron:
0.1
mg
Notes & Tips
Don't be tempted to use bottled lime juice. It is just too concentrated and acerbic for this cocktail. The same goes for the berries and mint. Fresh is best. In a pinch, you can use frozen blackberries.
Basic granulated sugar is great because it is a little abrasive and helps to break down the berries and mint while it dissolves. Raw sugar and simple syrup don't work as well in this recipe.
I highly recommend using a top-shelf bourbon for this cocktail. It just won't be as good if you use a really cheap bourbon that isn't smooth. Save that for Jack and Coke.
If you don't have a cocktail shaker and a muddler, you can make this drink in a mason jar with a lid and the handle of a wooden spoon to muddle. Strain with a common kitchen strainer, or don't even bother with that step.
Substitutions
The tiny seeds in blackberries can be a bit of a turnoff for some people. That is why the drink is strained. If you want to avoid the seeds altogether, you can use fresh, tart blueberries or even pitted red cherries.
Fresh lemon juice is a fine substitute for lime juice.
There was a time when my garden was completely overtaken by mint. I didn't realize how invasive and sturdy this herb plant was. I had so much that I got tired of it. That is when I tried basil in my cocktails. I think that is a great stand-in for mint if desired.
If you aren't a bourbon drinker, rye whiskey is a great option. Not a whiskey fan at all? Then try dark rum or tequila. A good vodka also works nicely.
Club soda or sparkling water is okay if you don't have seltzer.
What to Serve with a Bourbon Cocktail?
Being that bourbon is a southern staple, you might want to consider serving some small tapas-like bites or plates with southern flair to accompany your summer cocktail. Here are a few ideas:
Pimiento cheese deviled eggs
Bourbon and peach glazed chicken wings
Ham and asparagus quiche slices
Corn and jalapeño hush puppies
Crab cakes
Party rye mini hot brown sandwiches
Watermelon cubes topped with mint
---
Recent Recipes