Simple Blackened Salmon With Spinach Rice
Pairing fish with rice is a simple way to get a tasty dinner on the table. Blackened salmon with spinach rice is full of flavor while being healthy and filling at the same time.
Salmon is an easy fish to prepare and is extremely delicious when prepared in this way. Blackened fish doesn't need to be something you only order out at a restaurant. You can prepare it in the comfort of your own home and you may find that you prefer it over the restaurant-style.
Spinach rice pairs perfectly with the charred salmon. It's more flavorful than traditionally cooked rice because we will use chicken stock instead of water and add fresh, vitamin-rich spinach.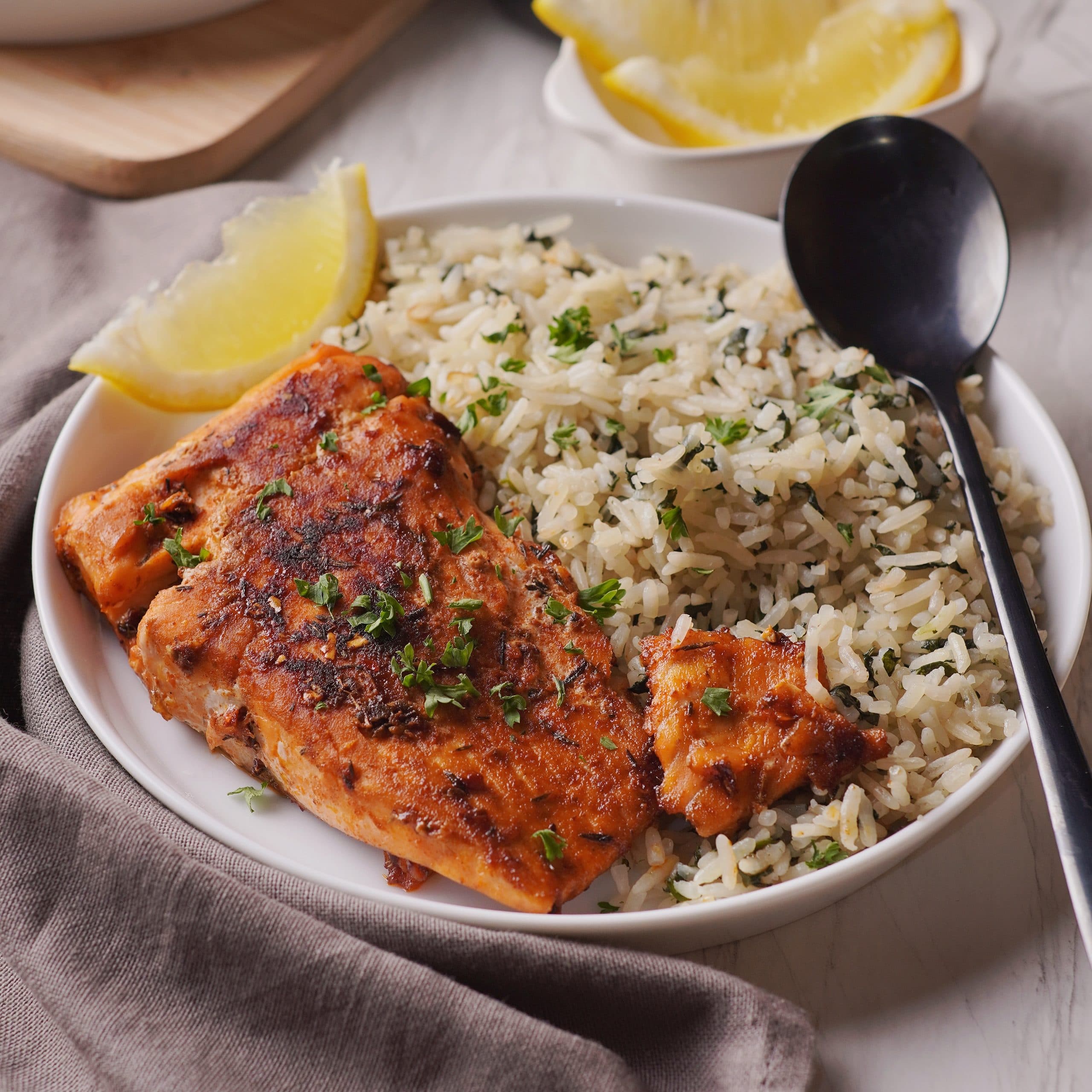 Ingredients
1

tablespoon

olive oil

1

cup

yellow onion

small dice

½

teaspoon

kosher salt

4

cups

fresh spinach

chopped

2

cups

long grain white rice

2 ⅔

cup

chicken broth

4

six ounce salmon filets

skin removed

2

tablespoons

paprika

½

teaspoon

cayenne pepper

½

teaspoon

dried oregano

½

teaspoon

dried thyme

½

teaspoon

garlic powder

1 ½

teaspoon

kosher salt

4

tablespoons

unsalted butter

1

lemon

Lemon wedges

chopped parsley, and/or feta cheese for garnish
Instructions
All ingredients ready? Let's begin!

First, prepare the rice. Wash and drain the white rice.

Add the oil to a deep pot and turn the heat to medium.

Cook the onions until they are translucent and slightly tender (about five minutes).

Season the onions with the salt.

Add the rice and gently cook in the onions until the rice is very slightly toasted.

Add the chopped spinach and cook until the spinach wilts.

Add the chicken stock and bring to a boil. Cover the pot.

Lower the heat to a simmer and let the rice cook for about twenty minutes or until the chicken stock has been absorbed.

While the rice is cooking, you can prepare and cook the salmon. Preheat the oven to 400F.

In a small pan, melt the butter. Zest and juice the lemon. Add both the zest and juice to the butter.

Combine the paprika, cayenne pepper, oregano, thyme, garlic powder, and salt in a small dish.

Gently dip each side of the salmon filet into the melted butter mixture and then into the spice mixture.

Heat a large non-stick, ovenproof skillet to medium-high heat. Place the salmon filets into the pan and cook each side until they are blackened. This will take 3-4 minutes.

Finish cooking the salmon filets in the oven for 7-8 minutes. The cooking time will depend on the thickness of the filets.

Check on the rice. If it's done, fluff it with a fork and divide it among four serving bowls.

Place each blackened salmon filet on top of the rice. If desired, flake up the salmon filet and give a generous squeeze of fresh lemon juice over the fish and the rice.

Garnish with fresh chopped parsley and crumbled feta cheese.
Video
Nutrition
Calories:
755
kcal
|
Carbohydrates:
83
g
|
Protein:
43
g
|
Fat:
27
g
|
Saturated Fat:
10
g
|
Polyunsaturated Fat:
5
g
|
Monounsaturated Fat:
9
g
|
Trans Fat:
1
g
|
Cholesterol:
127
mg
|
Sodium:
1851
mg
|
Potassium:
1258
mg
|
Fiber:
4
g
|
Sugar:
4
g
|
Vitamin A:
3499
IU
|
Vitamin C:
32
mg
|
Calcium:
110
mg
|
Iron:
4
mg
Notes & Tips
It's best to use a high quality non-stick pan so that the salmon doesn't stick to the pan. You could also use a well-seasoned cast-iron skillet.
Always use unsalted butter so you can control the salt level of your dish.
When you add the rice to the pan, it may be hard to tell if it cooks or not without burning it. You can usually tell if the rice is "toasted" enough when it smells a little nutty. You certainly don't want it to burn, so it's best to add the stock once you smell the nuttiness.
Adding acid to complete a dish elevates the natural flavors of each ingredient. In this recipe we use lemon juice. Try it with other fish and rice dishes. You won't be dissapointed!
Substitutions
You can replace the chicken stock with vegetable stock or water.
You can mix and match the spices to your preference. This blend leans into Greek flavors. You could swap out the thyme for cumin, lemon for lime, and feta for cotija for more Mexican flavor.
This recipe would also work well with white fish like cod.
You could also use baby kale instead of spinach.
Adding toasted pine nuts and walnuts as a garnish will add a little crunch.
You can also use brown rice instead of white rice for this recipe.
A little sweetness would be wonderful in this dish. Try adding golden raisins or chopped dates to the rice just before serving.
Is Spinach Rice Healthy?
Rice is one of the most commonly used ingredients all over the world. It's not secret that it's been used for centuries as a filling, nutrient-rich component to many meals.
So, rice alone is incredibly healthy. It is extremely high in fiber which is important when you're eating for energy and to feel full. It is also naturally low in cholesterol, sodium, and fat.
One of my favorite ways to increase the health benefits of a standard side dish, like rice, is to add fresh vegetables. Sometimes, I even add fruit.
Adding spinach to this rice dish is a great way to add other beneficial nutrients to your meals. Iron is high in vitamin A, vitamin E, and has high levels of antioxidants.
What Is Blackened Salmon?
Blackened means that a protein is dipped in butter and then covered in a mixture of spices. To cook the blackened salmon, the seasoned sides of the protein are seared in a piping hot pan (usually a cast iron skillet).
Blackened salmon is a very popular dish in many restaurants. But there is no reason you cannot try to blacken your own fish at home. Just remember that with high heat often comes smoke. So, you're going to want to turn your hood fan on.
Other Salmon Recipes
Do you really love to cook salmon? Don't forget to check out some of our other favorite salmon recipes.
---
Recent Recipes