Perfectly Blackened Shrimp
If you are a fan of Creole and Cajun cooking, you will love blackened shrimp.
I used to go fishing in a lake near my home that was full of rock bass. These fish were pretty small and easy to catch right off the rocky shoreline. They shared the waters with crayfish or crawdads. So, they ate the same food that was a little minerally. The fillets of the fish were so small and delicate that we would season them heavily and cook them in a method referred to in the south as blackened.
Blackening refers to both the seasoning and the cooking method. It is a common way of preparing fish and shellfish. It can also be prepared with chicken and beef. A blackening seasoning blend includes spicy, savory, and smoky herbs and spices.
The protein of choice is coated in the seasoning and cooked over relatively high heat until the spice blend starts to char and form a dark (blackened) crust on the exterior. There is nothing like it with a little crunch and a good amount of heat that seals in the inherent flavor and juices of the fish or shrimp. The spices are almost like breadcrumbs if cooked properly.
One of my favorite blackened recipes is for shrimp. The coating is as spicy as you want to make it. The shrimp cooks for a few minutes over high heat, either in a cast-iron skillet or on a grill. The exterior smacks you with intense flavor that could have a slight crunch while the interior is super tender and sweet if not overcooked. I can't find better words to describe how good this method of cooking shrimp is.
I like to make this recipe with jumbo shrimp with the tails intact. In Louisiana, where blackening was made famous, this recipe would be made with smaller sweet gulf shrimp. My favorite way to eat blackened shrimp is to serve it over fluffy white rice so the seasoning drips into the rice. I pick up the shrimp with my hands by the tail and just eat them. After all the shrimp on my plate is all gone, the rice is well seasoned and acts as a palate cleanser to calm the fire down. It is a perfect pairing.
Blackened shrimp is also really good in a sandwich (po'boy) with French bread, lettuce, and a remoulade sauce.
For this blackened shrimp recipe, we are using spices and herbs you likely have in your pantry. Feel free to improvise and adjust the level of heat. Fresh shrimp is awesome, but don't shy away from frozen, tail-on, jumbo shrimp. It does need to be raw in either scenario. If the shrimp isn't cleaned, you will have to remove the shells (except for the tails) and take the vein out of the back of each shrimp. This is the intestinal tract and it is bitter, so remove it or ask your fishmonger to do that.
I had an extensive collection of well-seasoned cast-iron skillets. Some of them were from the 1800s, passed down from family members. I recently moved and decided to give some of that collection away to people who had admired the pans. I saved 4 of my favorites, one of which is a 12-inch skillet that I always make blackened dishes in. It gets screaming hot and cooks evenly. I highly recommend making this recipe in a cast-iron skillet or on an iron flat grill top. A heavy-bottomed steel pan will also work. Or, you can grill the shrimp on skewers over an open flame.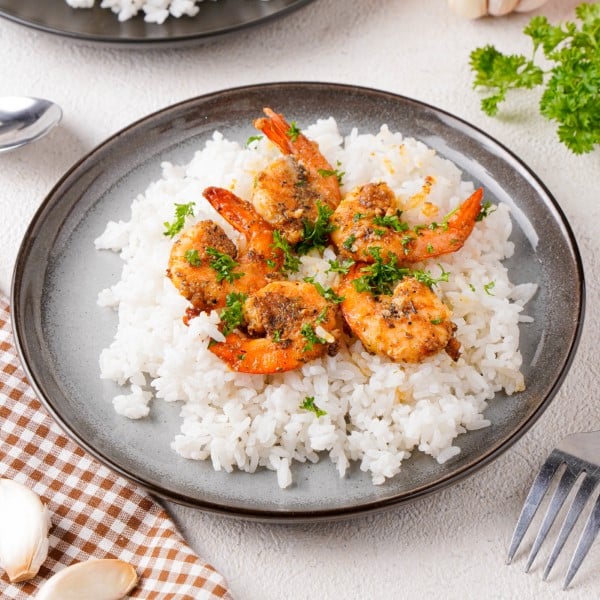 Ingredients
3

cups

cooked white or brown rice

1

tsp

smoked paprika

1

tsp

garlic powder

½

tsp

onion powder

½

tsp

dried oregano

½

tsp

dried thyme

½

tsp

Kosher salt

½

tsp

black pepper

⅛ to ¼

tsp

cayenne pepper

1

pound

jumbo shrimp

20 count, peeled, except for tails, and deveined

2

Tbsp

extra virgin olive oil

divided

2

Tbsp

butter
Instructions
All ingredients ready? Let's begin!

In a small bowl, whisk together the paprika, garlic powder, onion powder, oregano, thyme, salt, pepper, and cayenne.

Clean and devein the shrimp leaving the tails intact. Pat them dry with paper towels.

Place the shrimp in a large bowl and toss with 1 tablespoon of olive oil. Add the spice blend and toss to coat evenly.

In a large cast-iron skillet or sauté pan over medium-high heat, melt the butter.

Add the remaining tablespoon of olive oil. Heat up for a few seconds until hot.

Add the shrimp in a single layer (cook in batches if needed) and cook for 1-1/2 minutes. Turn the shrimp over and cook for 1-1/2 to 2 minutes longer until a little firm to the touch and pink. The seasoning will have darkened or charred for the desired blackened finish.

Place 1/4 of the rice into 4 individual serving bowls. Top each bowl of rice with shrimp. Spoon any sauce in the pan over the rice. Serve right away while warm.
Nutrition
Calories:
308
kcal
|
Carbohydrates:
36
g
|
Protein:
19
g
|
Fat:
9
g
|
Saturated Fat:
1
g
|
Polyunsaturated Fat:
1
g
|
Monounsaturated Fat:
5
g
|
Trans Fat:
0.01
g
|
Cholesterol:
144
mg
|
Sodium:
943
mg
|
Potassium:
211
mg
|
Fiber:
1
g
|
Sugar:
1
g
|
Vitamin A:
499
IU
|
Vitamin C:
0.2
mg
|
Calcium:
92
mg
|
Iron:
1
mg
Notes & Tips
I highly recommend using a cast-iron skillet for blackening anything. A flattop griddle works also. Otherwise, use a heavy-bottomed steel pan that distributes heat evenly.
The combination of oil and butter is needed to keep the butter from burning. I do like to let the fat get almost smoking hot before adding the shrimp. The oil might spit when you add the shrimp to the pan, so be careful. The shrimp should cook within 4 minutes tops if the fat is hot enough.
If you prefer to grill the shrimp, do so on skewers to flip them easily. Wood skewers will need to be soaked in water for about an hour so they don't burn.
Substitutions & Variations
Jumbo shrimp is pricey, so use smaller shrimp or sweet gulf shrimp to stay within your budget. And yes, frozen shrimp is fine. Just make sure you defrost it in the fridge overnight and pat dry to remove the excess moisture.
If shrimp is not an option or is too expensive, you can definitely make this recipe with pieces of chicken tenders. Chicken will take a little longer to cook. You can also make this with crayfish tails that can sometimes be found in the frozen foods case at Trader Joe's. Of course, you can also use fish fillets, such as salmon or tilapia.
I am not always in the mood for super spicy blackened shrimp. This recipe is not super spicy, but it does have a kick. You can omit the cayenne or add more, depending on your tolerance for heat.
You don't have to serve this dish over rice. I do because I like how the rice is flavored with the blackened seasoning. You could use quinoa or small pasta shapes. These shrimp also make a terrific salad topping. You can even chill them and eat them the following day for a picnic lunch.
A Bit of Trivia
Blackened seasoning and the cooking method were invented by the famous Louisiana chef Paul Prudhomme. Chef Prudhomme is considered the father of Cajun and Creole cuisine. He went on to develop and package his seasoning blends and sauces. If you are looking for a shortcut, grab a bottle of one of Paul's Magic Seasoning Blends.
---
Recent Recipes