Easy Cheesy Eggs Breakfast Galette
I am such a fan of a galette. I think that is because it is pie that is very forgiving because it prides itself in being rustic. Imperfection is okay and even encouraged when making a galette. That is good for me because I don't have the patience that trained pastry chefs have for absolute precision. I have much admiration for their skillset.
This breakfast galette recipe is awesome in its handmade appearance. It does not fall flat in flavor either. The crust is buttery, the cheese is salty and creamy, and the eggs are rich, soft, and runny.
There is a lot of protein in this dish and just the right balance of carbohydrates. Pairing this galette with some fresh fruit and maybe a small green salad is a great brunch to get the day started. Of course, a cup of steaming coffee or green tea will add to the fuel. Or, make some mimosas, put a good movie on, and just chill until nap time. Sounds like a nice Sunday afternoon.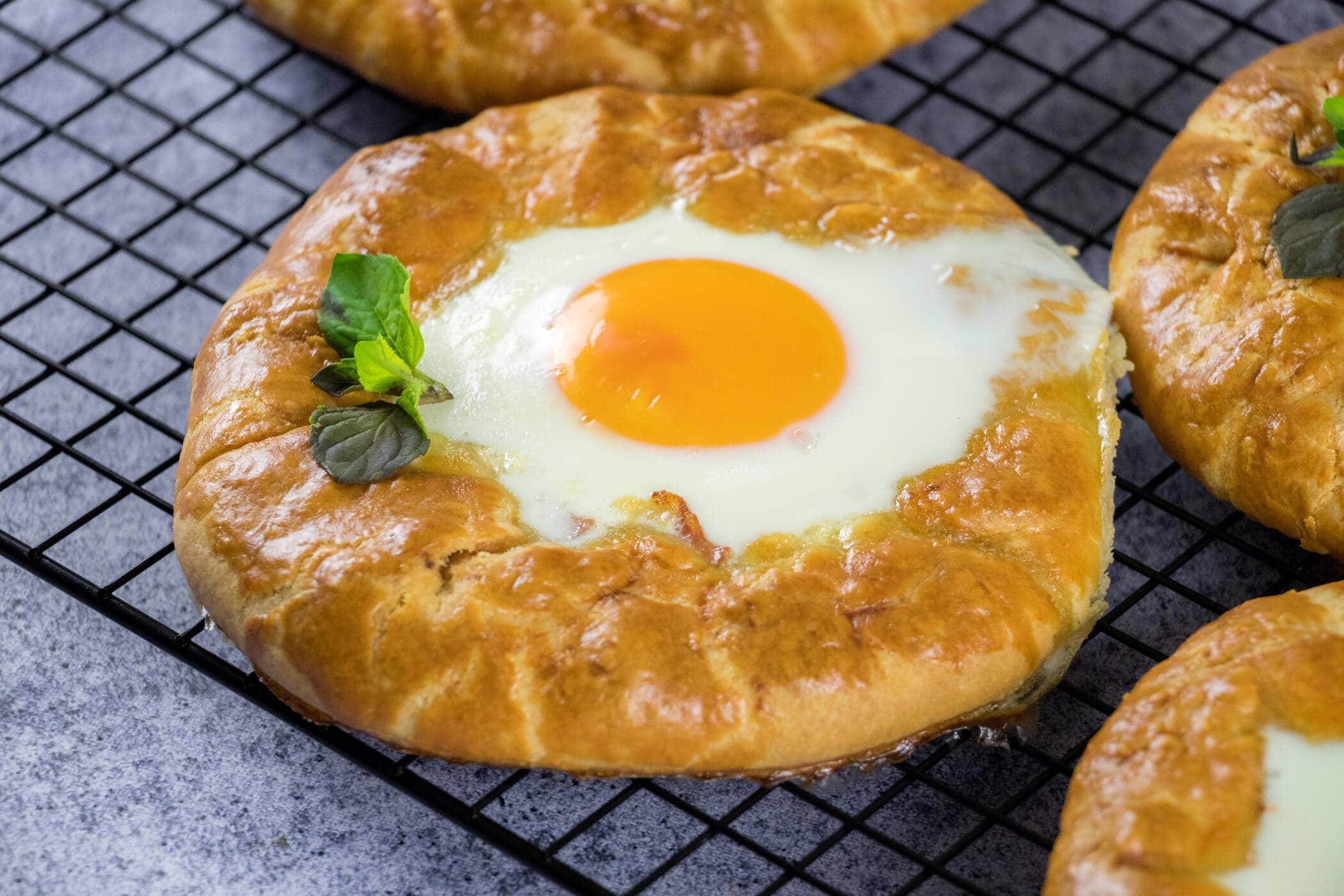 Ingredients
Pastry
2

cups

all-purpose flour

1/2

tsp

sea salt

1/2

tsp

baking powder

1

cup

cold unsalted butter

cut into small cubes

1/2

cup

cold Greek yogurt or sour cream
Filling
3/4

cup

ricotta cheese

3/4

cup

shredded mozzarella cheese

1/4

cup

freshly grated parmesan cheese

4

slices

cooked bacon

1

Tbsp

minced fresh basil leaves

5

whole eggs
Instructions
In the bowl of a food processor, add the flour, salt, and baking powder. Pulse a few times just to combine. Add the cold butter and pulse until the mixture resembles a coarse meal. Add the yogurt and pulse again until the dough comes together.

Turn the dough out onto a floured work surface. Knead the dough with the heels of your hands a few times to smooth it out.

Pat the dough into a log shape and roll this into an 8 x 10-inch rectangle. Dust both sides of the dough with flour. Fold it in three like you would a letter. Roll it again into an 8 x 10-inch rectangle and fold in three.

Wrap the dough in plastic and chill in the refrigerator for at least 30 minutes.

Preheat your oven to 375°F. Line 2 baking sheets with parchment paper.

In a mixing bowl, combine the ricotta, mozzarella, and parmesan cheese. Break or crumble the bacon onto the cheese. Add the basil. Using a spatula or wooden spoon, fold the bacon and basil into the cheese mixture.

Remove the eggs from the refrigerator and allow them to come to room temperature.

Cut the dough into 4 equal pieces and form them into circles. On a lightly floured work surface, roll each piece out to a circle that is approximately 1/4 to 1/2-inch thick. Transfer the dough circles to the parchment-lined baking sheets.

Spread 1/4 of the cheese filling on each pastry, leaving 1 to 1-1/2 inches free around the perimeter. Fold the edges of the dough over the cheese, pleating each fold over the previous one so the dough forms a rustic lip that holds the filling in place.

Whisk one egg in a small bowl and brush the edges of each galette.

Place the pans in the oven and bake the galettes for 25 minutes or until the pastry is just turning golden brown.

Crack an egg on top of each galette. Return to the oven and bake again for an additional 15 minutes, or until the egg whites are opaque and set and the yolks are still a little runny.

Serve while warm and enjoy!
Video
Nutrition
Calories:
974
kcal
|
Carbohydrates:
51
g
|
Protein:
29
g
|
Fat:
73
g
|
Saturated Fat:
43
g
|
Polyunsaturated Fat:
4
g
|
Monounsaturated Fat:
20
g
|
Trans Fat:
2
g
|
Cholesterol:
394
mg
|
Sodium:
860
mg
|
Potassium:
308
mg
|
Fiber:
2
g
|
Sugar:
2
g
|
Vitamin A:
2293
IU
|
Vitamin C:
1
mg
|
Calcium:
391
mg
|
Iron:
4
mg
Notes & Tips
Preparing the dough for this recipe is so easy in a food processor. Not everyone has a food processor or the room to store one. That used to be me. I made pastry dough by hand for a very long time. The best way to do that is to whisk together the flour, salt, and baking powder. Then, add the butter, working it in with a pastry cutter or 2 knives until crumbly and the butter is the size of peas. Gently stir in the yogurt and continue with the recipe instructions.
The cook time on this galette is approximate. As with many pastries, you do need to keep an eye on them to get the best results. If the crust doesn't start to brown in 25 minutes, leave it in for a few more minutes. If it browns too quickly, take it out and add the egg. Likewise, if the egg whites are still translucent after 15 minutes, continue to bake. If the egg yolk is getting solid too quickly, take the galette out of the oven when the crust is golden and crisp.
Substitutions
While I like the cheese combination in this galette, you can change it up. Creamy goat cheese would be a nice alternative to the ricotta or the mozzarella. I actually love baked brie and would definitely try that as the base of the filling. Warm brie is gooey and fun to eat with your hands.
Bacon is delicious. However, prosciutto could be a nice alternative. Or, try some cooked and crumbled chorizo for a little spice.
The basil in this dish is aromatic and colorful. I would not dismiss fresh rosemary, thyme, or parsley for color and herbaceous flavor.
What to Serve with a Breakfast Galette?
I am a pushover for potatoes with my brunch. Every time I go to a diner for a classic American breakfast, I always get an order of hashbrowns with my eggs or my corned beef hash. You can step this up a notch by making some Greek lemon fried potatoes to go with your galette. This is an elegant and filling meal.
As mentioned in the intro, fresh fruit and a salad would also be lovely. I am thinking citrus fruit, such as sliced orange half-moons or grapefruit sections. A salad of spring herbs and bitter greens, such as baby arugula, dandelion greens, and butter lettuce with lemon vinaigrette would be refreshing and help to cut through the richness of the cheese and egg. I would definitely sprinkle some hemp hearts over the salad for their nutritional value and visual enhancement.
---
Recent Recipes