Easy Brioche French Toast
This quick and easy brioche French toast recipe is going to take you to breakfast heaven. Brioche bread makes the best French toast thanks to its fluffy, pillowy texture, and croissant-like flavor.
In this easy step-by-step recipe, I'll teach you how to cook brioche French toast, how to make brioche French toast not soggy, and how to serve brioche French toast like a master chef.
The difference between normal bread and brioche bread is that brioche is richer. Regular bread can be made with nothing else than flour, water, salt, and yeast, while brioche contains plenty of eggs, milk, butter, and a little sugar for sweetness.
Is brioche French toast better than regular French toast? If you ask me, yes. But don't take my word for it, try it for yourself. Let's get cooking!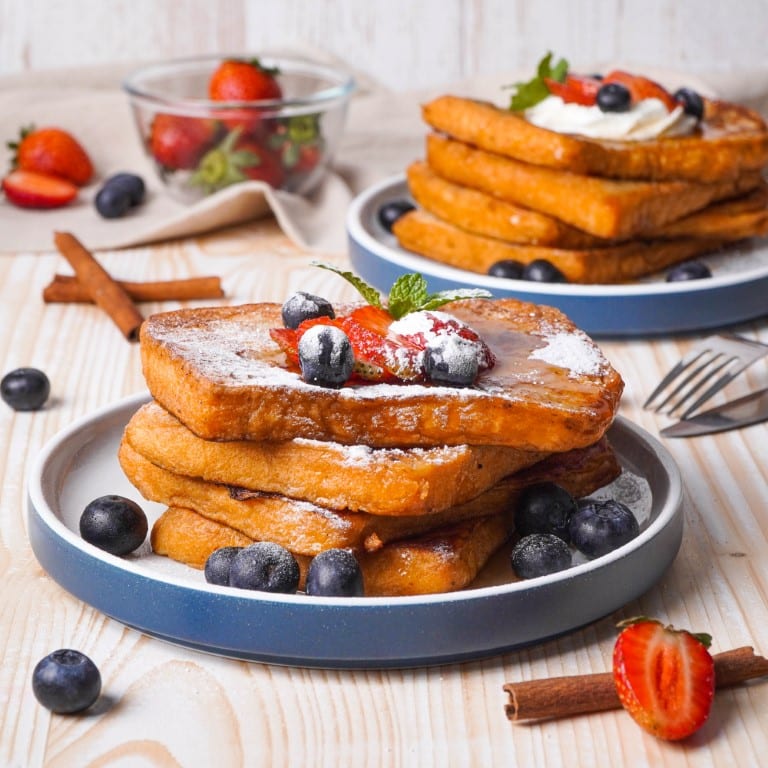 Ingredients
3

eggs

1

cup

whole milk

1

Tbsp.

sugar

½

tsp.

cinnamon powder

¼

tsp.

freshly grated nutmeg

¼

tsp.

ground cloves

1

tsp.

pure vanilla extract

¼

tsp.

salt

4

Tbsp.

clarified butter

10

slices

brioche bread

To serve:

½

cup

maple syrup

Fresh strawberries and blueberries

A dash of powdered sugar

Whipped cream
Instructions
All ingredients ready? Let's begin!

In a large shallow dish (such as a baking dish), whisk together the eggs, then add the milk, spices, sugar, and vanilla extract, and whisk until combined.

Heat a large skillet over medium heat and add one tablespoon of butter. Once butter has melted, coat as many pieces of brioche with the egg mixture as will fit in the skillet without touching each other and transfer them to the skillet. Coat each piece for 10 seconds per side and let some of the mixture drip off the bread before adding to the skillet.

Cook for 5-6 minutes per side and then flip the bread and cook for another 5-6 minutes.

Transfer the brioche French toast to a plate and keep warm. You can keep them on a warming tray or in the oven at 200°F or until ready to serve.

Wipe the skillet from any egg or bread crumbs and repeat the process with the remaining butter, brioche, and egg mixture.

Serve immediately with warm maple syrup, fresh berries, whipped cream, and a touch of powdered sugar for a perfect sweet breakfast.
Nutrition
Calories:
430
kcal
|
Carbohydrates:
55
g
|
Protein:
11
g
|
Fat:
19
g
|
Saturated Fat:
10
g
|
Polyunsaturated Fat:
2
g
|
Monounsaturated Fat:
5
g
|
Trans Fat:
0.03
g
|
Cholesterol:
134
mg
|
Sodium:
420
mg
|
Potassium:
268
mg
|
Fiber:
3
g
|
Sugar:
28
g
|
Vitamin A:
226
IU
|
Vitamin C:
0.1
mg
|
Calcium:
187
mg
|
Iron:
3
mg
Pro Tips
This quick brioche French toast is super easy to make, but there are a few tips you should follow for an immaculate result:
Don't skimp on the milk, whole milk will give you the best results. If using non-dairy milk, opt for one with at least 3.5% fat or use half almond milk and half non-dairy creamer.
Don't touch the toast while it's cooking. Once you place the coated brioche in the hot skillet with butter, don't move it around until 5-6 minutes are up and it's time to flip it. This will make sure your French toast doesn't break apart while cooking.
Don't forget to clean the skillet before frying the next batch. This is another tip to ensure you get beautiful French toast slices. It also avoids any burnt pieces sticking to the toast.
If you're in a hurry, use several pans to fry all the pieces at once. You can reduce the cooking time to 10-12 minutes if you prepare multiple pans at once.
Don't skimp on the butter either. I find that 1 to 1 ½ tablespoons per batch is perfect. It may sound like a lot, but the butter gives the French toast a decadent flavor and helps get that delightfully crispy surface.
Don't soak the pieces longer than 10 seconds per side. If you soak them too long, they'll get soggy. If you soak them too little, you'll have dry French toast.
Also, remember to let any excess egg mixture drip from the toast before putting it on the pan.
Don't overcrowd the brioche French toast slices in the pan. There needs to be enough space between the pieces for the excess moisture to evaporate. Otherwise, you could end up with soggy toast.
Serve immediately or keep them warm in the oven until ready to serve. Nobody likes cold French toast. Or at least, I haven't met anyone that does.
Serving Suggestions & Substitutions
Brioche French toast with fresh berries, maple syrup, and whipped cream is one of my favorite combos. But you can get creative with the toppings. Here are a few delicious ideas:
Brioche French toast with caramelized bananas. Caramelized bananas are for the real gourmets. They're so easy to make too. All you need are ripe bananas, brown sugar, and butter for frying. Top your hot brioche French toast with caramelized bananas and whipped cream and you've got a match made in heaven.
Brioche French toast with brown sugar and cinnamon. I like to think of this variant as churro-flavored French toast. Mix ¼ cup of fine brown sugar with 1 teaspoon of cinnamon on a shallow bowl or plate and coat the cooked brioche French toast on both sides. You'll get a crunchy and sweet layer of cinnamon goodness.
Brioche French toast with berry compote. I believe compote is superior to jam because it has less sugar and you can appreciate the flavors of the fruit. Or instead of a berry compote, try this delicious and healthy Blueberry Lavender Chia Jam. It's processed sugar-free and full of antioxidants, vitamins, and omega-3.
Brioche French toast with mascarpone. Whip up a little mascarpone with icing sugar and top your decadent French toast with fresh berries and mascarpone cream. You could even add a little orange or lemon zest to the mascarpone to be extra glamorous.
Brioche French toast with fried chicken. This combination is for those of you who love a sweet and savory breakfast. If you think it sounds weird, try it and see for yourself. Fried chicken with French toast and maple syrup tastes pretty amazing in my opinion.
If you want some added protein, you can also try this crunchy and simple Smoked Candied Bacon made without a smoker, or fry up some sausages. Tofu sausages are a great vegetarian option.
You can make French toast with brioche rolls, but I find that a loaf is best because of its uniform shape. This will ensure the French toast cooks evenly. If you want to choose a brioche loaf with chocolate chips, raisins, or nuts, go for it.
To make this recipe dairy-free, make sure you choose a dairy-free brioche loaf. Then, you can swap the whole milk for half almond milk and half non-dairy creamer. You want to use creamer because if the non-dairy milk is too watery the French toast won't be as rich in flavor.
If you want to make it egg-free, pay attention to the ingredients in your brioche bread. Brioche is traditionally made with eggs, milk, and butter, so, you'll probably want to opt for a vegan version. We've got a whole list of the best vegan egg brands on the market for you to check out.
Lastly, remember that you can always tweak a recipe to your liking. I love all the warm flavors added by the spices and vanilla extract, but if spices aren't your cup of tea, that's okay.
Instead of cinnamon, nutmeg, and cloves, try adding a teaspoon of freshly grated orange zest or lemon zest. Or you could try half a teaspoon of almond extract or maple syrup extract. The possibilities are endless.
---
Recent Recipes