Best Broccoli Casserole with Cheez-Its
Today we present to you a delightful Broccoli Casserole with Cheez-Its. There's nothing ordinary about this recipe, as it's bursting with flavor and sure to hit the spot. You'll need to set aside plenty of time to prepare it, so be sure to get a head start on it if you're planning to serve it for dinner or you're entertaining guests.
The extra prep time is well worth it, though, as everyone is sure to love this dish. So keep reading it find out how to make your very own Broccoli Casserole with Cheez-Its.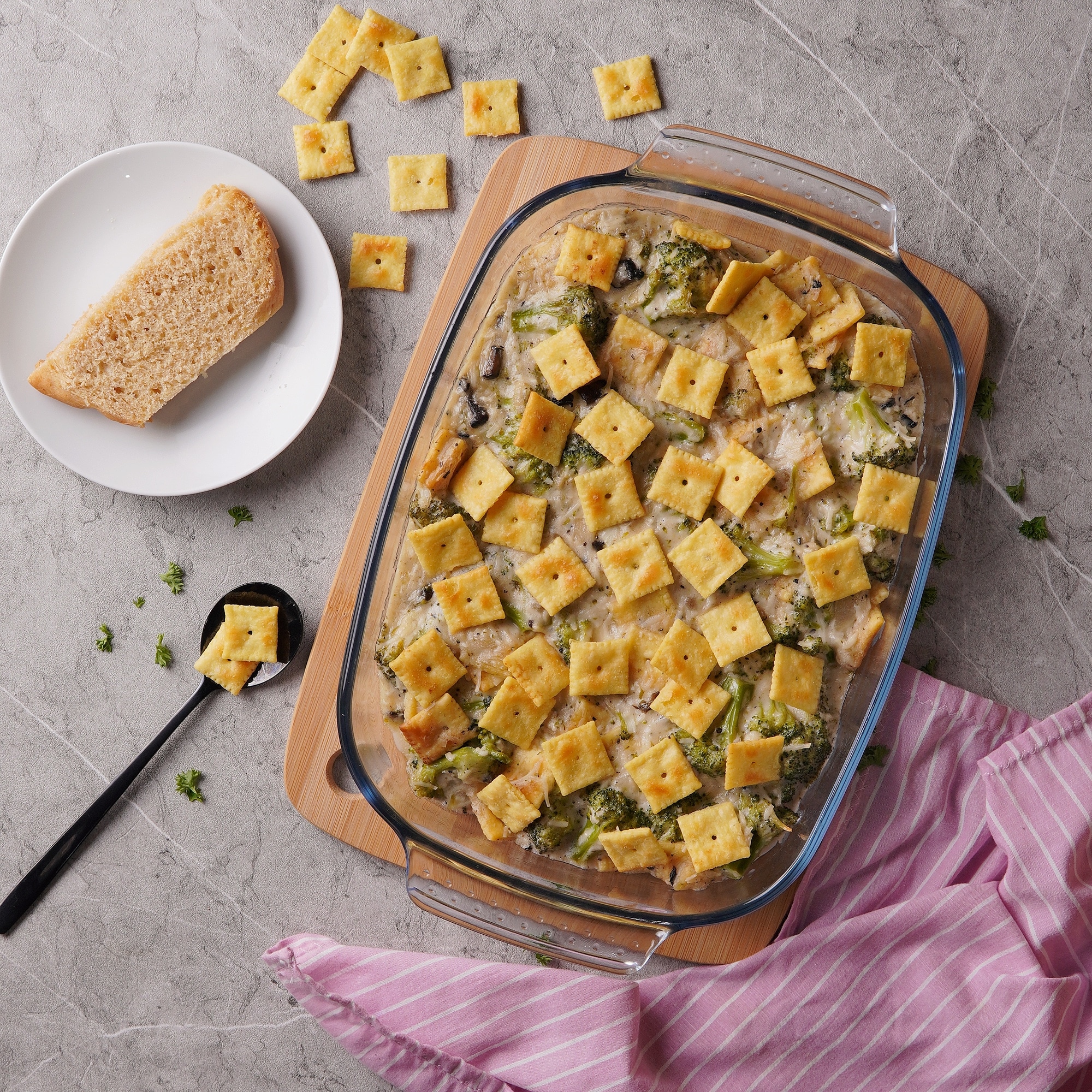 Ingredients
1

can

cream of mushroom soup

(about 10.5 ounces or so)

1 ½

cups

of finely shredded sharp cheddar

2

tablespoons

of chopped onion

16

ounces

of broccoli florets

1

cup

of mayonnaise

2

cups

of Cheez-Its

Pepper

Salt
Instructions
Preheat your oven to 350°F.

Boil the broccoli as per package instructions. However, subtract 3 minutes from the recommended boil time.

In a large bowl, combine the onion, soup, mayo, cheddar, pepper, and salt.

Drain the broccoli, then dump it in the soup.

Fold half of the Cheez-Its into the broccoli mixture.

Pour the broccoli mixture in a greased 9 x 13 pan and place the leftover Cheez-Its on top.

Bake at 350°F for 25 to 30 minutes or until bubbly.
Video
Nutrition
Calories:
411
kcal
|
Carbohydrates:
15
g
|
Protein:
9
g
|
Fat:
36
g
|
Saturated Fat:
9
g
|
Polyunsaturated Fat:
16
g
|
Monounsaturated Fat:
10
g
|
Trans Fat:
1
g
|
Cholesterol:
34
mg
|
Sodium:
430
mg
|
Potassium:
558
mg
|
Fiber:
2
g
|
Sugar:
2
g
|
Vitamin A:
584
IU
|
Vitamin C:
55
mg
|
Calcium:
187
mg
|
Iron:
1
mg
Notes & Tips
The broccoli florets go a long way in making prep easier. Simply cook the florets as per the package's directions. Just be sure to drain the broccoli before you add it to the rest of the ingredients. 
Adding wet florets will only serve to make the dish overly moist. What's more, it will likely cause the Cheez-Its to get soggy and unappetizing. 
Another pro tip is to shred your own sharp cheddar whenever possible. It's definitely more convenient to pick up a bag of pre-shredded cheddar at the store, but we find this type to often be too gritty. Shredding your own will yield a smoother and more satisfying texture. 
When working with Cheez-Its in this recipe, it's best to crumble them up ahead of time and then add them to the rest of the ingredients. You'll find crumbled crackers to be much easier to work with. They're also far more edible and appetizing compared to whole Cheez-Its, at least to us.
If you prefer whole Cheez-Its, don't hesitate to add them that way. We just find crumbled crackers to be easier to consume after baking.
Substitutions
There's no reason you can't use something like Goldfish crackers in place of Cheez-Its in a pinch. Simply crush them up just as you would the Cheez-Its and continue on with the recipe as directed. If you want to give your casserole a specific flavor, Goldfish crackers come in a ton of different flavors.
Cheez-Its has other offerings, as well, but Goldfish has a wider variety. Either way, you can't go wrong using one or the other. If you wish to give your dish a cheesier taste, stick with Cheez-Its. You can find cheese-based flavors like Provolone, Four Cheese, Pepper Jack, and more.
Goldfish, on the other hand, has flavors like Nacho, Pizza, BBQ, and more. Some are limited time, though, so you may not be able to find certain ones in your area.
Common Questions
Can I use fresh broccoli instead of frozen?
You sure can. Frozen is just the preferred option because it's easier to prep with. But there's no reason you can't use fresh in its place.
Why use sharp cheddar cheese?
Sharp cheddar is perfect for broccoli cheese casseroles. Why? Because it boasts a rich and tangy flavor that contrasts sharply with the creamy filling. However, if you prefer to use a different type of cheese, don't hesitate to do so.

We found that mild cheddar, Gruyere, and even pepper jack work well. It all comes down to preference, and some people just don't like the taste of sharp cheddar.
Can I prepare Broccoli Cheez-Its Casserole in advance?
If you wish to prepare this casserole in advance and serve later, follow the recipe as directed but don't bake it. Instead, cover the unbaked dish and place it in your fridge. You can store it chilled for 1 to 2 days. 

When you're ready to bake it, be sure to let the chilled dish reach room temperature first. Once it's done so, simply follow through with baking it as per the recipe.
How should I store baked Broccoli Cheez-Its Casserole?
After you've enjoyed this recipe, you can store any leftovers in your refrigerator for anywhere between 3 and 4 days. Just be sure to place the leftovers in an airtight container before storing them in the fridge. Moreover, you can freeze this dish in the freezer for up to 2 months.

When you're ready to eat it, you can pop it in the microwave and serve. First, though, you want to let it thaw in your refrigerator. You can also bake it in the oven after it has thawed. To avoid soggy Cheez-Its, we recommend checking on it as it thaws. 

When they're just right, place the dish in the oven and bake. Microwaving the leftovers can sometimes result in soggy toppings, so you may want to stick with baking if you're not in a hurry.
Sides & Pairings
There are many wonderful dishes that Broccoli Cheez-Its Casserole goes well with. We like chicken cordon bleu and roasted vegetables, as they provide a fine balance that complements the recipe. Another big hit is air-fried chicken thighs. You can also serve Broccoli Cheez-Its Casserole with rice, mashed potatoes, garlic bread, and pecan salad. We hope you enjoy this recipe. If you're finding your diet is getting a little boring, we encourage you to check out the rest of our recipes here. We host a wide variety of recipes that include vegan offerings and much more. We're confident that you'll find something to spice up your meals.
---
Recent Recipes