Best Brussels Sprouts With Prosciutto
Brussels sprouts with prosciutto is an excellent side dish sure to wow family and friends alike. It cooks up in about twenty minutes, so it's perfect for when you're in a hurry. The prosciutto has depth of flavor and pairs well with the crunchy sautéed Brussels sprouts. Try serving this dish at your next family gathering. You're sure to win some converts to liking Brussels sprouts, even the kids around the table!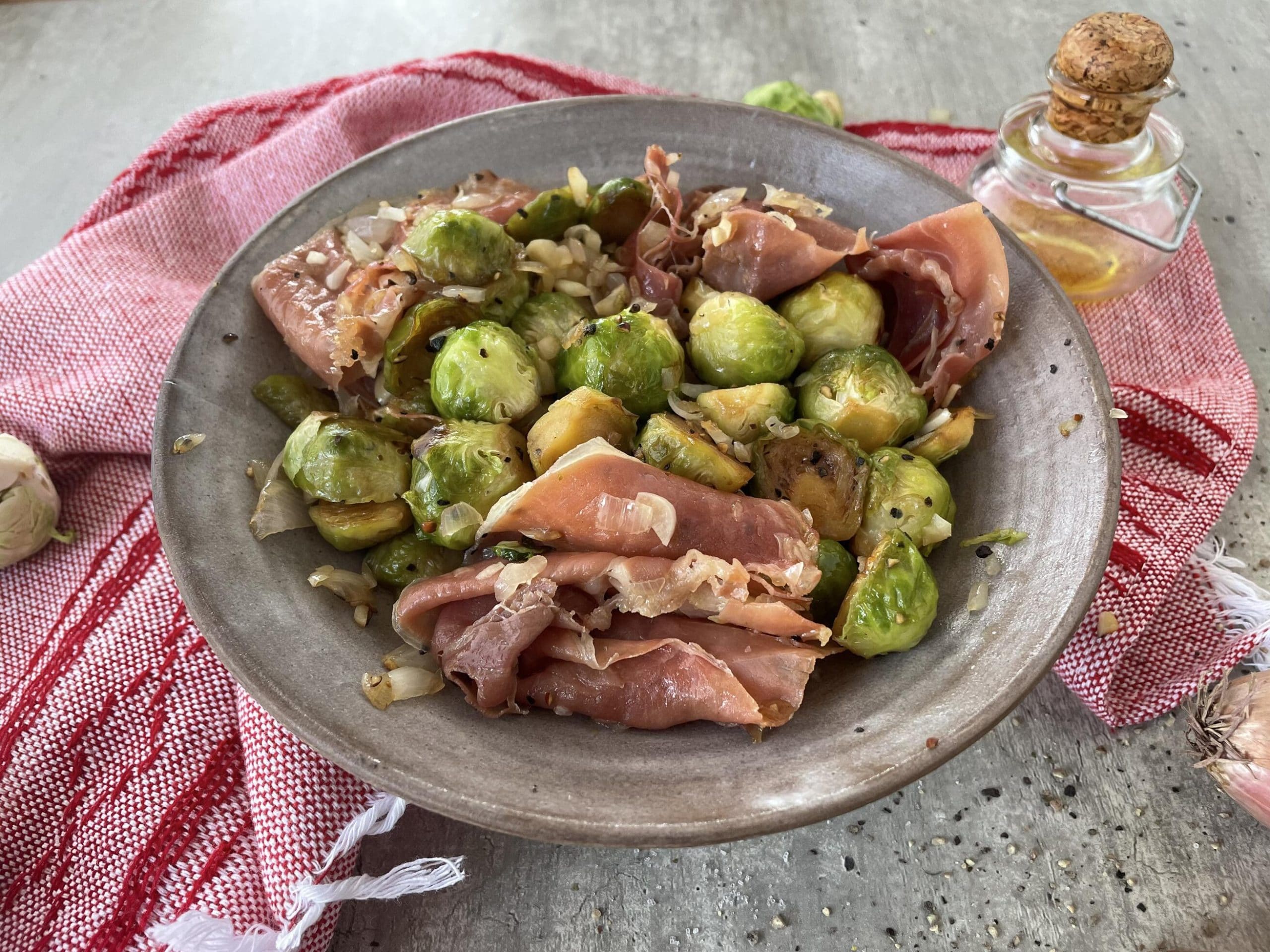 Ingredients
1

tsp.

olive oil

2

cloves

garlic

minced

2

tsp.

shallots

minced

4

ounces

dried prosciutto

2

lbs

Brussels sprouts

trimmed and sliced in half

1/4

cup

white wine

omit if you are a non-drinker or just prefer not to use alcohol in cooking

1/2

teaspoon

ground black pepper

Pinch

salt
Instructions
Assemble your ingredients.

Chop and prepare the vegetables.

Heat a saucepan over medium heat and add the olive oil. Add the shallots and the dried prosciutto. Sauté the shallots and prosciutto for about five minutes. Stir in the minced garlic and sauté for one more minute. The prosciutto should be almost cooked through.

Remove the prosciutto mixture and set aside on a plate. Save about two teaspoons of the drippings.

Add the Brussels sprouts to the sauté pan and stir for about two minutes. Season with a little salt.

Add the white wine (if using) and the black pepper to season.

Stir occasionally for about six minutes. The Brussels sprouts should be almost done when a fork can easily enter the sprout.

Stir the prosciutto mixture in with the Brussels sprouts.

Sauté for another two minutes or until the sprouts are completely cooked through.

Check the flavors and re-season if needed.

Serve immediately.
Video
Nutrition
Calories:
162
kcal
|
Carbohydrates:
15
g
|
Protein:
8
g
|
Fat:
9
g
|
Saturated Fat:
3
g
|
Polyunsaturated Fat:
2
g
|
Monounsaturated Fat:
4
g
|
Trans Fat:
1
g
|
Cholesterol:
12
mg
|
Sodium:
164
mg
|
Potassium:
644
mg
|
Fiber:
6
g
|
Sugar:
4
g
|
Vitamin A:
1148
IU
|
Vitamin C:
129
mg
|
Calcium:
69
mg
|
Iron:
2
mg
Notes & Tips
If you are a vegetarian or vegan, it's easy to swap out the prosciutto for your favorite vegetable protein. Thinly sliced sun-dried tomatoes can pair well with Brussels sprouts. Mushrooms will closely mimic the texture of the prosciutto if you salt them first.
Bell peppers can also be an excellent stand-in. Cut them into little cubes, sauté them in olive oil, and add salt and pepper to taste. Let them cook for about three minutes until they are slightly crunchy. Then mix with the shallots and proceed with the recipe as listed.
The prosciutto's smoky flavor can be mimicked by seasoning the bell peppers with paprika before sautéing them.
As mentioned in the ingredients, you can omit the white wine if you choose not to consume alcohol. There are a few non-alcoholic substitutes you can use instead. Grape juice or apple juice can be good replacements.
How to shop for Brussels sprouts
Brussels sprouts should always be purchased on the stalk if possible, but you can buy them loose if buying them on the stalk is not an option.
Look for tight, medium-sized bulbs, since the smaller the bulbs, the harder it will be to cut and prepare them.
Brussels sprouts are pretty hardy vegetables. You can wait to clean and trim them until you're actually ready to make the recipe. You also don't need to store them exclusively in the vegetable crisper. The Brussels sprouts will be fine placed anywhere in the fridge. They will keep for up to one week before prepping and cooking.
Optional sides or compliments
Because Brussels sprouts with prosciutto is primarily a side dish, it can be served with several other items to create a full meal.
Bacon is amazing to pair with Brussels sprouts because the spicy, smoky flavor of bacon plays off Brussels sprouts' sweet and nutty taste. If you are vegan or vegetarian, you can find plenty of meatless bacon alternatives.
For a quick weeknight meal, cook up some pasta to go with the Brussels sprouts and prosciutto.
If you are planning to serve this at Thanksgiving, pair it with any of your other favorite Thanksgiving dishes.
What does Brussels sprouts with prosciutto taste like?
This is a dish loaded with flavor. The smokiness of the prosciutto complements the mild taste and texture of the Brussels sprouts.
Storage
We don't recommend storing this dish for a long time in the fridge because the texture of the sprouts might change. Freezing is definitely not recommended.
Depending on the timing of when you plan to serve your meal, you can make this dish earlier in the day and then reheat it in the oven for a few minutes at 300 degrees when you're ready to serve.
History
Brussels sprouts get their name from Brussels, the capital of Belgium, where they have been enjoyed for thousands of years. In the 16th century, they spread to the cooler parts of Northern Europe after gaining popularity in the southern Netherlands.
Brussels sprouts have been cultivated in the United States since the 18th century, when French settlers introduced them to Louisiana.
Common questions
How do I avoid that "Brussels sprouts smell" when cooking?
Many people avoid cooking Brussels sprouts because of that vegetable smell that fills the whole house. To avoid the smell, cook them for less than five minutes in a sauté or quick broil in the oven. Since this recipe already calls for a sauté, you will not have a lot of issues with smell.
Can I use the stalk?
No, the hardened stem at the bottom is not very edible! Cut it off before using the bulbs in your cooking project.
Can I grow Brussels sprouts in my garden?
Yes, they are easy to grow in the garden. This is a long-season vegetable in the cabbage family that work best when planted in the late spring or early summer. If they are planted in the late spring, they will mature by the time the weather begins to cool in the fall.
---
Recent Recipes