Easy Homemade Buckeye Recipe
If you are from Ohio, you know what a buckeye is. Ohio is known as the Buckeye State. The buckeye tree is the state tree as well as the state symbol. Buckeye trees produce nuts that have an outer shell that is brown like chocolate with an inner core that is the same tone as peanut butter. A bit of that core is exposed so that the nuts look like an "eye". These nuts are actually toxic to consume.
A popular snack, especially in Ohio, is buckeyes which are basically confections made with chocolate and peanut butter. Balls of peanut butter and other ingredients are rolled and then dipped in melted chocolate. They resemble buckeye tree nuts but are obviously safe to eat. These are similar in flavor to classic peanut butter cups. Though, they are more fun to eat because you can just pop one in your mouth whole.
Buckeyes are easy to make because there really isn't any baking involved, though you do have to melt the chocolate to dip the peanut butter balls into. These small treats are nutty, sweet, and creamy in texture. These are the perfect candy to make for special occasions. They also make great holiday gifts.
For this buckeye recipe you will need some basic equipment:
Measuring cups and spoons
A large bowl
An electric hand mixer or a stand mixer
Sheet pan
Parchment paper
A smaller microwave-safe bowl
Toothpicks
The ingredient list is fairly simple as well:
Creamy peanut butter
Unsalted butter
Confectioner's (powdered) sugar
Pure vanilla extract
Semisweet chocolate chips
Coconut oil
When you make buckeyes you will need space in your fridge for chilling the peanut butter balls and then again to chill the balls after they are dipped in chocolate so that the chocolate can set up. Once made, you can store the balls in a sealed container in the fridge until ready to serve.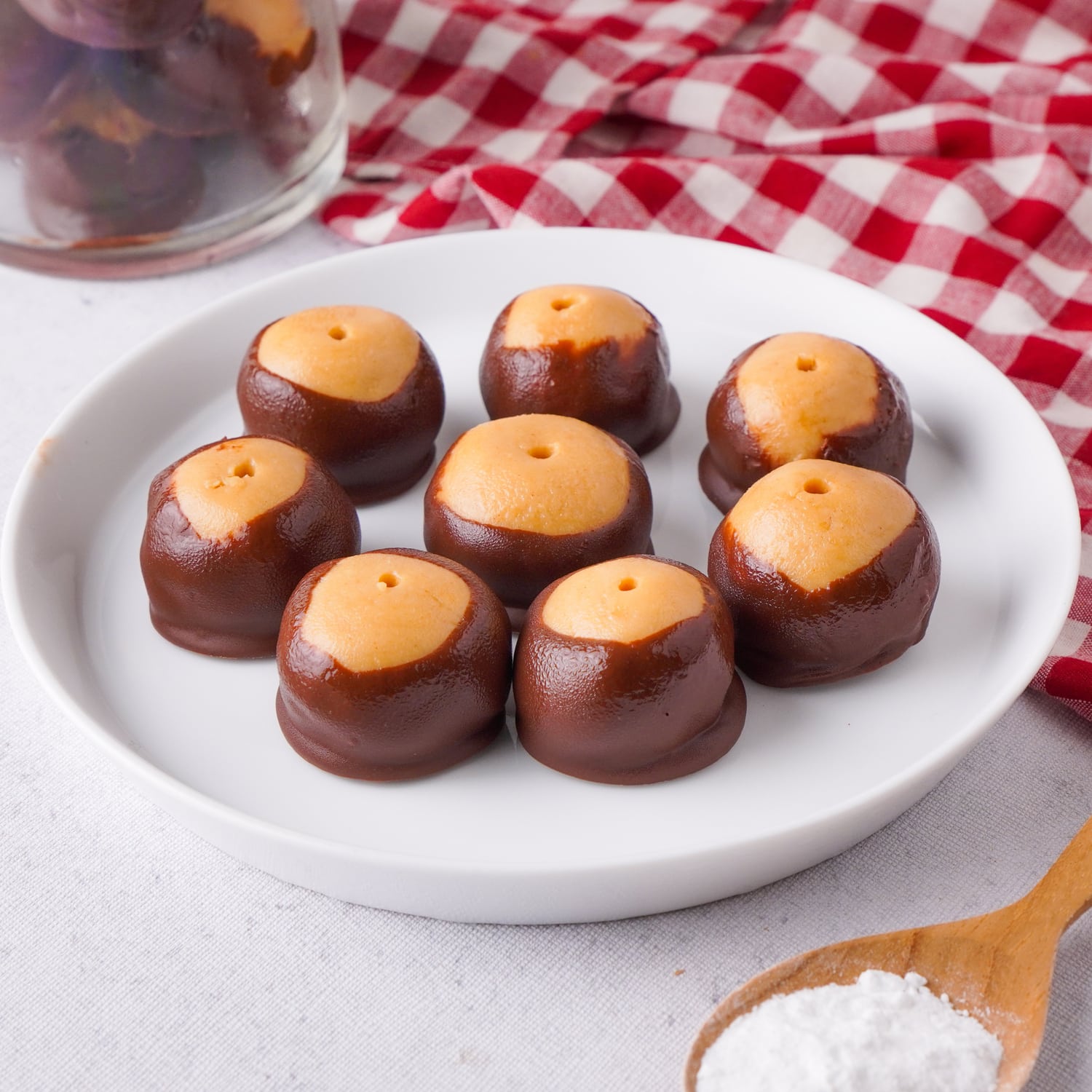 Ingredients
1

cup

creamy peanut butter

5

Tbsp

unsalted butter

at room temperature (salted if low-sodium peanut butter)

1

tsp

pure vanilla extract

2

cups

confectioner's sugar

powdered sugar

2

cups

semi-sweet chocolate chips

2

Tbsp

coconut oil
Instructions
All ingredients ready? Let's begin!

In a large mixing bowl, cream together the peanut butter, butter, and vanilla extract with an electric hand mixer on low speed until well combined. You can also do this in a stand mixer.

Add the confectioner's sugar to the peanut butter mix and continue to blend on low until well combined, scraping down the sides of the bowl a couple of times.

Line a sheet pan with parchment paper. Scoop out 1 tablespoon of the mixture and roll it into a ball using your hands. Place the ball onto the lined sheet pan and continue to roll out the rest of the balls until you have approximately 24 total.

Place the sheet pan in the refrigerator and chill the balls for 20 minutes.

In a medium microwave-safe bowl, add the chocolate chips. Microwave them on high for just 30 seconds. Stir the chips and return the bowl to the microwave and heat again for 30 seconds longer. Stir the chocolate to make sure it has all melted. Set this aside to allow the chocolate to cool slightly.

Remove the pan of peanut butter balls from the refrigerator.

Using a toothpick, dip a peanut butter ball into the chocolate and coat 3/4 of it, leaving a small area bare so the balls resemble a buckeye nut. You can see a photograph of the nut here. Place the buckeye on the sheet pan and continue until all the peanut butter balls are dipped.

Place the sheet pan back in the refrigerator for about 10 minutes until the chocolate sets up.

Serve the buckeyes when ready, or place them in a sealed container and keep them in the refrigerator.
Nutrition
Calories:
182
kcal
|
Carbohydrates:
21
g
|
Protein:
3
g
|
Fat:
15
g
|
Saturated Fat:
7
g
|
Polyunsaturated Fat:
2
g
|
Monounsaturated Fat:
5
g
|
Trans Fat:
0.1
g
|
Cholesterol:
7
mg
|
Sodium:
48
mg
|
Potassium:
147
mg
|
Fiber:
2
g
|
Sugar:
7
g
|
Vitamin A:
80
IU
|
Calcium:
15
mg
|
Iron:
1
mg
Notes & Tips
Creamy peanut butter works better than crunchy in this recipe. Also, commercial peanut butter seems to hold together better than freshly ground peanuts. It's a textural thing. Freshly made and some natural peanut butters tend to separate with the oil floating on top. If using fresh peanut butter, be sure to mix the oil in very well before adding the other ingredients.
Make sure to chill the peanut butter balls before dipping them into the chocolate so they hold together.
If the chocolate solidifies before you finish dipping all the peanut butter balls, just melt it again in the microwave for a few seconds.
Store the buckeyes in a sealed container in the fridge for up to 2 weeks.
Substitutions
Peanut Butter: I haven't actually tried this yet, but I would think you could make buckeyes with almond butter or cashew butter and maybe even sunflower seed butter.
Chocolate: Basic semisweet chocolate chips work just fine for this recipe. I actually prefer dark chocolate chips. You can also use bar chocolate chopped up to get the same results for dipping.
Coconut Oil: Coconut oil helps the chocolate to stay thin while you are dipping and it hardens nicely when chilled. You can use another shortening of your choice or even butter.
Vegan: You can make this a vegan confection. You will need to use vegan, dairy-free chocolate chips. You can also use vegan butter or shortening.
More Nutty & Chocolatey Confections
If you like these buckeyes, you would probably enjoy some of our other recipes for sweet treats. Some of my favorites are:
---
Recent Recipes