Simple Spicy Buffalo Chicken Sliders
If you love buffalo-style chicken wings, but maybe don't want to deal with bones and messy fingers, you will probably enjoy these buffalo chicken sliders. They have all the same buttery spicy goodness packed neatly into a bun. Well, maybe not 100% neat, but much easier to eat.
To make easy buffalo sliders, I like to start with a really quick blue cheese dressing that can be served on the side for those who want to dip their sliders into. I also add a little crumbled blue cheese to the slider filling.
Exceptional sliders are comprised of 2 basic components, soft mini rolls and a well-seasoned and moist filling. I will give a nod to premade packaged dinner rolls, such as Kings Hawaiian Sweet Rolls or Pepperidge Farm Dinner Rolls. Or, you can make your own sweet buns from scratch if you have the time.
The filling can also be prepared from scratch by slow cooking or braising chicken breasts and then shredding them. But I am unapologetically a big fan of store-bought rotisserie chicken. I get an organic rotisserie chicken from Whole Foods about every 8 weeks for convenience. It lasts for several days in my fridge and can be repurposed into a variety of meals. I can also freeze some of the meat and then use the carcass to make a super-rich bone broth. Rotisserie chicken is juicy and tender. It shreds easily with 2 forks or pulls apart with your hands.
Once you have the shredded chicken, it is seasoned with either a homemade herb and spice blend or premade ranch seasoning mix. I will give you options to simplify the recipe. The seasoned chicken is dressed with hot sauce, Worcestershire, and butter. This is placed inside the slider buns and cheese is added. I like a blend of stretchy mozzarella and crumbled blue cheese. You brush melted butter on top of the buns and bake the sliders until the cheese melts and the butter turns the tops of the buns golden brown and slightly crisp.
So, let's get to the recipe and the different ways to make this epic party or game day food from sliders with a homemade touch to ones that are super easy.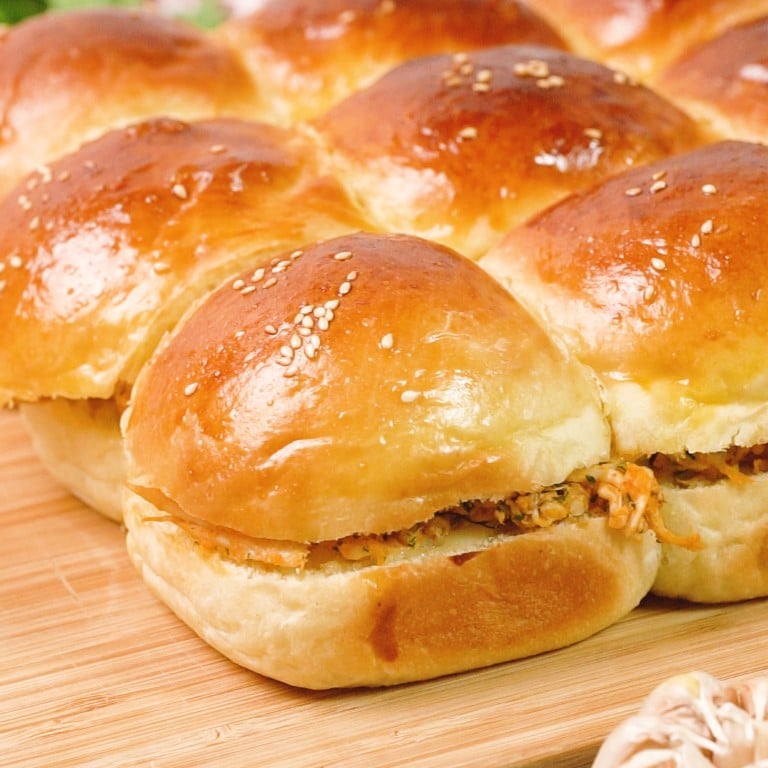 Ingredients
Sliders
1

Tbsp

garlic powder

1

Tbsp

onion powder

2

tsp

dried parsley

1

tsp

dried chives

1

tsp

dried dill

1/2

tsp

sea salt

1/2

tsp

freshly cracked pepper

3

cups

rotisserie chicken

shredded

3/4

cup

of your favorite hot sauce

1

Tbsp

Worcestershire sauce

4

Tbsp

melted butter

divided

12

slider buns

1 package

1-1/4

cup

shredded mozzarella cheese

1/4

cup

crumbled blue cheese
Blue Cheese Dipping Sauce
3/4

cup

crumbled blue cheese

about 3.5 oz

1/2

cup

sour cream

1/4

cup

mayonnaise

1

Tbsp

buttermilk

1

Tbsp

freshly squeezed lemon juice

1/4

tsp

sea salt

1/4

tsp

freshly ground pepper
Instructions
All ingredients ready? Let's begin!

Preheat the oven to 350°F.

In a large mixing bowl, combine the garlic powder, onion powder, parsley, chives, dill, salt, and pepper.

Add the shredded chicken to the bowl and toss it in the seasoning to coat completely. Add the hot sauce, Worcestershire sauce, and 2 tablespoons of the melted butter Toss again to coat completely. Set the bowl aside.

Remove the rolls from the package, trying to keep them stuck together. Carefully slice through the center of the rolls with a serrated knife to remove the tops of the rolls in one layer. Don't stress if the rolls do come apart. Place the bottom half of the rolls in a baking dish.

Scatter 1/2 of the mozzarella cheese over the rolls.

Spoon the chicken over the cheese in an even single layer.

Scatter the crumbled blue cheese over the chicken. Layer the rest of the mozzarella over the blue cheese.

Place the top layer of buns over the chicken and cheese.

Brush the remaining 2 tablespoons of melted butter all over the tops of the buns.

Transfer the baking dish to the oven and bake for approximately 20 minutes until the cheese has melted and the tops of the sliders are golden brown.

While the sliders are baking, prepare the cheese sauce: In a small serving bowl, stir together the blue cheese crumbles, sour cream, mayonnaise, buttermilk, lemon juice, salt, and pepper. Set the bowl aside for serving with the sliders.

Remove the baking dish from the oven. Using a spatula, lift the sliders out onto a cutting board. Slice between the rolls and serve the sliders on a platter next to one another with the blue cheese sauce on the side for dipping or spooning onto the sandwiches. Serve with celery sticks and lots of napkins.
Nutrition
Calories:
674
kcal
|
Carbohydrates:
38
g
|
Protein:
45
g
|
Fat:
38
g
|
Saturated Fat:
15
g
|
Polyunsaturated Fat:
5
g
|
Monounsaturated Fat:
7
g
|
Trans Fat:
0.3
g
|
Cholesterol:
170
mg
|
Sodium:
1950
mg
|
Potassium:
223
mg
|
Fiber:
3
g
|
Sugar:
7
g
|
Vitamin A:
1190
IU
|
Vitamin C:
30
mg
|
Calcium:
239
mg
|
Iron:
3
mg
Notes & Tips
If the slider buns are separate or come apart when slicing the top halves from the bottoms, assemble the sandwiches and place them next to one another in the baking dish so the cheese melts together. This is fun when you pull the sandwiches apart and the cheese stretches.
Keep an eye on the sliders while they bake to make sure the tops don't brown too quickly or burn. Remove them from the oven if they start to brown too quickly.
Shortcuts & Substitutions
Shortcuts: You can make a super easy version of this recipe by using 3 tablespoons of a ranch dressing seasoning packet rather than making your own seasoning blend. I prefer the homemade seasoning mix. As well, you could use bottled ranch or blue cheese dressing rather than making your own dipping sauce. These sliders can be baked in an air fryer in half the time.
Rotisserie Chicken: I think rotisserie chicken is moist and delicious. Feel free to use any leftover chicken you have.
Hot Sauce: There are so many great hot sauces available, such as Franks Red Hot. Sriracha is also a great option.
Mozzarella Cheese: The best part about mozzarella cheese is how stretchy and gooey it is when it is baked. Kids love this. You could try Swiss cheese or even American cheese slices for these sliders.
Blue Cheese: Blue cheese is a classic pairing with buffalo wings, which is why I like it in this recipe. My favorite blue cheese is Gorgonzola. Inside the sliders, you can skip the blue cheese and add extra mozzarella or try crumbled feta that is a little less pungent than blue.
No Cheese: If you want a healthier take on these sliders, skip the cheese and top the chicken with a crunchy cabbage and red onion slaw in a vinegar-based dressing.
Buttermilk: You can substitute whole milk for the buttermilk in the dipping sauce recipe.
---
Recent Recipes