Easy Bulgogi Korean Pork Chops
I always thought pork chops were a difficult thing to make, but these bulgogi style Korean pork chops have proved me wrong. They are surprisingly easy to make. The pork chops should be marinated for at least an hour, but I recommend leaving them to soak up the sauce overnight in the fridge for maximum taste. The most effort this recipe requires is making the sauce, which means it requires minimal effort because the sauce is blended in a food processor, making it easy-peasy.
The sauce is a combination of sweet, salty, and spicy that accumulates in that coveted umami flavor. Below the recipe I explain the origins of umami and how to identify it in dishes. I also offer some serving suggestions to accompany your pork chops so you have a delicious, full dinner.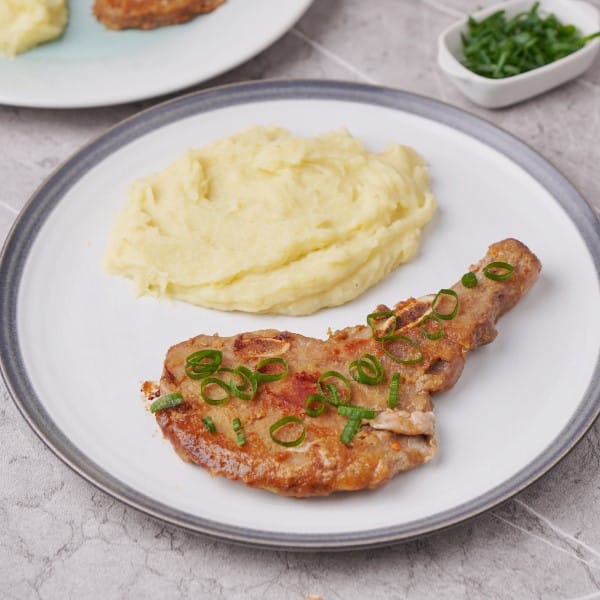 Ingredients
4

garlic cloves

1

pear

¼

cup

soy sauce

2

tbsp

brown sugar

1 ½

tsp

sesame oil

2

tsp

ginger powder

2

tsp

sriracha

2

tbsp

rice wine

½

tsp

chili flakes

4

pork chops

2

tbsp

vegetable oil

3

green onions
Instructions
All ingredients ready? Let's begin!

Peel the garlic then put it in a blender or food processor.

Quarter the pear and remove the stem and seeds before adding to the food processor.

Add to the food processor the soy sauce, sugar, ginger, sesame oil, sriracha, and chili flakes. Pulse to blend everything together into a paste.

Add the pork chops to a bowl. Pour the sauce on top of the pork chops. Make sure to rub the sauce into all sides of the pork chops.

Cover the bowl and leave to marinate for at least an hour.

After an hour, heat the vegetable oil in a large skillet over medium-high heat.

Transfer the pork chops to the skillet and cook for about 10 minutes–5 minutes per side.

Pour the marinade into the pan and keep cooking for another 10 or so minutes–again, 5 minutes per side.

While the pork cooks, roughly chop the green onions.

The pork is ready when the inside reaches 145F degrees. You can check this with a meat or candy thermometer.

Serve on a plate and topped with the chopped green onion. Enjoy!
Nutrition
Calories:
243
kcal
|
Carbohydrates:
10
g
|
Protein:
27
g
|
Fat:
10
g
|
Saturated Fat:
3
g
|
Polyunsaturated Fat:
2
g
|
Monounsaturated Fat:
4
g
|
Trans Fat:
0.1
g
|
Cholesterol:
76
mg
|
Sodium:
926
mg
|
Potassium:
528
mg
|
Fiber:
1
g
|
Sugar:
6
g
|
Vitamin A:
195
IU
|
Vitamin C:
5
mg
|
Calcium:
32
mg
|
Iron:
1
mg
Notes & Tips
The longer you can marinate the pork chops, the better. I recommend leaving it overnight in the fridge or preparing it in the morning and leaving it to sit in the fridge during the day.
Another way to marinate the pork is to put it all together in a large ziplock freezer bag. That can help make sure that the pork chops are as saturated as possible.
You can store leftovers in an airtight container in the fridge for up to a week. You can reheat them and eat as-is, or you can chop the leftovers up and use the pork to make something new like tacos.
Serving Suggestions
While these bulgogi Korean pork chops are delicious, you probably still want to serve it with a little something on the side. To add some color and nutrician to your plate, serve alongside these yummy, easy din tai fung green beans.
I also really like having mashed potatoes with this kind of meat cut. Mashed potatoes are super easy to make and help fill up any extra space on a plate and your stomach. Alternatively, you could serve the pork chop on top of some steamed rice. Drizzle a little extra sauce on top to make sure eat bite is packed with flavor.
If you want to really finish your dinner off with a bang, bring out this Vietnamese honeycomb cake! It's not actually honey flavored (though you probably could make it that way if you want), it's pandan flavored. You could also make a vanilla version, up to you! It's a really fun and delicious dessert to end your meal with.
What is Umami?
The concept of umami comes from Japan, where it was discovered in the 20th century. A lot of Japanese dishes utilize umami in a way that Western cuisine is still working on.
The tongue has 5 different base tastes: sweet, sour, bitter, salty, and umami. Umami is also known as the savory taste and is closely connected to cooked meats and broths. While the other four tastes are primarily located in smaller, specific regions on the tongue, umami covers over half the tongue and includes the other flavors. Because of that, umami can be described as the ultimate flavor.
The chemical compounds that contribute to umami are: glutamate, inosinate, and guanylate. Glutamate is commonly found in vegetables and meat and is an amino acid. Iosinate is commonly found in meat. Guanylate is most commonly found in plants.
Umami can be added to lots of dishes in order to enhance existing flavors. Certain foods hold higher levels of umami. Some examples include: mushrooms, meat (cooked and cured), seaweed, seafood, tomatoes, cheese, and fermented food. Mushrooms, meat, seafood, and seaweed are pretty popular in Japanese cuisine which helps explain why the taste is such a focus in their dishes.
Monosodium glutamate is commonly referred to MSG. MSG is a special seasoning that helps bring out umami flavor in any dish. It is not quite the same thing, as MSG is a man-made formula and umami is the natural flavor in certain food. That being said, adding MSG to your cooking can help enhance all the five flavors and amp your food to the next level.
However, before you begin adding MSG to all your food, please be aware that some people have a sensitivity to it that can cause a few minor side effects. Some people experience nausea, migraines, and a few other symptoms. They are not severe and they are not long lasting, but if you tend to react to external stimuli more than most people, you may want to be aware when trying MSG so you can avoid it if it makes you feel bad. To reiterate, MSG mimics the umami taste, but they are not the same. Some people react negatively to MSG, but that does not mean umami triggers any negative effects.
---
Recent Recipes