Best Butternut Squash Lasagna
This butternut squash lasagna recipe is perfect for any holiday meal or cozy dinner at home. A dreamy layer of aromatic butternut squash with ricotta, cheesy béchamel, fresh spinach, and more melted cheese make this the ideal comfort food. And it just so happens to be vegetarian!
You can make this butternut squash lasagna ahead of time to impress your veggie-loving guests. I love making lasagna the day before and then just baking it the next day. Then I can spend my energy enjoying the company of my friends and family instead of being tired from all the kitchen work. But I assure you the work is worth the result. This just may very well be your new favorite lasagna recipe. Now, let's make this fine creation!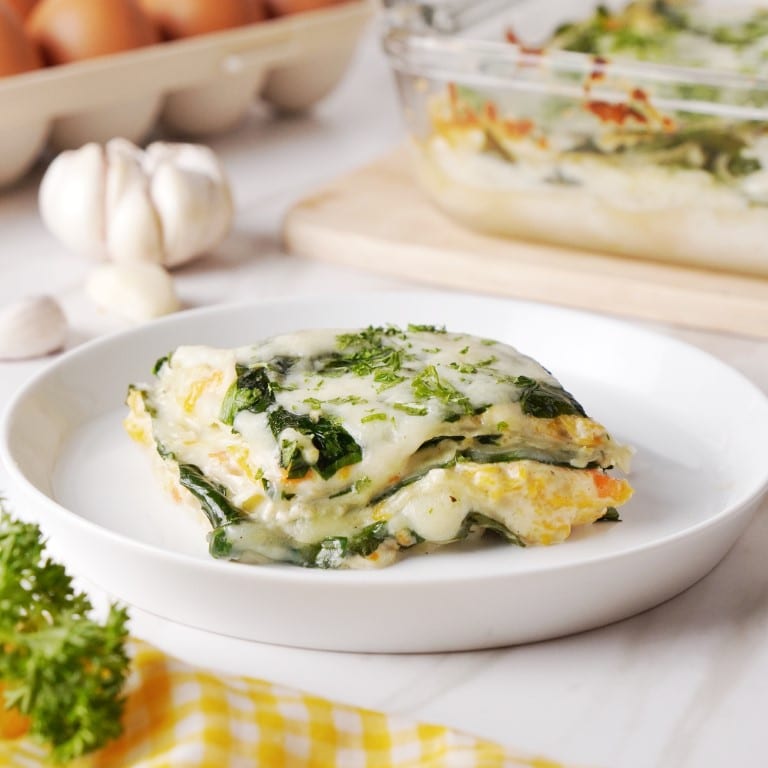 Ingredients
16

lasagna noodles

1

large butternut squash

about 3 lbs.

15

oz.

ricotta cheese

room temperature

½

tsp.

nutmeg

½

tsp.

dried oregano

½

tsp.

dried thyme

1

large egg

room temperature

2

cloves

minced garlic

8

oz

fresh spinach

1

cup

freshly shredded parmesan cheese

1

cup

freshly shredded mozzarella cheese

Salt & Pepper

Optional: chopped fresh parsley to garnish
For the béchamel with cheese:
2

cups

milk

3 ½

Tbsp.

butter

4

Tbsp.

flour

3 ½

oz

parmesan cheese

Salt & Pepper
Instructions
All ingredients ready? Let's begin!

Preheat the oven to 400°F and prepare a baking tray lined with parchment paper.

Prepare butternut squash by cutting it and removing the skin, then cut it into medium-sized cubes and place on the baking tray. Bake for 30 to 35 minutes or until golden brown on the edges. Then lower the oven to 375°F.

Presoak the noodles: place them in a baking dish and fill the dish halfway with hot water. Let them sit for at least 15 minutes while you're preparing the rest of the ingredients.

Make the béchamel with cheese: in a large saucepan on low heat, add the butter and let it melt. Whisk in the flour until combined. Turn heat on medium and pour milk in as you continuously whisk the mixture. Whisk for another 2 minutes while the sauce bubbles and thickens. Stir in shredded parmesan cheese until melted. Add ½ teaspoon salt and pepper, or more to taste. The sauce should be thickened, creamy, and clump-free.

For the butternut squash and ricotta filling: in a large bowl, add ricotta, egg, minced garlic, dried oregano, thyme, nutmeg, salt, pepper, and mix. Make sure the butternut squash has cooled down. Add squash to ricotta mixture and mash it with a fork or potato masher until it's formed a creamy and slightly chunky butternut squash and ricotta filling.

Grease a 9×13-inch deep-dish baking pan and start assembling the layers. Spread a small amount of béchamel on the bottom of the pan.

Add a layer of lasagna noodles, followed by a thin layer of béchamel, and a layer of butternut squash ricotta mixture, then cover with some spinach and about 1/3 cup mozzarella and parmesan.

Repeat step 7 until you've finished the noodles. It should be 4-5 layers. Finish with a layer of cheese.

Bake covered for 30 minutes. Uncover and bake for another 10 minutes.

Serve straight out of the oven. Top with freshly chopped parsley or thyme for a beautiful garnish. Enjoy!
Nutrition
Calories:
379
kcal
|
Carbohydrates:
44
g
|
Protein:
21
g
|
Fat:
14
g
|
Saturated Fat:
8
g
|
Polyunsaturated Fat:
1
g
|
Monounsaturated Fat:
4
g
|
Trans Fat:
0.002
g
|
Cholesterol:
58
mg
|
Sodium:
407
mg
|
Potassium:
551
mg
|
Fiber:
3
g
|
Sugar:
5
g
|
Vitamin A:
8873
IU
|
Vitamin C:
19
mg
|
Calcium:
439
mg
|
Iron:
2
mg
Notes & Tips
This may be a time-consuming recipe, but it's pretty simple to make. Here are some tips to ensure an impeccable butternut squash lasagna with béchamel sauce and ricotta:
For the béchamel sauce with cheese: the trick is to have the heat on medium-low and never stop whisking. Béchamel is very easy to make, but it is also very easy to mess up. Don't take your eyes off it and don't stop whisking. There shouldn't be any clumps or parts sticking to the bottom of the pan.
For the butternut squash and ricotta filling: it's best if you bring the ricotta and egg to room temperature before combining. But, most importantly, bring the baked butternut squash to room temperature. Otherwise, you'll end up with scrambled eggs in your filling. You can also blend all the ingredients in a food processor to make it creamier if you desire. I prefer to mash it by hand so that you can appreciate every individual flavor in the lasagna – the sweet butternut squash, the creamy ricotta, the garlic, and the herbs.
For the lasagna noodles: wetting the lasagna noodles before assembling will ensure that your noodles are perfectly cooked. If you skip this step, you may end up with crunchy lasagna noodles, and that's no Bueno. But don't oversoak your noodles either, you want them to be bendable but still firm (think very al dente). Otherwise, you'll end up with mushy noodles which is also no Bueno.
Can I Make This Butternut Squash Lasagna Recipe Vegan and Gluten-free?
Yes, absolutely. There are already plenty of veggies in this recipe, all you have to do is replace the dairy products with vegan alternatives. 
To make the butternut squash and ricotta filling vegan, opt for high-quality vegan ricotta, vegan parmesan, vegan mozzarella, and simply omit the egg or use a vegan egg. I like Miyoko's fresh vegan mozzarella, and you could even make cashew parmesan cheese at home. Just add 3/4 cup of cashews with 3 tablespoons of nutritional yeast, ¼ teaspoon garlic powder, and ½ teaspoon salt to a food processor and combine until finely chopped. This version of parmesan won't melt, but it's tasty in its own way.
For the vegan béchamel sauce, I would recommend using unsweetened almond or cashew milk as the nutty flavor slightly resembles cheese. Then, use vegan butter, and vegan parmesan cheese. 
To make this recipe gluten-free, simply substitute with gluten-free lasagna noodles. Make sure to follow the package instructions since the soaking time may differ from regular noodles. 
Can I Freeze Butternut Squash Lasagna?
There are two ways to freeze this butternut squash lasagna with ricotta. The first option is to prepare the dish with all its layers, cover it and freeze it before baking the lasagna. In this case, let it thaw before baking according to the instructions above. Frozen lasagna can last up to 3 months in the freezer, just make sure to cover it so that the lasagna doesn't dry out.
The second freezer option is to bake the lasagna, wait until it cools down to room temperature, then cover and freeze the whole tray or cut it into individual slices and freeze it in airtight containers. How to reheat butternut squash lasagna, you ask? Simply let it thaw to room temperature and then heat the slices in a pan until the cheese has melted or reheat the whole lasagna in the oven at 375°F for 5-10 minutes.
You can also store the unbaked lasagna in the fridge 1 day ahead of time or store the baked lasagna in the fridge for up to 3 days.
Other Recipes You May Like
If you're a butternut squash fan, you'll love this recipe for Comforting Butternut Squash Casserole. Also, if you want a low FODMAP recipe with butternut squash, check out this simple stuffed butternut squash dish. If you liked this recipe, you'll love our sweet potato lasagna. We even have a full article about ideas on what to serve with lasagna.
---
Recent Recipes