Simple Buttery Tuscan Salmon
Salmon is a relatively easy fish to cook. It can be pan-seared, baked, broiled, grilled, or added to stews and soups. Sushi-grade salmon can be eaten raw.
There are many varieties of wild salmon available, three of which are best suited for human consumption. My favorite is chinook or king salmon. The flesh is buttery and sweet due to the high-fat content. Coho salmon is a deep red color and the flesh is somewhat delicate. Sockeye is fairly lean because these are strong upstream swimmers. The flesh is bright orange-red and is a bit firmer than the other two.
I stand by my preference for king salmon in terms of texture and flavor. However, it is very pricey. If you really don't want to spend top dollar, there are some good farm-raised salmon options. I highly recommend that you search for sustainably farmed fish that is also labeled as organic and ocean-raised. I am not keen on farmed salmon that has color added and has been swimming in crowded tanks. There are perfectly good wild-caught frozen salmon options as well.
Buttery Tuscan salmon is a great way to perfectly cook moist and flaky fish. The salmon is first seared in a hot pan. Then, the sauce is prepared with garlic, butter, tomatoes, spinach, herbs, and heavy cream. I don't always add cheese to fish recipes, but this sauce finishes nicely with salty parmesan cheese. You can omit that if desired. This is delicious served with brown rice or farfalle pasta.
This recipe is for 4 servings, using 5 – 6 ounce skin-on fillets. The skin is nutritious and holds the fillets together while they are cooking. You can also use skinless fillets if that is what is available.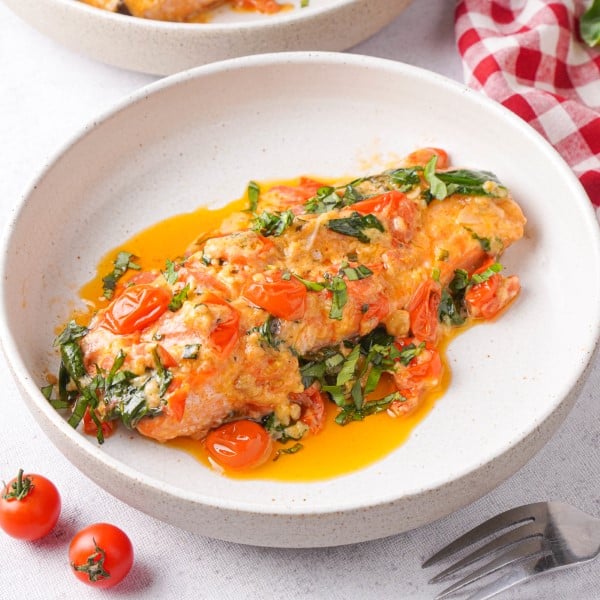 Ingredients
4

5-6 ounce skin-on salmon fillets, at room temperature

2

Tbsp

extra-virgin olive oil

½

tsp

sea salt

½

tsp

freshly ground black pepper

3

Tbsp

butter

3

garlic cloves

peeled and sliced paper-thin

2

Tbsp

dry white wine

1 ½

cups

of cherry tomatoes

sliced in half

Good pinch of each salt and pepper

2

packed cups of baby spinach leaves

½

cup

heavy cream

¼

cup

freshly grated parmesan cheese

optional

4

Tbsp

chopped fresh basil leaves

divided
Instructions
All ingredients ready? Let's begin!

Remove the salmon from the refrigerator 20 minutes prior to cooking.

Pat dry with paper towels and set aside on a platter.

In a large skillet over medium-high heat, warm the olive oil.

Season both sides of the salmon fillets with the salt and pepper.

Add the fillets, skin side up, to the hot oil, and cook until golden brown for about 4 minutes. The flesh should start to become opaque along the base.

Turn the fish over and continue to sauté until the skin is crisp, approximately 2 more minutes. The fillets do not have to be cooked all the way through at this point. Transfer them to a plate.

Turn the heat down to medium. Add the butter to the pan. As soon as it melts, add the garlic and cook until aromatic, approximately 1 minute.

Deglaze the pan with white wine, stirring until it just starts to reduce. You want to scrape up and incorporate any salmon skin bits. These are tasty.

Add the tomato halves to the pan and season with a little salt and pepper. Cook until the tomato skins blister and the juices are released.

Add the spinach, stir well, and cook just until the spinach wilts but is still deep green.

Whisk or stir in the heavy cream and bring the sauce to a low simmer. Once simmering, reduce the heat to low and stir in the parmesan and 3 tablespoons of the basil.

Simmer until slightly thickened, about 3 minutes.

Place the salmon fillets in the pan, skin side down. Spoon some sauce over the fillets and continue to simmer until the salmon is just cooked through, approximately 2 to 3 minutes. The flesh should be pink and just a little firm.

Transfer the salmon to a large serving bowl or individual plates and spoon the sauce over the fish. Garnish with the remaining tablespoon of the basil. Serve immediately.
Nutrition
Calories:
489
kcal
|
Carbohydrates:
10
g
|
Protein:
42
g
|
Fat:
31
g
|
Saturated Fat:
11
g
|
Polyunsaturated Fat:
6
g
|
Monounsaturated Fat:
12
g
|
Cholesterol:
133
mg
|
Sodium:
605
mg
|
Potassium:
1821
mg
|
Fiber:
4
g
|
Sugar:
4
g
|
Vitamin A:
14268
IU
|
Vitamin C:
54
mg
|
Calcium:
283
mg
|
Iron:
6
mg
Notes & Tips
Bringing the salmon to room temperature prior to searing it will help the fish to relax in the pan rather than seize up. It will also cook more evenly.
Wait to season the fillets before placing them in the hot pan so you don't draw too much moisture out of the flesh.
Just sear the fish until the flesh is opaque about 1/4-inch up from the bottom. Do the same on the side. Try not to cook the fish all the way through. It will continue to cook as it rests and then will finish cooking in the sauce.
Try not to boil the sauce. This could cause it to break or separate.
Substitutions
This dish is perfect with salmon. If you don't like salmon, or can't find a good source for it, you could definitely make this with yellowtail, swordfish steaks, halibut, and even cod loins. The cod might break apart when lifting it out of the pan, but it will still be delicious.
This recipe is gluten-free and keto compliant. If you are on a paleo path, you can use full-fat coconut milk in place of the heavy cream and omit the cheese. Some on a paleo diet include grass-fed butter as an approved ingredient while others use ghee (clarified butter) instead because the milk solids have been removed.
Herbs are a matter of personal taste. If you don't like basil, feel free to use flat-leaf parsley, fresh thyme, or marjoram leaves. You can also use more than one type of herb.
Nutrition of Salmon
Wild-caught salmon is a nutrient powerhouse. One 4-ounce serving of salmon is approximately 210 calories. These calories are made up of 22.5 grams of protein, 12.3 grams of mostly unsaturated fat, and 0 carbohydrates. Salmon is a good source of vitamins B-12, B3, and D. It also provides plenty of heart-healthy omega-3 fatty acids. You really can't go wrong with this nutritious protein.
If you are interested in other ways to prepare salmon fillets try these recipes:
---
Recent Recipes