Homemade Bolivian Cabbage & Potatoes
In Spanish, Stew is referred to as guisado. While traditional guisado is cooked with beef or chicken, the vegetarian alternative is very tasty.
Cabbage with potatoes is a simple side dish to prepare. By adding chorizo or eggs, you may boost the protein content and make it a complete meal.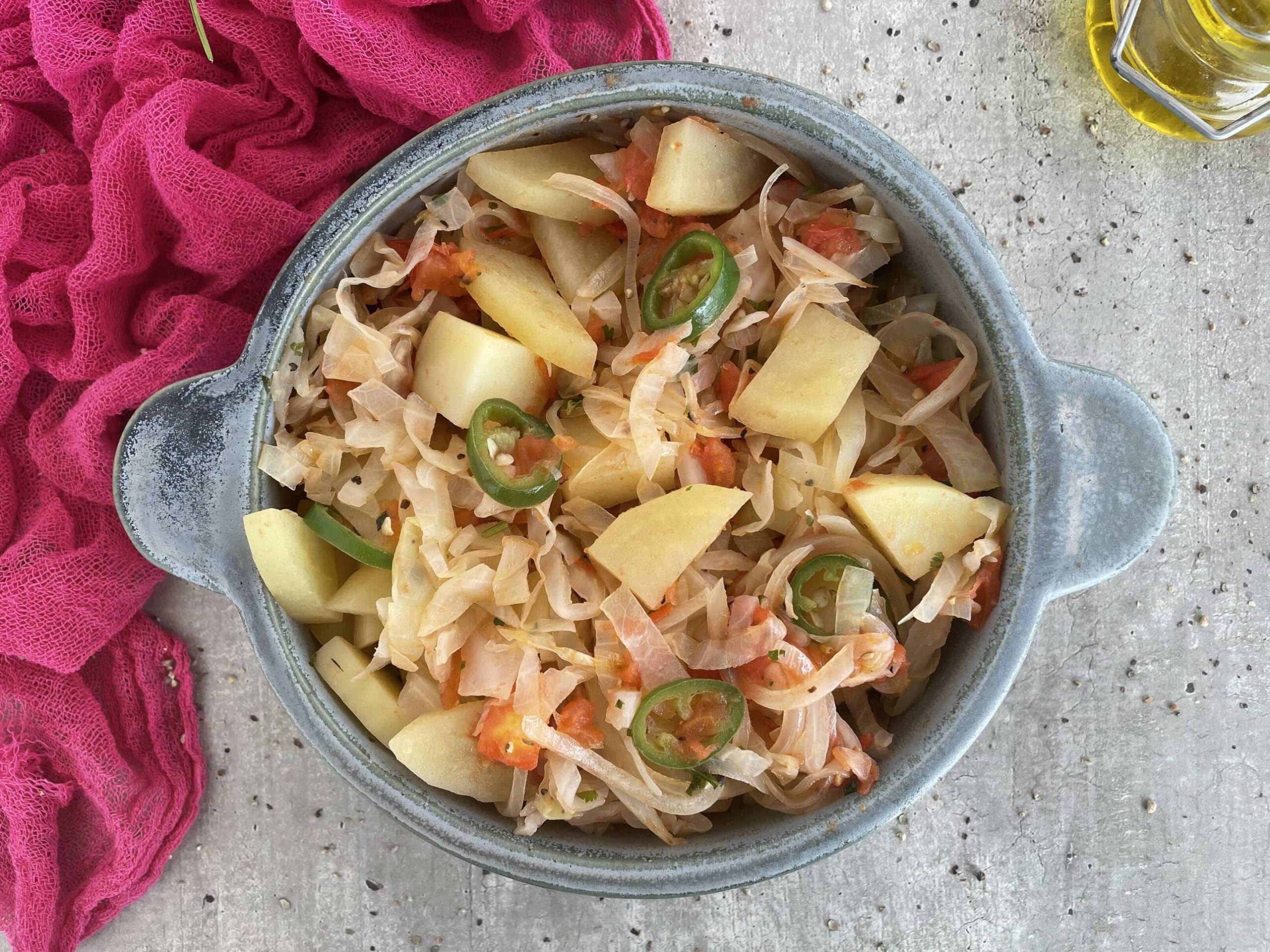 Ingredients
2

peeled potatoes

diced

3

cups

green cabbage

finely sliced

1

chopped onion

finely sliced

4

tomatoes

chopped

4

serrano chilies

chopped – less if desired

2

tablespoons

finely chopped cilantro

3

tablespoons

oil

olive or vegetable
Instructions
Cook potatoes till fork tender in boiling water.

Pour in a strainer to drain.

Fill a big saucepan 3/4 full of water and bring to a boil.

Place cabbage in the pan 5 minutes for blanching.

Pour in strainer to drain; immediately run cold water over the cabbage for a few minutes.

Pour cabbage into a strainer to remove all water; set aside.

Heat the oil in a large skillet. Add the onion and cook until it is soft.

Toss in the chilies and tomatoes. Cook 5 minutes, or till the tomatoes are slightly soft.

Add potatoes, cabbage, cilantro and salt, pepper.

Mix all ingredients together in skillet and cook till potatoes are thoroughly heated.
Video
Nutrition
Calories:
189
kcal
|
Carbohydrates:
29
g
|
Protein:
4
g
|
Fat:
7
g
|
Saturated Fat:
1
g
|
Polyunsaturated Fat:
2
g
|
Monounsaturated Fat:
4
g
|
Trans Fat:
1
g
|
Sodium:
19
mg
|
Potassium:
811
mg
|
Fiber:
5
g
|
Sugar:
5
g
|
Vitamin A:
758
IU
|
Vitamin C:
51
mg
|
Calcium:
42
mg
|
Iron:
1
mg
Notes & Tips
This recipe is the vegetarian recipe. You can add meat to it if you choose.
Sticking with the vegetarian version, you can add several other vegetables including – carrots, corn, beans, and peas.
You can serve it as the main course or a side dish – it is a versatile dish.
At weddings, showers, holidays, etc., this is a popular dish. It serves a lot of people and is inexpensive to make.
Substitutions
Potatoes, while this is more of a suggestion than a substitution, you can use any type of potato or a combination of potatoes such as russet, white, golden, and red. Most people think all potatoes taste the same to some extent. That is true, but when you start to combine them with other foods, their flavors start to change. I personally think using a combination of two or more potatoes makes a more flavorful dish.
While green cabbage is usually used in this dish, you can substitute it for purple cabbage or use both.
Serrano chili is very hot. If you're looking for a milder, spicy cabbage & potatoes, try one of these substitutes – cayenne pepper, Jalapeño peppers, red pepper flakes, or banana pepper. The recipe calls for 4 chilis use half the amount for a milder version. If you're cooking with red pepper flakes (which is a spice that is already in flaked form, just use 3 tablespoons.
Success Tips
No one wants to spend hours in the kitchen preparing a meal that will end up being a big flop, so to help you out, follow these tips for a success and delicious spicy cabbage & potatoes.
Do not overcook the cabbage. If you don't want mushy cabbage, it should still have a bit of firmness yet be soft enough to chew.

New overcook the potatoes when you add the other ingredients to the skillet and continue cooking. If your potatoes are overcooked, you will end up with spicy cabbage and mashed potatoes and that is not something you're going to want to eat.
If you decide to use purple cabbage in place or in addition to the green cabbage, keep in mind that purple cabbage is a little firmer, so it will need to be blanched about 7 to 8 minutes, not 5.
When using two cabbages, do not blanch them together. You will have no way of removing the green cabbage after 5 minutes. Therefore, it will remain in the pan with the purple cabbage and the extra few blanching minutes can steal some of the flavors and make the green cabbage too soft.
Finally, when all your ingredients are in the skillet and ready for the remaining five minutes of cooking – make sure it is 5 minutes, not 6 or 7 minutes. You don't want to ruin your tomatoes.
While spicy cabbage and potatoes may seem like an easy dish to cook, you really do have to follow the instructions or you will ruin your dish.
History of Bolivian Cuisine
Bolivian cuisine is a mixture of Spanish and indigenous ingredients, as well as Aymara practices. Due to the presence of immigrants from other countries, there were subsequent influences from the French, Arabs, Germans, and Italians.
Bolivian staples include the following.
These ingredients have been mixed with a variety of Spanish staples, including the following.
Rice
Wheat
Meat (such as chicken, beef, and pork)
Bolivian food varies depending on where you are in the country. Given the cold environment of Western Bolivia's Altiplano, cuisine tends to employ spices, whereas, in Bolivia's lowlands and more Amazonian parts, recipes include products abundant in the region: fish, fruits, and veggies.
Bolivian cuisine has been inspired by Inca, Aymara, and Spanish cuisines, as well as the cuisines of other bordering countries such as Argentina and Paraguay. In comparison to other Latin American countries, Spanish cuisine remains the primary influence.
Be brave. Try adding different vegetables and even meat to your spicy cabbage and potatoes. You may find that you like it better when you add your own flair to the recipe.
---
Recent Recipes