Easy Cajun Fries with Cajun Ketchup
I am a self-proclaimed French fry addict. I don't know if it is some of the Irish DNA that was passed down to me or if I just find potatoes immensely comforting in any form, except raw. This addiction includes all forms of white potatoes and sweet potatoes. My newest obsession is organic Japanese white-fleshed sweet potatoes. They are like a slightly sweet russet potato with reddish skin and my local Whole Foods always has them in stock.
When I make French fries from scratch, I don't actually fry them in oil. I bake them until crisp in the oven. This is so much healthier and a lot less messy than using a deep fryer or pot of hot oil. Though, I never pass up a good deep-fried French fry platter at a restaurant that makes their own from scratch.
Potatoes are the perfect vehicle for just about any flavor profile you want to introduce to a dish. They are so neutral in both taste and color that you can be very generous with seasonings and condiments. For this French fry recipe, we are making Cajun fries and Cajun ketchup using a homemade seasoning blend. You can of course use a good jarred Cajun seasoning.
The potatoes called for are russets. Russet potatoes have a fairly dry flesh that becomes fluffy as it cooks. I leave the skins intact because they hold the fries together and help them to crisp up. The skins also contain a good amount of nutritional fiber that compliments the B-complex vitamins, vitamin C, and potassium found in the flesh.
While I bake the fries in my conventional oven, you can definitely make this recipe in your air fryer. The fries are super crisp and evenly cooked in the air fryer, but the yield is too small for us. The first batch disappears before we can even get the second batch in the air fryer. This is because you have to cook them in a single layer so they crisp evenly and my air fryer is only 4 quarts. If you do want to cook these fries in your air fryer, preheat it to 375°F and cook for 12 to 15 minutes, tossing at 6 minutes.
These Cajun fries are a delicious snack. Or, serve them with burgers or crunchy baked haddock fillets.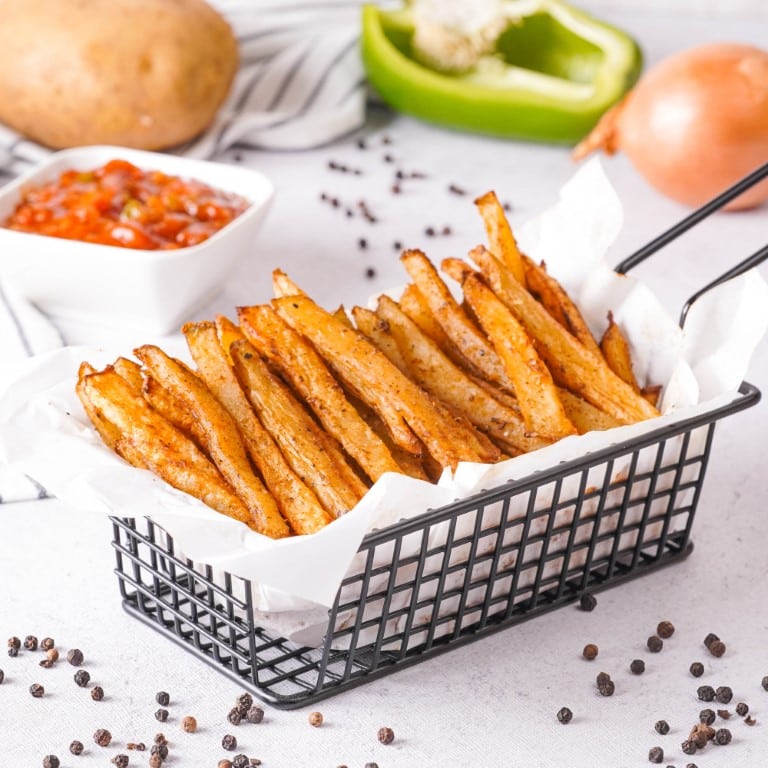 Ingredients
Cajun Seasoning
2

Tbsp

garlic powder

2

Tbsp

paprika

2

Tbsp

dried oregano

1

Tbsp

onion powder

1

Tbsp

sea salt

2

tsp

ground black pepper

1

tsp

dried thyme

1

tsp

cayenne

more or less
Cajun Ketchup
1

Tbsp

extra virgin olive oil

½

cup

finely minced yellow onion

½

cup

finely minced green bell pepper

1

cup

8 ounces fire-roasted diced tomatoes

2

tsp

Cajun seasoning

1

cup

ketchup
Fries
4

or 5 large russet potatoes

washed

2

Tbsp

extra virgin olive oil

2

Tbsp

Cajun seasoning

Sea salt for serving

if desired
Instructions
All ingredients ready? Let's begin!
Cajun Seasoning
Add the garlic, paprika, oregano, onion powder, salt, pepper, thyme, and cayenne to a small mixing bowl. Stir to combine well. Place in a sealed jar or plastic baggie and store at room temperature until ready to use.
Cajun Ketchup
In a skillet over medium-high heat, warm the olive oil. Add the onion and bell pepper. Cook, stirring a few times until softened, approximately 3 minutes.

Add the diced tomatoes and Cajun seasoning and lower the heat to medium-low. Simmer, stirring often, until the tomatoes have broken down, approximately 6 to 8 minutes.

Remove the pan from the heat and stir in the ketchup. Allow this to cool and transfer to a sealed jar. Refrigerate until ready to use. You can use an immersion blender if you want the ketchup less chunky.
Fries
Slice the potatoes into 1/2-inch thick fries. Alternatively, use a fry cutter to shape the sticks.

Add the potato sticks to a large bowl. Cover with cold water and soak for 30 to 45 minutes to remove excess starch.

Preheat your oven to 425°F. Line a baking sheet with foil or parchment paper.

Drain and rinse the potatoes and pat them very dry with paper towels. Wipe out the bowl so it is dry.

Add the potatoes back to the bowl and coat them with olive oil and Cajun seasoning. Toss to coat well.

Place the potatoes in a single layer on the lined baking sheet. Place this in the preheated oven and bake for 20 minutes. Turn the fries over and continue to bake until browned and crisp, approximately 20 more minutes.

Season the fries with salt, if desired. Serve the hot fries with the Cajun ketchup on the side.
Nutrition
Calories:
511
kcal
|
Carbohydrates:
98
g
|
Protein:
11
g
|
Fat:
12
g
|
Saturated Fat:
2
g
|
Polyunsaturated Fat:
2
g
|
Monounsaturated Fat:
8
g
|
Sodium:
2412
mg
|
Potassium:
2117
mg
|
Fiber:
10
g
|
Sugar:
19
g
|
Vitamin A:
3079
IU
|
Vitamin C:
53
mg
|
Calcium:
154
mg
|
Iron:
7
mg
Notes & Tips
You can definitely make the Cajun seasoning and the Cajun ketchup well ahead of time. The seasoning will keep for weeks in a sealed jar and the ketchup will keep for up to a week in the fridge.
Soaking the potatoes in cold water will help to remove some of the sticky starch so they will crisp up better. Just make sure they are very dry before seasoning and baking them.
It is important to bake your fries in a hot oven in a single layer with a little bit of space between each fry so they get golden and crisp.
Substitutions & Shortcuts
Cajun Seasoning: You can use a jar of your favorite brand of Cajun or Creole seasoning rather than making your own. Check the label to see if the blend has salt in it. If not, increase the salt in your fries and add some to the ketchup. If making your own seasoning, adjust the amount of cayenne pepper to suit your desired heat level. For a low-fodmap version of the seasoning, try this recipe.
Cajun Ketchup: If you are feeling ambitious, you can make the Cajun ketchup with diced fresh Roma or vine-ripened tomatoes. If you aren't feeling ambitious at all, simply season 2 cups of your favorite ketchup with a tablespoon or more of Cajun seasoning.
Potatoes: I think russet or Idaho baking potatoes work best for this recipe because their flesh isn't too waxy. But you could pretty much use any white potato. For a bit healthier version, try sweet potatoes or Japanese white sweet potatoes. With sweet potatoes, you will want to peel them because the skin is a little tougher than that of white baking potatoes.
---
Recent Recipes