Have you ever looked at a certain dessert and thought, "wow, that's so good, but I kind of wish it was a cake instead"? Even if you haven't, I have good news for you. Where there's a will, there's a way, so you can (theoretically) make anything into a cake. I found myself thinking about cake the other day when I looked at a cannoli. The flavors of a cannoli are great, but sometimes I get overwhelmed by the amount of cream filling in them and, if I was to try to make them at home, I just don't have the energy to make the little wraps.
Fortunately, there is a way around every obstacle. This cannoli cake offers the mouth-watering taste of a traditional cannoli packed in a fluffy, moist, layered cake. I have found that making and assembling this cake requires less effort from me than if I were to make and fill a dozen small cannolis, plus it can serve more, which is a bonus. If you want, the top of this cake could be decorated with mini cannolis that you make or buy, but I think the cake alone speaks for itself.
If you have the foresight (I never do), you can put the butter and eggs to sit out so that they are room temperature by the time you need to use it. There are also a few steps you will need to do the night before, so I advise reading through the entire recipe before you begin.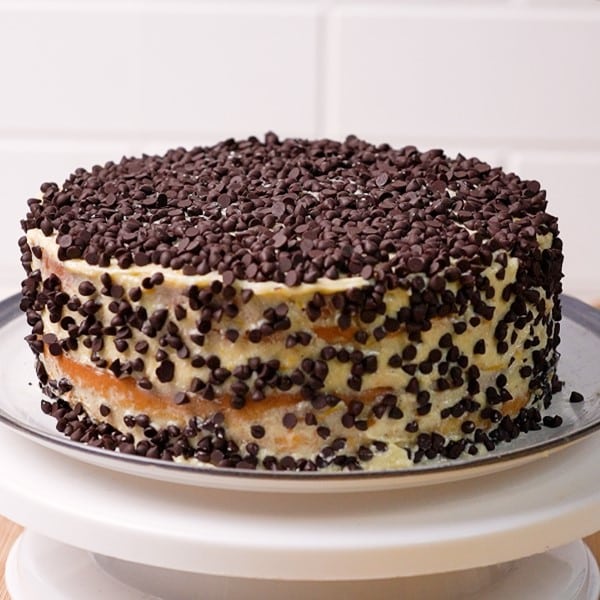 Ingredients
For the cake:
3

cups

flour

1 ½

tsp

baking powder

¼

tsp

baking soda

1

tsp

cinnamon

½

tsp

salt

1 ½

sticks of butter

1 ¾

cups

sugar

¼

cup

vegetable oil

4

eggs

2

tsp

vanilla

1 ¼

cup

buttermilk
For the icing:
1 ½

cups

ricotta cheese

2

cups

mascarpone cheese

2

oranges

1

cup

powdered sugar

2

tsp

vanilla

1

tsp

cinnamon

½

tsp

salt
For the glaze:
¼

cup

powdered sugar

4

tbsp

rum

juice of 1 orange

1

cup

mini chocolate chips
Instructions
All ingredients ready? Let's begin!

The night before you want to make this cake, you will need to strain the cheese. To do this, put the cheese in a cheesecloth or other thin towel. Place it over a bowl to catch the liquid and leave it in the fridge. You can do this by placing it in a sieve above a bowl.

Allow the cheese to drain overnight.

Preheat the oven to 350F. Prepare two round 8- or 9-inch cake pans by rubbing some butter along the sides and bottom of both pans.

Flour by sprinkling in a tbsp or so of flour then shake it around the pan until it covers all the surfaces. Discard excess flour.

In a large mixing bowl, add the flour, baking powder, baking soda, cinnamon, and salt. Whisk together to combine.

In the bowl of a stand mixer (or a regular mixing bowl if you don't have a mixer) add the softened butter, sugar, and oil. Use the paddle attachment to beat for several minutes or until it becomes light and fluffy. If you do not have a stand mixer, you can use a hand-held electric beater or use your arms and a spatula.

Add the eggs one at a time and beat in between each until mixed in. Use a spatula to scrape down the sides of the bowl as needed. Add the vanilla and mix to combine.

Add the dry ingredients to the bowl of the stand mixer and beat on low speed until just combined without lumps.

Add the buttermilk and mix on low until combined and smooth. Pour the batter into the previously prepared cake pans and put in the oven for 30 minutes.

After 30 minutes, check if the cake is ready by inserting a toothpick or fork. If it comes out clean, it is done.

Remove from oven and let cool for 10 minutes in the pan before turning out to cool on a wire cooling rack. If the cake doesn't want to move, run a butter knife around the edges to loosen it.

Allow the cake to cool completely before assembling.

To make the frosting: Add the drained ricotta and mascarpone to the bowl of a stand mixer. Zest both oranges and add the zest to the bowl.

Add all the other frosting ingredients and beat at medium speed until well mixed and without lumps. Refrigerate until needed.

To make the glaze: Add all ingredients to a bowl and whisk until thoroughly combined.

To assemble: Cut off the top bit of one cake to give it an even surface. Cut both cakes in half.

Poke a few holes in them with a fork.

Evenly brush each piece of cake with the glaze until you have used it up.

Place one piece of cake on a plate and spoon some of the frosting on top.

Spread out to make an even layer, then stack and repeat with the rest of the cake pieces and frosting, making sure to leave enough frosting to cover the outside of the cake.

After you have stacked all pieces, use the remaining frosting to cover the top and sides of the cake.

Finish by sprinkling or pressing the chocolate chips on the top and sides.
Nutrition
Calories:
587
kcal
|
Carbohydrates:
66
g
|
Protein:
11
g
|
Fat:
31
g
|
Saturated Fat:
19
g
|
Polyunsaturated Fat:
1
g
|
Monounsaturated Fat:
4
g
|
Trans Fat:
0.4
g
|
Cholesterol:
117
mg
|
Sodium:
375
mg
|
Potassium:
155
mg
|
Fiber:
2
g
|
Sugar:
44
g
|
Vitamin A:
983
IU
|
Vitamin C:
11
mg
|
Calcium:
178
mg
|
Iron:
2
mg
Notes & Tips
This cake can be stored covered at room temperature for 5 days. If you do not have a cake pedestal, one way to cover it is by placing a large mixing bowl upside down over the cake.
If you want, you can buy some mini cannolis and decorate the top of the cake with them.
If you do not have buttermilk, you can make your own substitute by putting a few tablespoons of lemon juice or vinegar in your measuring cup then making up the remaining space with milk. Allow to sit at room temperature for at least 5 minutes before adding to batter.
---
Recent Recipes