Simple Vegan Caramel Sauce
If you or someone in your family is sensitive to dairy, it can be very tricky to navigate meal prep at home and menu options when eating out. I had an allergy to dairy as a kid that caused a pretty uncomfortable reaction sometimes. Milk was something I just couldn't tolerate. That was a challenge when kids were told to drink at least 8 ounces of milk every day.
The difficulty with dairy sensitivity is that dairy is an ingredient in so many foods, such as milk chocolate, cakes and cookies, prepared sauces and salad dressing, canned soup, ice cream, and even caramel sauce. Fortunately, packaged and prepared foods are now clearly labeled so you can check to see if dairy is an ingredient. As well, you can make your own dairy-free versions of so many popular foods.
Coconut and tofu-based frozen desserts are a great alternative to milk or yogurt-based ice creams. However, you have to skip the bottled chocolate and caramel sauces for topping these sweet treats. Caramel sauce usually contains both milk and butter. That is what makes the sauce creamy and silky smooth.
With all the great vegan milk and butter options now available, you can make a really tasty caramel sauce at home in just a few minutes. I am fond of caramel sauce poured over coconut milk ice cream. I also love dipping tart apple slices into caramel. It is super easy to make a vegan caramel sauce by swapping out coconut milk for cow's milk and plant-based nut or coconut oil butter for dairy butter. The only other ingredients you need are brown sugar, vanilla, and salt. Of course, nut milk or nut butter would not be appropriate for those with a nut allergy.
The salt in this recipe is completely optional. However, salt really enhances the inherent sweetness in the other ingredients. You have likely seen sweets labeled "salted caramel". Some genius chef figured out that salt and caramel were a great match. I can attest to that remarkable combination. There is a candy maker in my town who prepares vegan bars with cacao, caramel, and crunchy grains of coarse sea salt that are to die for.
This vegan caramel sauce is best when used as soon as you make it and it is warm and pourable. Though, you can keep it in a sealed jar in the refrigerator for about a week. It will solidify when cold, so just warm it up before you serve it. Or, you can transform the caramel into candies that can be eaten right out of the fridge. I use a small ice cube tray to form bite-size caramel pieces. Toss some nuts or dried fruit in the caramel to make the bites more interesting. You can also add this caramel sauce to baked goods, such as sticky buns.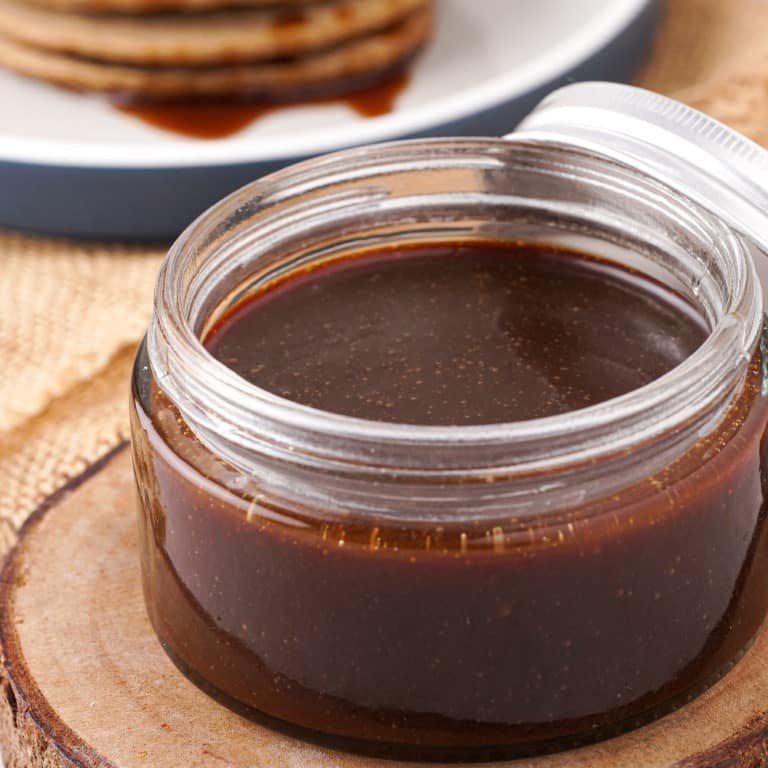 Ingredients
1

cup

brown sugar

8

Tbsp

dairy free butter

4

tbsp

full-fat coconut milk

1/2

tsp

sea salt

omit if the butter tastes salty

1

tsp

pure vanilla extract
Instructions
All ingredients ready? Let's begin!

In a saucepot over medium heat, stir together the sugar, butter, milk, and salt. As it melts, whisk to combine it into a smooth sauce.

Allow the sauce to bubble gently for about 5 minutes.

When the sauce is smooth and has thickened, but is still pourable, remove it from the heat.

Stir the vanilla extract into the sauce.

Serve the sauce while warm and pourable over your favorite dessert, such as vegan chocolate cake. Store any leftover sauce in a sealed jar in the fridge. Reheat it slightly to serve again.
Nutrition
Calories:
295
kcal
|
Carbohydrates:
36
g
|
Protein:
0.3
g
|
Fat:
17
g
|
Saturated Fat:
5
g
|
Polyunsaturated Fat:
5
g
|
Monounsaturated Fat:
7
g
|
Trans Fat:
3
g
|
Sodium:
327
mg
|
Potassium:
75
mg
|
Sugar:
36
g
|
Vitamin C:
0.1
mg
|
Calcium:
33
mg
|
Iron:
1
mg
Notes & Tips
Full-fat coconut milk has to be stirred well to combine the coconut cream with the coconut water inside the can. These naturally separate while being stored so you have to mix them when you open the can. Lite coconut milk doesn't work as well in this recipe.
It is important to use pure vanilla extract and not imitation vanilla. Imitation vanilla flavoring doesn't actually contain any vanilla and it can taste bitter or even overly sweet when added to the warm sauce.
You do need to nurse the saucepot while making the caramel, otherwise, it will scorch and stick to the bottom of the pot. Sugar is a temperamental ingredient, so remain mindful.
Substitutions
Brown Sugar: Brown sugar is simply granulated white sugar with the addition of some molasses to give it that light brown hue and slightly sticky texture. You can make your own brown sugar with these two ingredients. Coconut sugar has a similar tint and consistency to brown sugar. Date sugar tastes faintly of caramel, which is perfect for this recipe. Or, you could use raw turbinado sugar that is light brown.
Dairy-Free Butter: There are a few different brands of vegan plant-based butter available. Some are made from vegetable or coconut oil. Others are made from ground nuts. You can also make your own vegan butter. If you don't have vegan butter, I think coconut oil will work in a pinch.
Coconut Milk: I love the richness and consistency of full-fat coconut milk. Another good non-dairy milk is macadamia nut milk. There is also oat milk that is a little creamy. You can experiment with any non-dairy milk that you enjoy.
Vanilla Extract: Why would you want a substitution for pure vanilla extract? Well, because the real thing is expensive. But a little goes a long way, so don't fear pure vanilla extract. If you don't have vanilla extract in your pantry, you could use a little maple syrup. I often use almond extract instead of vanilla for a different flavor profile. You could even use a little brandy or rum in place of vanilla. Alternatively, use vanilla-flavored vegan milk.
---
Recent Recipes