Simple & Easy Carrot Cake
This simple and easy carrot cake recipe has everything you can desire from a carrot cake. It's moist, dense, full of warming spices, and not too sweet. Make this the perfect carrot cake by adding a luscious cream cheese frosting. It's the cherry on top.
Carrot cake with cream cheese frosting is one of my favorite desserts or afternoon snacks. And I don't feel guilty eating it because it's packed with healthy veggies that don't compromise the delectable experience. If you make this carrot cake without cream cheese frosting, you could even eat it for breakfast.
In this simple carrot cake recipe, I'll teach you how to make carrot cake moist, even if it's gluten-free. You'll also learn what goes well with carrot cake, and I'll give you lots of substitutions to tweak this recipe to your liking or dietary needs.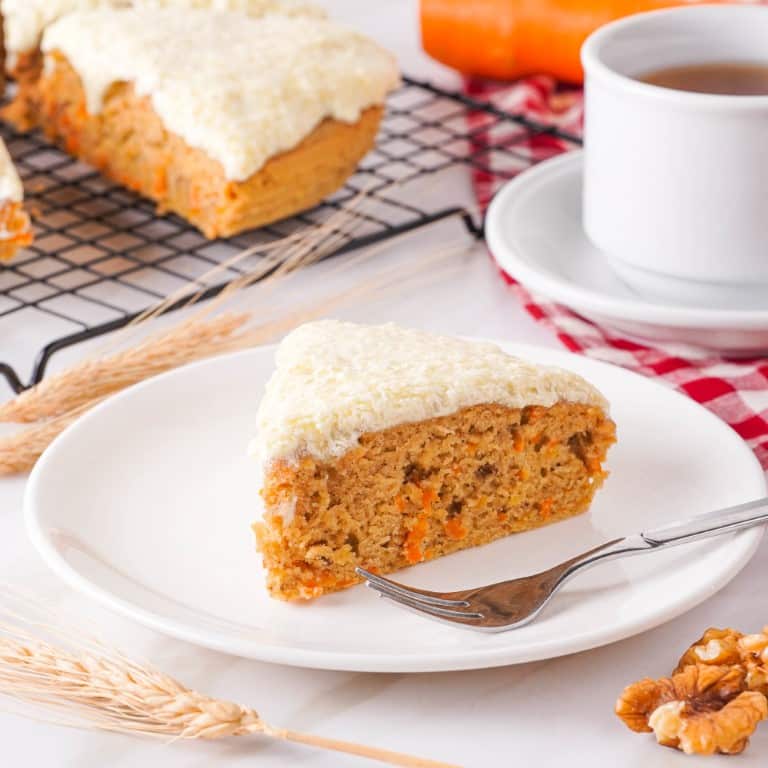 Ingredients
Carrot cake:
1

cup

+ 2 Tbsp. all-purpose flour

1 ½

cups

grated carrots

½

cup

safflower oil

½

cup

brown sugar

packed

¼

cup

granulated sugar

2

eggs

½

cup

buttermilk

½

Tbsp.

pure vanilla extract

¼

tsp.

salt

1

tsp.

baking powder

¼

tsp.

baking soda

1

tsp.

cinnamon

¼

tsp.

ground ginger

¼

tsp.

ground nutmeg

¼

tsp.

ground cardamom

Optional: ½ cup chopped walnuts or pecans
Cream Cheese Frosting (Optional)
4

oz

cream cheese

at room temperature

¼

cup

butter

1/2 a stick, at room temperature

½

tsp.

vanilla extract

1

cup

powdered sugar

1/8

tsp.

salt

Optional: a squeeze of lemon juice
Instructions
All ingredients ready? Let's begin!
The cake:
Preheat the oven to 350°F and lightly spray or oil a 9" round cake pan. Optional: dust the pan with flour by placing a bit in the middle and then turning the pan on the side as you tap in a circle, removing any excess flour after.

In a large bowl, beat eggs with sugar until foamy, then add oil and beat until combined (about 2-3 minutes). You can use an electric mixer, but a whisk or fork will work as well.

Add vanilla extract and buttermilk and beat until smooth.

Beat in baking soda, baking powder, cinnamon, ginger, cardamom, nutmeg, and salt.

Add flour and stir just enough to incorporate it. Don't over-stir the batter. Then incorporate the carrots, and optional nuts.

Bake for 25-30 minutes or until a toothpick poked in the center comes out clean. Take out of the oven and let sit for 10 minutes before removing from the pan. Transfer the cake to a wire rack to let cool completely. If you're not using frosting, you can enjoy it warm out of the oven with a cup of tea or Kashmiri chai!
Cream cheese frosting:
In a medium bowl with an electric beater, combine the cream cheese and butter until smooth, for about 1-2 minutes, scraping the edges of the bowl as you go.

Sift the powdered sugar (through a strainer) into the cream cheese mixture, add vanilla, and salt, and beat on low speed until combined. Then increase the speed to medium-high and beat until light and fluffy. Scrape the edges of the bowl a few times.

Taste the frosting and incorporate a squeeze of lemon if you want a little tang. Coat it on top of the cooled-down carrot cake and enjoy!
Notes
Nutrition
Calories:
544
kcal
|
Carbohydrates:
69
g
|
Protein:
7
g
|
Fat:
27
g
|
Saturated Fat:
6
g
|
Polyunsaturated Fat:
3
g
|
Monounsaturated Fat:
16
g
|
Trans Fat:
0.02
g
|
Cholesterol:
77
mg
|
Sodium:
403
mg
|
Potassium:
247
mg
|
Fiber:
2
g
|
Sugar:
50
g
|
Vitamin A:
5732
IU
|
Vitamin C:
2
mg
|
Calcium:
148
mg
|
Iron:
2
mg
Substitutions & Allergens
I think carrot cake is the best cake ever. I prefer my cakes less sweet, so if you want to make this carrot cake recipe like dessert, add 1/8 more granulated sugar. You can also reduce the sugar if you'd like.
To make this carrot cake recipe without eggs, substitute flax eggs or vegan eggs. To make a flax egg, mix 1 tablespoon of grounded flax seeds with 3 tablespoons of water for each egg. Let sit for a few minutes until it's the consistency of an egg and then follow the recipe instructions above.
You can omit the nuts or add other ingredients instead of walnuts or pecans. Some good ideas are shredded coconut, dried cranberries, white chocolate chunks, or even canned pineapple pieces.
If you want to make this carrot cake gluten-free, substitute a gluten-free flour mix. You might want to use a bit less flour or add a little more buttermilk since gluten-free flours tend to render a drier result.
For a dairy-free version, swap the buttermilk for vegan buttermilk. How to make vegan buttermilk, you ask? It's super simple – measure 1/2 cup of unsweetened soy or oat milk, remove ½ tablespoon and add ½ tablespoon of freshly squeezed lemon juice or apple cider vinegar. Let it sit for 10 minutes.
You can use this same method to make buttermilk at home from regular cow's milk and some lemon juice or vinegar.
I love a good carrot cake infused with lots of spices, but if you want a milder flavor, you can omit the nutmeg and cardamom. I'd say the cinnamon and ginger are key, but the cake will still be delicious without vanilla extract.
I like using safflower oil because it's one of the healthier and more affordable vegetable oils with a neutral flavor. But you can use any neutral vegetable oil. Canola, grapeseed, sunflower, corn, or refined coconut oil all work well. 
You could even use melted butter instead of oil. In this case, make sure the eggs are room temperature and the butter is cooled down so you don't cook the eggs or clump the butter.
For a vegan cream cheese frosting, use good vegan cream cheese and vegan butter. You can also mix some thick coconut vegan yogurt with a little powdered sugar and spread it over the cooled carrot cake as frosting.
To make honey cream cheese frosting (my personal favorite), omit the vanilla extract and lemon juice, and replace the sugar with 3-4 tablespoons of honey.
Can Carrot Cake Be Made Ahead of Time?
Yes, you can make and frost carrot cake 1 day in advance. Keep the cake in the fridge and let it sit at room temperature before serving (if desired).
Alternatively, you can store the cake in an airtight container in the fridge for up to 5 days. Once sealed and refrigerated, carrot cake can last up to a week.
If you don't frost the cake, it can be left out at room temperature for up to 2 days. Once frosted, refrigerate the cake, otherwise, the cream cheese frosting will start to melt into the cake, while the fat and liquid separate.
You can store the frosting separately in the fridge in an airtight container for up to one week.
Can Carrot Cake with Frosting Be Frozen?
Yes, you can freeze carrot cake baked and frosted! Just make sure to refrigerate the frosted cake for 6-8 hours before freezing so that the frosting firms up. Then wrap it well in plastic wrap and place it in an airtight container. It can be stored in the freezer for up to 3 months.
Cut the carrot cake into slices before frosting and wrap individually to be able to enjoy a piece of carrot cake at any time. Or, if you plan to bring the cake to an event to share with others, you can freeze the entire cake.
To thaw the cake, place it in the fridge for at least 8 hours before eating. Take it out of the freezer in the morning so that you can enjoy a slice with your afternoon tea or for dessert after dinner.
---
Recent Recipes