Refreshing Chamoyada Mango Drink
There is a refreshing beverage in Mexico that is cold, creamy, spicey, and sweet. It is made primarily with mangos. This drink is called chamoyada or mangonada. It is a popular street vendor or food truck staple that is enjoyed on hot summer days or evenings.
You might be wondering how a cold drink that is also spicy can be refreshing on a hot day. If you think about it, Latin American cuisine is known for being spicy by utilizing hot chili peppers in many dishes. Modern research and ancient wisdom have shown that ingesting spicy foods helps to raise your body temperature which naturally makes you feel cooler in hot weather. Basically, spicy foods encourage your body to perspire, which actually cools you off because sweating is the body's way to naturally cool you down and regulate your body temperature.
Chamoyada is a blended drink of mango chunks and mango nectar. The brightness of the orange mangoes is layered with chamoy. Chamoy is a saucy condiment mostly comprised of dried hot chili peppers, lime juice, and sweet fruit, such as apricots or plums. It is a deep, rich, reddish-brown hue that looks fabulous when gently swirled or layered into the puréed mango. When you sip the drink, you will get a bit of sweet fruit and a then a hit of spice. It excites and stimulates your tastebuds while also nourishing your body with plenty of vitamin C with the added benefit of cooling you down.
To make Chamoyada at home for 4 people, you will need a good blender. Otherwise, you can use your individual smoothie bullet for a single serving. I don't overthink the ingredients. This recipe is pretty simple because it uses frozen mango chunks, bottled mango nectar or juice, and prepared and jarred chamoy sauce. The only ingredient I like to make from scratch is the chili lime spice to rim the glasses. However, you can purchase that online in a jar.
Serve the drink in short 8 or 10-ounce cups. The drink is traditionally sipped through a candied tamarind straw. Those are plentiful online or at your local Latin market.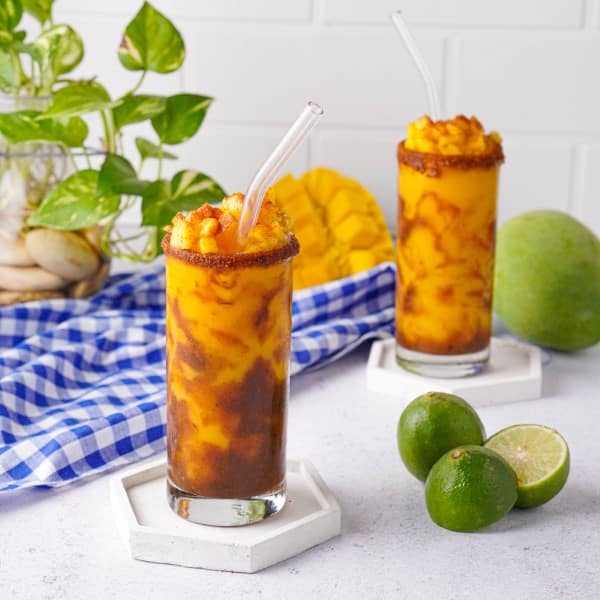 Ingredients
¼

cup

powder from spicy ground chili peppers

ancho, de arbol, or guajillo

1

tsp

sea salt

1

tsp

1 packet lime powder

1

tsp

granulated sugar

16

ounces

frozen mango chunks

12

ounces

mango nectar or juice

2

Tbsp

freshly squeezed lime juice

1

Tbsp

granulated sugar

optional

1

cup

of ice

½

cup

+ 2 Tbsp chamoy sauce

1

fresh mango diced

4

tamarind candy straws
Instructions
All ingredients ready? Let's begin!

In a small mixing bowl, whisk together the chili powder, salt, lime powder, and 1 teaspoon of sugar.

Spoon this mixture onto a flat plate and spread it out evenly.

On another plate, add 2 tablespoons of chamoy sauce and spread it out with the back of a spoon. Set both plates aside.

To a blender, add the frozen mango, mango nectar, lime juice, 1 tablespoon of sugar, and the ice. Blend until smooth and creamy, approximately 1 minute.

Take your cups and dip the rims in the chamoy on the plate and then in the chili lime seasoning. This is similar to the salt rim on a margarita glass.

Spoon 1 tablespoon of chamoy into each glass and swirl to coat the bottoms.

Pour some of the mango purée into each cup to fill halfway. Add another tablespoon of the chamoy to each glass. Fill the glasses with the remaining mango purée.

Top each glass with fresh mango chunks. Sprinkle any leftover chili lime spice over the mango chunks. Add a tamarind candy straw and serve immediately while cold.
Nutrition
Calories:
308
kcal
|
Carbohydrates:
71
g
|
Protein:
11
g
|
Fat:
5
g
|
Saturated Fat:
1
g
|
Polyunsaturated Fat:
1
g
|
Monounsaturated Fat:
1
g
|
Cholesterol:
13
mg
|
Sodium:
1934
mg
|
Potassium:
1156
mg
|
Fiber:
28
g
|
Sugar:
30
g
|
Vitamin A:
2852
IU
|
Vitamin C:
86
mg
|
Calcium:
1001
mg
|
Iron:
23
mg
Notes & Tips
Chamoyada is worth the little bit of time needed to make it. The combination of sweet and spice is really complex and refreshing. It is worth using a good blender to get the right consistency. The puree should resemble sherbet that is drinkable. You can serve this drink with a spoon as well as a straw.
Substitutions & Shortcuts
Fresh mangos are not always in season, that is why this particular recipe is made with frozen mangoes, as well as jarred mango nectar. You could definitely make a version of chamoyada with other fleshy stone fruits, such as peaches or nectarines. These are delicious substitutions for mango. I would even try this with a combination of bananas and pineapples.
For the spiced rim on the cup, you can make your own chili powder from dried chilis. Remove the stems and seeds and grind the peppers in a spice or coffee grinder. To save time, there is a premade chili lime spice blend called tajin that you can find online or at Latin markets. Otherwise, just rim the glass with some granulated sugar or skip the crunchy rim altogether. Also, you can use a lime wedge to coat the rim before dipping the glasses in the chili lime spice.
While this drink isn't typically served without alcohol, I don't see any reason why you couldn't spike it with dark rum, tequila, or vodka for a fun summer cocktail.
If you can't find tamarind candy straws, simply serve this drink with a regular straw and a spoon.
Other Cold Beverage Options
If you like this recipe, you might also like other similar cooling drinks to enjoy in summer. Here are a few of our favorites:
---
Recent Recipes