Best Cheese Enchiladas Rojas
I love enchiladas, I could eat them every, single day. I like them spicy, I like them creamy and cheesy and I like them filled with proteins. The tangy sauce, the soft tortillas and the melty cheese is what makes it my perfect meal. But I always assumed enchiladas were so complicated to make, there was no way something this delicious was easy to make. And boy, was I wrong. The Best Cheese Enchiladas Rojas taste amazing, its filled with all the good stuff and it is super simple to make. I had all the ingredients in my pantry, I just threw them together and I had the most satisfying and delicious enchiladas ever.
I broke it down to make it simpler. You have the corn tortillas, which are store bought, the filling, cheese, cheese and more cheese and the red enchilada sauce, which is so simple to make. So, grab your ingredients it's time to make The Best Cheese Enchiladas Rojas.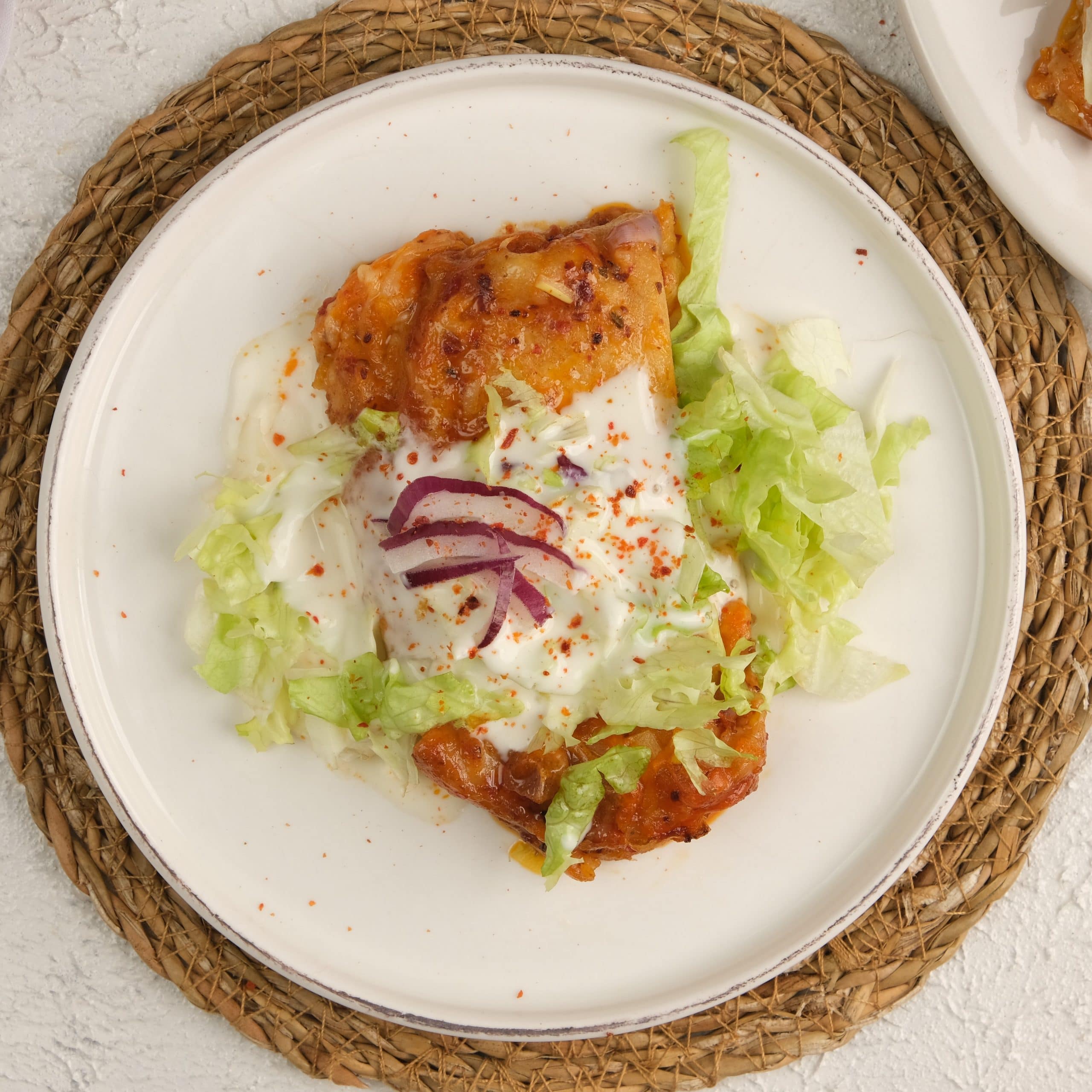 Equipment
Cast iron skillet or big pot

Large baking tray
Ingredients
8

corn tortillas

2

tablespoons

of butter

1

tablespoon

of vegetable oil

2

tablespoons

of all-purpose flour

1

tablespoon

of chili powder

2

teaspoons

of smoked paprika

1

teaspoon

of cayenne pepper

1

teaspoon

of cumin powder

1

teaspoon

garlic powder

½

teaspoon

of oregano

1

tablespoon

of tomato paste

3

cups

of vegetable broth

2

cups

of shredded cheddar cheese

A pinch of sugar

Salt to taste
Toppings & Garnish
Shredded cheese

Diced red onions

Shredded lettuce

Mexican crema
Instructions
In a large pot or skillet add the 2 tablespoons of butter and 1 tablespoon of oil and heat together

Once the butter has melted, add the flour and whisk on medium-low heat.

Keep whisking and add the chili powder, paprika, cayenne, cumin, garlic powder and oregano.

Add about ½ a cup of the vegetable broth and continue whisking.

Add the tomato paste and keep whisking till everything is well combined and the spices have started to get fragrant.

Now add the remaining broth, salt and sugar and whisk nicely.

Bring to a boil. Reduce the heat, cover and let it simmer for about 15 minutes.

Take off heat, taste and add salt if needed.
Layering the Enchiladas
Pour some of the enchilada sauce to the baking tray and spread till the entire base is covered in a thin layer of sauce.

Take one tortilla, dip it in the enchilada sauce, add some cheese to it, roll it and place it in the basking tray.

Repeat for all the tortillas and arrange each rolled and filled tortilla side by side until the entire baking tray is filled.

Pour the remaining enchilada sauce on top, till all the tortillas are covered in it. Add the diced onions and more of the shredded cheese on top.

Place in the oven and bake for 15 minutes.

Once the cheese is nice and bubbly take it out, garnish with some chopped lettuce and Mexican crema.

Serve warm & enjoy your Best Cheese Enchiladas Rojas!
Video
Nutrition
Calories:
466
kcal
|
Carbohydrates:
33
g
|
Protein:
17
g
|
Fat:
31
g
|
Saturated Fat:
15
g
|
Polyunsaturated Fat:
3
g
|
Monounsaturated Fat:
8
g
|
Trans Fat:
1
g
|
Cholesterol:
72
mg
|
Sodium:
1210
mg
|
Potassium:
279
mg
|
Fiber:
5
g
|
Sugar:
3
g
|
Vitamin A:
2483
IU
|
Vitamin C:
1
mg
|
Calcium:
464
mg
|
Iron:
2
mg
Tips & Tricks
The little bit of sugar you add helps balance out all the spices
You don't have to dip the corn tortillas in the enchilada sauce, but it adds extra flavor
The tortillas have to be baked in a single layer, don't overcrowd them or layer them on or top of another
When making the roux, you have to keep whisking because it will burn otherwise
Storage
The enchilada sauce can be refrigerated for about 5 days in an airtight container. It can also be frozen for about 3 months. Let it sit in the fridge overnight to thaw and you can use it the next day.
The Best Cheese Enchiladas Rojas can also be stored in the fridge if you have any leftover. Store in an airtight container for up to 3 days. You can freeze them as well for up to two months. You can reheat them in the microwave, oven or stovetop. Add a little bit of enchilada sauce if you have any to soften it up. In the microwave heat for about a minute and half. On the stove top, place The Best Cheese Enchiladas Rojas in a wide pan on medium-low heat. Cover it so that it doesn't dry up and it will soften in the heat. Preheat oven to 350 degrees F and let it heat for about 10-12 minutes.
FAQs
Is there a vegan option for this enchilada?
The Best Cheese Enchiladas Rojas can be made vegan. This dish is so versatile. So, skip the butter and use only oil for making the sauce. And instead of a cheese stuffing you can make a black-bean stuffing, it is delicious and filling and easy to make. In a pan heat some oil, add ½ cup of onions and 2 cloves of minced garlic. Add one cup of black beans, salt and some diced jalapenos if you want a bit of heat. Press the beans down and mash them a little. Fill the corn tortillas and follow the rest of the instructions. You can top it with some vegan cheese, cilantro and sliced avocados.
Substitutions
You can substitute the fillings and toppings in The Best Cheese Enchiladas Rojas. You can also play with the sauce to tamp down or amp up the spice levels. You can make it a green sauce if you want. There is just so much you can switch up to make it all your own.
Stuffing: You can go with black or pinto beans. If you are not using canned beans, you need to cook them first.
You can also use pickled vegetables like carrots, zucchini and squash.
The Best Cheese Enchiladas Rojas can also be made with meat. You can use pork, chicken and beef. You can buy them precooked or cook along with onions, garlic and spices.
Cheese: There are a variety of cheese you can choose from, which all work well for this dish. You can use cotija cheese, cheddar, American and mozzarella
Toppings: There are tons of toppings you can use to dress up The Best Cheese Enchiladas Rojas like sour cream, cilantro, avocados, diced jalapenos, shredded lettuce, shredded cabbage, queso fresco, cotija cheese and salsa to name a few.
Accompaniments
The Best Cheese Enchiladas Rojas pairs well with some refried beans, Mexican rice and some salsa.
For more delicious Mexican food, try this Mexican Goat Stew or this Mexican Botana Platter.
---
Recent Recipes