Homemade Cheese Sauce for Broccoli or Cauliflower
Knowing how to make cheese sauce for broccoli or cauliflower means you can prepare this delicious side dish whenever the mood takes you. There are lots of options you have when making cheese sauce. You can use any kind of cheese, pick whatever consistency you want, from quite runny to very thick, and add various spices and seasonings to get the perfect flavor.
Best Type of Cheese for Cheese Sauce
The choice of cheese is up to you. Cheddar is a popular choice but that's not your only option here. Monterey jack, emmental, gruyere, or Italian blend would all be good. You can also combine two or even three kinds of cheese.
Perhaps you would like mild cheddar combined with blue cheese, or what about mozzarella paired with parmesan?
Mozzarella tends to get very stringy, so it's best not to have that as the only cheese. Other options include Velveeta (which isn't technically 'cheese' but does work here!) or using 1 part cream cheese to every 3 parts shredded cheese.
The classic recipe for cheese sauce includes butter, milk, flour, cheese, and salt and pepper. Feel free to tweak these ingredients, using margarine in place of the butter, or using light cream or a non-dairy milk (eg almond milk or soy milk) in place of the regular milk. You might like to add a pinch of nutmeg to the mix too, since this adds a good flavor to cheese sauce.
Get the Broccoli or Cauliflower Cheese Golden and Crisp on Top
Once you have cooked your vegetables and prepared the cheese sauce, you can go ahead and serve the sauce ladled over the veggies.
However, what makes this even more special is pouring the sauce over the vegetables in a baking dish and then adding some extra shredded cheese on top. Pop it under the broiler to crisp up the cheese on top and add another delicious element to this already delicious side dish.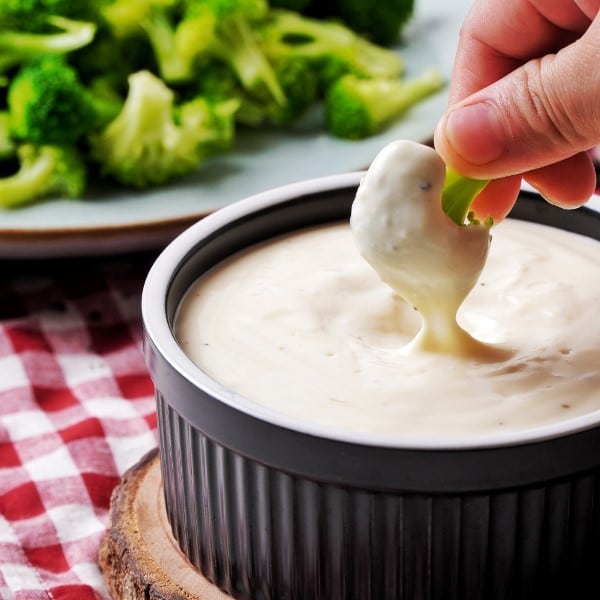 Ingredients
2

tablespoons

butter

1

cup

whole or 2% milk

2

tablespoons

all-purpose flour

1 ½

cups

shredded cheese

Salt and black pepper

to taste
Instructions
All ingredients ready? Let's begin!

First melt the butter in a pan.

Whisk in the flour until the sauce is smooth.

Now add the milk, stirring with a wooden spoon.

Cook for another 3 minutes, stirring until the sauce thickens.

Add the cheese and keep stirring for another few minutes.

Add salt and pepper to taste and serve hot over broccoli or cauliflower.
Video
Nutrition
Calories:
181
kcal
|
Carbohydrates:
7
g
|
Protein:
12
g
|
Fat:
12
g
|
Saturated Fat:
7
g
|
Polyunsaturated Fat:
1
g
|
Monounsaturated Fat:
3
g
|
Cholesterol:
41
mg
|
Sodium:
294
mg
|
Potassium:
138
mg
|
Fiber:
1
g
|
Sugar:
4
g
|
Vitamin A:
395
IU
|
Calcium:
296
mg
|
Iron:
1
mg
Notes
This is a great cheese sauce for broccoli or cauliflower, but you can also have it over potatoes or any other vegetables you want.
If it's too thick, you can add a little extra milk.
If you're cooking broccoli or cauliflower, this cheese sauce is the perfect addition. It's thick, rich and perfectly cheesy. Also, you can include any type of cheese you want to use.
---
Recent Recipes