Who does not love oozy cheesy lasagna? It must be my all-time favorite. I have eaten lasagna in more than three countries, and one thing I can confirm is that every culture has its idea of what a delicious lasagna is made of.
Traditional lasagna consists of pasta sheets, ground beef, cheese, milk, flour, and butter. Some versions of lasagna have a greater pasta to beef ratio, whereas others have a greater beef to pasta ratio.
Lasagna is delicious, and the cheesier, the better! As mentioned, you can tweak any lasagna recipe to your liking, but my favorite way to prepare lasagna is more beef than pasta.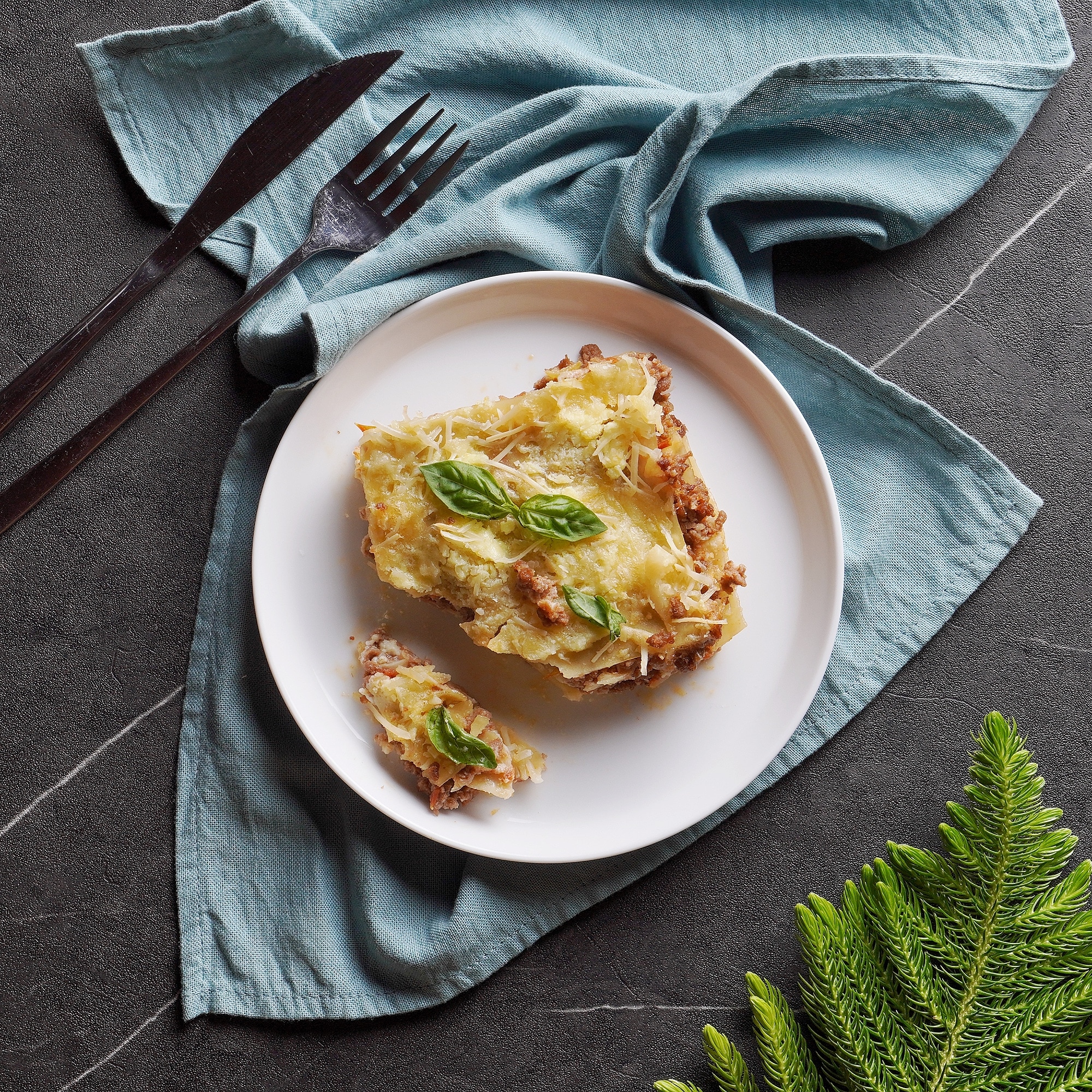 Ingredients
For the beef
1

pack lasagna sheets

2

lb.

minced beef

1

yellow onion

finely chopped

1/2

cup

red wine

1

can Tomato and Onion mix

1 ½

tsp

garlic powder

1 ½

tsp

onion powder

2

tsp

ketchup

1

tsp

paprika

3

tsp

beef spice

2

tsp

sugar

1

cup

cream cheese
For the sauce
2

cups

milk

4

Tbsp

butter

4

Tbsp

flour

2

cups

cheese

cheddar and gouda

Salt and Pepper

to taste
Instructions
First things first, put your oven on 350⁰F

In a large saucepan over medium heat, gently fry your onions. Add the sugar and salt to the onions and fry until golden.

Add the minced beef to the pan and turn the heat up. Before stirring the minced beef, add all the spices. Stir the minced beef until golden brown. Add the red wine, tomato and onion mix, and ketchup.

Turn the heat down to a low and leave to simmer for 45 minutes.

While the beef is simmering, start with the sauce.

In a microwave-safe container, melt the butter and flour until it forms a paste. Mix in 2 Tbsp of your milk until the paste is liquid.

Stir in the rest of the milk, whisking vigorously while doing so—microwave for three minutes stirring every 20seconds.

After two minutes in the microwave, add one cup of cheddar. Microwave for one more minute, don't forget to stir consistently

When the sauce is thick and cheesy, add salt and pepper to taste.

In an oven dish, start with your layers. First layer a little bit of sauce, pack the first layer of lasagna sheet on top of the sauce.

Then a layer of the ground beef, followed by a layer of sauce and a layer of pasta.

At this point, spread your cream cheese over the pasta and repeat the layers as before.

Layer the remaining cup of gouda on top of the lasagna.

Bake in the oven for 25 minutes.

Enjoy your Best Cheesy Lasagna!
Video
Nutrition
Calories:
800
kcal
|
Carbohydrates:
20
g
|
Protein:
42
g
|
Fat:
59
g
|
Saturated Fat:
28
g
|
Polyunsaturated Fat:
2
g
|
Monounsaturated Fat:
20
g
|
Trans Fat:
2
g
|
Cholesterol:
194
mg
|
Sodium:
540
mg
|
Potassium:
719
mg
|
Fiber:
1
g
|
Sugar:
9
g
|
Vitamin A:
1071
IU
|
Vitamin C:
3
mg
|
Calcium:
459
mg
|
Iron:
4
mg
Notes & Tips
Make sure that your oven dish is well greased before adding the first layer of sauce. 
If the ground beef is too saucy for your liking, let it simmer for an extra 15 minutes. Be sure not to replace the lid as it will create excess moisture. 
For a lump-free cheese sauce, use a fork instead of a spoon when mixing the butter and flour into the milk. 
If you still can't get your sauce lump-free, use milk and cornstarch instead of flour and butter. 
To eliminate the acidity of the tomato in the ground beef, add more sugar but be careful not to make it too sweet. 
If the sauce is not the right consistency, you can add extra milk, heat the additional milk before adding it to the already hot sauce. 
Please don't use the Gouda in the sauce, as it will not create that stringy texture as the cheddar does. 
Don't add too much oil to the ground beef and onions, as it will make your lasagna extremely oily.
Can I Use Milk Alternatives In My Sauce?
Yes, you can prepare your lasagna 100% dairy-free. Prepare the sauce precisely like in the recipe and substitute cows' milk with soya milk or any plant-based milk. I would recommend using Pacific Foods Soy milk.
What Other Cheeses Can Be Used?
Dairy-free cheese options work well with this recipe and will still deliver a delicious cheesy product. Any dairy-free or vegan cheese can be used. I will advise you not to use soft cheeses and still stick to vegan cheeses with the same texture as Gouda.
Can I Make The Entire Lasagna Vegan?
Yes, of course! We have already covered the dairy and cheese alternatives. Meat alternatives to use in your cheesy lasagna can include beans, soy, and mushrooms. CookGem explains these alternatives well.
Do I Need To Pre-boil The Lasagna Sheets?
This is a very valid question, yes you can pre-boil the pasta sheets, but it is unnecessary as they will still cook perfectly in the oven. If you pre-boil them, it will only speed up the cooking process in the oven. The moisture from the ground beef and white sauce will ensure the pasta sheets cook thoroughly from raw in the oven.
How Do I Store Leftover Lasagna?
This lasagna is so delicious you may not have any leftovers, but if you are only cooking for one and you have loads of lasagna remaining after one meal, you can divide the lasagna into portions and freeze the leftovers for up to two months.
Is It Essential To Start With The Pasta Layer?
Yes and no, it is essential to always start with a layer of sauce. This will ensure that the pasta does not stick to the bottom of the baking dish. If you start with ground beef instead of the pasta sheets, your lasagna will only end up falling apart when you start to dish it up. Starting with the pasta sheets will ensure that the lasagna holds its shape. It is also important to layer the sauce on top of the ground beef as it will soak up all the flavors. The best way to layer your lasagna is the sauce, pasta sheets, ground beef, sauce, pasta sheets, ground beef, sauce, cheese.
---
Recent Recipes