Brownies are a classic dessert and almost everyone enjoys them. Basic brownies are simple to make, but there are a lot of unique and variated ways to make them too. Different people value different things in brownies, but this particular brownie recipe is hard to beat. It uses cherries and chocolate to create a luscious, yummy dessert. If you are looking for a unique brownie recipe but cherries aren't your favorite, try tahini vegan brownies or fudgy, vegan potato milk brownies instead.
You can use any kind of chocolate and baking cocoa powder for this recipe, but I really recommend dark chocolate and dark cocoa. If you use milk chocolate, the brownie tends to be overly sweet. The bitterness of dark chocolate helps cut through the syrupy sweetness of the maraschino cherries which results in the perfect harmony in your mouth. These brownies are a great treat to take to a dinner party or potluck. Let the combination of dark chocolate and lush cherries make you the talk of the town.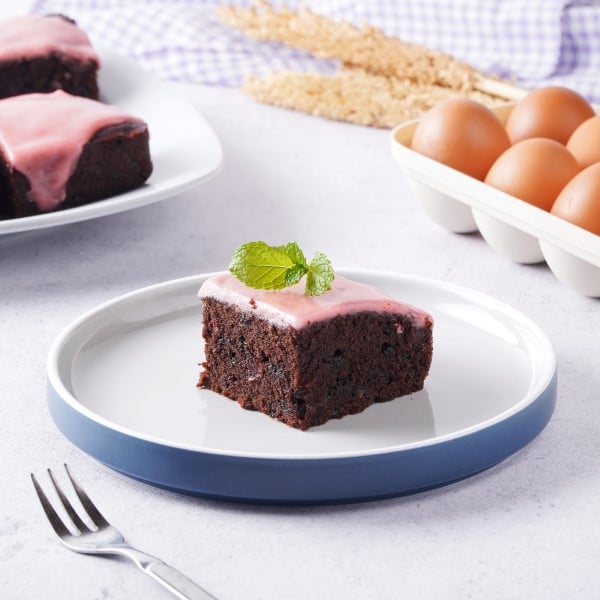 Ingredients
1

cup

chocolate chips

¾

cup

butter

3

eggs

1

cup

brown sugar

1 ½

tsp

vanilla

1

cup

flour

½

cup

cocoa powder

1

tsp

baking powder

½

tsp

salt

1

cup

maraschino cherries

2

tbsp

maraschino cherry juice

1 ¼

cup

powdered sugar
Instructions
Preheat the oven to 350F. Prep a 9-inch square baking dish by putting a sheet of parchment paper over the bottom and sides. Spray with non-stick spray.

Halfway fill a medium pot with water and heat over medium heat until simmering. Place a smaller pot on top of the first to create a double broiler.

Add to the smaller pot ½ cup of chocolate chips and the butter. Use a spatula or wooden spoon to stir constantly as the chocolate melts.

Make sure the chocolate and butter are well combined.

Remove the smaller pot from heat and set aside to cool slightly.

In the bowl of a stand mixer, whisk together the eggs, sugar, and vanilla on high speed.

You can also use a handheld electric mixer or word really hard with your arms. Whip for about 5 minutes or until light and fluffy.

Turn the mixer to low and carefully pour in the melted chocolate and butter mixture. Whisk just until combined. You may need to use a spatula to scrape down the sides of the bowl.

In a new bowl, add the flour, cocoa powder, baking powder, and salt. Whisk to combine.

Slowly add the dry ingredients to the stand mixer and whisk until combined. Avoid overmixing.

Roughly chop the maraschino cherries and add to the bowl of the stand mixer. Mix to combine.

Add the remaining chocolate chips and mix briefly to combine. Make sure to scrape the sides and bottom of the bowl so every little bit gets mixed in.

Pour the batter into the previously prepared baking dish and spread evenly with a spatula.

Put in the oven and cook for 25-30 minutes or until a toothpick can be inserted and come out clean.

Once cooked, take out of the oven and let cool in the pan. You can then use the edges of the parchment paper to lift it out of the pan and onto a wire cooling rack.

While waiting for the brownies to fully cool, you can prepare the icing. In a small bowl, mix together the powdered sugar and juice from the maraschino cherries.

If the icing is too thick, add more juice or water. If too thin, add more powdered sugar.

Wait until the brownies are fully cooled then drizzle the icing on top.

Cut and serve.
Nutrition
Calories:
373
kcal
|
Carbohydrates:
77
g
|
Protein:
5
g
|
Fat:
7
g
|
Saturated Fat:
4
g
|
Polyunsaturated Fat:
0.4
g
|
Monounsaturated Fat:
1
g
|
Trans Fat:
0.01
g
|
Cholesterol:
60
mg
|
Sodium:
232
mg
|
Potassium:
174
mg
|
Fiber:
3
g
|
Sugar:
61
g
|
Vitamin A:
124
IU
|
Calcium:
100
mg
|
Iron:
2
mg
Notes & Tips
These brownies can be stored in an airtight container or covered at room temperature for 5 days.
Substitutions & Alterations
If you don't want to go through the trouble of dealing with the makeshift double broiler, you can melt the chocolate in a microwave. Put it and the butter in a microwave safe bowl and cook in 30 second increments. Stir after every 30 seconds. Keep an eye on it; the chocolate should be fully melted, but if you leave it in too long it can get a weird texture.
If you want, you can garnish the brownies before baking. You can remove the pits from a handful of fresh cherries and place them on top. You could also sprinkle a few more chocolate chips on top. Or both!
Personally, I find the cherry glaze to be a little too sweet and a little too cherry. Sometimes I don't use any glaze at all, but sometimes I use milk instead of cherry juice and I also add a drop of vanilla.
How To Bring It To the Next Level
If you want to make these brownies the most elaborate and fancy brownies you have ever tasted or looked at, you can top each piece of brownie with a chocolate covered cherry. To make them, melt ½ cup of chocolate chips with 2 tbsps of butter using the double broiler method or the microwave method.
Lay a piece of parchment paper on a clean surface and make sure you've washed several fresh cherries. Dry the cherries off with some paper towels. Hold a cherry by the stem and dip into the melted chocolate. You can use a spoon to scoop up chocolate and make sure it covers the entire cherry. After dipping in chocolate, place the cherries on the parchment paper and leave to harden for around half an hour.
Before serving your brownies, place a beautiful chocolate cherry on top. You can serve the excess on their own or keep them secret for yourself so you do not have to share. You can also use some melted chocolate to drizzle over the brownies in addition or in lieu of frosting.
---
Recent Recipes