Classic Chicken & Chorizo Paella
What is the most important ingredient in paella? The rice. Did you know you should not use long-grain rice when making paella? If you use long-grain rice, it will absorb water quickly and get really mushy.
You'll have much better results if you stick to using short-grain or medium-grain rice. They are much more absorbent and will hold the tender, dry texture you want when you make paella.
This recipe is great to try if you haven't made paella before. It has the classic and simple proteins, chicken and chorizo, and you can have it ready to go in under an hour.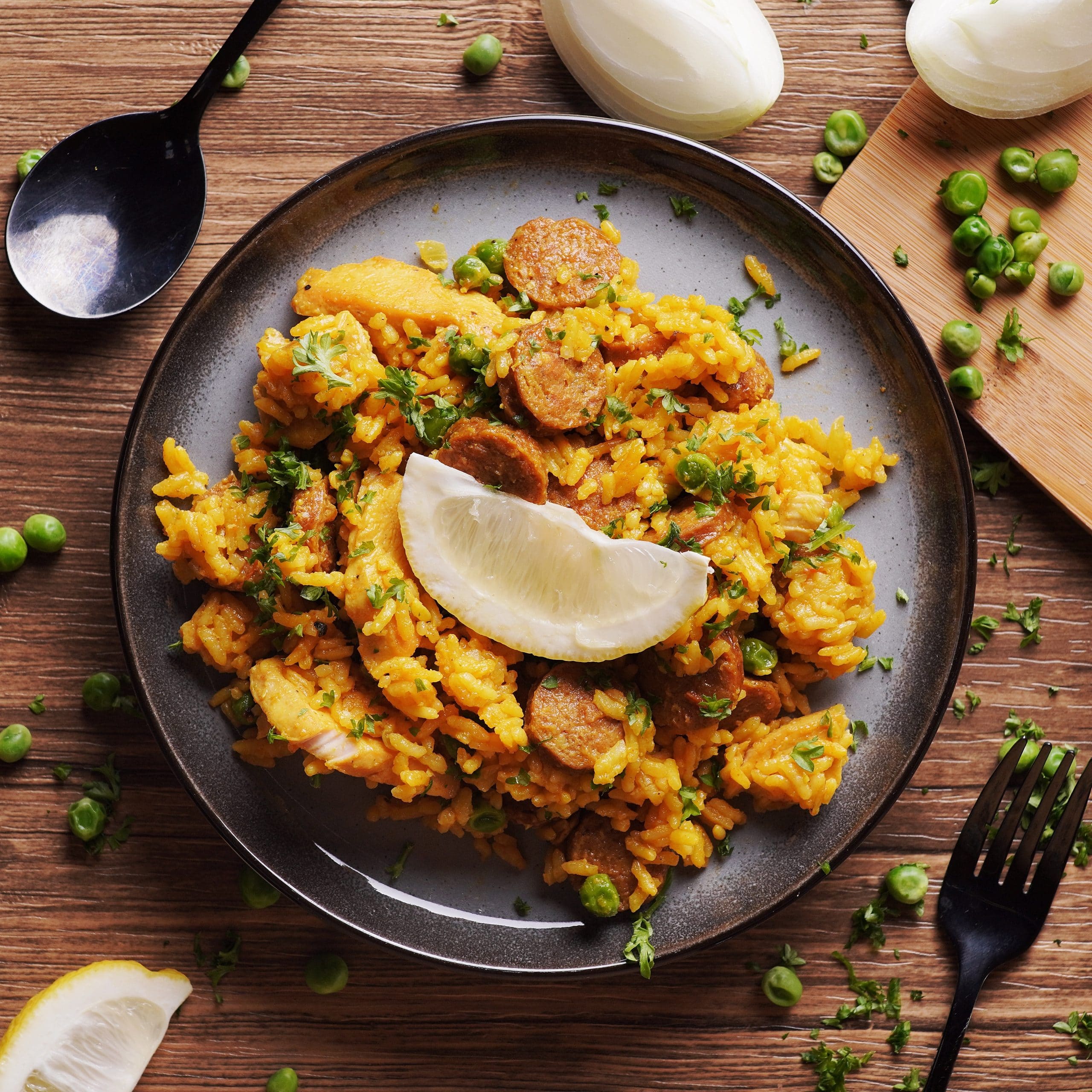 Ingredients
6

ounces

Spanish chorizo

about 2 regular sized links, sliced thin

8

ounces

chicken breasts

boneless and skinless, sliced into thin 1" pieces

¼

teaspoon

kosher salt

⅛

teaspoon

ground black pepper

¼

teaspoon

granulated garlic or garlic powder

1

tablespoon

olive oil

3

garlic cloves

minced

1

small yellow onion

minced

1

generous pinch of saffron threads

1

teaspoon

paprika

1

teaspoon

turmeric

1 to

mato

chopped fine, juices reserved

1

cup

short-grain or medium-grain rice

2

cups

chicken or vegetable broth

1

cup

peas

frozen

½

teaspoon

kosher salt

¼

teaspoon

ground black pepper

1

lemon

cut into wedges for serving

8-10

fresh parsley sprigs

chopped, for garnish
Instructions
All ingredients ready? Let's begin!

Heat the olive oil on medium high heat in a large saute pan. Season the sliced chicken with the salt, pepper, and granulated garlic.

Cook the chorizo slices in the oil until they are slightly crispy. Remove from the pan and set aside. Leave any excess oil in the pan.

Now, cook the chicken in the saute pan.

Once the chicken is cooked, remove from the pan and set aside.

Add the garlic and onions. Cook for 1-2 minutes or until they soften.

Next, add the saffron, paprika, turmeric, and tomato with its juices.

Stir everything together and cook until the tomato juice reduces slightly.

Add the rice and cook for 2 minutes until the rice becomes toasted and fragrant.

Finally, add the stock and stir to coat all the rice. Add back in the chicken and chorizo.

Cook the rice for about 20 minutes or until most of the stock has absorbed into the rice.

Add the peas during the last five minutes. The paella is done when the rice and peas are fully cooked and there is no liquid left in the pan.

Serve each portion with a lemon wedge and garnish with chopped parsley.
Video
Nutrition
Calories:
502
kcal
|
Carbohydrates:
61
g
|
Protein:
27
g
|
Fat:
16
g
|
Saturated Fat:
5
g
|
Polyunsaturated Fat:
1
g
|
Monounsaturated Fat:
3
g
|
Trans Fat:
1
g
|
Cholesterol:
65
mg
|
Sodium:
1462
mg
|
Potassium:
598
mg
|
Fiber:
6
g
|
Sugar:
5
g
|
Vitamin A:
790
IU
|
Vitamin C:
41
mg
|
Calcium:
64
mg
|
Iron:
5
mg
Notes & Tips
You can use a box grater to fine chop the tomatoes. You can do this right into the pan so that you're sure all the juices make it into the pan.
You don't need a fancy paella pan to make good paella! Though it's great for presentation, you can use a regular saute pan or cast-iron skillet.
Where Is Paella From?
Paella was originated in Valencia in the mid-19th century. The dish has such strong meaning to the region that they gave it protected cultural status last year. But what exactly does that mean?
Paella is a staple in the Mediterranean diet. The declaration read, "Paella is an icon of the Mediterranean diet, because of both it's ingredients and its characteristics as a representation of Valencian culture". This new status for the dish means that its significance is preserved and protected. So, as people continue to learn more about the history of Spain and its food, paella's authenticity will be preserved and celebrated.
This is interesting to keep in mind while preparing such a prized dish.
Should You Cover Paella While Cooking It?
You do not need to cover the paella once you add the rice. Though that is the traditional way to cook rice, with this dish, you can let the rice cook uncovered.
The rice in paella should be cooked thoroughly but not too mushy. You want it to maintain its shape while cooking and have a bite to it. If you leave the pan uncovered, it allows the rice to absorb the perfect amount of stock that's in the pan. Rather than if you covered it, additional moisture would make its way back into the pan because it wouldn't be able to steam out.
However, if you find that your rice isn't cooking as quickly as you'd like, you can cover it to speed things up. You could also cover with aluminum foil and leave a small portion open so that some of the steam can escape.
If you want to make paella ahead of time, you can cover it with aluminum foil to keep warm.
How To Make Paella Without Saffron?
So, you're ready to make paella except there's one thing missing from your list – the saffron. Spaniards consider saffron a staple ingredient in paella, but there are a few ways around using it.
After all, saffron can be difficult to find and is extremely expensive. Did you know that saffron can be up to $5000 per pound?! You only need a small pinch here, but even a small container may run you $10-20.
What are your options if you can't find saffron? You can just omit it all together. This recipe uses paprika and turmeric, which are considered fair substitutes for saffron. Simply increase their amounts slightly until you reach the flavor that you want.
Cardamom is another spice that you can use in place of saffron. You won't get the beautiful, bright red color, but it will add a lot of flavor. Cardamom is very strong, so be sure to work in small amounts. 
To learn more about these saffron substitutes, check out this Cook Gem article.
When all else fails, you can find paella seasoning, like this one, that is handcrafted to make your dish taste like authentic paella.
---
Recent Recipes